Class Notes
Catch up with your classmates and keep in touch with the Mustang community around the state, the nation and the world.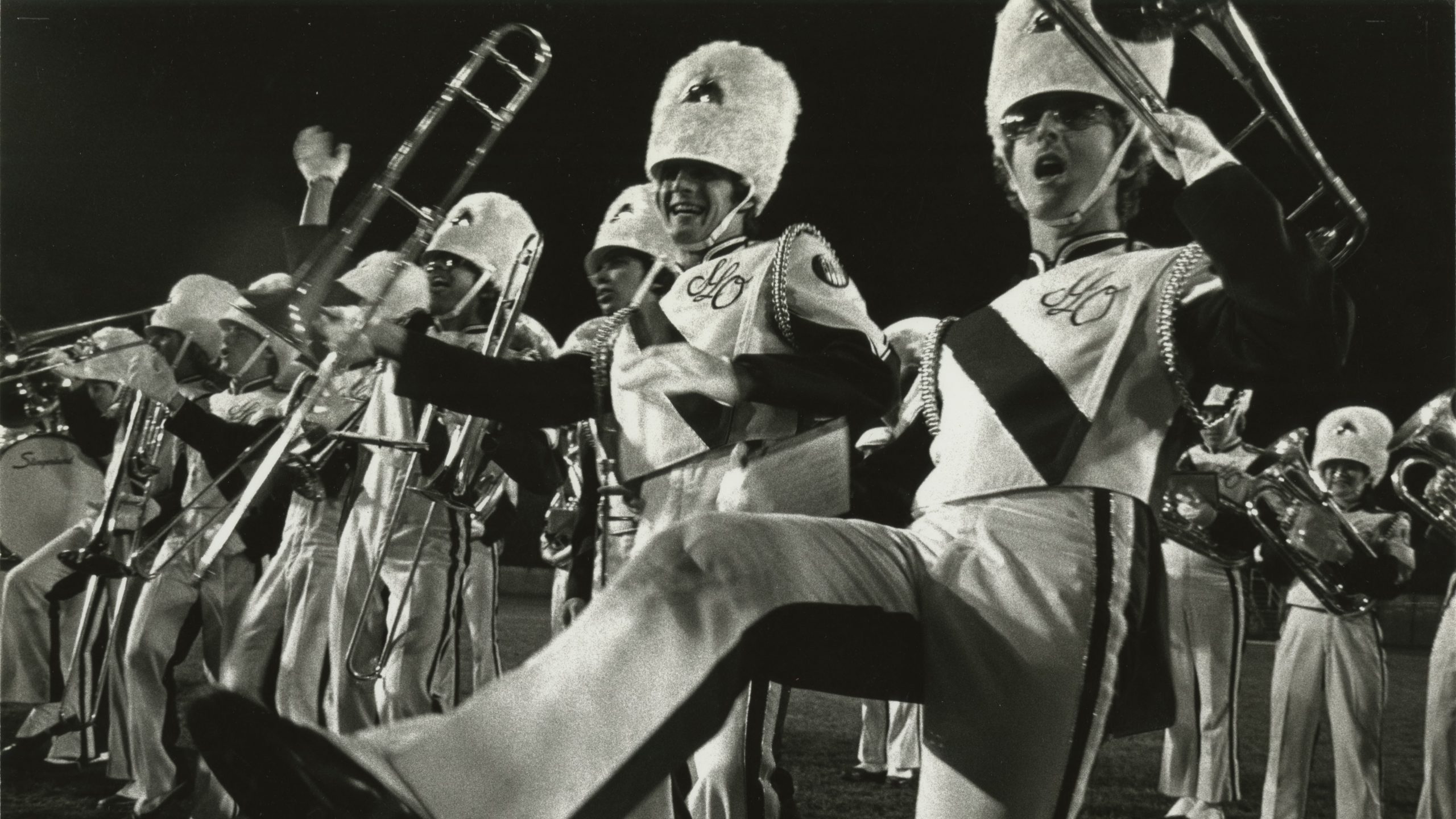 College of Architecture and Environmental Design
'70s
Bruce Albert (Architecture '76) received historic preservation awards from the American Institute of Architects, the Governor's office, California Preservation Foundation and Engineering News Record magazine for his work on the two-year restoration of the Hallidie Building in San Francisco. Albert is the principle of The Albert Group.
'80s
Charles Durrett (Architecture '82) is producing "The Best of Both Worlds: The Promise of Cohousing," a film that looks at cohousing as a sustainable, community-based lifestyle in the United States and Canada. He is the owner of McCamant & Durrett Architects.
Ross Elliot (City and Regional Planning '82) is the executive director of the California Ambulance Association, working to improve ambulance services and the emergency medical services profession statewide. He has successfully switched careers multiple times, thanks to the foundation of knowledge and critical thinking that Cal Poly taught him.
Ric Abramson (Architecture '85) recently received the Citizen Architect Award from the American Institute of Architects Los Angeles. He is working at Workplays studio as a principle.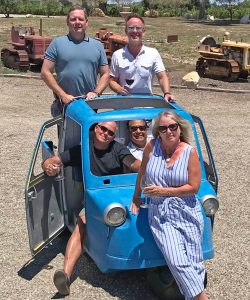 Every July for 30 years, Diana (Mathews) Tibor, Javier Gonzalez, Shawn Tibor, John Hill and Jonathan McMurtry (all Architecture '88) have returned to the San Luis Obispo area to celebrate another year of successful architectural practices, personal achievements and life changes. They say, "Friendships born from supporting each other during design all-nighters, architectural history slide memorization, and structural engineering exams are strong ones indeed!"
'90s
Steve Stenton (Architecture '90) and Stephanie Silkwood (Architecture '08) were promoted to associate principals at RMW Architecture and Interiors in San Jose.
Alicia Daniels Uhlig (Architecture '96) was honored with GB&D Magazine's 2018 Women in Sustainability Leadership Award, which recognizes "the most powerful women making a difference in the world through sustainability." She previously worked as director of living community challenge and policy at International Living Future Institute before returning to Cal Poly to teach in fall 2019.
Alicia Eikenberry (Architectural Engineering '99), engineering manager for Tamarack Grove Engineering in Boise, Idaho, is professionally licensed in 10 states and a member of the Structural Engineering Association of Idaho and the National Society of Professional Engineers.
'00s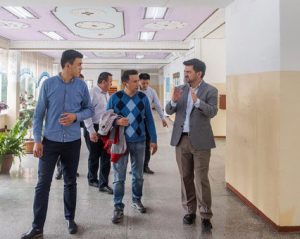 Forrest Lanning (Architectural Engineering '04) is the earthquake response liaison for FEMA, covering California, Nevada, Arizona, Hawaii, and the Pacific Island territories. He leads the tasks of responding to a major earthquake and serves as a technical advisor to the FEMA leadership on earthquake risks and ways to respond. He also serves as an international technical consultant to the United Nations in Kyrgyzstan on retrofitting schools throughout the country. In addition, Lanning works with the World Bank as a technical consultant on practical way of seismically retrofitting schools in Afghanistan, where he worked from 2008-10 with the U.S. Agency for International Development.
Martin Guzman (Architectural Engineering '09) recently became a partner at CW Howe and Partners Inc. in Culver City, a firm owned by fellow Cal Poly alumnus Carl Howe (Architectural Engineering '96).
'10s
Victoria Nizzoli (Architecture '14) is a licensed architect living in Seattle and working at multidisciplinary design firm BCRA. Nizzoli has been working on YMCAs and multifamily residential projects in the Puget Sound region.
College of Liberal Arts
'90s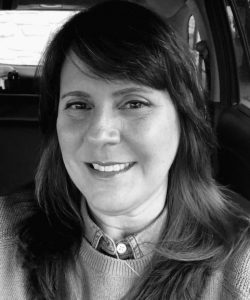 Michele Wokoek (Music and Business Administration '95) has sung with the St. Thomas More Choirs and the Grammy-award winning Conspirare Symphonic Choir in Austin, Texas, where she lives with her family. She also writes and arranges music. Wokoek recently sold her first choral composition, "The Mass of St. Thomas More," for a four-part choir and piano. She says, "I feel very lucky to live in a place where my music is regularly performed and where I get to sing with wonderful people."
'10s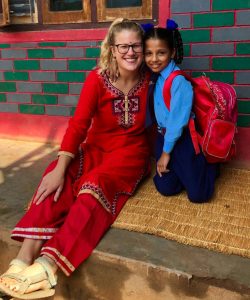 After graduation, Sophie Bergland (Psychology '18) joined the Peace Corps and is serving more than two years teaching children English in Nepal. She says she loves the challenge and opportunity to make a difference in this world.
College of Science and Mathematics
'70s
Jim Roach (Chemistry '78) retired after 40 years in the chemical industry, the last 25 at Huntsman Corp. Roach and his wife plan to spend half their time in San Luis Obispo. He says, "This has been a dream of ours since we met at Cal Poly back in the late '70s. Can't wait to enjoy the Central Coast once again!"
'10s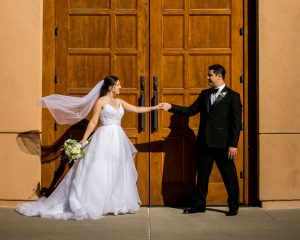 Amy Bellinghiere (Chemistry '15) and Thomas Merrill Jr. (Industrial Engineering '13) married on September 7, 2019, in Westlake Village, California. The bride and groom met through the music ministry in the Cal Poly Newman Club. Amy is pursuing a Ph.D. in chemistry from UC Davis, and Thomas now works for the City of San Jose.
Camille Vernon (Applied Mathematics '15) works as a business intelligence developer at Clear Capital, which builds real estate valuation and analytics technology for the mortgage industry, in Reno, Nevada. Her work at the company began four years ago, taking Vernon through learning experiences on data science and research teams. Vernon says, "I learned by doing, and I was definitely doing it at least 25-35 hours a week!" She considers herself "a Mustang forever."
Orfalea College of Business
'70s
Joseph Brady (Business Administration '79) was reelected vice president of the board of trustees at Victor Valley Community College in Victorville, California, in 2018.
'90s
Carina Cortez (Business Administration '99) recently joined Glassdoor, a global job and recruiting site, as senior vice president and chief people officer. In her new role, Cortez will build the company's people strategy as it nears 1,000 employees in 10 offices throughout seven countries. Her decades of experience include roles at Ellie Mae, Walmart eCommerce, PayPal and Visa.
'00s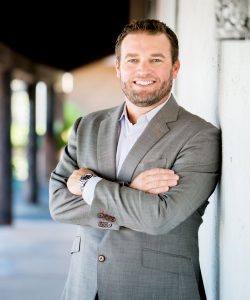 Brandt Kuhn (Business Administration '08) was recently named to Investment News' list of "40 Under 40" professionals in the financial advice industry. He works as managing director and partner at Beacon Pointe, an investment consulting firm in Palm Desert, California.Joshua Burroughs (Business Administration '09) recently appeared on the Silicon Valley Business Journal's "40 Under 40," which honors professionals in Silicon Valley for their contributions and achievements. The publication highlighted Burroughs for his philanthropic efforts, as well as his career as a real estate developer, including the recent launch of Silicon Valley's first Opportunity Zone Fund focused on the revitalization of Downtown San Jose. Burroughs is chief operating officer, executive vice president of development, and partner at Urban Catalyst, a San Jose-based private equity fund targeting real estate developments in the Bay Area.
Chandra Wengler (Business Administration '09) is the new vice principal at Davis Senior High School in Yolo County. After earning her bachelor's degree, she moved to Seoul, South Korea, to teach English and reconnect with family. After solidifying her passion as an educator, she earned her teaching credential at Sacramento State and became a math teacher and activities director in the West Contra Costa Unified School District. Wengler says her new role will center on promoting academic equity, integrity, and excellence for all. She adds, "My favorite part of my job is encouraging students to apply and attend Cal Poly because it's such a beautiful and special university."
'10s
Samantha Jennings (Business Administration '12), who has always had a passion for health care, pursued her Doctorate of Chiropractic (DC) in 2016. After working for one of the prominent chiropractors in the Bay Area, Jennings decided to open up her own office independently — utilizing the Learn by Doing philosophy. She says, "Going through Cal Poly's business program has definitely made a huge impact on being able to run my own business."
College of Engineering
'50s
Bill Gage (Environmental Engineering '50) recently celebrated his 92nd birthday. He looks back fondly on his memories as part of the Ski Club and the "Rah Rah Team" that decorated the P during football games. He says his graduating class was made up of 5,000 men, most of whom were veterans. His career included roles at Jet Propulsion Laboratories and Hilton Hotel Corp. "I can tell you that being a Poly grad was the Key to my future!," he says.
'90s
Ketan "KC" Chhipwadia (Mechanical Engineering '96) has launched Athlete Foundry, an online platform that helps driven middle and high school student athletes to improve their odds of becoming a collegiate student-athlete. Athlete Foundry provides a first-of-its-kind athletic and academic unified plan, integrated with qualities collegiate coaches value so they can track, build and communicate a better journey to collegiate athletics. Before launching his company in Texas, Chhipwadia was a senior human space flight engineer at NASA's Johnson Space Center, supporting more than 50 Space Shuttle missions. He also served more than 20 years in the U.S. Navy in active and reserve capacities as a surface warfare officer, which included deployments to Iraq and Afghanistan.
'00s
Vlad Magdalin (Computer Science '06), co-founder and CEO of no-code website builder Webflow, helped his venture raise $72 million in Series A funding. Forbes chronicled the growth of Webflow in August 2019, including Magdalin's past as a religious refugee from Russia, his passion for 3D animation, a fizzled Kickstarter project, a viral post on a tech message board, and eventual acceptance into Y Combinator. The company now employs 130 people and has more than one million users around the world.
Josh Eastburn (Computer Science '09) is the director of technical marketing at Opto 22, a manufacturer of industrial automation hardware and software used worldwide. He works closely with industry media while leading content creation for consumers. Eastburn has more than a decade of experience in industrial automation, most recently at Genentech.
'10s
Lauren Ziccardi (Industrial Engineering '14) is the new senior director of solutions at inVia Robotics. She works closely with the engineering and sales team to optimize their customers' experiences. Previously, Ziccardi worked in engineering and logistics for supply chain leader Bastian Solutions and electronics manufacturer Eaton.
Caroline Swanson (Mechanical Engineering '19) returned to her hometown of Portland, Oregon, to a role as a quality engineer at Nike. The new role is not her first step into athletic-focused engineering. While at Cal Poly, Swanson worked on a Quality of Life Plus team that developed a prosthetic leg adapted to a surf board alongside the nonprofit Operation Surf. Read about the project in the Engineering a Better Life story in this issue.
College of Agriculture, Food and Environmental Sciences
'80s
Jeff Colombini (Agricultural Business '85, CER Fruit Science '85) was named chair of the U.S. Apple Association's board of directors in its 2019-20 term. He is president of Lodi Farming Inc., which farms 1,800 acres of apples and other produce in the San Joaquin Valley. His years of service also include roles leading the California Apple Commission, California Cherry Advisory Board and Olive Oil Commission of California.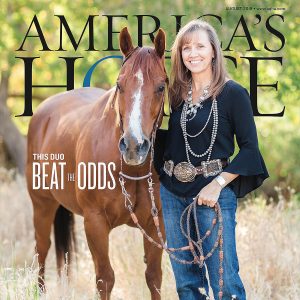 Paula Francis (Agricultural Business '88) and her American quarter horse,Roosters Zack, recently landed on the cover of America's Horse with a feature article about their unlikely success. Read about the duo's recent success in the competition arena in the Class Notes section in the summer 2019 edition of Cal Poly Magazine.
'90s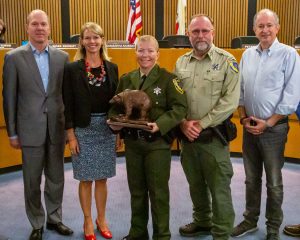 Anastasia Norris (Animal Science '98) was named the 2019 Wildlife Officer of the Year by the California Department of Fish and Wildlife's Law Enforcement Division for her work responding to oil spills throughout the state. Among other projects, Norris was the lead investigator on the Plains All-American/Refugio oil spill in Santa Barbara County in 2015. Her final report played a role in the outcome of the criminal trial after the spill, resulting in nine guilty verdicts in 2018.
'00s
James Paul (Agricultural Business '01) recently joined Crystal Valley Foods sales staff, handling the company's entire product line. The produce industry veteran has worked at Grower Direct Marketing, Prima Bella Produce, Giumarra, Altar Produce, Apio and Boskovich
Farms.
Jed Freitas (Forestry and Natural Resources Management '04) started a small company in 2004 named Freitas Rangeland Improvements LLC, which designs and installs solar powered water-pumping systems for livestock. In addition, Freitas is a technical service provider, for the U.S. Department of Agriculture's Natural Resources Conservation Service. As a private consultant, he helps ranchers and other types of land managers design and implement various types of water distribution and fencing projects. In 2010, Freitas helped start a clean and renewable energy utility company.
Leila Graves (M.S. Agriculture '09) is the new career development coordinator for the Oregon FFA. She will work with faculty and industry leaders to boost student participation at career development events and ensure they meet educational standards. Graves holds a bachelor's degree in language studies from UC Santa Cruz and an interdisciplinary doctorate in horticulture and education from Colorado State University.
'10s
James Weber (Dairy Science '14) was selected as the Michigan Milk Producers Association's Outstanding Young Dairy Cooperator of 2019 based on his farming operations, community activities and leadership. He reopened Weber Family Dairy in 2015 in Vassar, Michigan, where he raises 120 milk cows and farms 800 acres.
Entrepreneur Katerina Axelsson (Wine and Viticulture '15) was profiled by Forbes, Wine Enthusiast, and Coresight Research for her startup, Tastry, which integrates artificial intelligence software, in-store kiosks, and a consumer app to match a customer's flavor preferences with food and drink products, particularly wine. Axelsson founded Tastry in the SLO HotHouse in 2016.