Eating Healthy
Meet the alumna in charge of safely delivering your next burrito.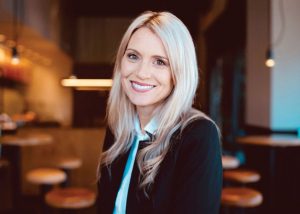 As the vice president of food safety for the fast-casual food chain Chipotle Mexican Grill, alumna Kerry Bridges (Food Science '03) plays an important role in the growing national focus on preventing food-borne illnesses. While she only joined Chipotle in January, Bridges isn't new to food safety, bringing more than 16 years of industry experience to her new role. She previously worked at Walmart, overseeing supplier food safety for both Walmart and Sam's Club.
As an undergraduate studying food science, Bridges said that Emeritus Professor Joseph Montecalvo inspired her passion for food safety, and Cal Poly provided the perfect hands-on learning platform that translated seamlessly into the working world, sparking a rewarding career. "Making an impact on the health and wellbeing of people by protecting our food supply provides a great sense of purpose," Bridges said. "For me it's more than a job, it's my passion."
Every year one out of six Americans becomes ill from foodborne illnesses such as listeria, salmonella and E. coli, according to the Centers for Disease Control and Prevention. In the past, like other food franchises, Chipotle has faced public scrutiny over food safety concerns. "Regaining trust takes time and significant meaningful action," she said. "The company has invested heavily to ensure that it is an industry leader with the highest standards of food safety."
Food safety is more than a collection of program and processes, it is a culture, Bridges said, noting that Chipotle has infused a focus on safety and prevention throughout every part of its operations, from supply chain to the way employees are compensated. While there is no silver bullet to address every food safety concern, she said, focusing on prevention is fundamental.