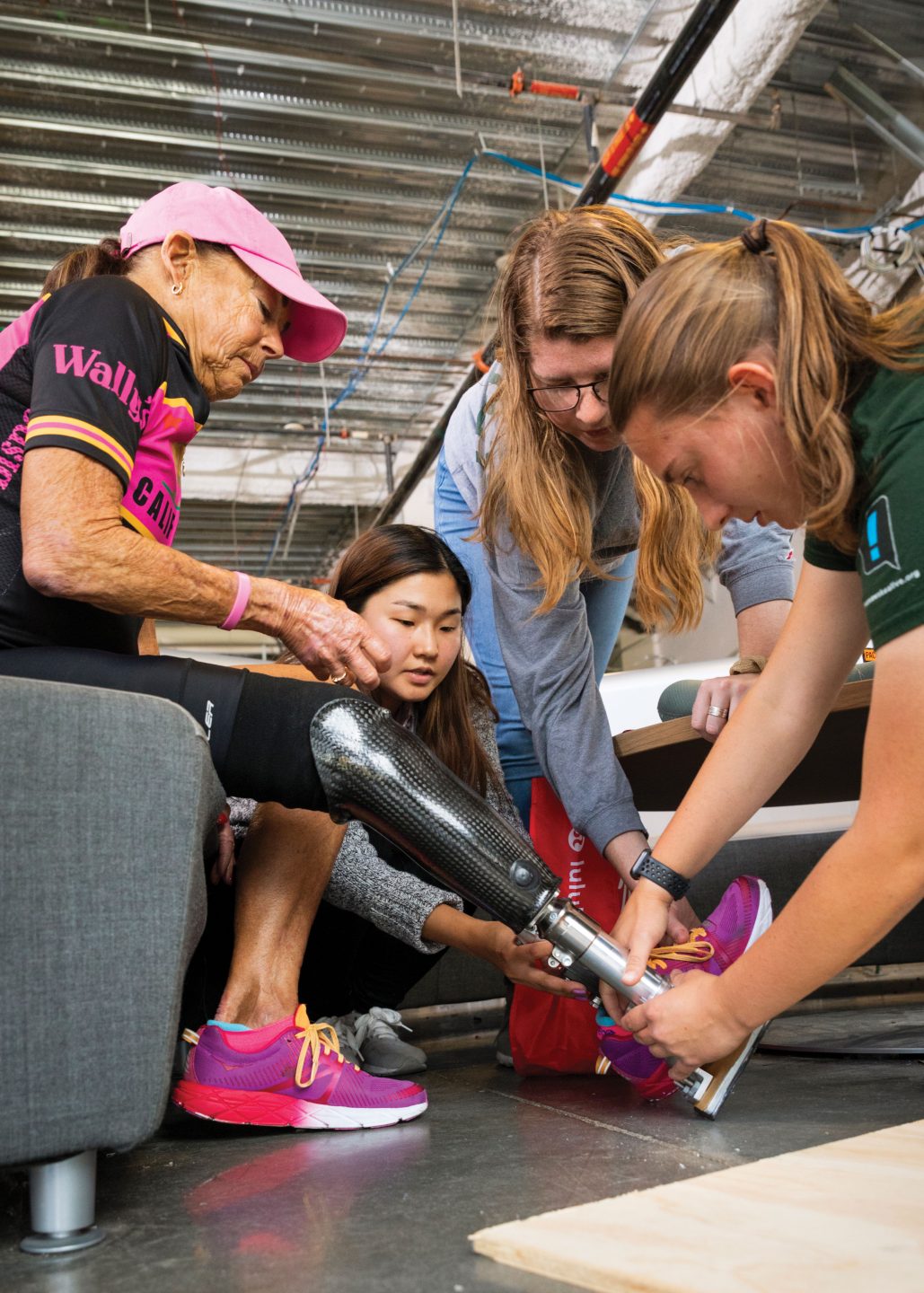 Engineering a Better Life
Students design and build adaptive tech for a combat veteran, a Parkinson's patient, and a 10-year-old car crash survivor. In short, "Everybody's crying."
By Pat Pemberton
Photos by Joe Johnston, Dennis Steers and Pat Pemberton
Sitting on a bench outside the Advanced Technologies Lab, 10-year-old Julian Reynoso moves a finger and thumb on his bionic hand to make an "OK" sign, prompting the team of Cal Poly students around him to erupt in emotional applause.
"Everybody's crying," one of the students says as Reynoso continues to inspect his new prosthetic. Hands for Julian is one of several recent projects through the Quality of Life Plus (QL+) program with the potential to change lives. Jon Monett (Industrial Engineering '64) founded the program to pair senior projects with challenges that confront veterans. The QL+ Student Association, a club operating out of Cal Poly's QL+ Lab, addresses challenges facing both veterans and civilians.
After its launch here a little over a decade ago, the QL+ program has expanded to more than a dozen campuses nationwide — but Cal Poly's remains the most active. Here are three recent projects that challenged engineers to put their expertise to good use for their neighbors.

Hands for Julian
After a suspected drunk driver smashed into the Reynoso family van just two blocks from their home in April of 2018, the van caught fire, killing Julian's father, Juan, 34, sister Emma, 6, and brother Sebastian, five months. With help from bystanders in their Los Angeles neighborhood, Julian and his mother escaped the fiery crash but suffered numerous injuries.
Julian, who was badly burned, lost all or parts of nine fingers.
When mechanical engineering student Ryan Kissinger found out about Julian through the QL+ club, he quickly formed a team of seven other students from the mechanical, biomedical and electrical engineering programs. Less than six months after the horrific accident, they went to work.
"Not only is it a traumatic experience, but all of the trauma was very fresh," said Austin Conrad, a mechanical engineering student who became co-lead. Julian had enough digits on is right hand to manually control a mechanical prosthetic. But the left hand prosthetic needed to be more complex.
While creating two different hands in nine months was difficult enough, the students discovered even more challenges along the way.
"The accident was so recent, the scar tissue has changed — the swelling has changed," Conrad said. "And to top it all off, aside from the injuries changing because it's so recent, he's 10 — so he's growing."
Students approached the project like a full-time job. Yet, they also had a tight deadline: They needed to present something to Julian by the end of the school year.
We hope to show that there are people out there in the world that are willing to fight to make sure he can have a better future.
"It's like drinking from a firehose," Kissinger said. "There are so many different components and so many different things to focus on."
Just hours before that deadline — the same day the QL+ club held a year-end banquet — students were rushing to finish the robotic hand. Meanwhile, Julian had traveled to San Luis Obispo by train with his mother and a Los Angeles Times videographer.
With less than an hour to go, the students tested the bionic hand — and it worked, prompting high fives. When the banquet was over, the team surrounded Julian and had him test it.
After making the "OK" sign with his superhero-inspired robotic left hand, he used his mechanical right hand to turn it off, prompting more cheers.
"More than anything else, aside from delivering something that helps him, we also hope to show that there are people out there in the world that are willing to fight to make sure he can have a better future," Conrad said.
Surf Therapy
After a few two-armed paddle strokes, the surfboard floating Kyle Kelly is now in the path of an oncoming wave. As the rolling water lifts him, Kelly pushes himself up, then carefully pops up to his feet.
The combat veteran, who lost his right leg to a roadside bomb in Iraq, has done this before. But never has a prosthetic leg enabled this kind of mobility.
"There's a noticeable and incredible difference as far as being able to move my ankle," he said afterward. "It changed the way I stood up on the board. It made everything smoother, easier, faster than the leg that I have been using to surf."
The Texas veteran learned how to ride waves through Operation Surf, a nonprofit based in San Luis Obispo County that introduces veterans to surfing as a form of therapy.
"We change lives and instill hope using the healing powers of the ocean," said Van Curaza, founder of Operation Surf.
Having worked with many amputee surfers, Curaza knew their main challenge on a board was the lack of flexibility that carbon fiber prosthetics offer in the ankle area. So last fall, he issued a challenge to students to design a surfing prosthetic.
It feels amazing to know the lessons I learned at Cal Poly can be applied to make a change in someone's life.
"I want you guys to help me take some of my ideas to create a prosthetic leg that can be utilized for surfing and other sports," he said in a video challenge played for a room full of Cal Poly students. Eventually, four seniors took on the challenge: biomedical engineering majors Oyundari Altansukh and Samantha Campbell, along with mechanical engineering students Kurtis Barth and Caroline Swanson. The group spoke to Kelly and watched him surf at an Operation Surf camp last fall, then met with Curaza as they designed their prosthetic. As winter arrived, they began constructing it.
A local amputee athlete tried it on during the spring and noted how flexible it seemed (pictured at the beginning of this article). But it needed to be tested on a board. "There are a lot of factors that are going to change in the environment of the ocean," Campbell said.
Kelly's test run was brief, but enough to show the prosthetic noticeably improved flexibility needed for surfing maneuvers.
"It feels amazing to know the lessons I learned at Cal Poly can be applied to make a change in someone's life," Campbell said.
Unfrozen
When Parkinson's patients learned that a recent Cal Poly graduate had created a device to offset a debilitating condition that causes them to freeze, they quickly fired off emails, asking how they could get one.
"I have had my right leg 'freeze' many times and have even fallen," wrote a 53-year-old woman.
Another woman wrote that her 80-year-old mother has remained active through 30 years with Parkinson's but has fallen recently. And a 72-year-old woman described the frustration she feels when she experiences "freezing of gait."
"I find myself cussing like a sailor at my knees and hips because they don't respond to my brain and move!!" she wrote. "People look at me like I am crazy." For these patients, Sidney Collin's device offers the hope of mobility, which equates to independence.
A 2019 biomedical engineering graduate, Collin might have never heard of freezing of gait had she not worked through the QL+ program. That's where she met Jack Brill, a Korean War veteran from San Luis Obispo. Brill has Parkinson's, a progressive nervous system disorder that affects movement. Like many Parkinson's patients, Brill experiences freezing of gait, a condition in which his leg muscles don't receive signals from his mind, resulting in the sudden onset of immobility.
"You freeze," Collin said. "Your feet feel like they're glued to the floor."
As Brill was working with Collin on his challenge, he introduced her to others with the problem.
Through her research, Collin found that audio and visual cues can interrupt freezing of gait. Her Gaitway device can be be attached to a walker or cane, and when patients experience freezing of gait, they can either either trigger an audio cue — a metronome beeping — or a green line that projects onto the ground before them, and they become unfrozen.
"That was the point where I said, 'OK — we need to get this out to the market. How do we do it?'" Collin said.
With the help of Cal Poly's Center for Innovation and Entrepreneurship, Collin's company, De Oro Devices, went to the Hatchery and the HotHouse Summer Accelerator and Incubator, which provide resources for budding businesses. Two partners — a current and past Cal Poly student — joined her, and soon investors followed.
De Oro plans to launch in the fall with 200 devices.
"Cal Poly — and the whole program that Sidney is a part of — is incredible," Brill said.