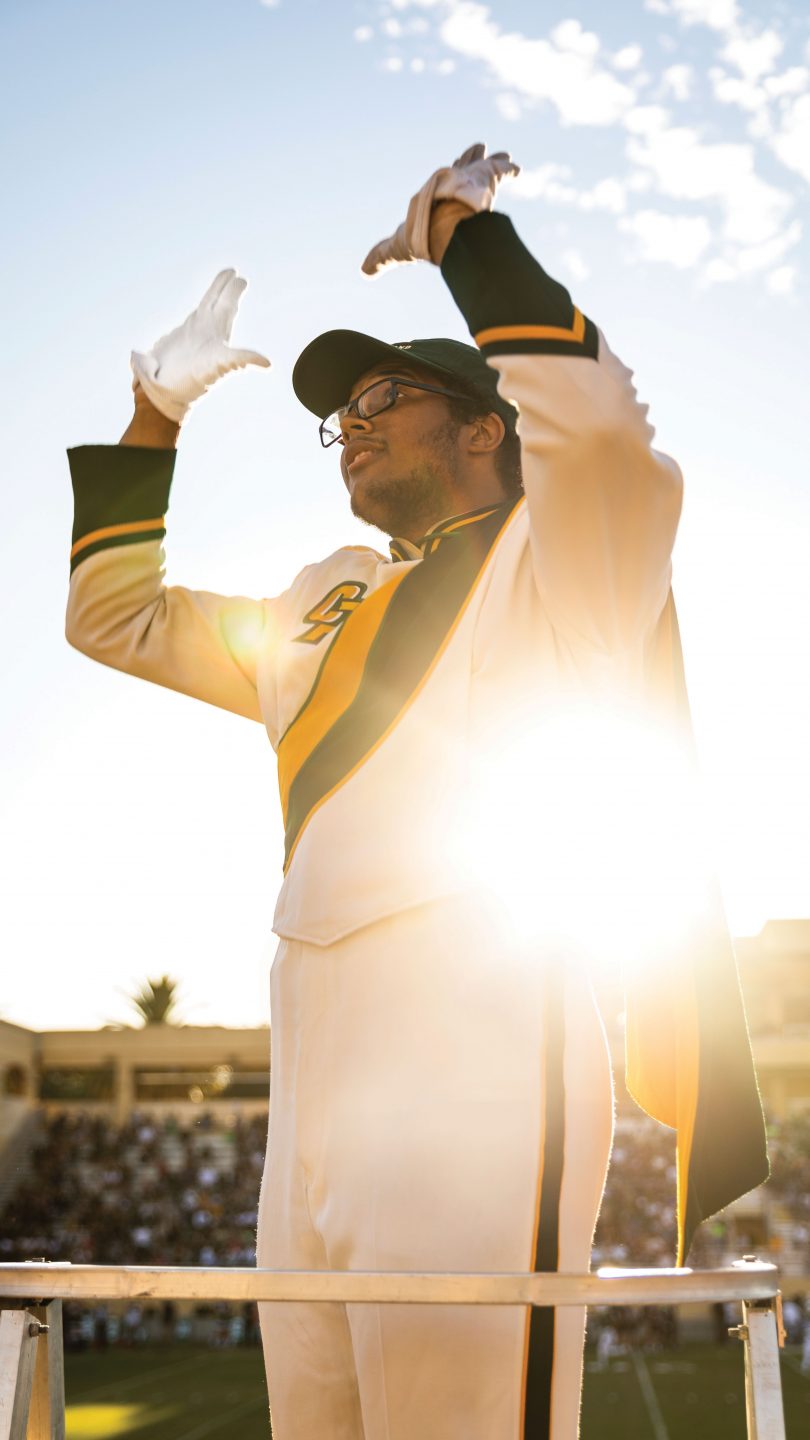 Step to the beat with Mustang Band as it celebrates more than 100 years of spirited performances and polytechnic prowess.
By Robyn Kontra Tanner
Photos by Joe Johnston
If you've been on campus in the last 100 years or so, chances are you heard the irresistible cadence of the Mustang Band. You can probably picture it too — musicians in pressed uniforms dance gleefully until they snap into formation, moving with magnetic precision. And, without a doubt, the musicians were having a blast. Over the years, Cal Poly's marching band has evolved into a beloved tradition that connects generations of fans while offering up an unparalleled polytechnic experience drenched in Mustang pride.
Want to hear the band for yourself? Check out a loop of its signature drum cadences as you read: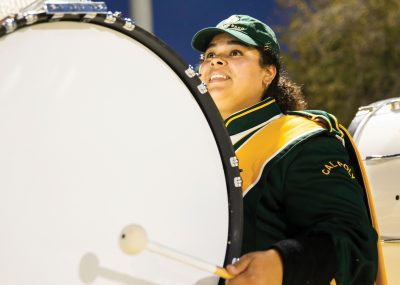 Kristine Sandoval is focused. After a warmup and stretch session, she hoists her drum onto her shoulders to officially begin her fifth and final season playing in Mustang Band.
It's day one of fall rehearsals, and she navigates a sea of 185 fellow musicians in the ensemble. And Sandoval is grateful to have them there. After all, her work on the bass drum must weave together with the snares, tenor drums, cymbals, and 11 other instruments playing at any given time.
"Working together has been the best part of why I've stayed with this instrument," she says. "That sense of community and being from different backgrounds while just having this one thing in common: music."
Like many of her fellow musicians, Sandoval was attracted to Cal Poly because of its marching band, one of few collegiate bands of its caliber in California. Despite being bullied in middle school, Sandoval says she found a home in her music programs. She has played percussion for more than a decade, both for Woodrow Wilson High School and the Los Angeles All-City Honor Band. Cal Poly, she found, gave her the chance to keep that experience alive in college — as it has for thousands of musical Mustangs in the last century.
Cal Poly's band program has roots as far back as 1916, founded first as a military band before evolving into a drum and bugle corps in the university's early decades. The band grew from a modest 50-member ensemble in the 1960s to more than 180 members by the 1980s. In the last 40 years, the band's knock-out performances at NFL halftime shows, San Francisco's Chinese New Year Parade, and more have cemented it as one of the most entertaining collegiate bands in the West.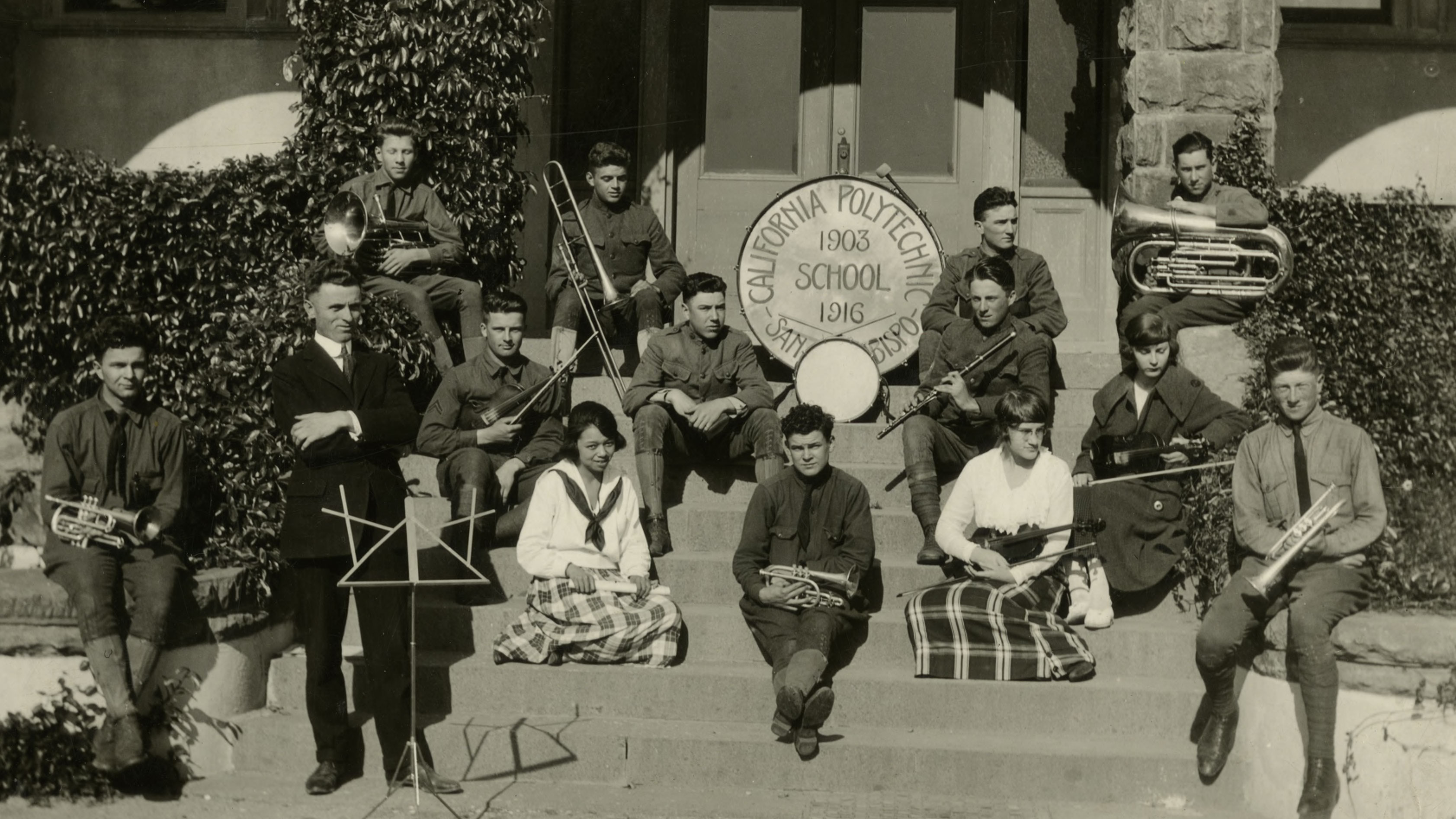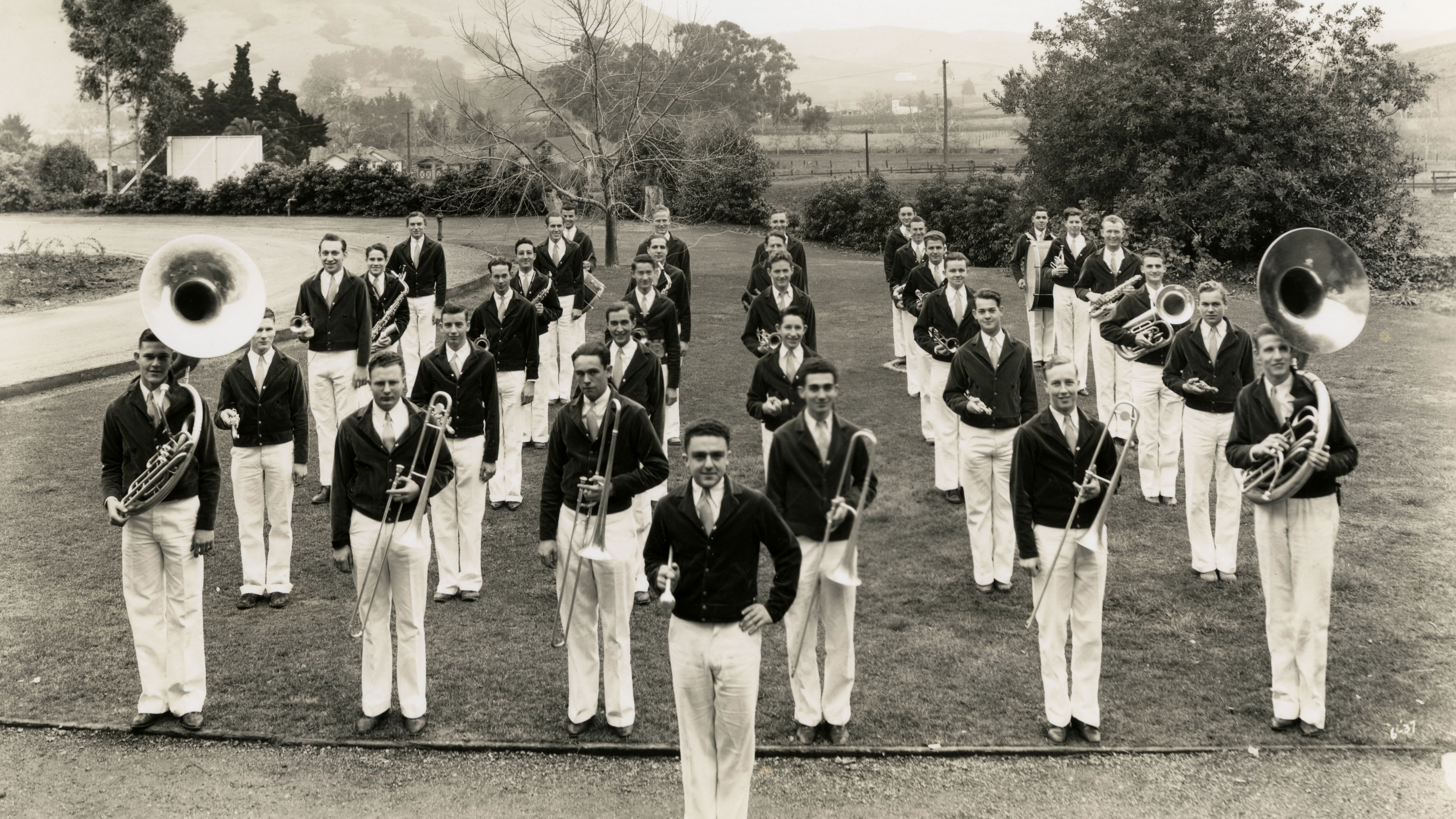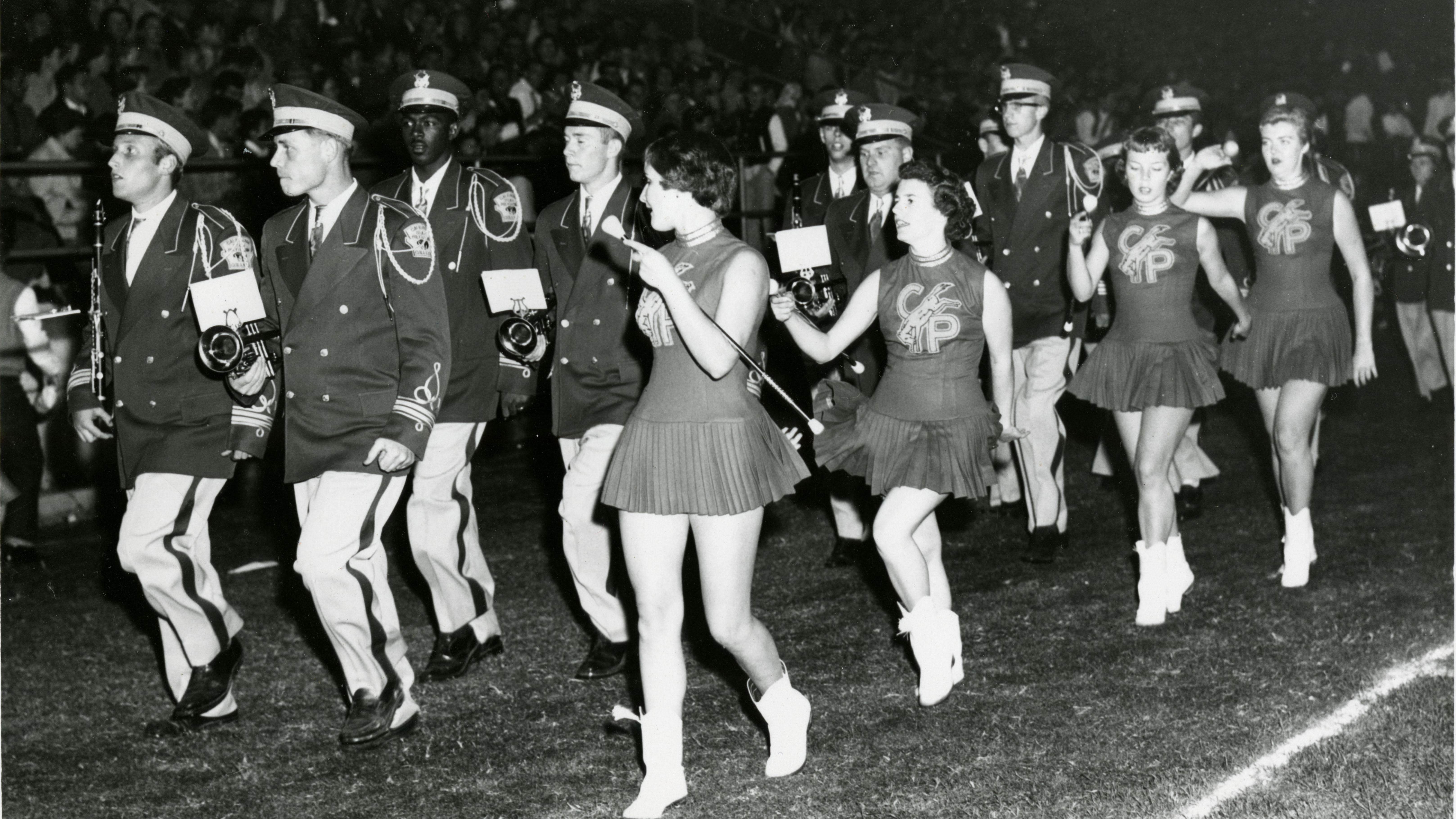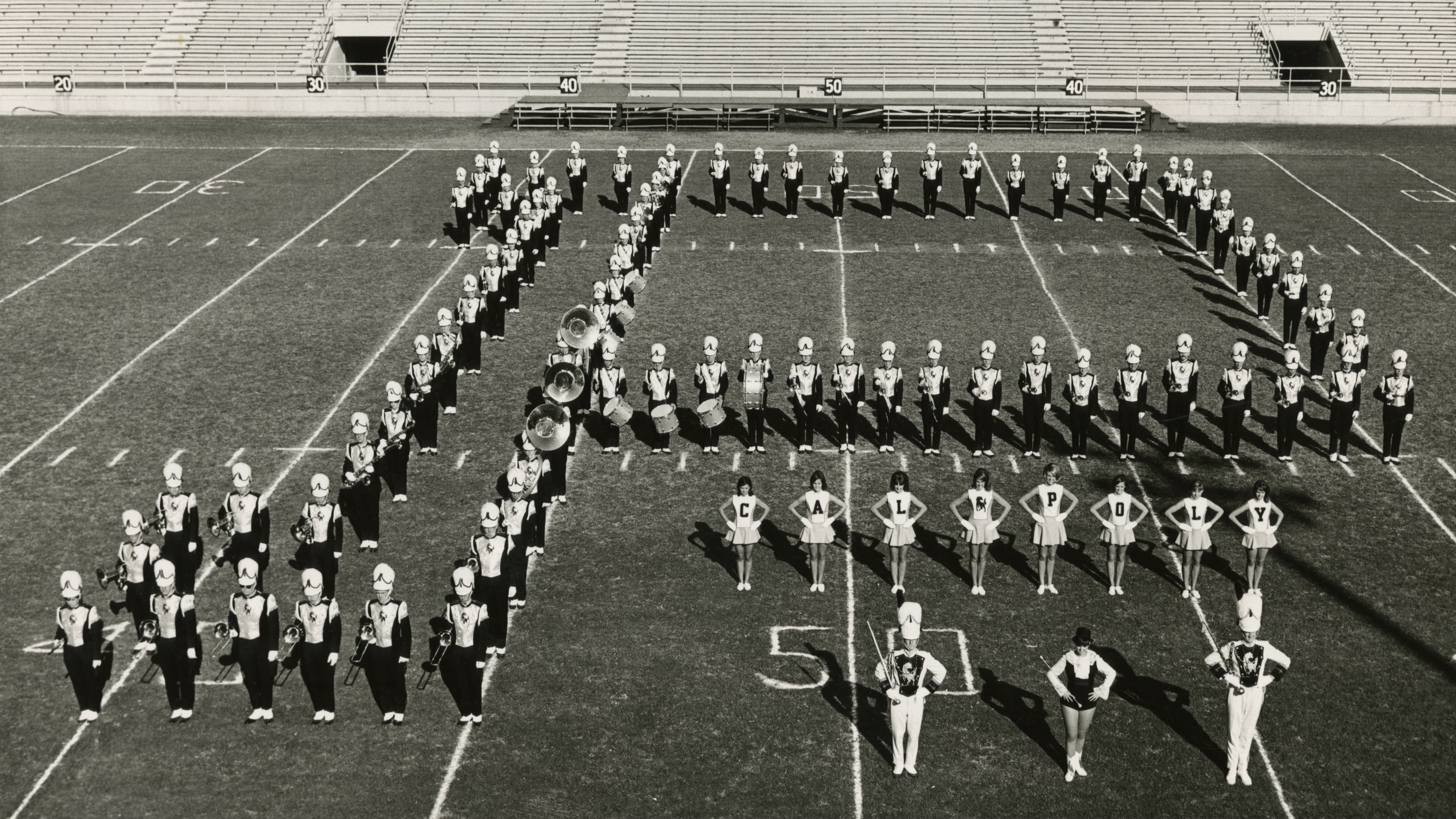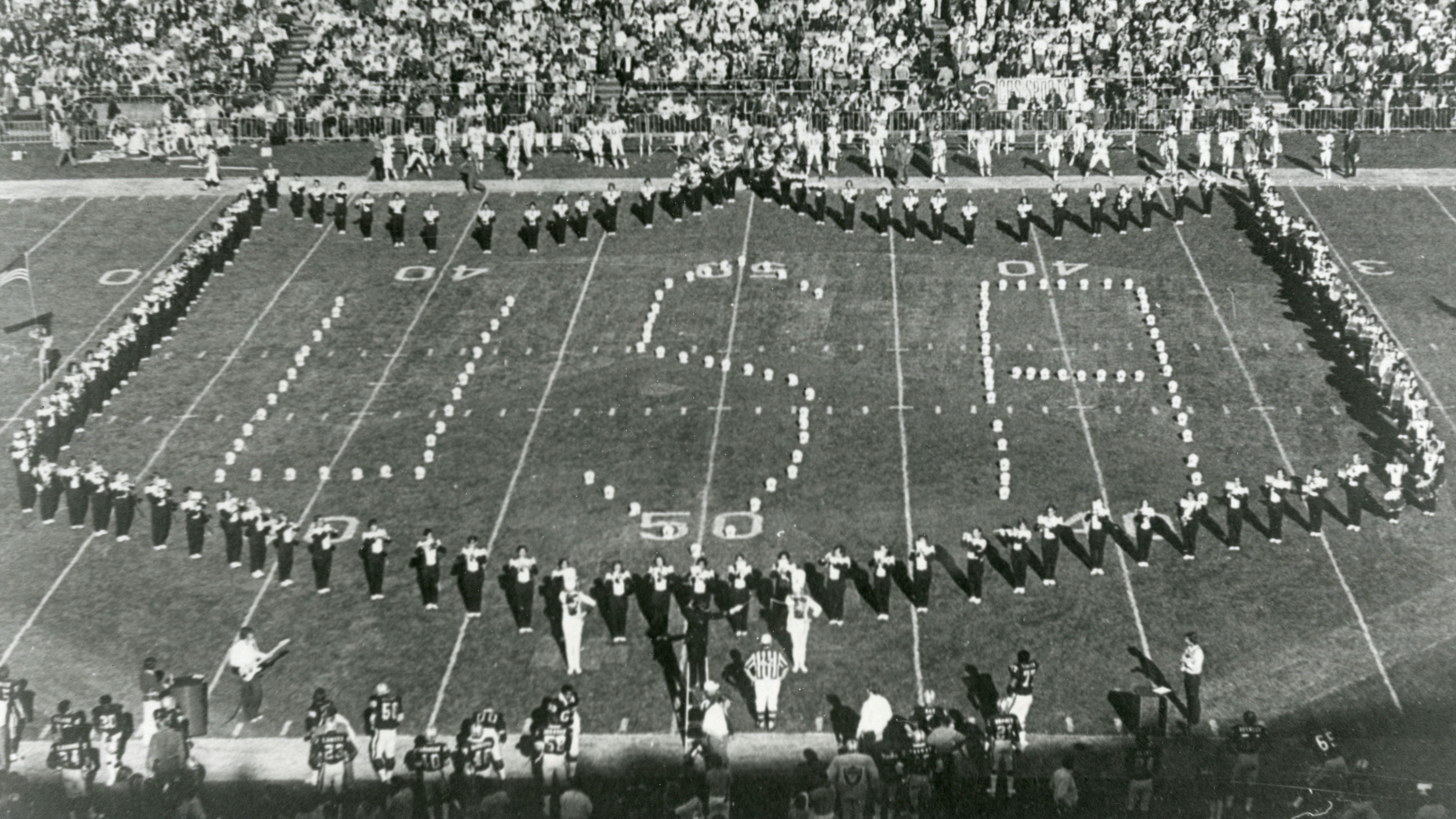 Building on such a lengthy tradition starts right where you'd guess: band camp. As students make their way to San Luis Obispo, new members are already on campus working through intense rehearsals. In those early days, returners step up as mentors and leaders in band-specific Week of Welcome (WOW) groups where new students participate in the best of orientation while logging serious hours with their musical compatriots.
"I was a WOW leader last year," says drum major Kai Quizon, "and not only do I have a connection with the entire band because I conduct, I also have a connection with my WOW group on a completely different level."
Band camp's sprawling operation overtakes turf practice fields, where drum majors like Quizon and section leads help guide musical factions through marching technique and run-throughs of the season's new tunes. In true Cal Poly fashion, a student-built app helps leaders take attendance, score individual performance testing, and manage the onboarding process. The paper trail also enables the band to dole out academic credits to members for their hard work.
"It's very exhausting," Sandoval admits. "But I think the fact that we're all just so tired, and we go through that together, really builds those relationships. [My first year,] I felt like I had 200 friends automatically coming into school."
Fundamentals come first at band camp, including standardizing stride length during formation marching — eight steps per every five yards. They also practice Cal Poly's signature "run on." Legendary band director H.P. Davidson instituted the tradition in 1936, in which musicians take a high-stepping sprint to their specific location on the field.
Another essential skill the band learns early on is "Georging," a series of deliberately choreographed maneuvers that appear to be spontaneous dance moves set to one of Cal Poly's signature drum cadences, one of which is named "George." Each section has its own permitted steps and flourishes during Georging, and the band rehearses them just as much as other techniques in formation. In action, the joyous moves amplify the band's laid-back aesthetic while sparking smiles on the faces of spectators who can't help but sway to the beat themselves.
Such well-rehearsed flair comes in handy during a busy fall quarter. Musicians power through 14-hour days when the football team plays at home in Spanos Stadium, including rehearsals, a parade through campus tailgate celebrations, and a show-stopping performance at halftime. In Mott Gym, concentrated pep bands keep the spirit alive during a dozen home volleyball matches, men's and women's basketball games and wrestling tournaments. Band members lean into the raucous spirit as they dance, chant, clap and laugh — playing everything from "Jungle Boogie" to the Cal Poly fight song, "Ride High."
"We are Cal Poly's biggest fans," says Associate Director of Bands Nick Waldron. Mustang Band's full-throated support of Cal Poly Athletics dates back to 1926 when the band first played at university basketball games.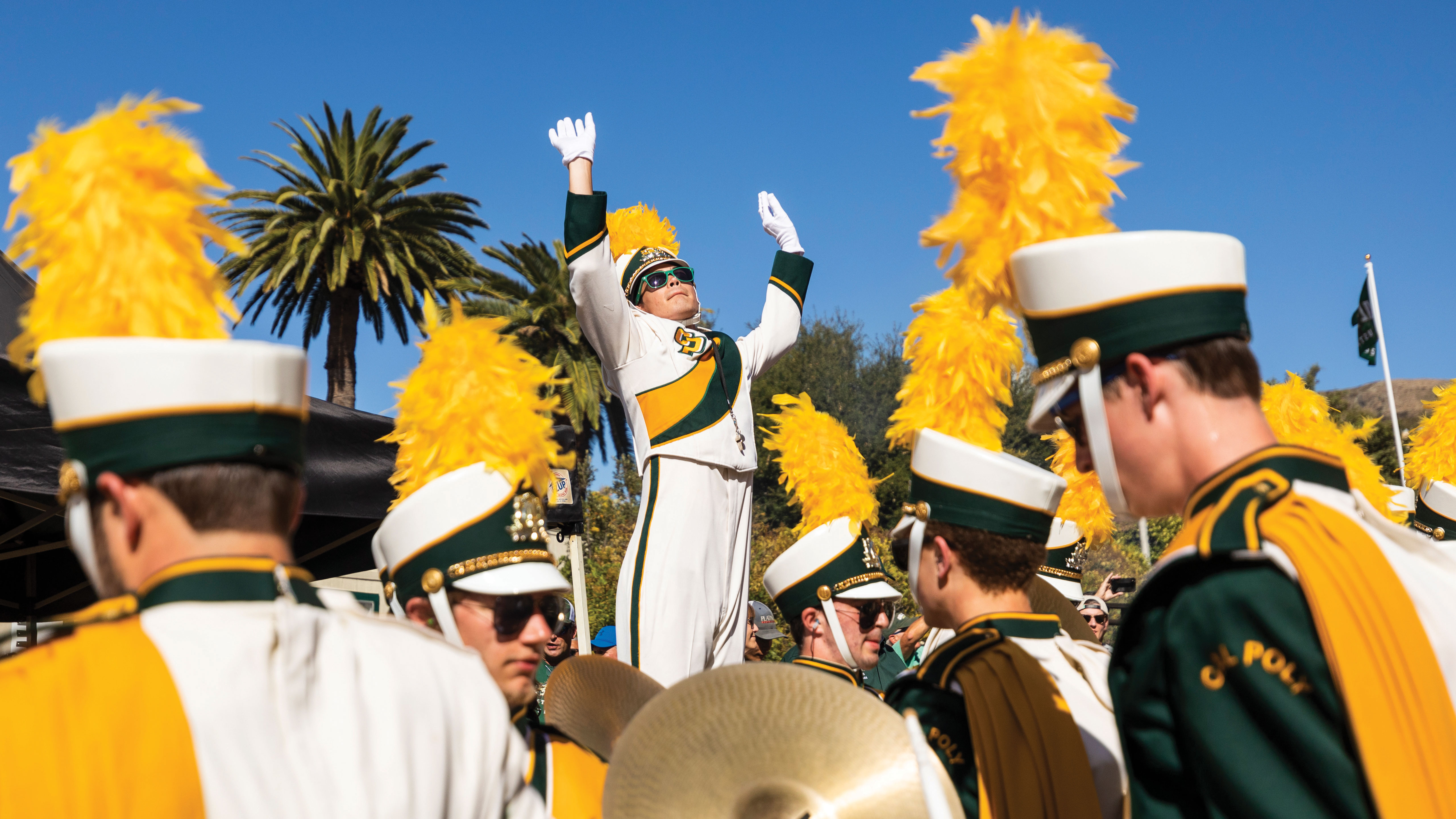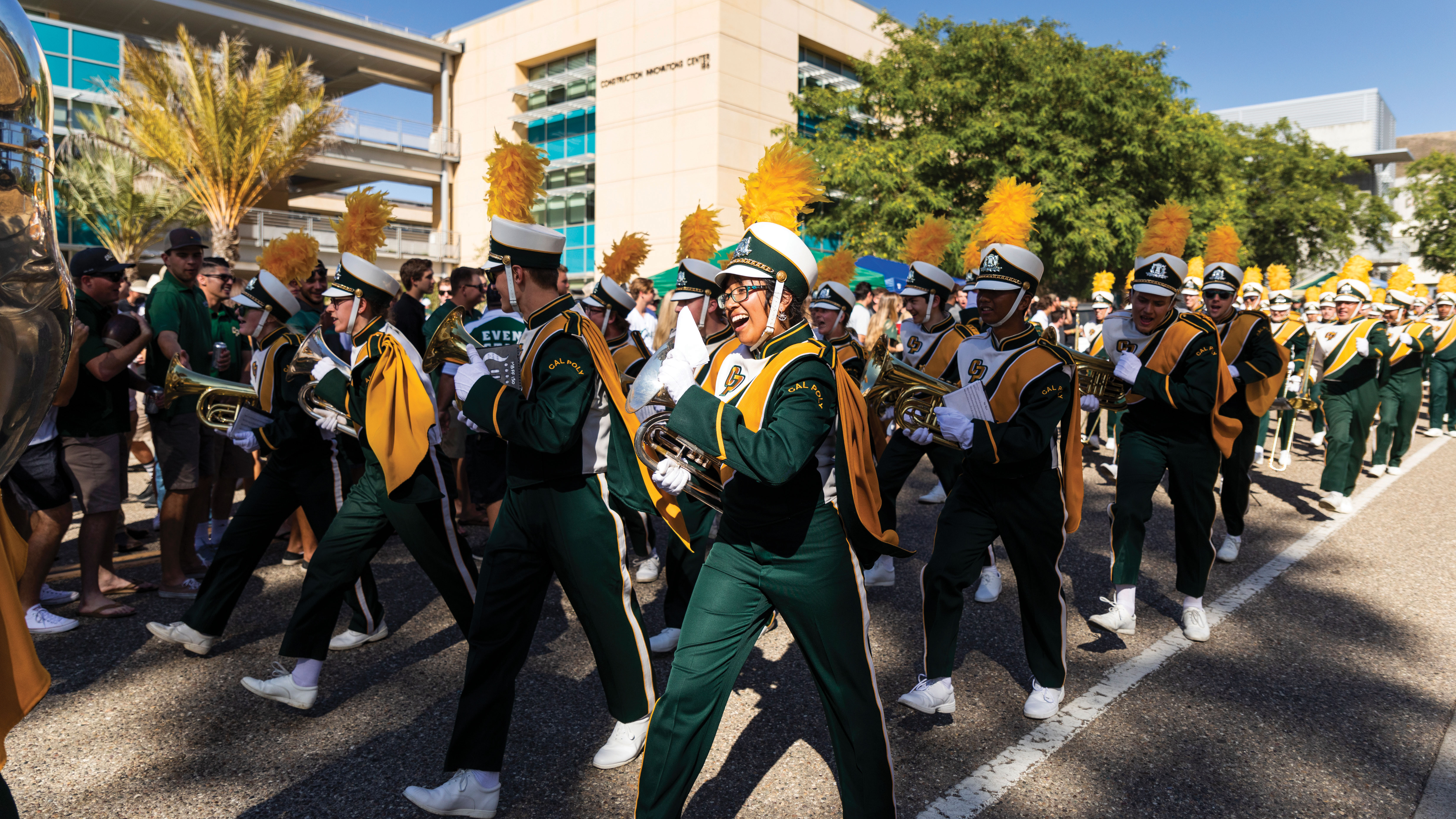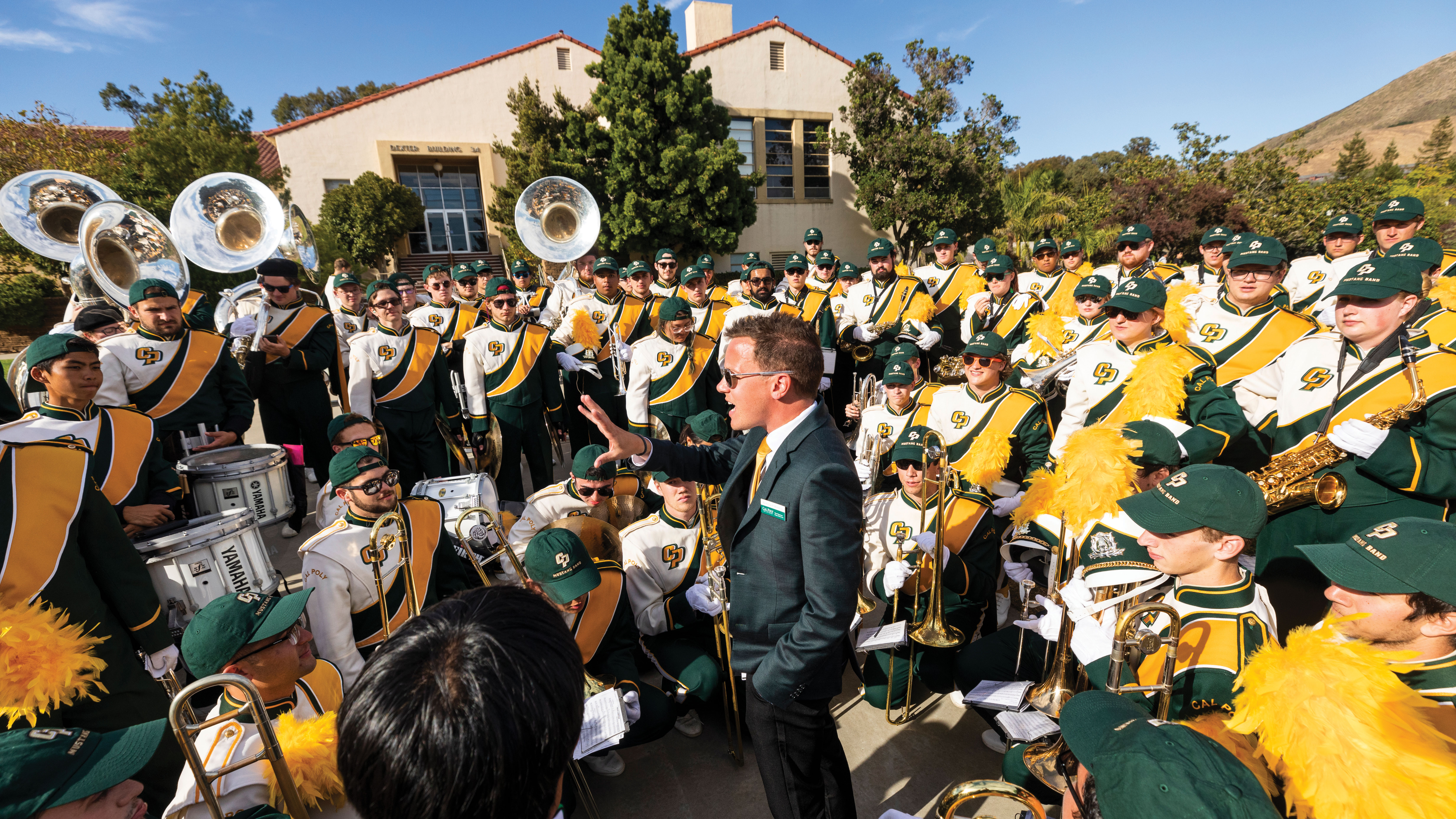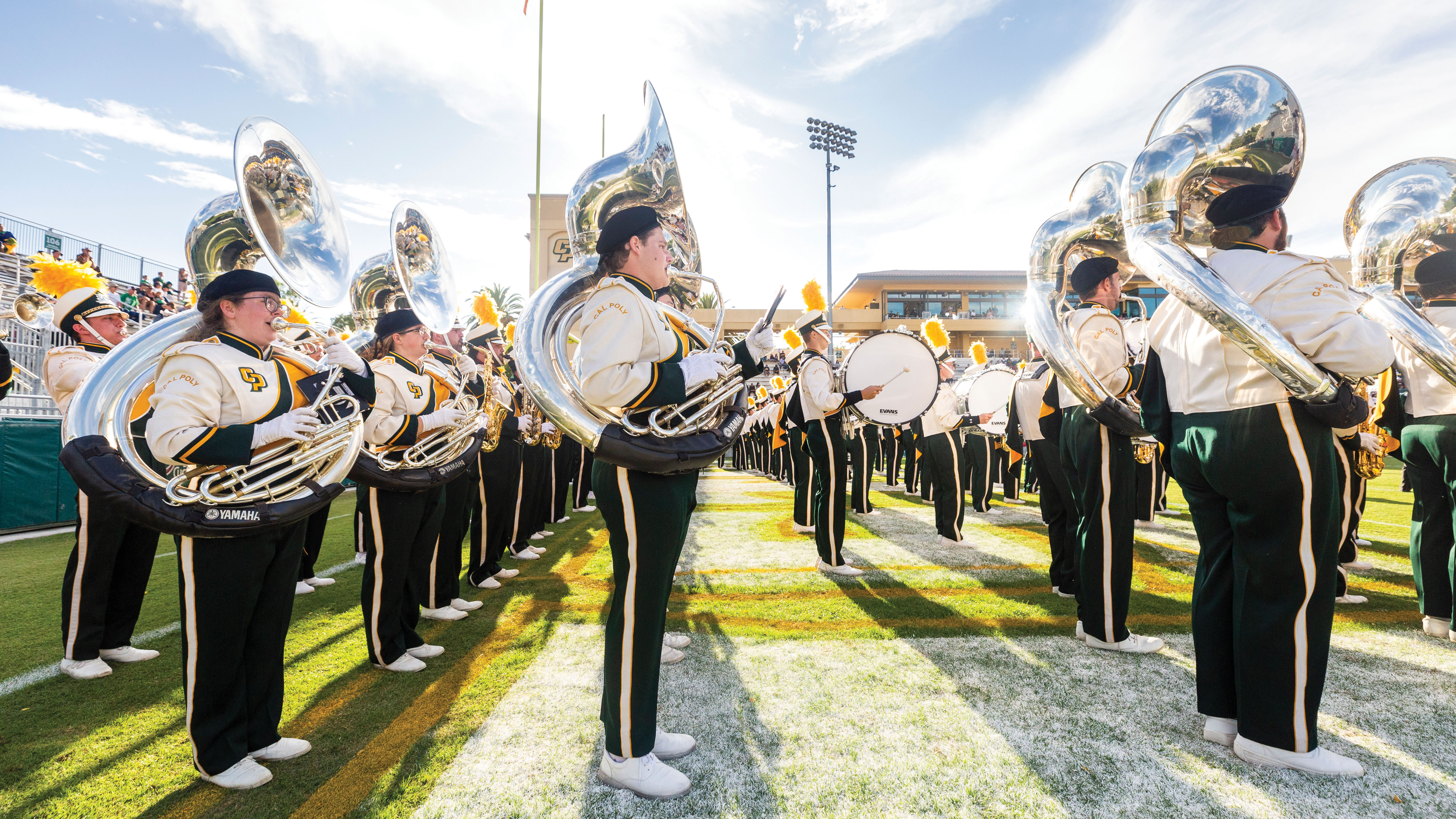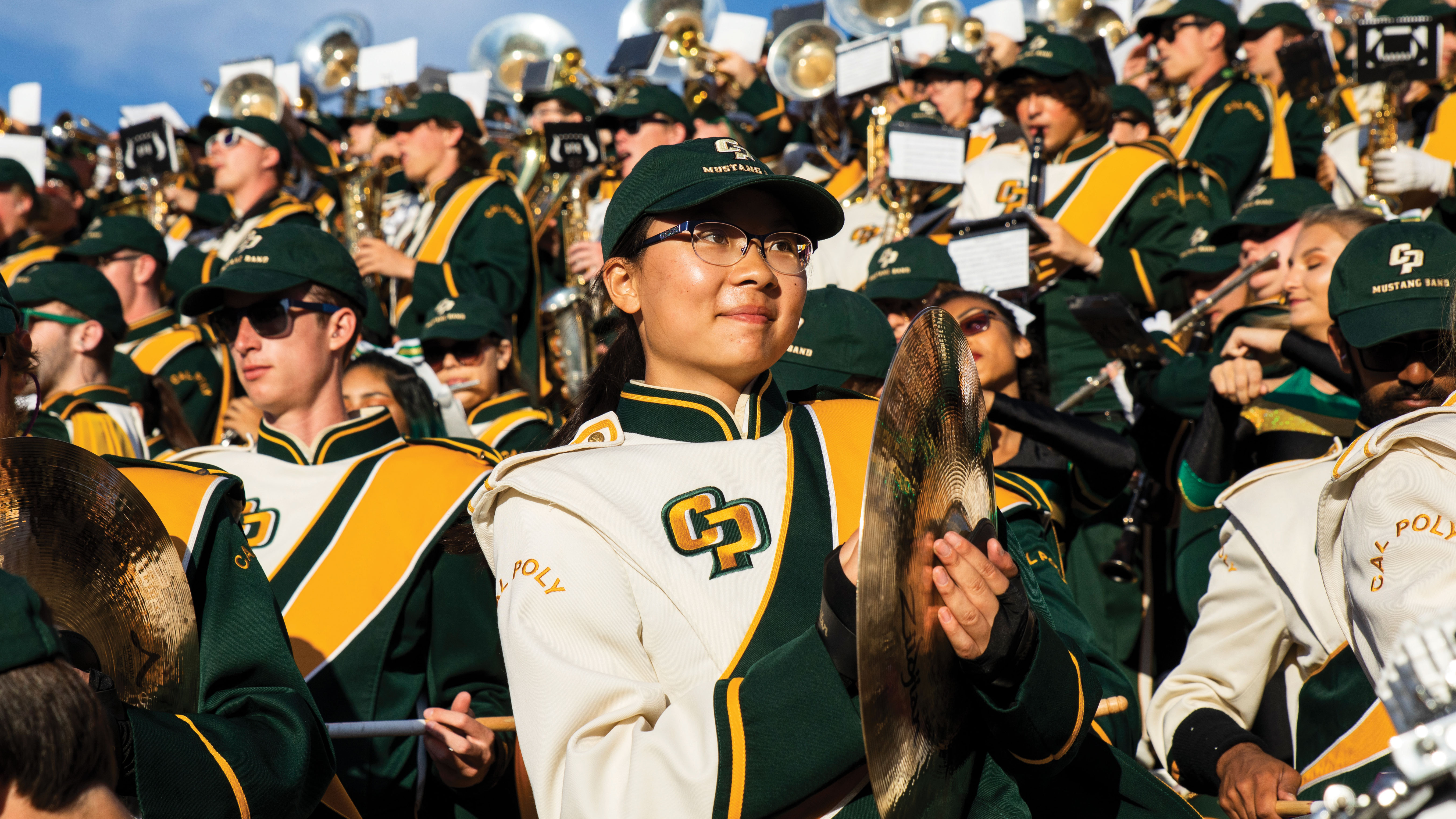 Beyond athletics, the band regularly rocks Cal Poly Open House, the annual BandFest concert, and Farmers Market during Alumni Weekend. The band's bravado concentrates school spirit in ways tough to find anywhere else on campus, and Waldron hopes it calls Mustangs home to experience joy and pride in their alma mater.
But the rigorous schedule is daunting, especially because most band members are at Cal Poly to excel at something other than musical performance.
As of 2016, band members represented a polytechnic spectrum of more than 40 majors; only a handful of those students majored in music. Engineers, accountants, architects, journalists, crop scientists and others find a way to thrive in the band while balancing hands-on projects and long hours in labs. Quizon says musicians regularly team up with academic mentors within the band who have taken similar classes or navigated internships or job searches in the same industry.
"It really makes me happy to know that Cal Poly has developed a culture that allows students to pursue music as a career but also as a stress reliever, a pastime and social connection," he says. "The key thing about being a musician is that it can help develop these leadership roles in a way that's also productive to being a member of the ensemble. Not a leader who can only lead — you become a leader who knows when to follow."
Quizon, a third-year mechanical engineer, says band took him from a scared high school senior to someone determined to succeed through teamwork. He admits he had serious doubts on his first day of band camp, but a fellow musician encouraged him to stick with it. "All those things together helped mold me into someone who is comfortable speaking in an auditorium of 2,000-plus people, comfortable conducting band or performing in a band.
"When you become a leader in band, all those things translate directly into whatever that student is pursuing in their academic career. You can learn how to teach, and that makes you a better engineer because when you know how to solve a problem, you can explain it to someone else."
Trouble viewing the video above? Click here to watch the video on YouTube.
Through the rigors of performance season, vets like Sandoval also act as role models who skillfully balance a variety of non-musical pursuits. As a child development major, Sandoval teaches children in Cal Poly's on-campus Preschool Learning Lab and in community afterschool programs. The Learn by Doing experiences helped her sharpen a keen understanding of how people learn, bond and build confidence in a shared experience, a skill that helps her mentor others in drum line and find her voice at Cal Poly. She says she built confidence through years shepherding new students as a resident advisor and a mentor in the College of Liberal Arts' support program for first-generation students.
From her perspective, it all works together. "You all are there together [to] create this wonderfully orchestrated musical piece. And so, I think that's the same way with life," says Sandoval. "It takes a village to just be a person in this world. Same thing for Cal Poly, too."
At performances today, you'll probably hear the Mustang Band introduced as "the Pride of the Pacific," a nickname Cal Poly's Rally Club gave the performers more than 50 years ago to reflect the swell of spirit and soul the band brings to their fellow students, fans and community members. But internally, the band's rallying cry comes in the form of a code.
You'll see the numbers 807, a three-digit number the band uses as shorthand, stitched on the band's polos and jackets. It translates to a simple truth every single member believes: the band always wins. Sandoval says that means that, no matter the outcome of a game, Mustang Band is a success because they came together and played their hearts out.
"It's so amazing to just represent Cal Poly in such a positive way," she says, beaming. "It's really awesome to just feed off of that energy. I definitely feel part of Cal Poly, and I feel that sense of pride when I'm in band."