Alumni Updates
Updates and announcements from your friends and classmates.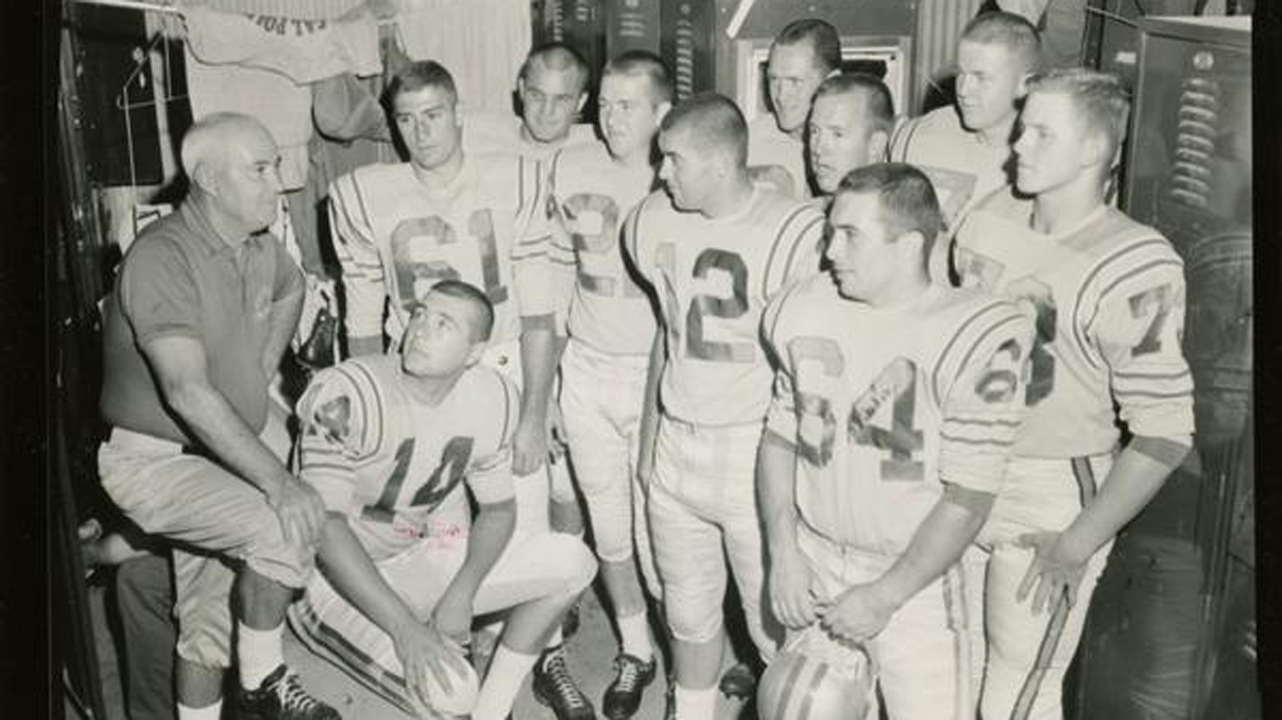 College of Agriculture, Food and Environmental Science
'60s
Mike Sommers (Animal Husbandry '66) and Julian "Beau" Black (Animal Science '11) recently connected in Aubrey, Texas, despite 45 years separating their graduations from Cal Poly. Sommers, a retired Aubrey High School agriculture science teacher, met Black, a veterinarian, when he joined the staff at Town and Country Animal Hospital in 2015 and began caring for Sommer's horses and dog. "Mike and Beau enjoy the opportunity to reminisce about Cal Poly and its unique learning opportunities during the annual animal check-up visits."
'70s
Susan Giannini (Ornamental Horticulture '79) has owned and operate a clothing store in Murphys, California, for the past 16 years. Her love of plants continues to thrive, and she even keeps an arrowhead tropical houseplant that she's had since her days at Cal Poly. She shows her Cal Poly pride at her store and loves talking to customers about the university.
'80s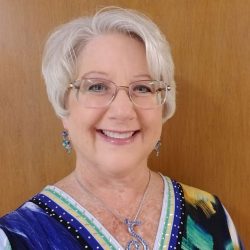 Kristin VanDeventer Chorbi (Ornamental Horticulture '85) became the governor of Soroptimist International of the Americas, Founder Region, in July. She has been a member of Soroptimist International of Eureka since 1992 and has a long history of leadership and service with the global volunteer organization, which provides women and girls with access to the education and training they need to achieve economic empowerment.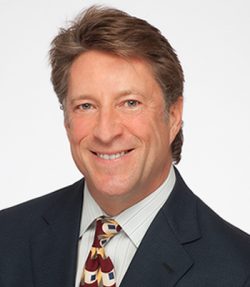 Stan Van Vleck (Agricultural Business '88) was selected as a 2020 Northern California Government Relations Super Lawyer. He is a partner at Downey Brand, a prominent law firm with offices in Sacramento, San Francisco, Stockton, and Reno. Super Lawyers recognizes attorneys from more than 70 practice areas who stand out due to their proven talent in their respective practices of law.
'00s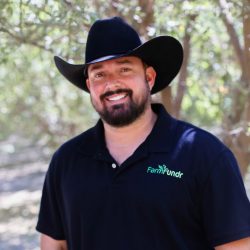 Brandon Silveira (Crop Science '03) founded FarmFundr, the only farmer-owned crowdfunding site for farmland. The company launched in 2019 and has already raised $700,000 to fund an almond orchard in Lemoore, California. FarmFundr specifically targets high-profit potential farm operations located within the United States with the goal of keeping family farms in business while offering strong returns on investment.
College of Science and Mathematics
'80s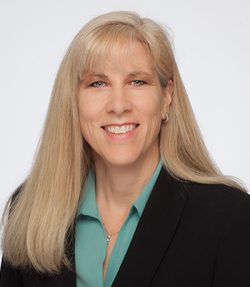 Melissa Thorme (Environmental and Systematic Biology '85) was selected as a 2020 Northern California Environmental Litigation Super Lawyer. She is a partner at Downey Brand, a prominent law firm with offices in Sacramento, San Francisco, Stockton, and Reno. Super Lawyers recognizes attorneys from more than 70 practice areas who stand out due to their proven talent in their respective practices of law.
'90s
Dave Svetich (Physical Education '92) and Kristen Carless (Kinesiology '07) are co-owners of Precision Physical Therapy and Wellness in San Luis Obispo. The duo launched their business in 2019. Svetich began his career in the Cal Poly Athletic Training Program and enjoys cheering on his daughter Lily, who is on the Cal Poly Women's Basketball team.
'00s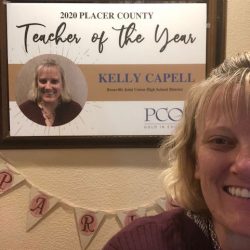 Kelly Capell (English '05, CR English '06, M.A. English '07) was named Placer County Teacher of the Year for the 2019-2020 school year. She says, "Despite one of the oddest years of my career with distance learning and the pandemic, I am extremely proud of this accomplishment and thankful to the staff, teachers, and students who have made me a better teacher and person."
College of Liberal Arts
'70s
Riley Walter (Political Science '73, M.S. Agriculture '74) was selected as a Top 100 attorney in Northern California. This is his eighth 'Top 100' designation since 2004 by Super Lawyer, which publishes an annual listing of outstanding lawyers who have attained a high degree of peer recognition and professional achievement. Walter is also a presenter at the 2020 National Conference of Bankruptcy Judges on the subject of agricultural bankruptcies. He joined Wanger Jones Helsely in 2019 as a shareholder after over 20 years of leading his own firm.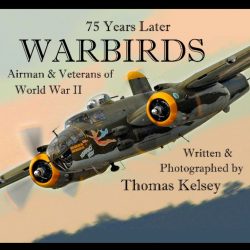 Thomas Kelsey's (Journalism '77) recently released "75 Years Later – Warbirds, Airman & Veterans of World War II," a 136-page book that celebrates The Greatest Generation past and present. The project took Kelsey 30 years to compete and tells harrowing tales of bombing raids over Germany and a first-hand account of the Atomic Bomb dropped on Hiroshima. Kelsey got his start as photo editor of the Mustang Daily and went on to work as a staff photographer at the Los Angeles Times, the Rocky Mountain News and seven other daily newspapers during a 40-year career.
Marcia Meier (Journalism '78), will release her memoir, "Face," in January 2021 by Saddle Road Press. She is the author of five books, a writing coach, memoir teacher and book editor. Meier recently moved to Santa Fe, New Mexico, after living in Santa Barbara for 35 years.
'80s
Janet (Child and Family Development '88) and Eric Baucom (Business Administration '87) were recognized as Good Neighbor Award finalists by the National Association of Realtors. The couple, who work in real estate in the Ventura, California, area, is among 10 finalists who have volunteered time, money and passion to enrich their communities. The Baucoms are cofounders of Project Bicycle Love, which has donated 350 bikes and helmets to foster and low-income children and teens who lack a means of transportation.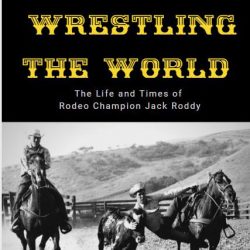 Katie Cooney (Human Development '89) recently published the life story of fellow alumni Jack Roddy in "Wrestling the World: The Life and Times of World Rodeo Champion Jack Roddy." Cooney tells the story of Roddy, who won two world rodeo championships and helped turn professional rodeo into a multi-million-dollar sport.
'90s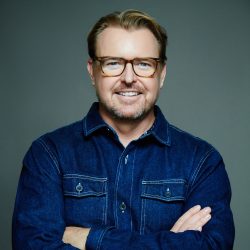 Rob Woodburn (Social Sciences '98) is celebrating twenty years in the entertainment industry this October. He began his career managing talent in Los Angeles before moving to Australia in 2006. In 2009, he founded the Rob Woodburn Agency and its parent company, Rise Talent & Literary Agency in Sydney. He is also a professional voting member of the Australian Academy of Cinema and Television Arts. At Cal Poly, Woodburn was a member of the baseball team, Sigma Alpha Epsilon fraternity, and a lifeguard at the Recreation Center Pool, as well as Avila Beach.
'00s
Emily Hively De Silva (Communication Studies '08) recently co-founded Cultivated Talent, a recruiting company focused on the beauty, lifestyle and fashion industries in Los Angeles. She studied visual communication at the Fashion Institute of Design and Merchandising before working in visual merchandising for brands including Hudson Jeans and French Connection. Most recently, De Silva served as an executive recruiter for 24 Seven and Mazur Group.
'10s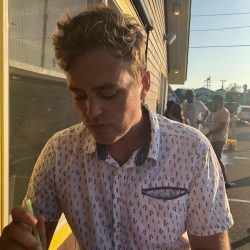 Steven DeLay (Philosophy and Political Science '10) recently authored two books: "Before God: Exercises in Subjectivity," published by Rowman & Littlefield, and "Phenomenology in France: A Philosophical and Theological Introduction," published by Routledge, which currently is being translated into Turkish and Chinese. In 2009, DeLay won the Cal Poly Philosophy Department's annual award for best student essay with his submission, "Investigating Conscious Experience from the First-Person Perspective." He went on to earn a master's degree in philosophy at Rice University and complete his doctoral studies at Oxford in 2017. Currently, he is working on two new books: "In the Spirit," a work due to appear next year via John Hunt Publishing, and "Conscience: A Philosophical History." DeLay is a faculty fellow at Ambrose College, Woolf University, and currently lives in Winston-Salem, North Carolina, with his wife, Gabriella, who is an artist.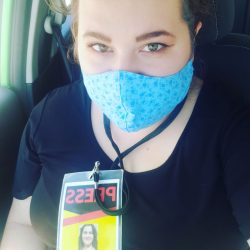 Sabrina Thompson (Journalism '19) is a reporter in Oregon. Within a year of graduating Cal Poly, she has been instrumental in covering a major COVID outbreak in the community, a corrupt Sheriff's office and a town in debate over a warming shelter.
College of Architecture and Environmental Design
'70s
David Short (Construction Management '77, M.S. Computer Science '78) recently became the manager of corporate portfolio at CareSource, one of the nation's largest Medicaid managed care plans with nearly 2 million members. From its headquarters in Dayton, Ohio, Short looks to build on the company's reputation for quality health care coverage for Medicaid consumers.
'00s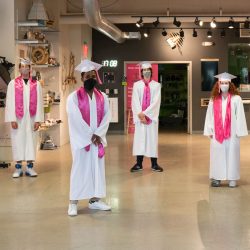 Saba Ghole (Architecture '03) is celebrating the 10th anniversary of NuVu Studio, the studio-based school she launched with her co-founders. The school takes inspiration from the architecture studio model to teach creative skills through hands-on, real-world projects. This fall, in response to the pandemic, NuVu launched NuVu+Virtual, the first virtual studio-based school in the world, delivering a highly engaging and online studio experience to students ages 13-18 anywhere.
College of Engineering
'80s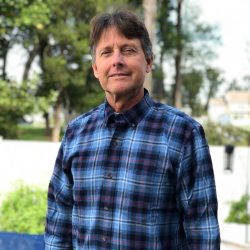 Brian Baer (Computer Science '82) was recently sworn in as city council member representing the 3rd Ward in Milford, Delaware, after a very competitive and socially-distanced campaign. After graduating from Cal Poly, Baer worked for Hewlett-Packard for 20 years, in Cupertino and San Diego, married, moved Maryland, then moved to Milford in 2017. He looks forward to working with his community's citizens, representatives and businesses in the future.
Chris Dodge (Civil Engineering '84) retired from East Bay Municipal Utility District, Oakland, after almost 25 years of service. He is currently working as a senior project manager with HydroScience Engineers in Concord, California, where he manages consulting design services for water distribution and storage projects.
'00s
John Vu (Computer Science and Mathematics '10; M.S. Computer Science '10) is an engineering program manager at PayPal. Vu has leveraged the PayPal Gives program to support the work on non-profit organizations that make a big difference to those in need. This year, his nomination led to a $20,000 grant to the Catholic Charities of Santa Clara County to fund their COVID-19 Distribution Network, which provides more than 400,000 meals per week thanks to a lean staff and numerous volunteers. In 2017, Vu helped secure a $10,000 to help build a community center in Tijuana, Mexico, at the only HIV/AIDS hospice in Baja California. He says, "Thanks to Cal Poly and the well-rounded education of the California State University system, I will continue to find ways to give back my gifts of time, talent, and treasure. May all of us find the same during this difficult time."
Anthony Bonilla (Environmental Engineering '11, MBA '14) was named president of Cal Poly Alumni Association's Los Angeles Chapter.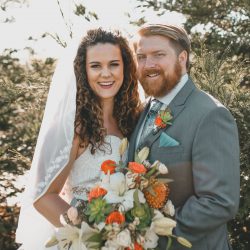 Garrett Gudgel (Mechanical Engineering '15, M.S. Mechanical Engineering '15) and Jenna Watson Gudgel (Journalism '14) married in 2019 surrounded by Cal Poly friends. They met nearly 10 years ago during their first quarter at Cal Poly during an Avila Beach bonfire hosted by the Intervarsity Christian Fellowship. Today, Garrett works as a senior electrical design engineer at Tesla and pursues his passion for music outside of work. He has fond college memories of working hard in the student chapter of American Society of Mechanical Engineers, playing trumpet in the wind ensemble, and singing acapella with friends in 'That's the Key.' Jenna works as the public relations and communications manager at HR.com. She also serves as the 2020 president for the San Francisco Bay Area chapter of the Public Relations Society of America, and reflects fondly on her days in Cal Poly's Public Relations Student Society of America. She has great memories of giving campus tours with Poly Reps, playing intramural sports, spearheading Mustang Media Group with her peers, studying abroad in London, and conducting research in the Honors Program. They say, "We are thankful for and empowered by the Learn by Doing culture we were both immersed in at Cal Poly. SLO will always hold a special place in our hearts."
Orfalea College of Business
'60s
James Baucher (Technical Arts '65) has been retired for 15 years and enjoys traveling the world.
'80s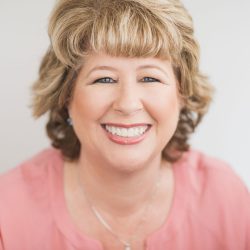 Mary Joyce Ivers (Industrial Technology '84) was recently appointed as the National President for the American Public Works Association (APWA) with more than 30,000 members. APWA's mission is to advance the quality of life for all and to promote careers in public works, and advocate for infrastructure. She credits her experiences at Cal Poly in the industrial technology program for her successful career. When the APWA Reporter asked Ivers how she got into public works, she said "I went to Cal Poly, San Luis Obispo, and their motto is Learn By Doing so I am continuously learning." She adds, "Go Mustangs!"
'00s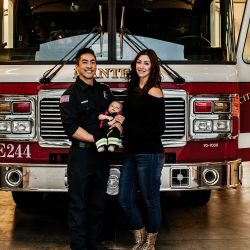 Derek (Business Administration '02) and Leah Leong (Business Administration' 03) met in Dr. Danes' marketing class in 2001, got engaged on the lawn of the Business Building in 2009, and were married at the Monday Club in 2011. Derek was recently promoted to the rank of captain for the City of Manteca Fire Department. After working for a law office, Leah is now a full time Mom for the couple's 10-month-old boy, Griffin. They say, "We left SLO, but SLO never left us. We look back fondly on memories made there, and still come back to visit several times a year."
'10s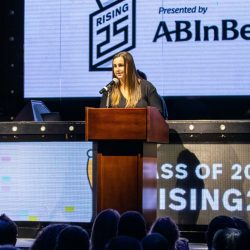 Kaitlin Brennan (Business Administration '17) was named to Front Office Sports' Rising 25 class of 2019 representing some of the brightest young professionals in the sports industry. She works in marketing for Stanford's Athletic Department with a focus on enhancing revenue and brand affinity for four of the department's primary ticketed sports. She started an internship program at Stanford, where she hires and mentors many Cal Poly students as a way to give back to her alma mater. Brennan says an internship in the Mustang Athletics and a mentor in the Orfalea College of Business' Executive Partner Program positioned her for success.