My First Patient
Biology graduate Justin Chan reflects on a life-changing opportunity to work with Cal Poly's cadaver lab on his way toward a career in health care.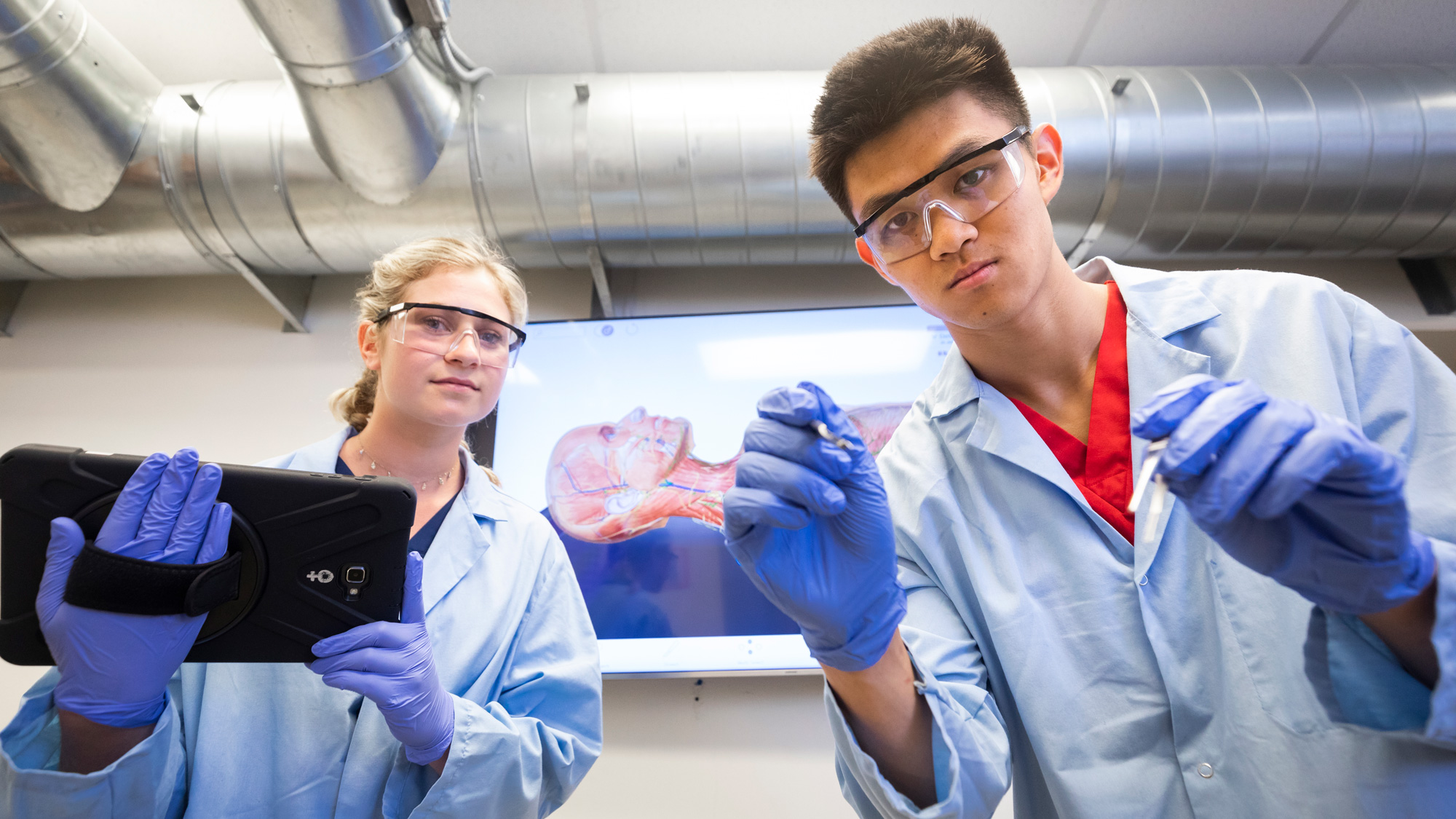 *The photos and article reflect a course that was offered in summer 2019, before the coronavirus pandemic.
In the summer of 2019, I had the opportunity to participate in Cal Poly's human cadaver lab with Dr. Mike Jones. The five-week program focused on learning functional anatomy through hands-on dissection on a human cadaver — an opportunity usually reserved only for medical students
Mike Jones taught very good etiquette, establishing a high respect and reverence for the cadavers by covering the face, private parts, and hands and feet whenever possible. He was extremely professional, guiding us as an experienced surgeon would, and taking time to halt our scalpels mid-cut to make sure we truly understood why we were doing what we were doing.
That summer was the biggest learning experience of my life. I had taken most of the upper division anatomy classes at that point, but no amount of experience drawing my own diagrams for exams could ever compare.
I dissected the face and neck that summer — locating and tracing the major arteries and veins supplying blood to the head. I also dissected the heart, revealing an enlarged left ventricle and heart attack as the cause of death. I sawed through the cranium with a cranial drill to remove the brain.
I could memorize and draw the celiac trunk in BIO 408, but being able to physically poke around under the heart to find the celiac trunk with my own fingers burned those drawings into my brain forever. To this day, I'll never forget the feeling of holding the sciatic nerve in my hands. I'll never forget reflecting the forearm to trace the radial artery with my thumb. It was truly a Learn by Doing experience.
This class fully embodied the Cal Poly vision of Learn by Doing — an experience I will never forget for the rest of my life.
After my experience in the cadaver lab ended, I was volunteering in the emergency room at Sierra Vista Regional Medical Center when I had an experience where I was able to apply what I learned.
A patient came in with a severe laceration on his calf from a chainsaw accident. The spinning, rough blade had sliced straight through the outermost muscle in the posterior calf. The doctor was holding the patient's foot with his hands, testing if the patient was able to flex up or down with his foot. I could immediately tell that the doctor was testing for nerve damage, and I was able to recall which nerves he was checking for that corresponded to the specific tests. Thankfully, the patient had no nerve damage, as he was able to flex his foot.
That was a really cool "aha" moment, where I was able to apply my newfound knowledge of posterior calf nerve innervation in a setting outside the classroom.
I highly recommend this cadaver experience to any student interested. This class not only provides immense insight to the compartmentalized intricacies of the human body, but also further confirms if medicine is your calling.
This class fully embodied the Cal Poly vision of Learn by Doing — an experience I will never forget for the rest of my life.