Not Kitten Around
Students step up to care for dozens of furry friends in the Cal Poly Cat Program amidst the pandemic.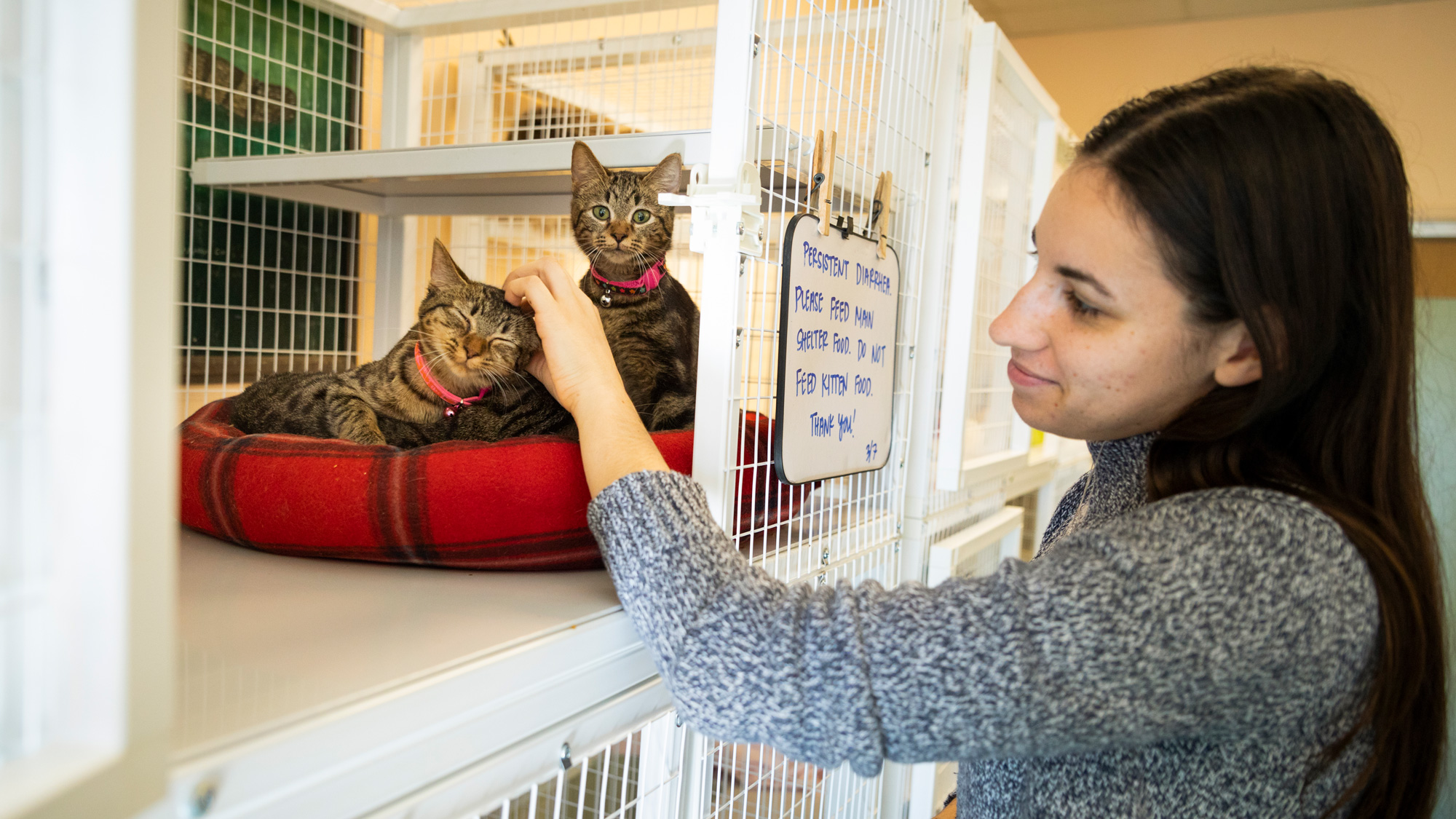 In mid-March, the Cal Poly Cat Program's staff was gearing up for kitten season and the challenges of spring quarter when the coronavirus pandemic hit, upending their plans.
The shelter staff, comprised mostly of Cal Poly students, moved quickly to figure out what to do — even as they balanced final exams and the day-to-day challenges of running a shelter.
"A lot of it is just adapting and improvising," said animal science student Ali Chavez, the shelter's co-manager. "We've had to be very flexible and live day-to-day, moment-to-moment, especially at the beginning, when things were so uncertain."
The shelter is small, and many volunteers are older, so the team had to figure out the best way to take care of the cats while protecting their volunteers, and try to stay on top of a rapidly-evolving situation.
"It's been a learning curve. We've all had to rely a lot on each other and good communication," said animal science student Samantha Cvetovac, the shelter's co-manager. "We definitely have a good team."
The increase in people staying at home due to the pandemic has led to more adoptions and fosters as well, the team said. They've had to figure out how to conduct adoptions and foster out cats in the new, socially distanced environment.
Since June, the shelter has adopted out more than 50 kittens, Cvetovac said.
"These numbers are huge to us as Cal Poly Cat Program has always been a small organization," she added.
The Cal Poly Cat Program has also expanded its TNR program with social media coordinator Andrea Brkic leading the effort. TNR, short for Trap, Neuter, and Release, is a program that stems overpopulation of feral cats by trapping them, neutering or spaying them, and then releasing them back outside.
"Luckily, many private property owners in SLO County have been eager to take in barn cats," Cvetovac said. "Feral barn kitties provide excellent natural pest control on properties with and without working animals."
Cvetovac said that the spays and neuters of kittens and feral cats, as well as vaccines and other medical expenses, have put a dent in the shelter's medical fund, as they rely on donations to keep the shelter running.
"We Learn by Doing almost every single day," said adoptions coordinator Alexis Leviner. "We talk about what we've been doing, what we can do better and we try to improve where we can."
Donations can be made through the program's Amazon wish list. To learn more about the Cal Poly Cat Program, visit their website, https://catprogram.calpoly.edu/, find them on Instagram at @calpoly_catprogram or their Facebook page at facebook.com/CalPolyCatProgram.