During fall quarter at Cal Poly during a year forever changed by the coronavirus pandemic, the most frequent question our editors received from parents, alumni and community members was, "What does campus look like these days?" Campus photographer Joe Johnston set out to show you some of last quarter's happenings from 1 Grand Avenue.
A Moving Experience
University Housing welcomed roughly 5,000 students to live on campus starting in September. New Mustangs, families and volunteers worked together to unload vehicles and trek to the yakʔitʸutʸu residence halls on a staggered schedule to prevent crowding.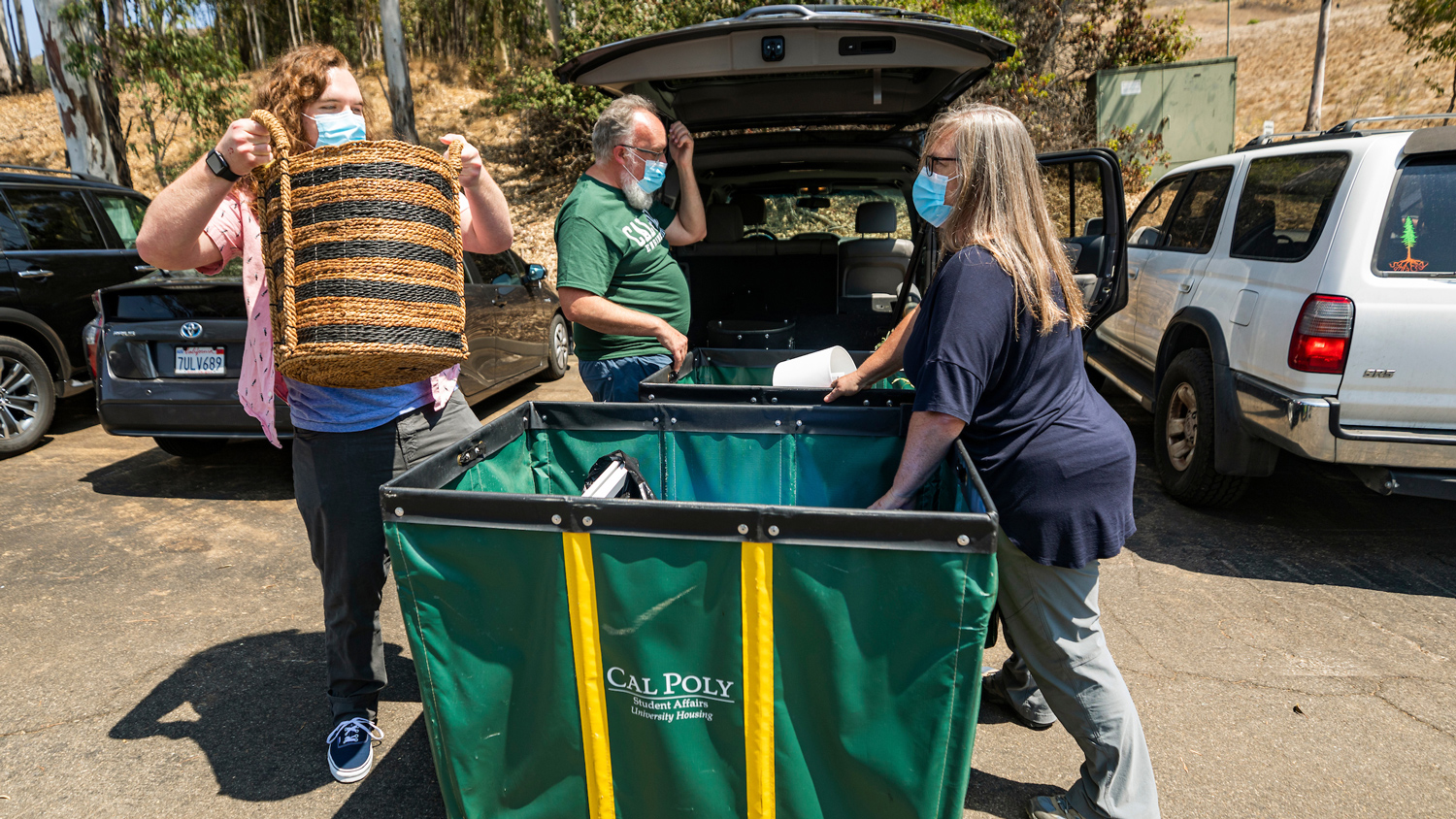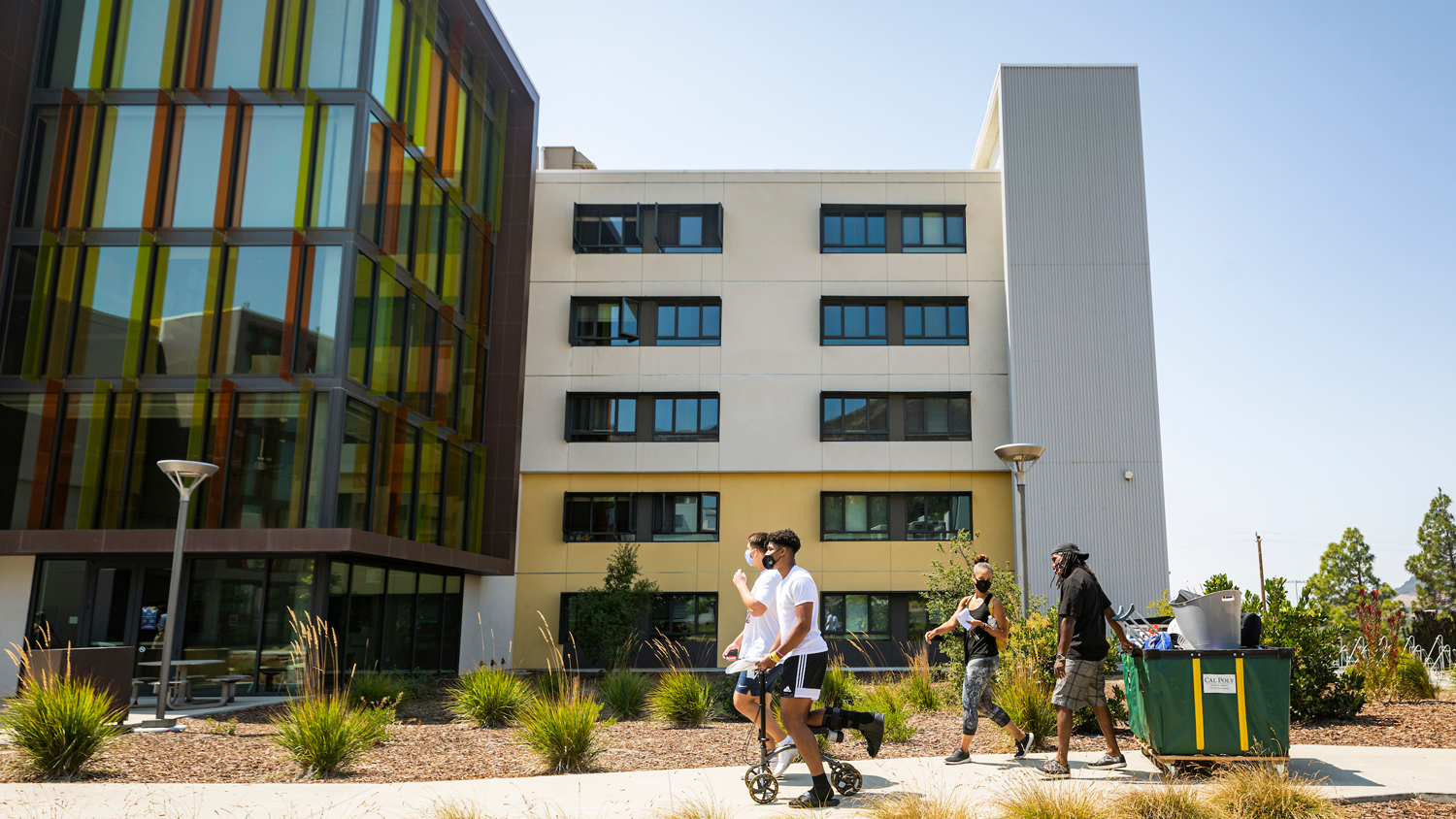 Volunteers sanitized moving carts throughout the day.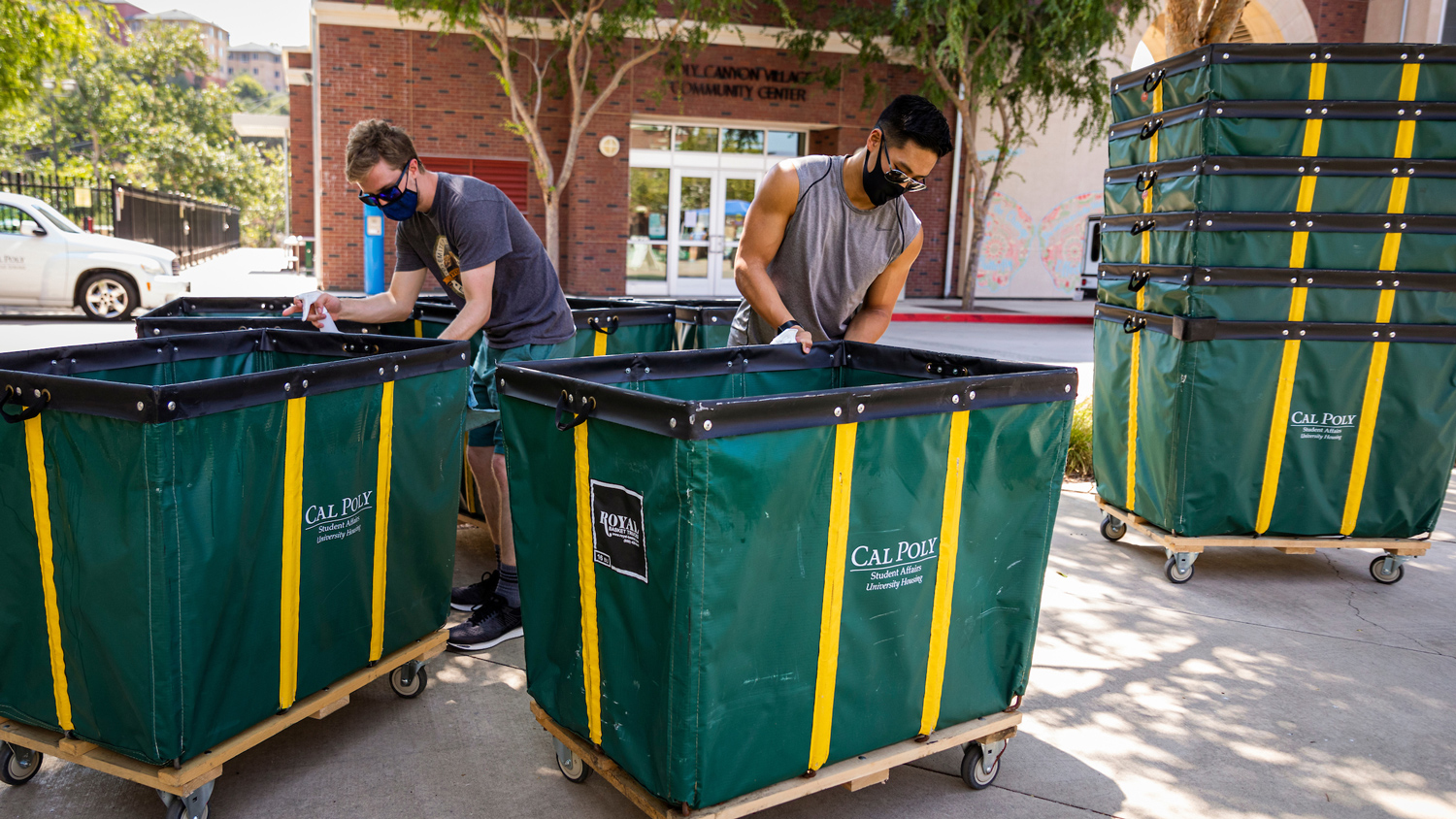 President Jeffrey Armstrong has a chat with a student and supporters at the residence halls.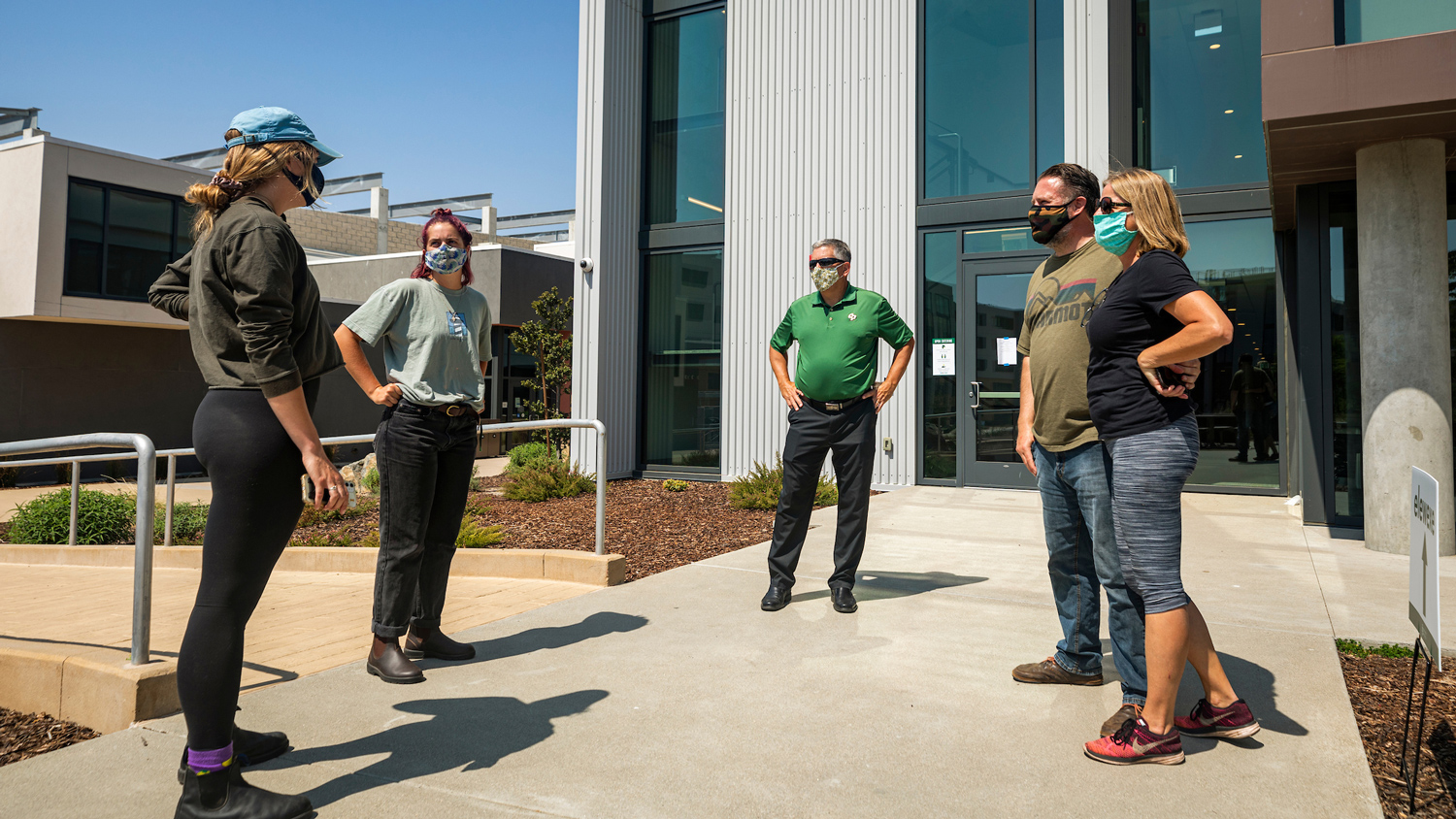 The brand new Vista Grande dining complex opened just in time to welcome new students in September. It features six different dining venues, including pizza, ramen, an allergen-free café, kosher menus and halal options. These days, students use the Grubhub app to order and pick up food safely.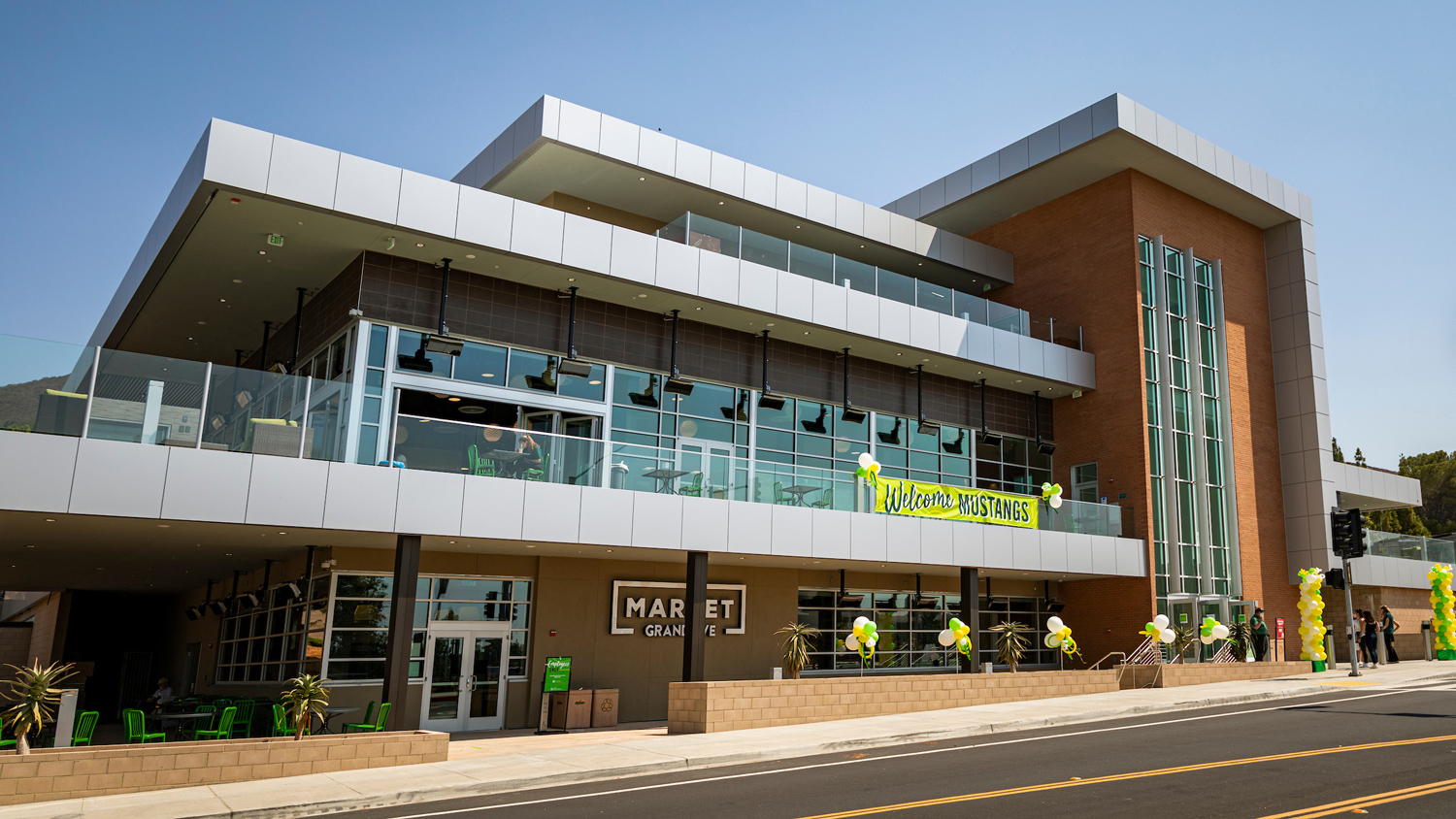 The New Normal
On campus, everyone is asked to wear face coverings and keep six feet of physical distance from others.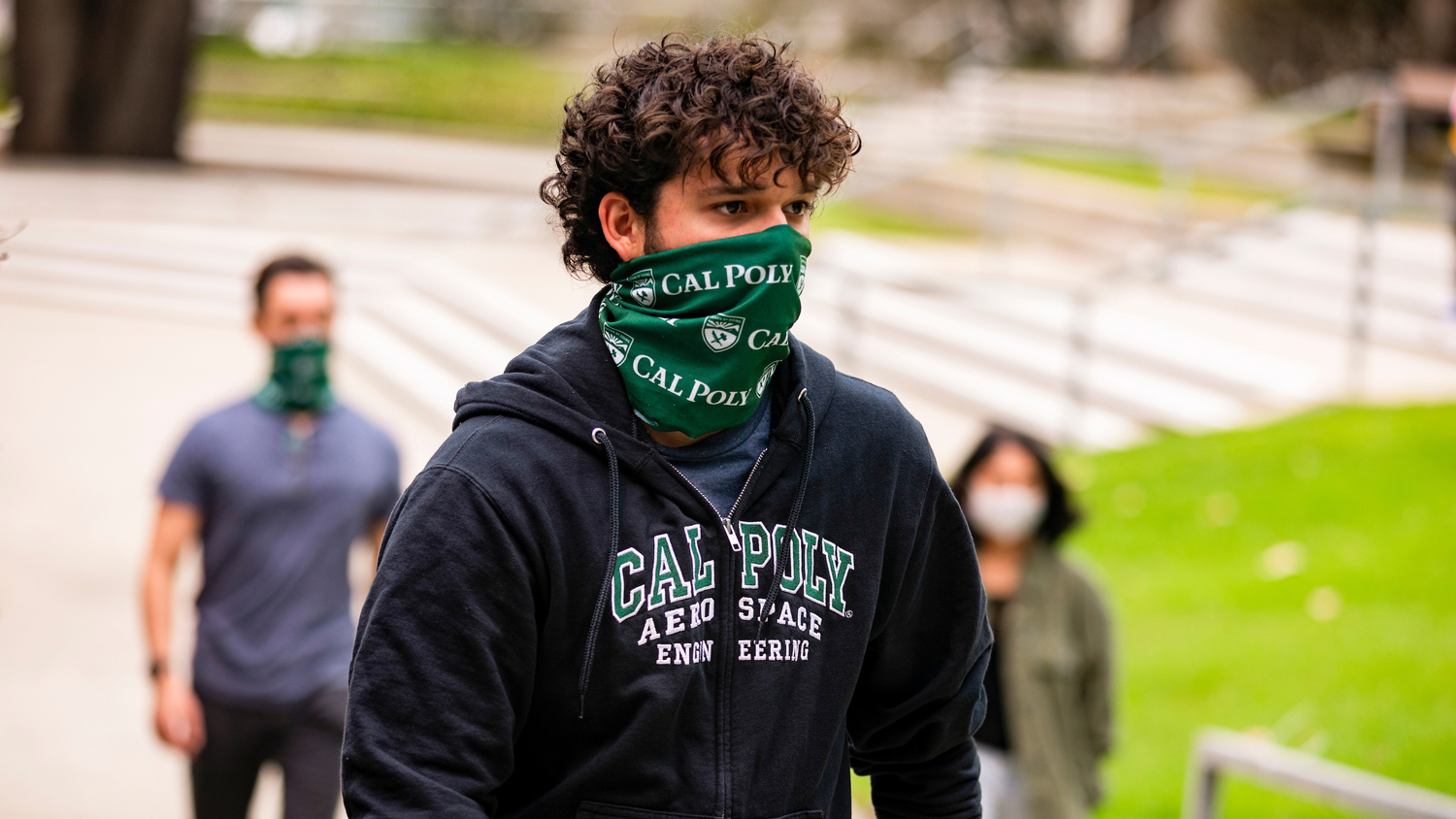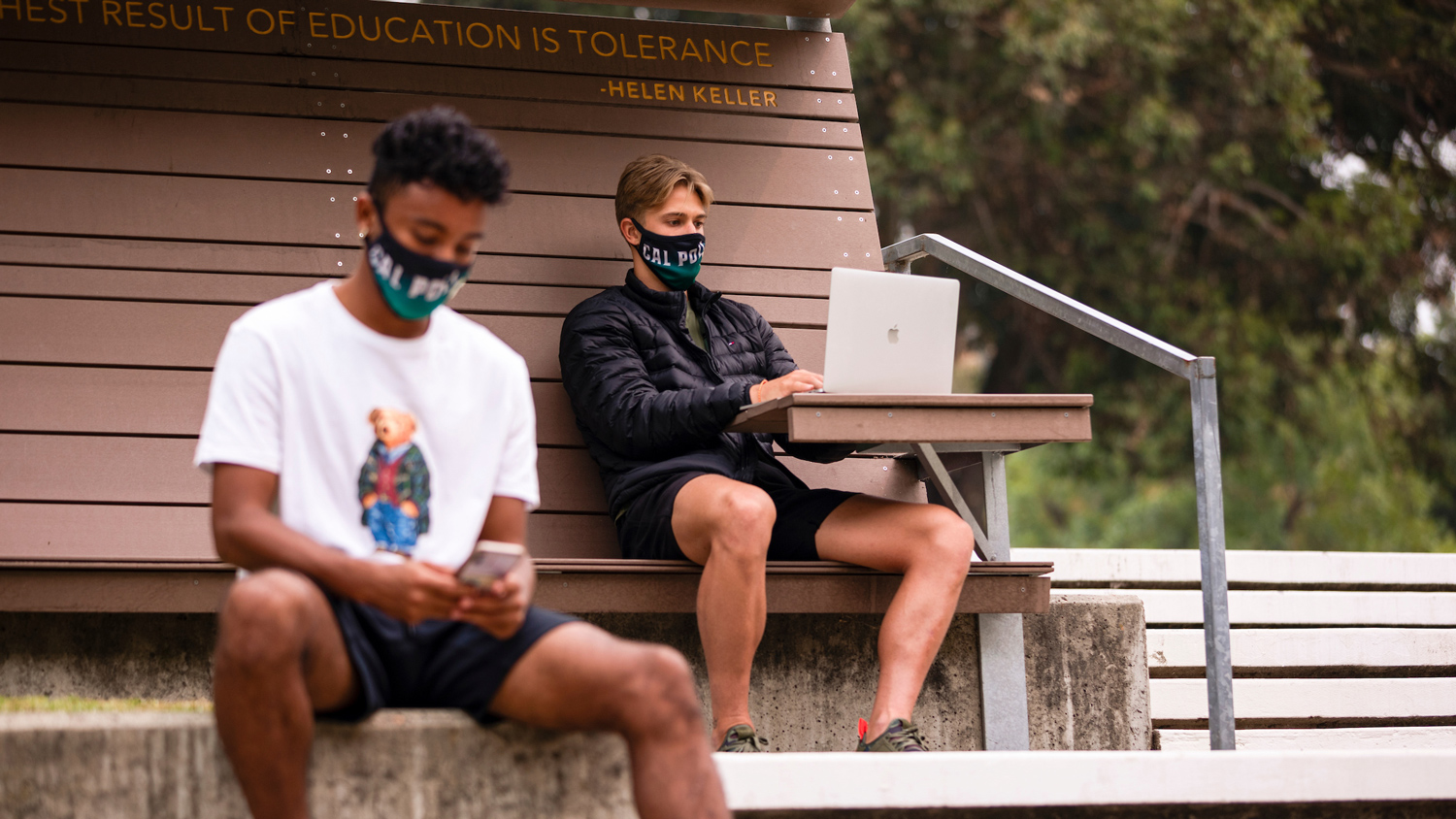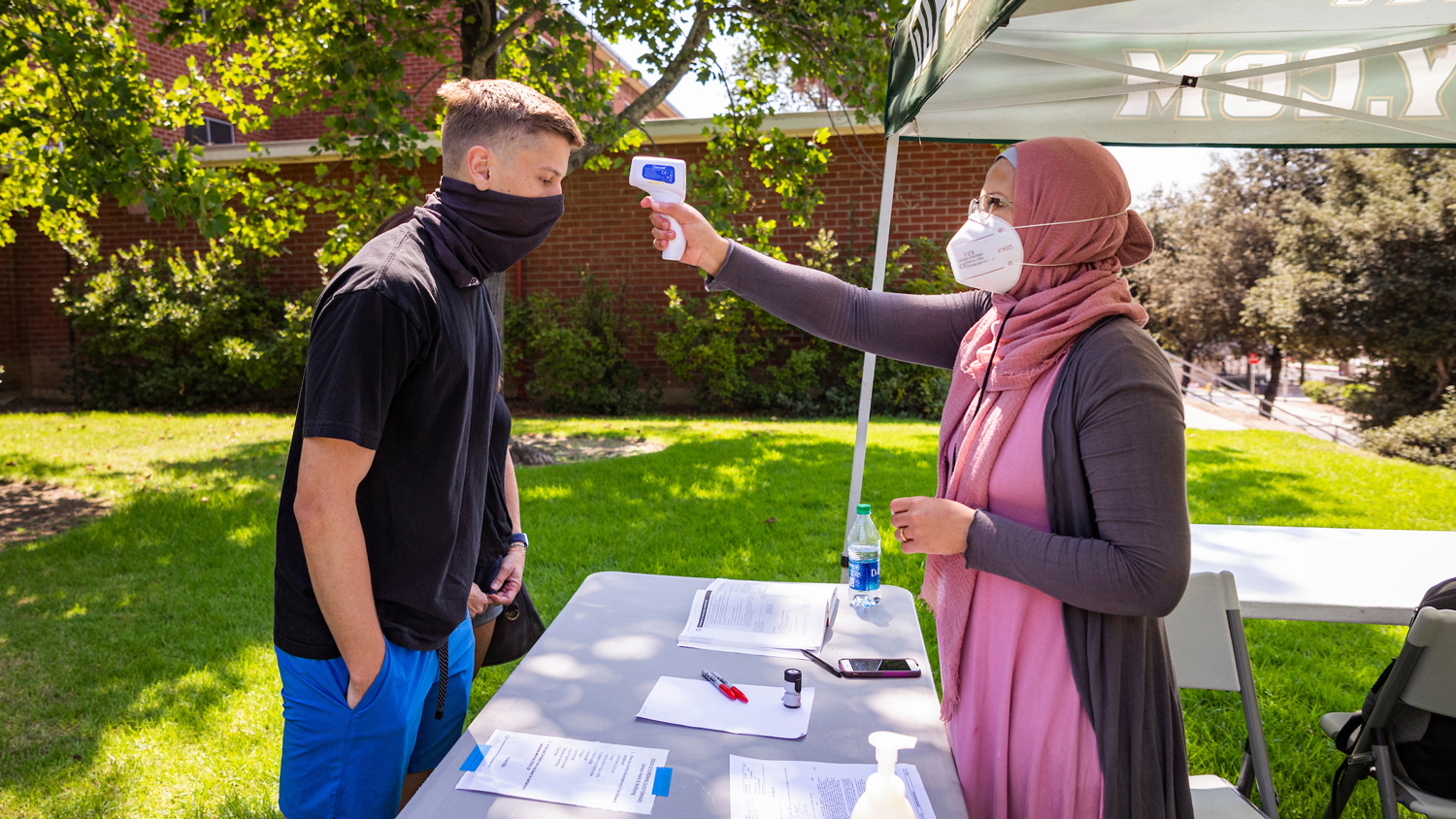 Graphic communication students working at UGS played a big role in printing new building signage that encourages these new behaviors.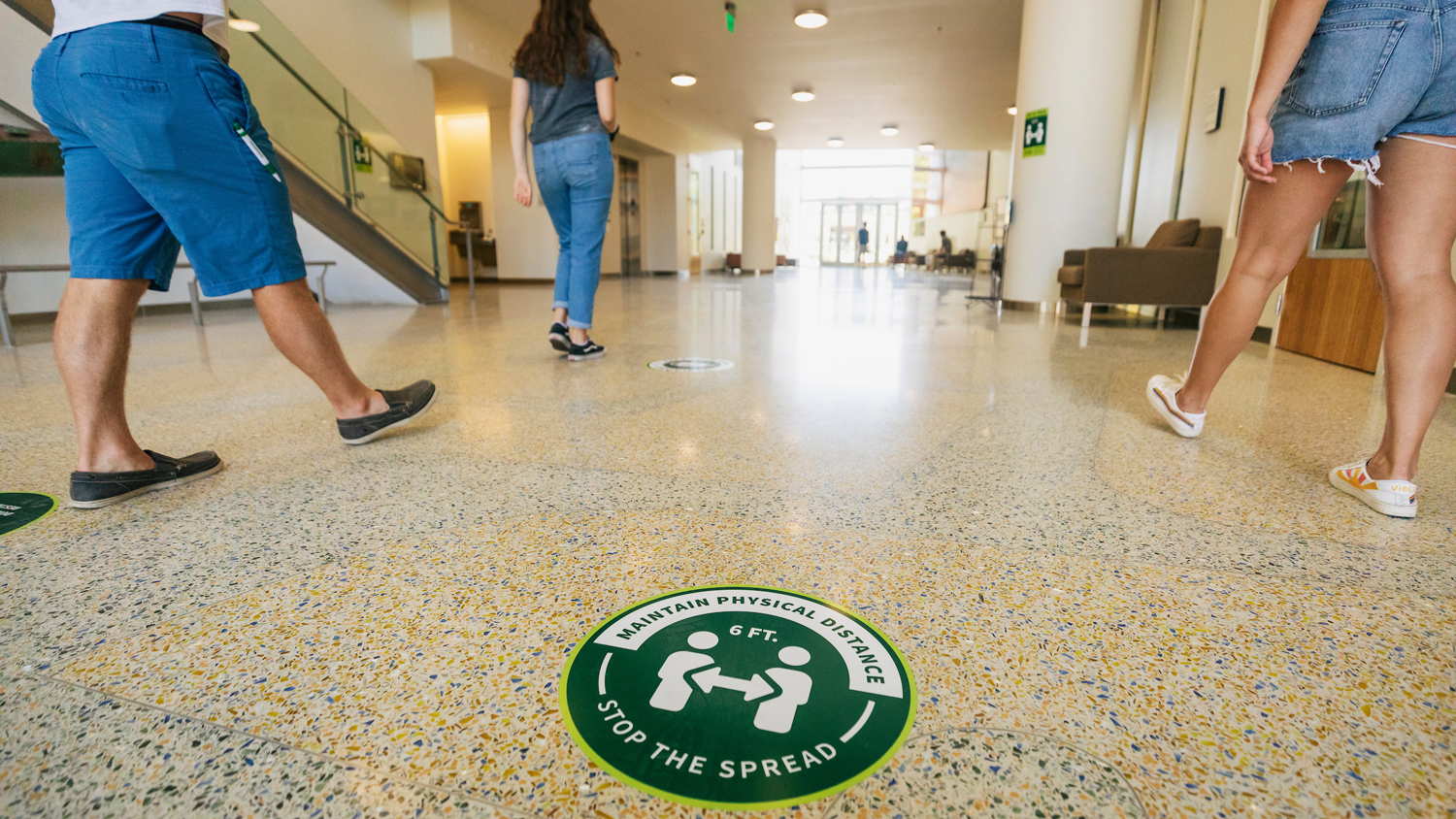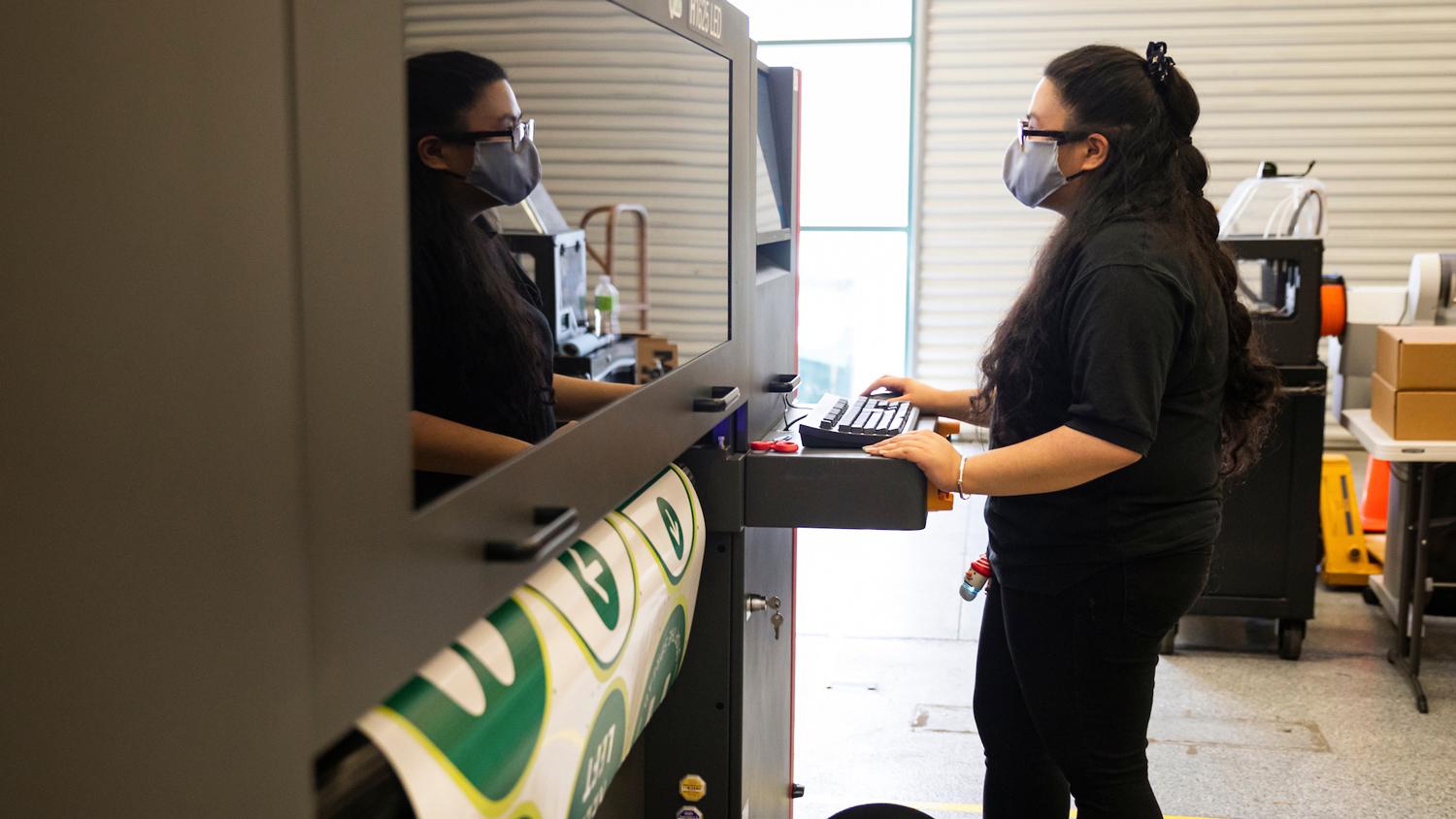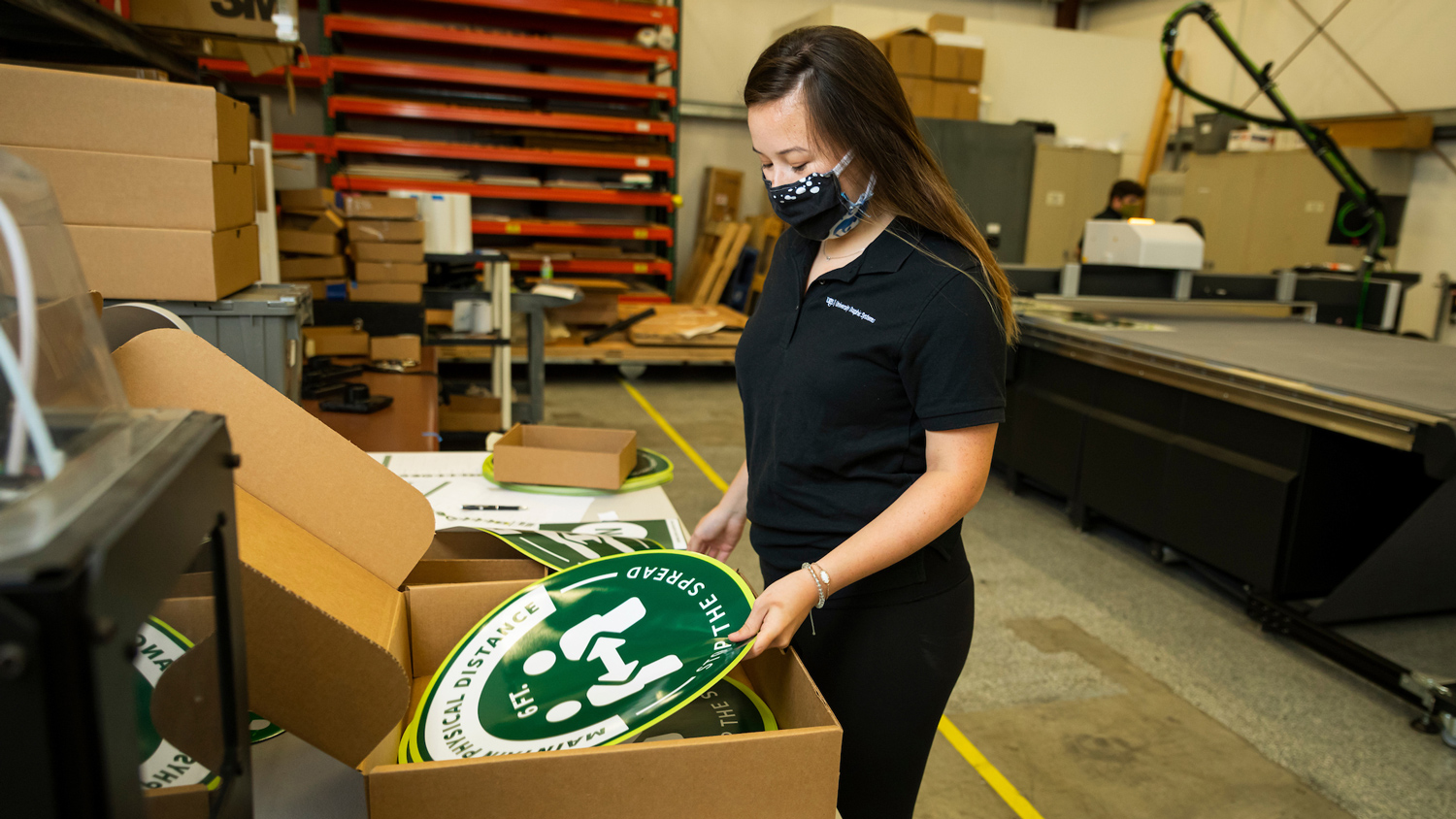 WOW Now
Cal Poly's Week of Welcome program pivoted to offer a fully virtual experience for new students and transfers living on campus and at home. More than 700 WOW leaders helped make the experience engaging and fun in a year where personal connection is critical, even if in-person activities are limited.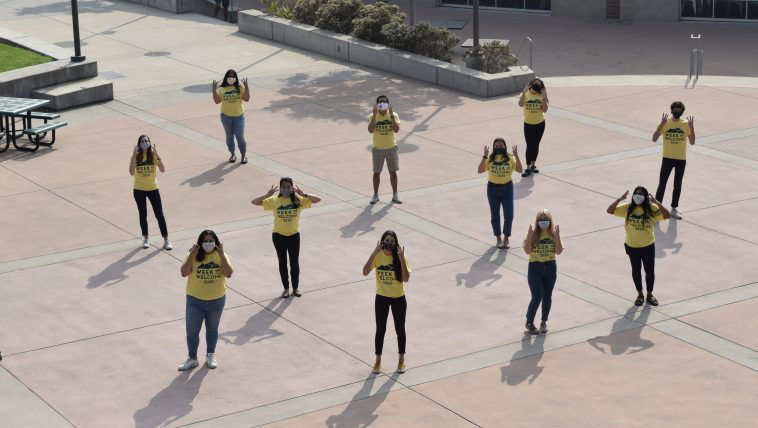 Jam Session
Some face-to-face activities continued on campus, including jam making in Cal Poly's Pilot Plant. Food science and nutrition students worked with Molly Lear, the plant's operations manager, to fill jars of blackberry jam using a small-scale processing line.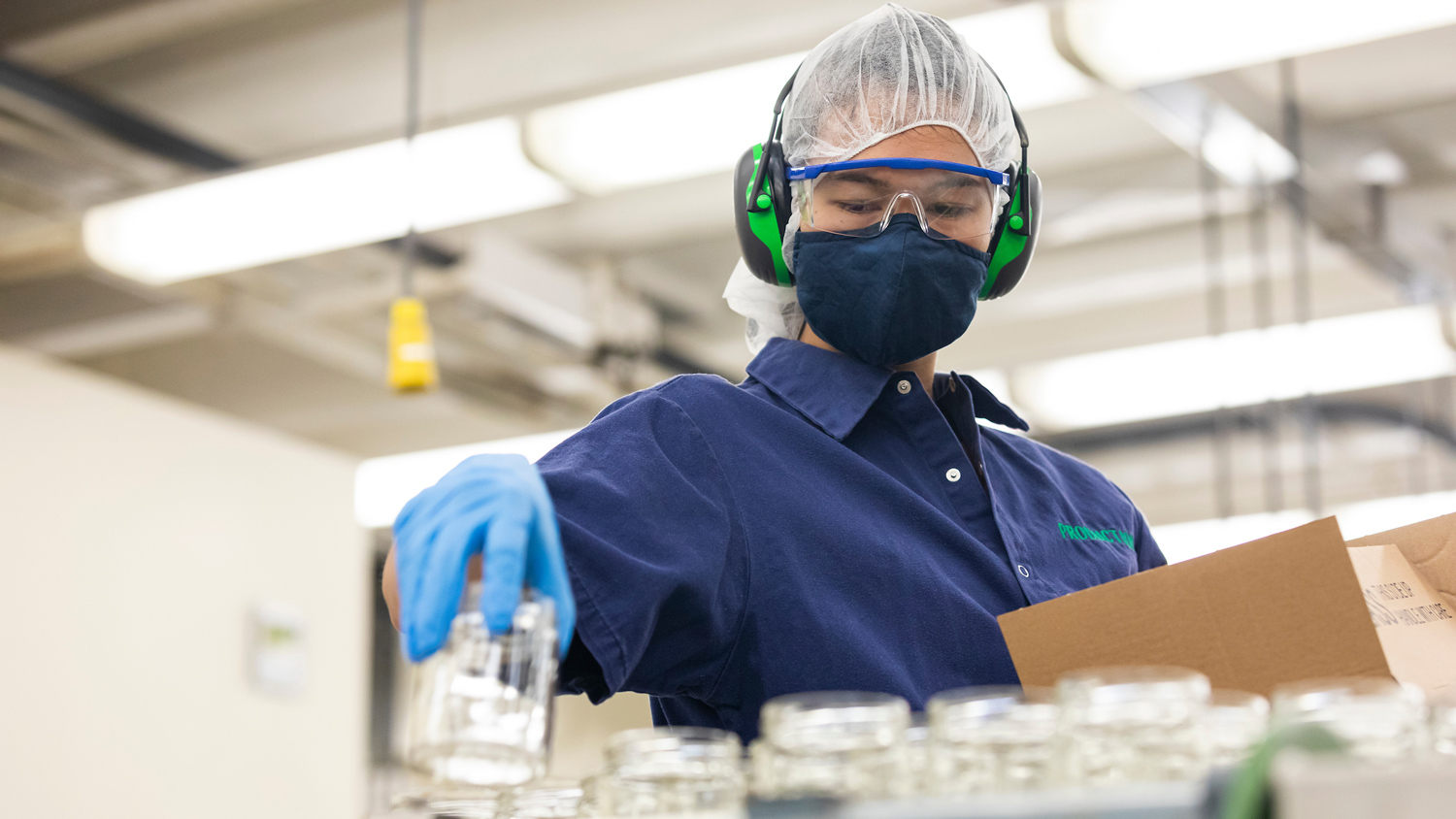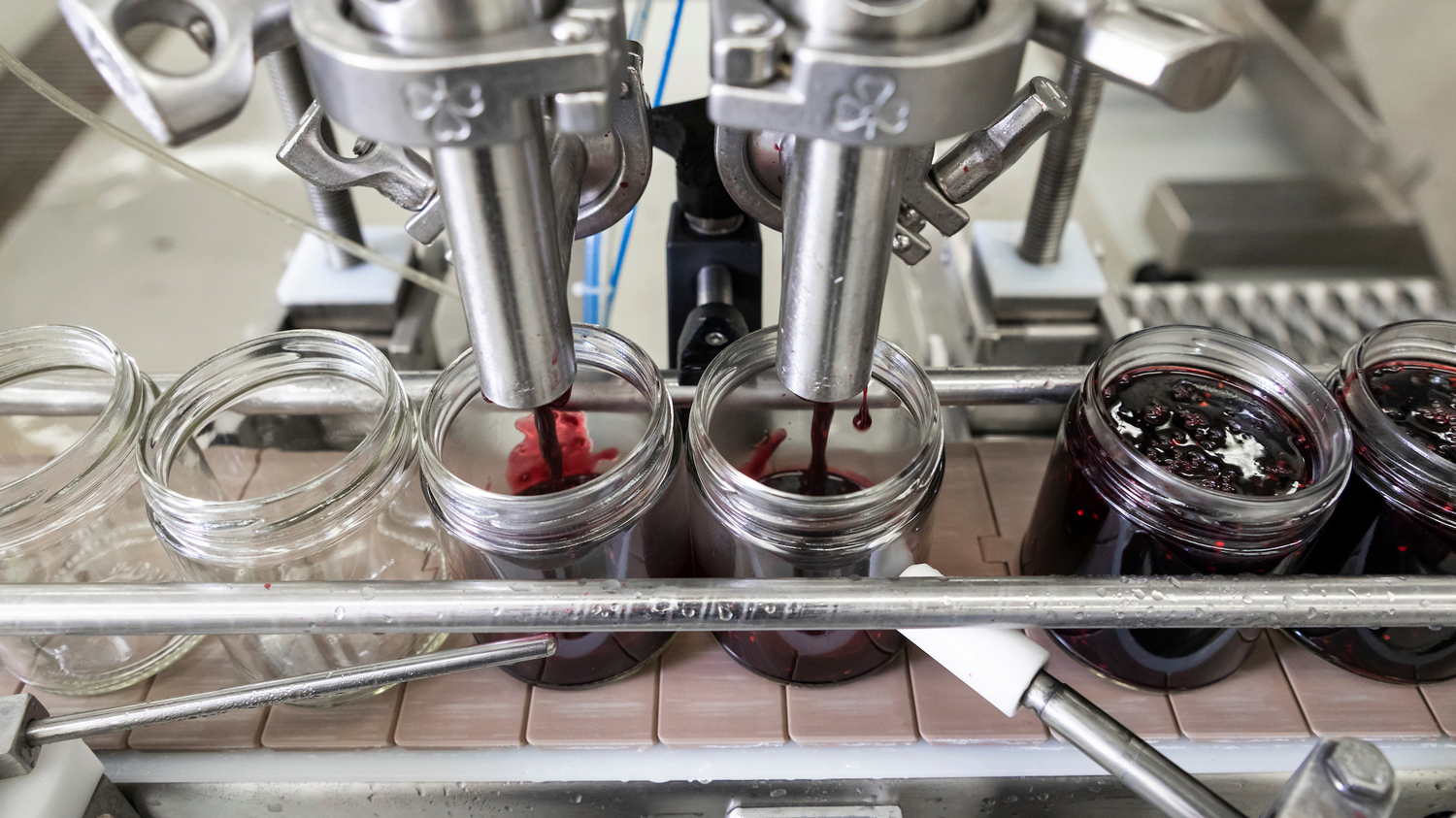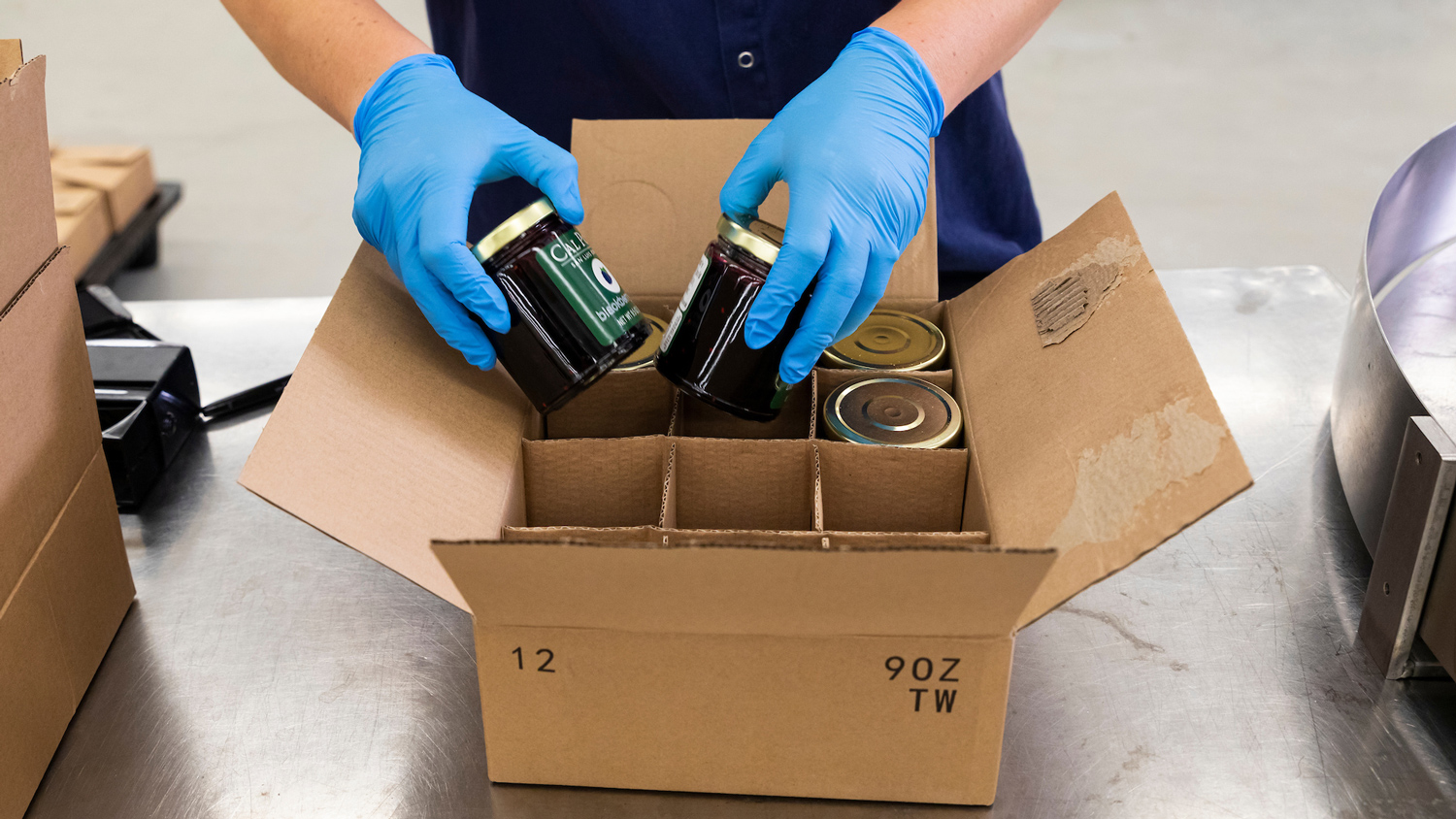 Going with the Flow
A small percentage of in-person courses, like this fluid dynamics lab, continues to meet on campus. Professor Hans Mayer and mechanical engineering students performed an experiment where students measure the volume flow rate of water through a simple piping system and compare the results to a theoretical calculation.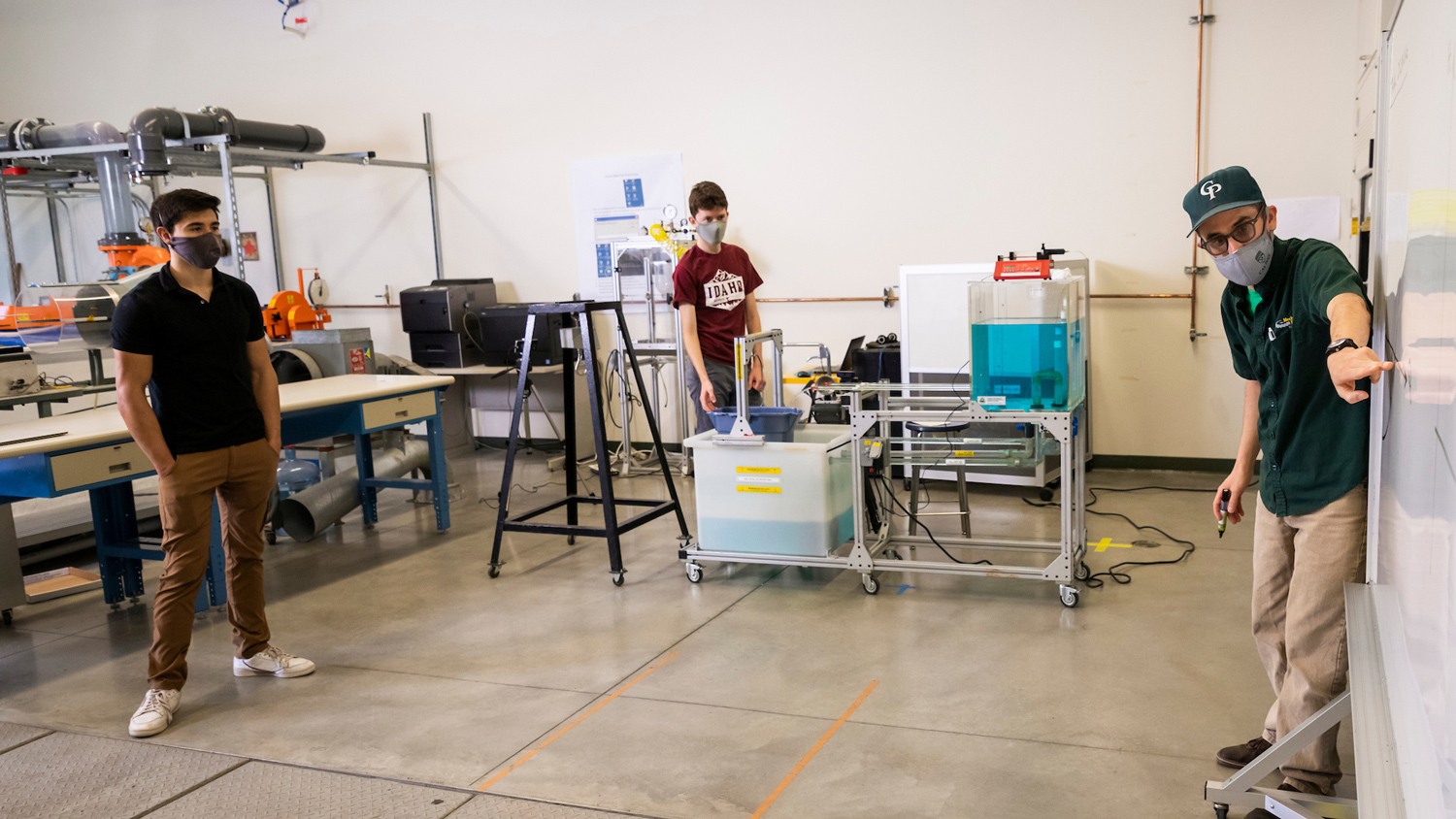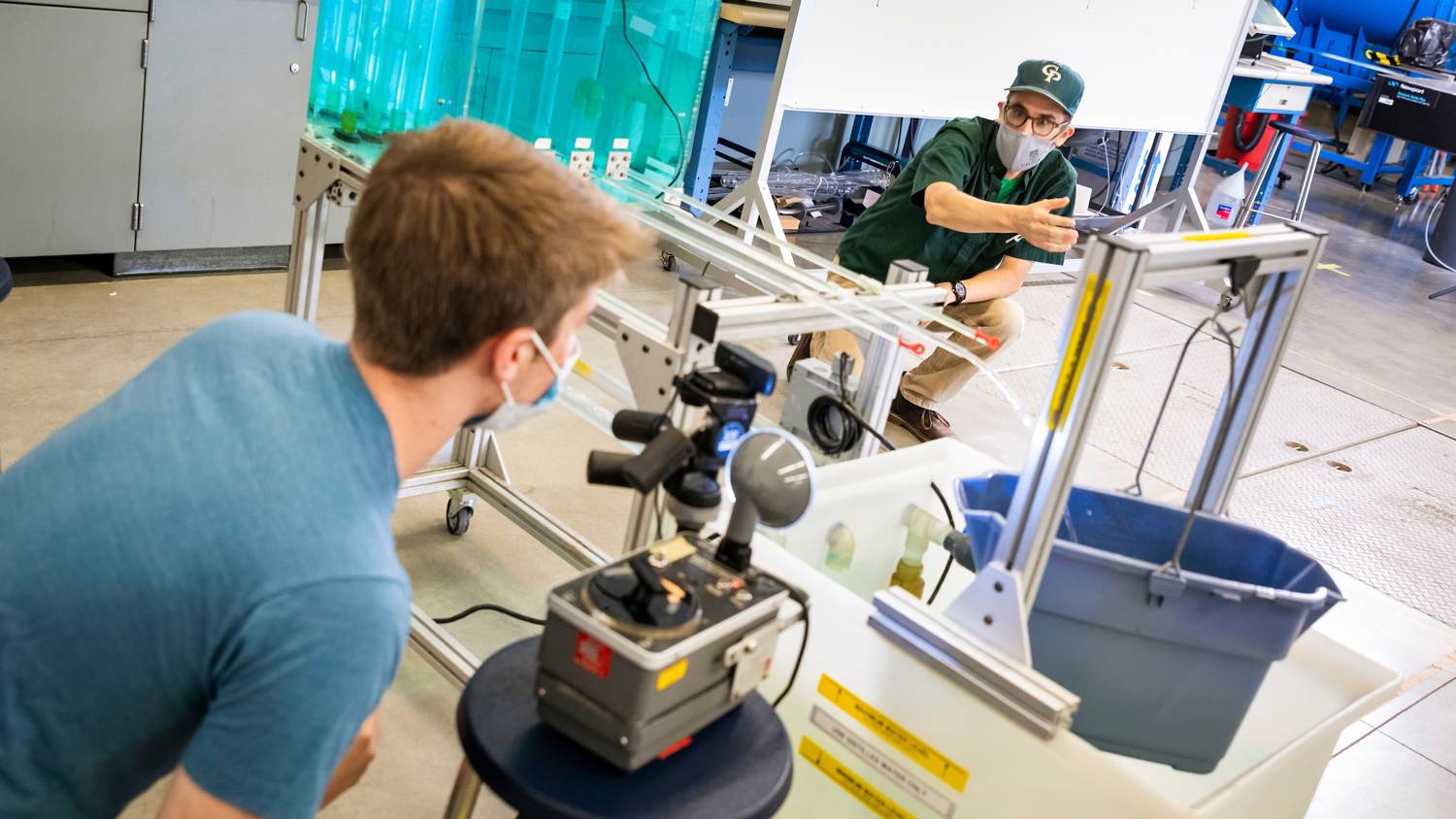 Fawns and Other Fauna
With less traffic around Cal Poly, wildlife like this deer, birds, squirrels — and yes, wild turkeys — have been spotted in greater numbers around campus.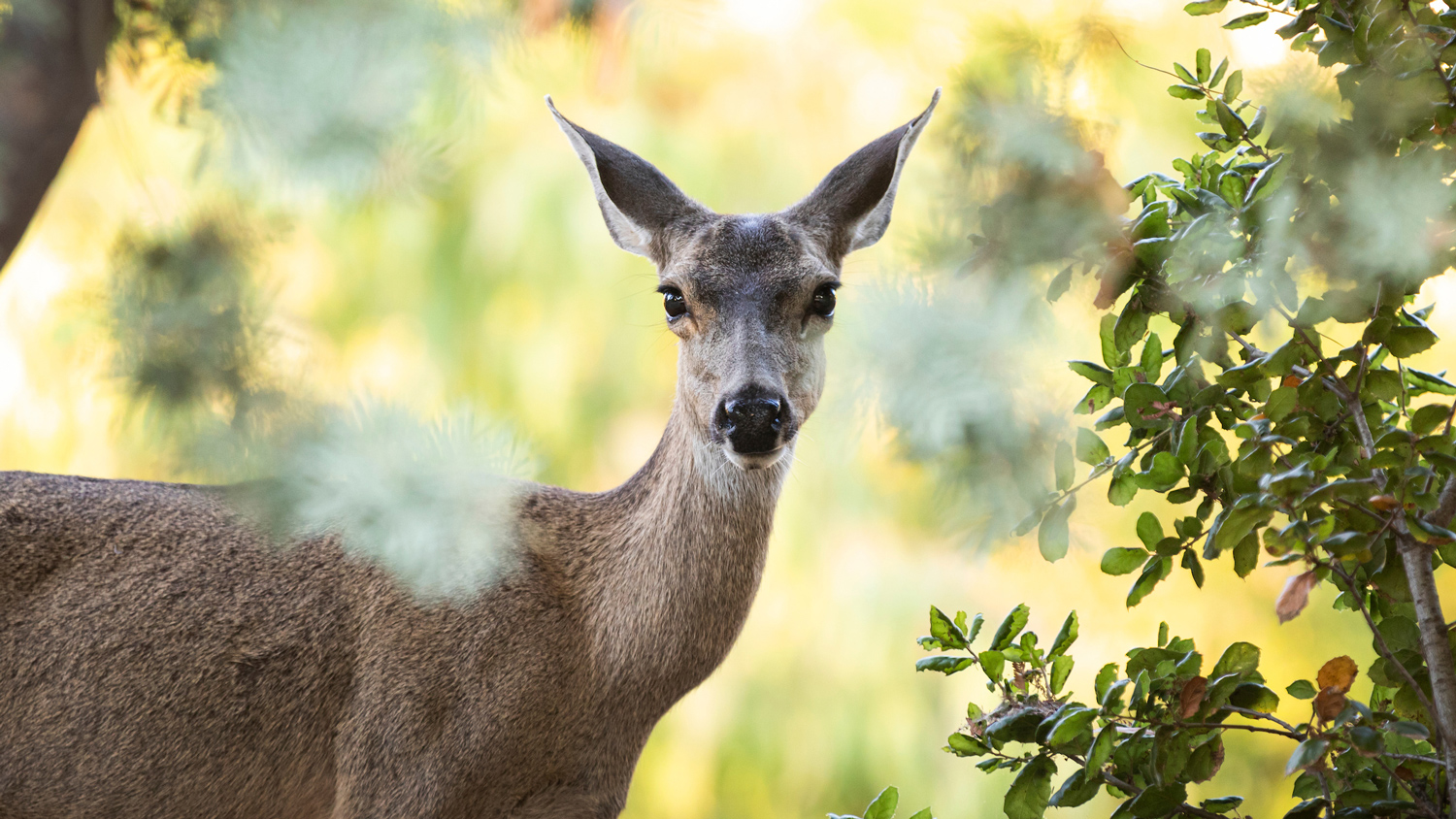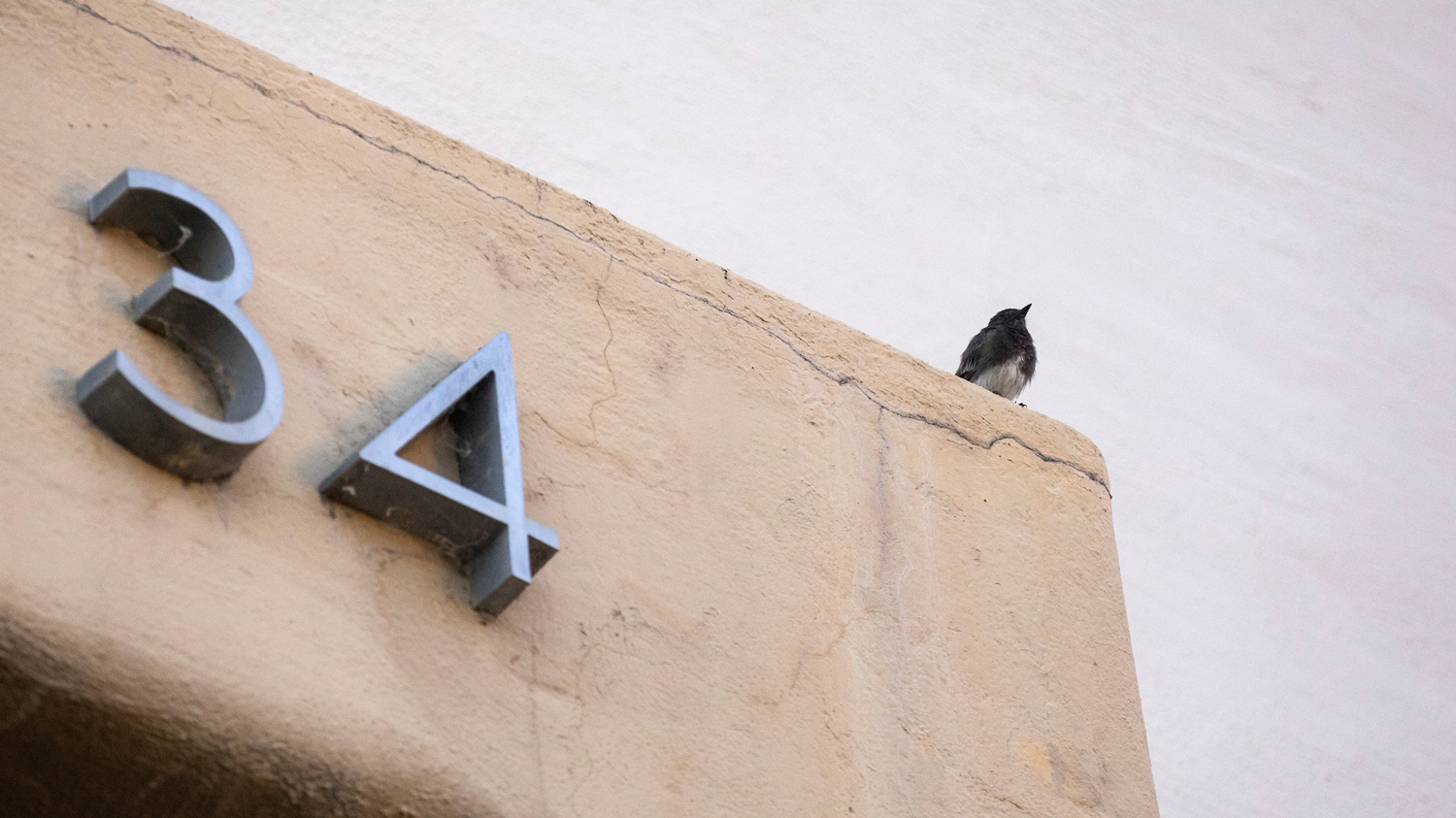 The Beat Goes On
One of the hallmarks of fall festivities at Cal Poly is the Mustang Band. With athletics and other big events on hold for now, these musicians are staying sharp with virtual and in-person rehearsals. Most of the band's more than 200 members are able to play on campus, assembling mini-bands of a few dozen performers and rotating between outdoor rehearsal spaces with conductor Nick Waldron.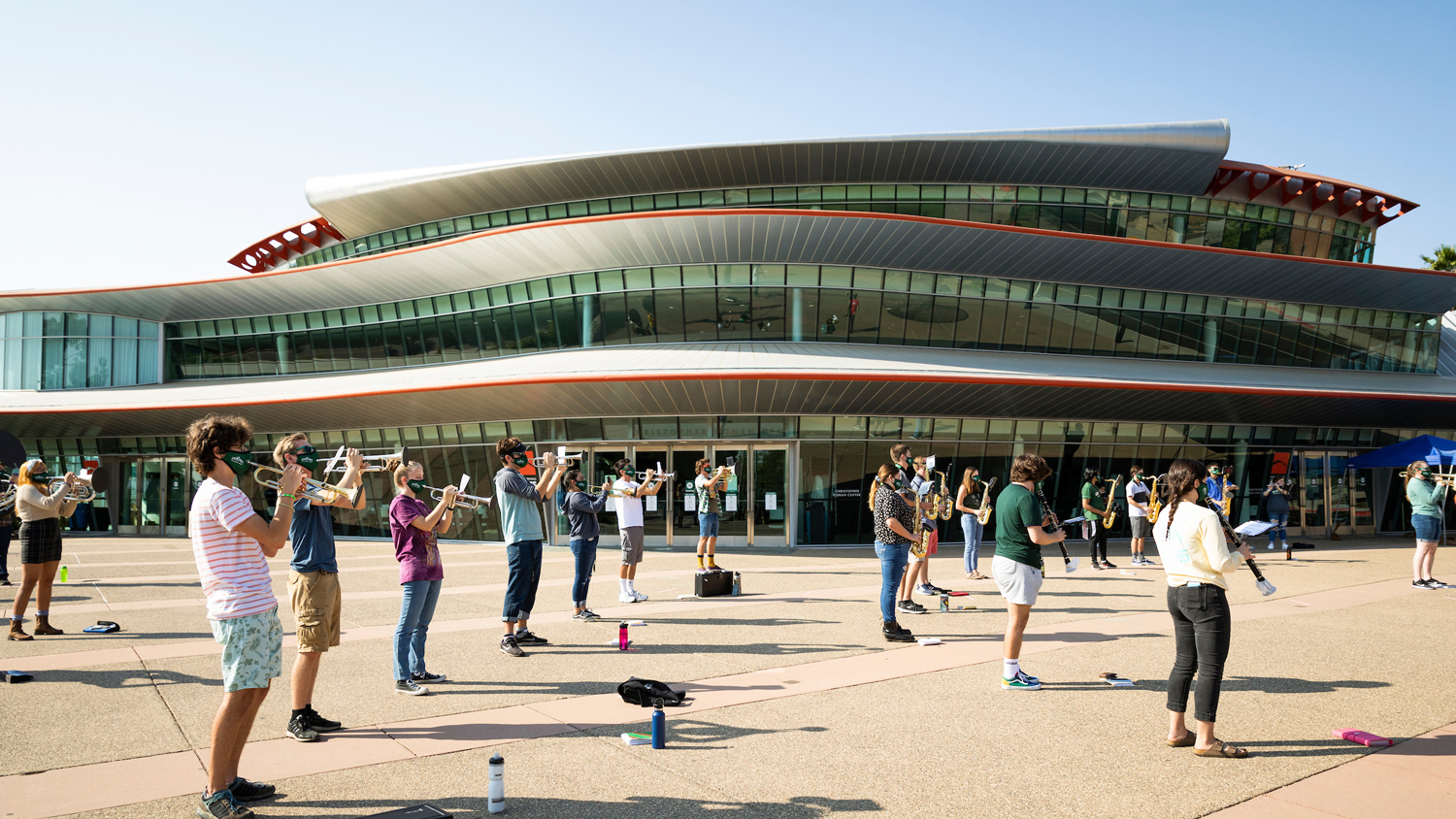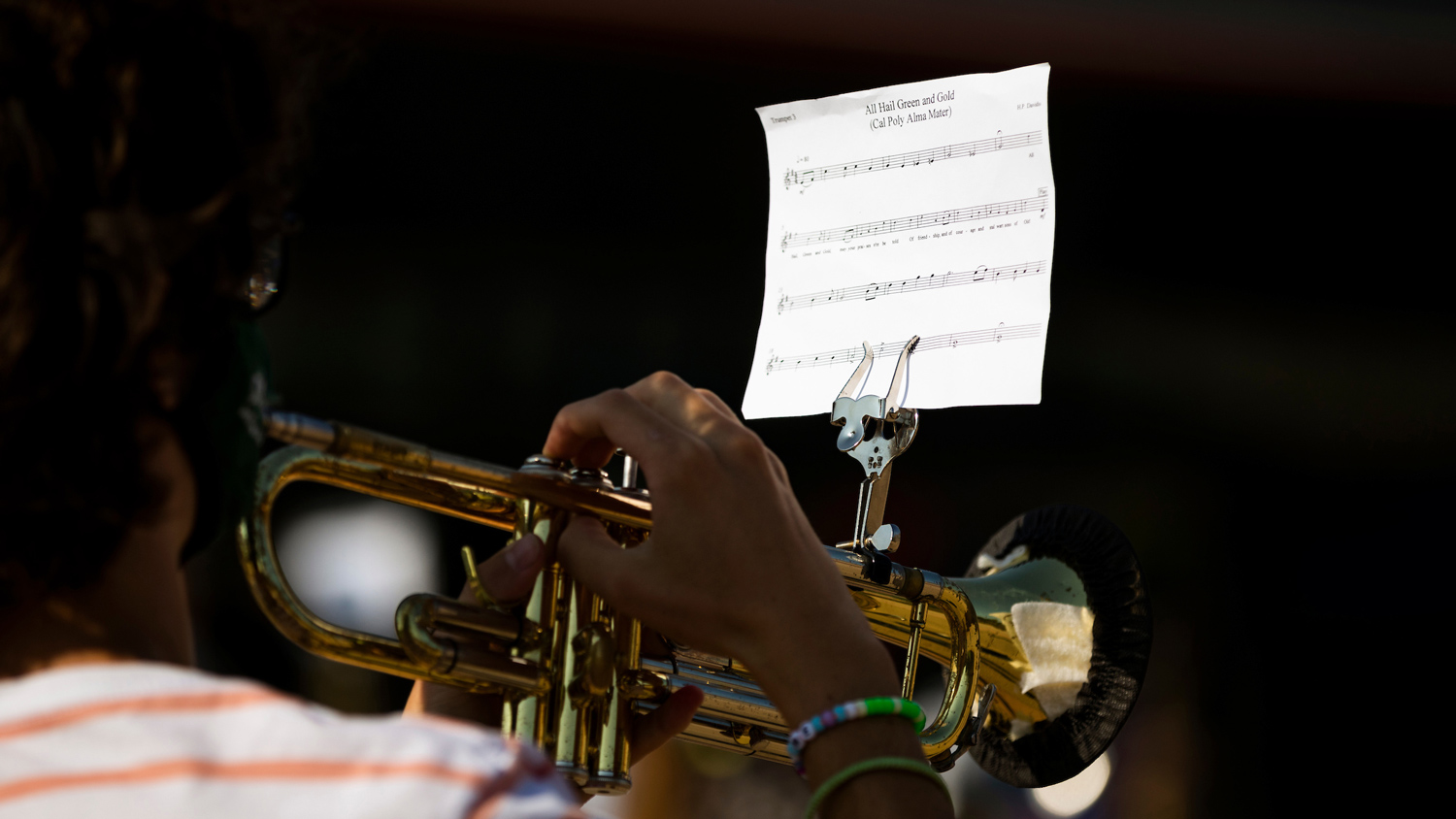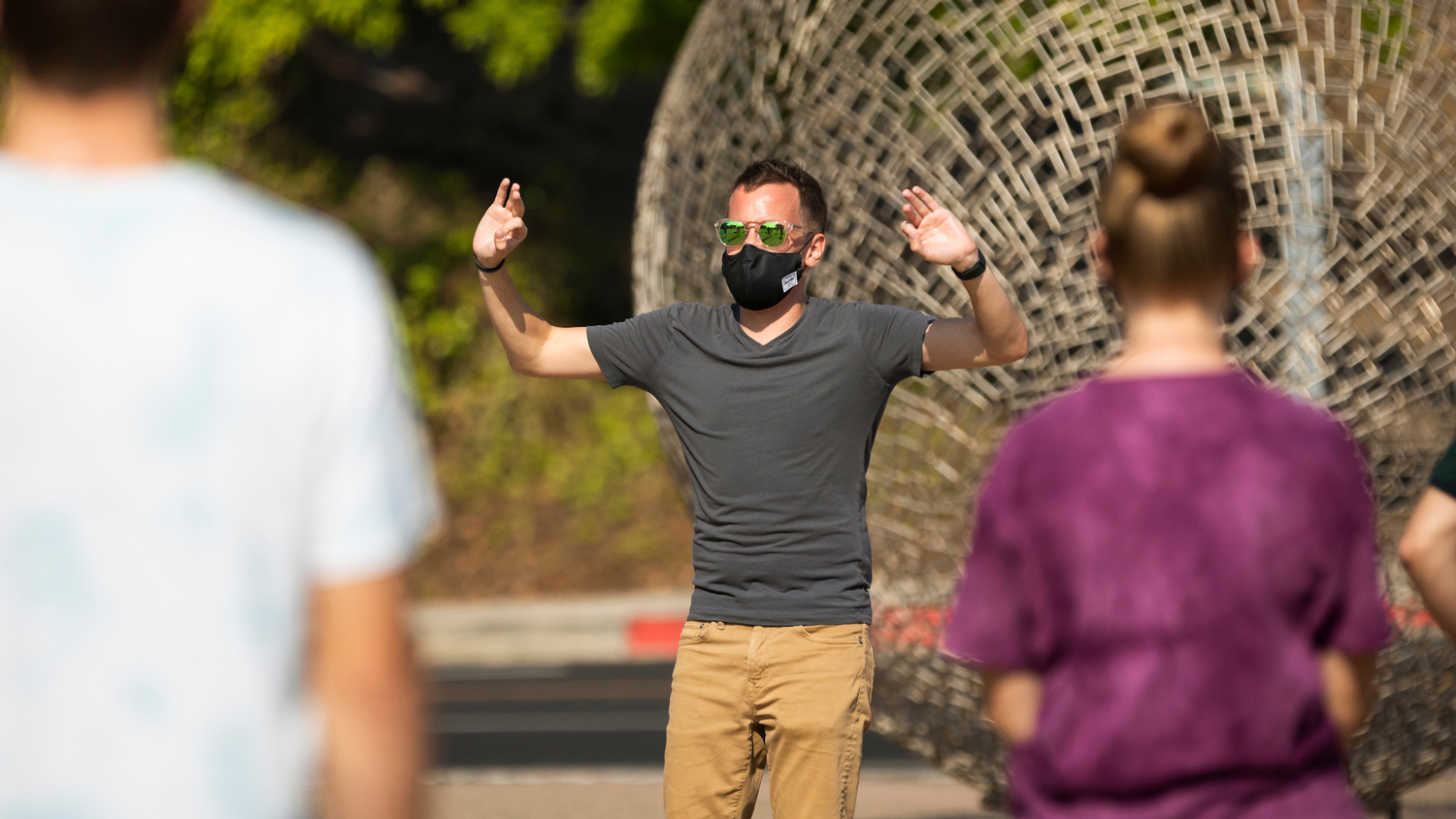 Band members play wearing special masks that allow for the mouthpieces of their instruments. When they're done playing, the musicians replace the mask's filter.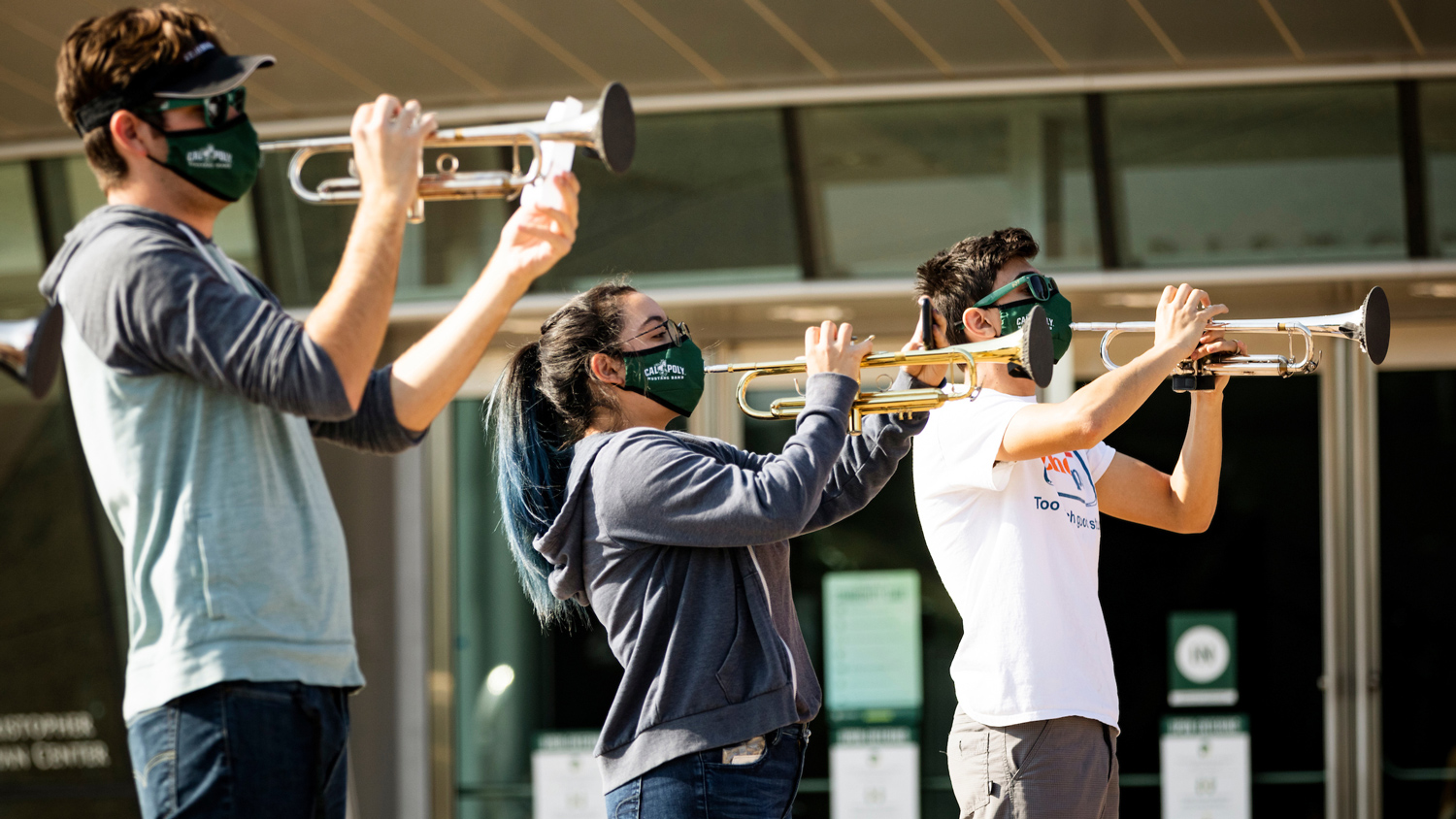 Behind the Scenes
How has such a large institution like Cal Poly orchestrated operations in the face of COVID-19? Since January, administrators, staff and faculty leaders in the Emergency Operations Center (EOC) have worked tirelessly to keep campus healthy and adapt to changing pandemic protocol. Members of the EOC now meet virtually via Zoom.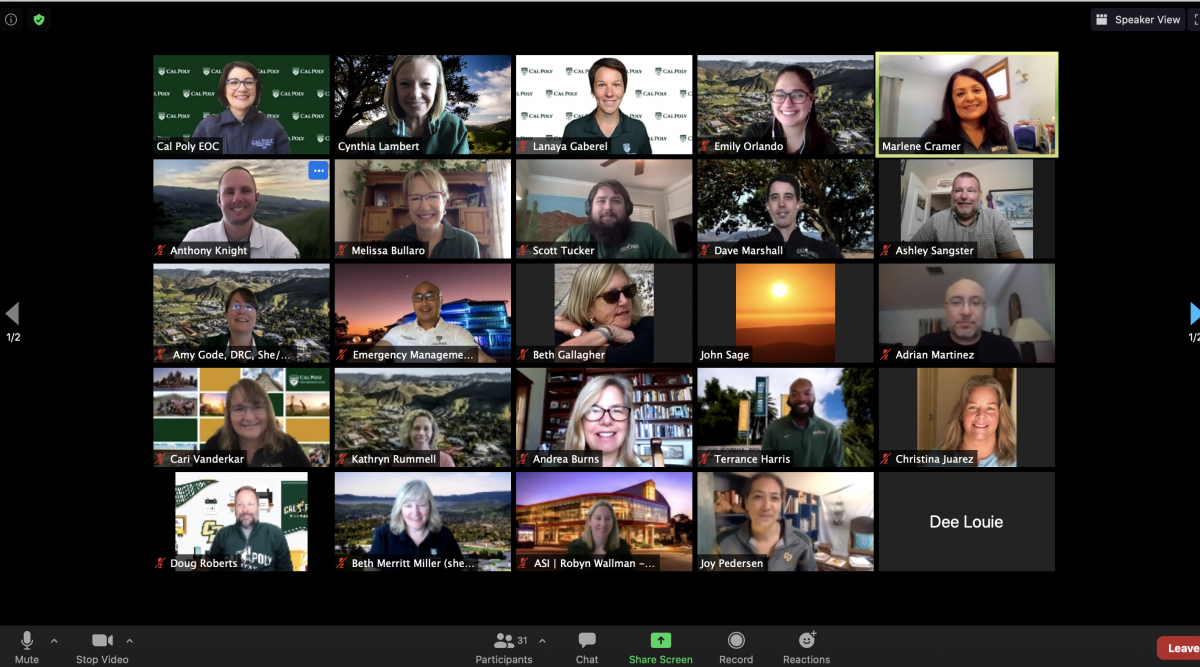 I Scream, You Scream
Dairy science students got creative this fall and began hosting a weekly drive-thru ice cream sale at the Cal Poly Creamery. The sale offered pints of student-made ice-cream and a variety of cheeses to the Central Coast community.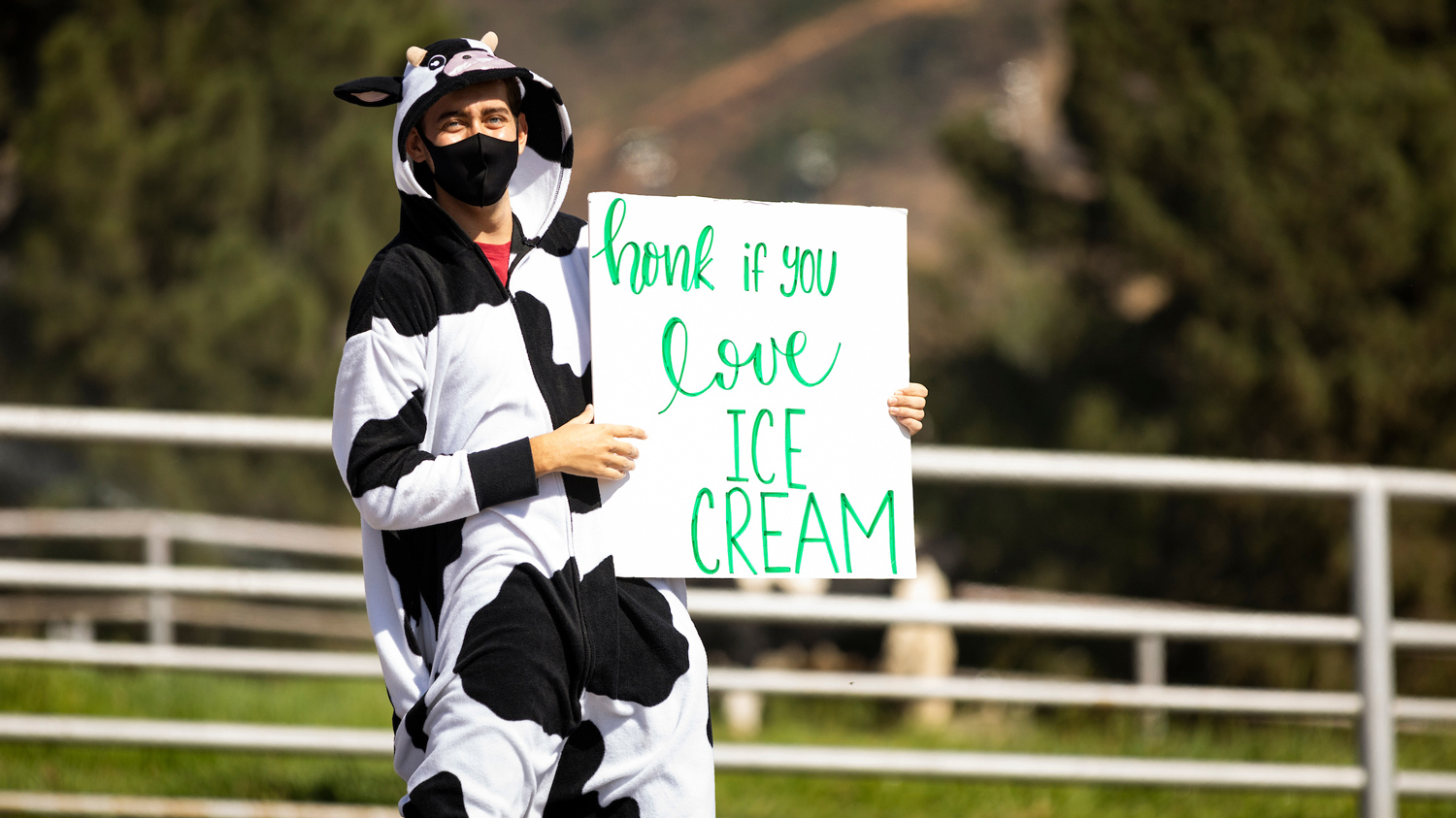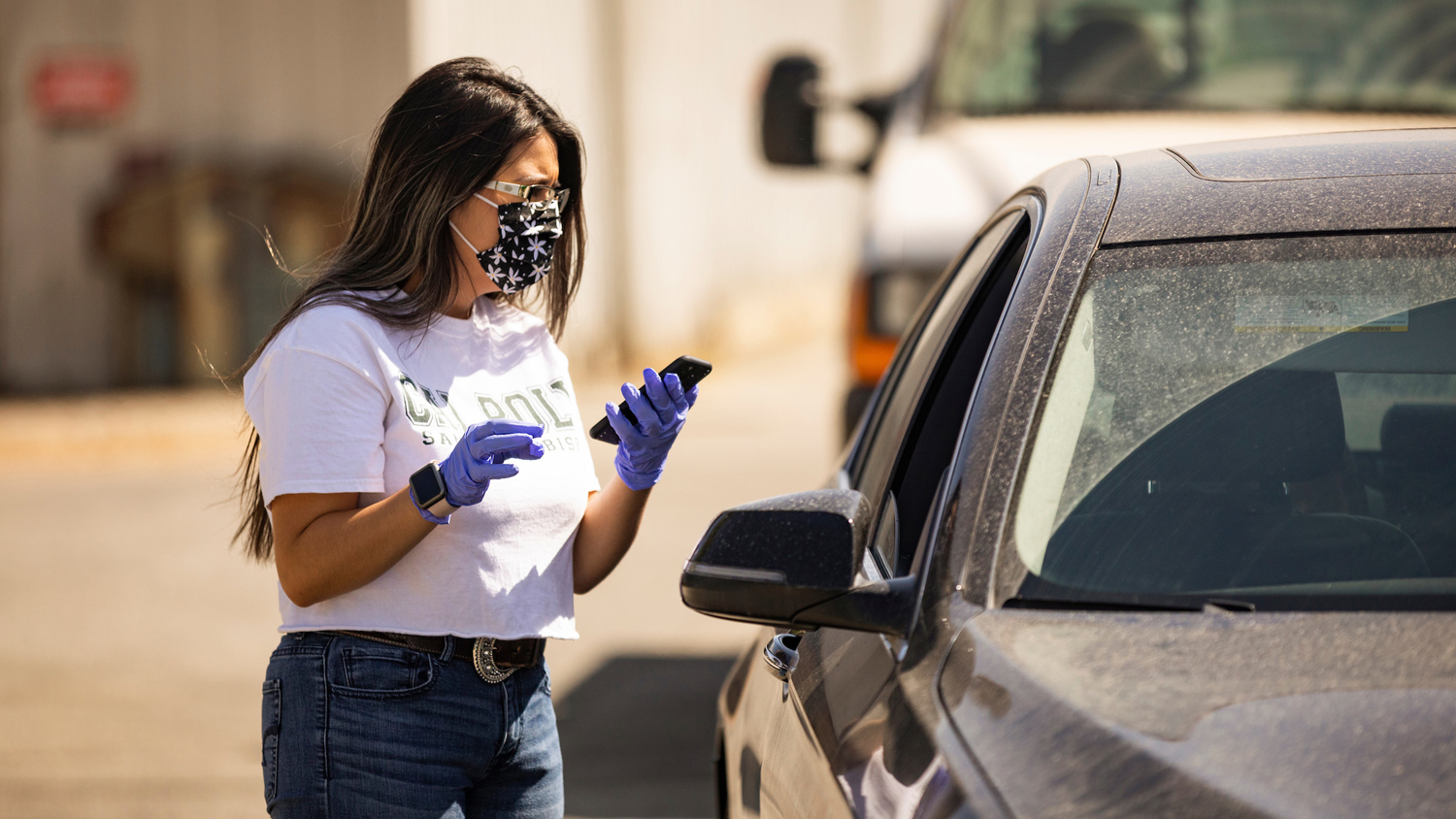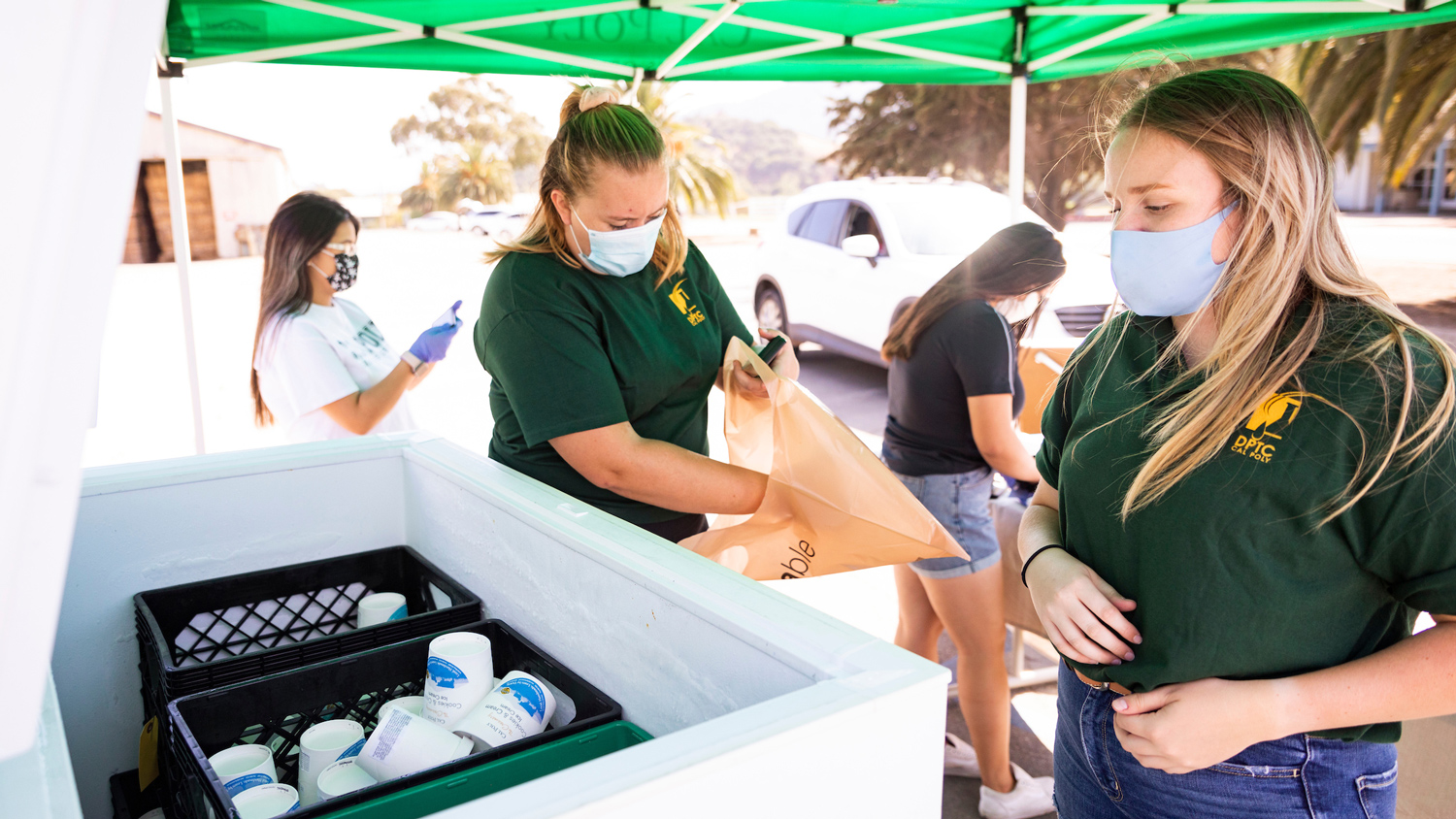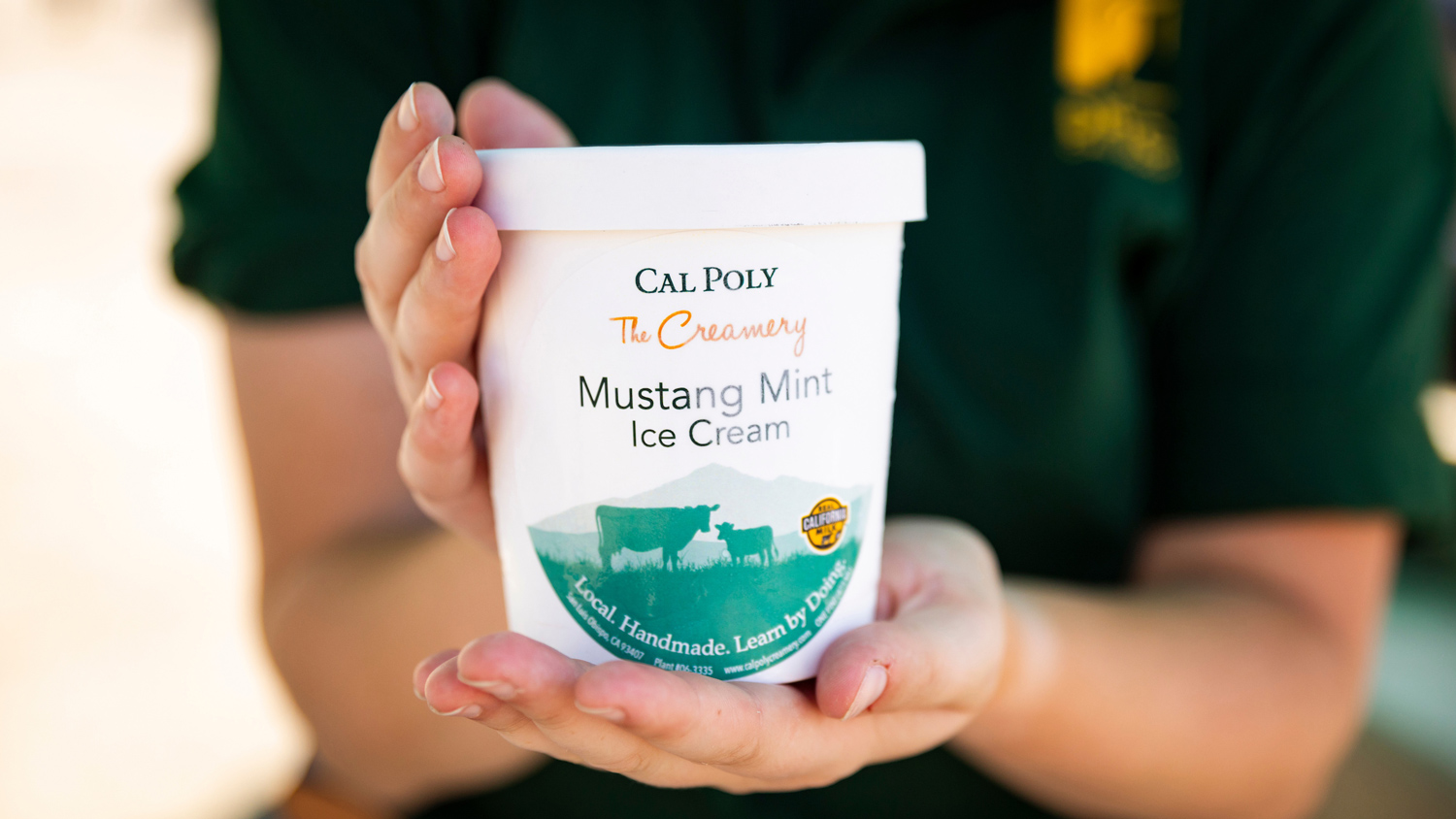 Still Life
Despite the uncertainty the pandemic has brought to many of us, familiar views of Dexter Lawn and the Rose Garden remain.