Back In Action
Cal Poly Football returned to a sun-drenched Spanos Stadium on Saturday, September 18, for the first home game of the season. A sold-out crowd brimming with new students cheered on the Mustangs amid Week of Welcome festivities.
Campus News
A Place for Community
The Cal Poly community celebrated the opening of the new Native American and Indigenous Cultural Center (NAICC) in October. The center, nestled within the yakʔitʸutʸu residence halls, aims to provide more support for the Native and Indigenous communities on and off campus through mentorship programs; academic support; and art, dance and crafting activities specific to Native American and Indigenous cultures.
The center hosted a small grand opening ceremony on Indigenous Peoples' Day, Oct. 11, with yak titʸu titʸu yak tiłhini Northern Chumash Tribal Members. Three days later, the campus community was welcomed into the space for a celebration that included an educational exhibit and remarks from campus leaders.
"This space is a love letter to all Native and Indigenous students," said Professor Jenell Navarro, chair of the Ethnic Studies Department, president of the American Indian and Indigenous Faculty and Staff Association, and longtime advocate for the center's creation. "We are here to help you realize your full potential, and we're your biggest champions."
One of the centerpieces of the space is a mural featuring a red-tailed hawk, symbolizing the hope for reciprocal relationships with the natural world, soaring through a skyscape of brilliant colors representing the sun, land, air and water. The mural, titled "Rooted in Native Knowledge," was created using acrylic and aerosol by Indigenous artist and cultural organizer Joel Garcia (Huichol). Navarro worked with Garcia, Kennedy Library's creative works team, student groups, University Housing and other campus partners to commission the work.
"[The center] feels like it will be the flame that guides all of us," said Wyatt Kohler, a member of the Sac and Fox Nation of Oklahoma who studies electrical engineering. "Hopefully it will bring in more Native students who won't have to spend time wondering where everybody is because we're right here — we're always here."
The center is one of several created under Student Diversity and Belonging, a collective of resources and spaces on campus that support students experiencing marginalization.
— by Robyn Kontra Tanner
Back to School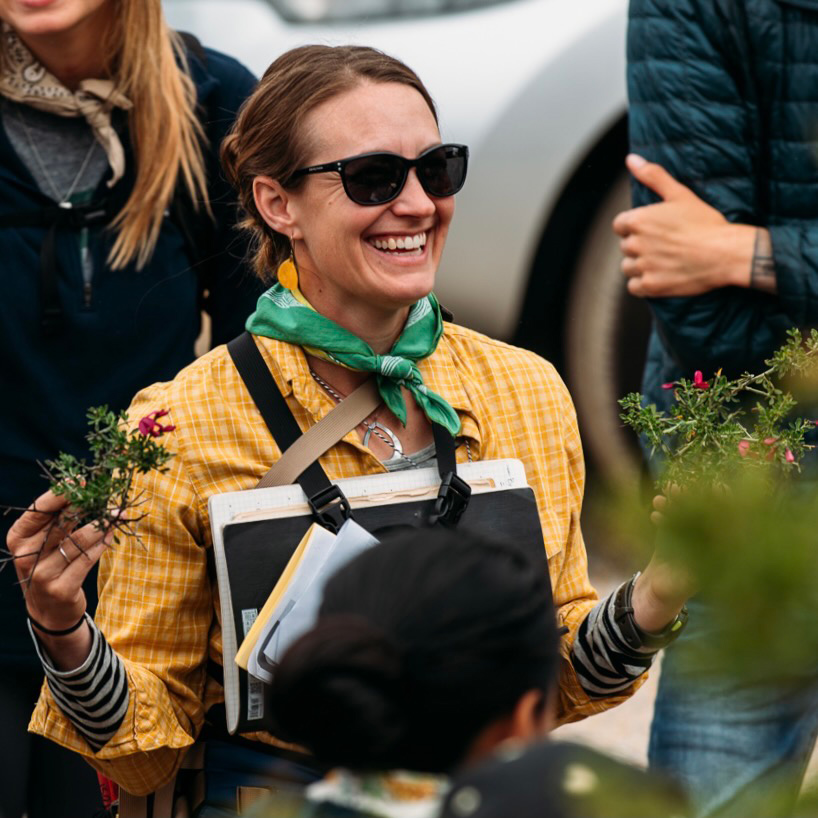 My advice for students this year is to erase all your social media accounts and start fresh. Give yourself a clean slate — mentally and emotionally.
— Biology Associate Professor Jenn Yost, one of three winners of the 2021 Distinguished Teaching Award. Read reflections, advice and hopes from faculty members at calpoly.edu/news.
By the Numbers
Rank and File

No. 1

No. 17

No. 1

Top 100

No. 1
Seen and Heard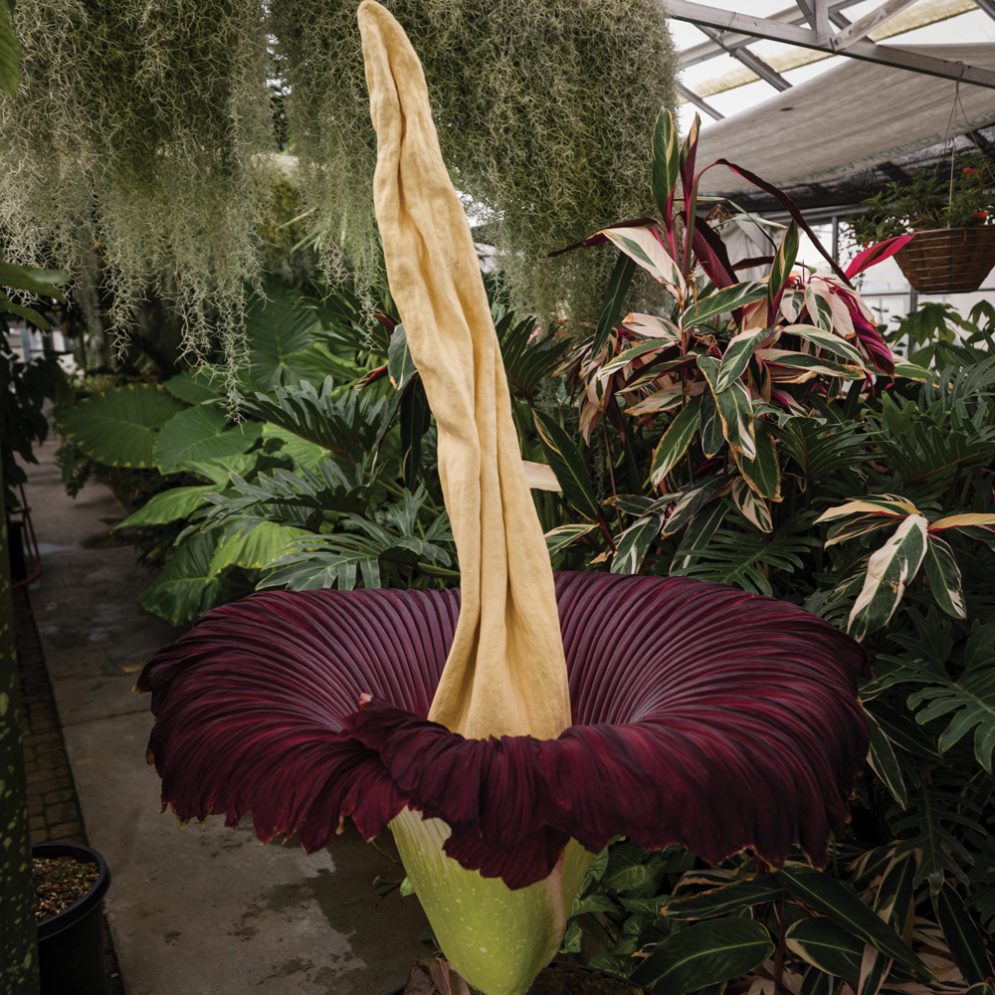 Late Bloomer
In August, for the second time in as many years, a corpse plant bloomed in the Cal Poly Plant Conservatory. This may sound familiar — the university's first corpse flower, nicknamed "Musty," bloomed in 2020. This is a different, older plant, which blossomed nearly 18 years after it was planted and grew even larger than its predecessor. The plant's pollen has been sent to universities and botanical gardens around the U.S. and Canada to help other corpse flowers spring to life.
– by Gabby Ferreira
Rose Float
Over the Moooon
When the 2022 Tournament of Roses® Parade returns on New Year's Day after a one-year pandemic-related hiatus, the Cal Poly universities' float, called Stargrazers, will bring to life a scene from the classic Mother Goose nursery rhyme "Hey Diddle, Diddle," except with an engineering twist. The audience will see a cow jumping over a 15-foot moon, held aloft by a jet pack made of metal milk cans and other farm materials.
"Just like our cows building their jet packs, it will take building, making mistakes, un-building, and building again for us to make this float look how it looks on parade day," said Avi McManus, vice president of the San Luis Obispo Rose Float team.
2022 will be Cal Poly universities' 73rd entry to the Pasadena classic, held annually on New Year's Day.
College News
Down to Business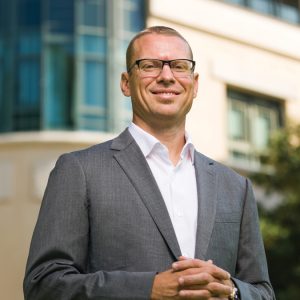 Damon Fleming joined the Orfalea College of Business as its dean in August, following a deanship at the University of Memphis and nearly 13 years as a faculty member at San Diego State University, where he earned his bachelor's and master's degrees. He discusses his path to Cal Poly, his plans for furthering the university's commitment to experiential learning, and why he thinks calculated risk is essential.
What about Cal Poly makes you excited for this new chapter in your career?
There're two big things about Cal Poly that drew me in. The first is that I'm a product of the California State University system, and my real purpose as an educator and as a dean is to make contributions back to the system that helped me get to where I am now. The second is Cal Poly's amazing ethos — its commitment to Learn by Doing. It's a philosophy that absolutely represents the future of business education. It's a foundational part of the culture and the institution.
What fascinates you about business today?
Probably the most exciting aspect of business today is this intersection between human competencies and data competencies. Our world is full of so much data. The future is in how we blend those human and data assets. I think experiential learning is how you can take these two elements and find where they overlap on a Venn diagram. It's saying, "Look, we're going to blend these human and data components. We're going to expose you to them both and live them out in a real experience as part of your education."
Tell us a little bit about your vision for the college.
My vision is an extension of where Cal Poly has been and where the Orfalea College of Business is headed: to become the world class leader in experiential business education. Drilling down from there, we need to think mindfully about the ways in which we diversify our programming and continue to build a culture based on accountability and trust. We need to create a space where everybody gets to show up exactly as they are — and that's where the diversity, equity and inclusion component of our mission comes in. We also need to be mindful as we think through our opportunities. We're going to be taking some calculated risks. This is one of the most disruptive times in higher education in the last several hundred years, and taking some measured risk — and being intentional — will be how we come into the next phase of higher education ahead of our competition.
— Interview by Alex Wilson