By Larry Peña // Photos by Joe Johnston
For the first time since spring 2020, campus has come fully back to life. More than 85 percent of courses are meeting in person and the residence halls are fully occupied, with close to 8,100 students living on campus.
That's not to say that everything is completely back to normal. All students, faculty and staff on campus are required to either be vaccinated or take regular COVID-19 tests. At the start of fall quarter, more than 90% of students on campus had been vaccinated, and masks are required in all indoor spaces where groups of people gather.
But as campus came back to life, the feeling was one of overwhelming excitement to be back together at Cal Poly. Take a look at some of those joyful moments at the start of a new academic year.
---
Getting the Band Back Together
Just about any time there's joy, excitement or something to celebrate at Cal Poly, the Mustang Band is there. Over the past two years, though, the Pride of the Pacific has had to adapt to the strictures of the pandemic, rehearsing virtually online or in small student groups. But as the university prepared to return to normal operation early this fall, the band was one of the first groups to reunite on campus in person to prepare for a variety of fall performances, from Mustang sporting events to welcome back pep rallies.
"This moment has kept me going since [last] March," said band director Nick Waldron. "So much of what we do in music is delayed gratification already — countless hours of practice for one moment — so all this feels like one big delay to a great performance."
---
Moving In
Over four busy days in September, more than 4,000 students moved into Cal Poly's residence halls with the help of friends, families, and hundreds of staff and student volunteers. A carefully thought-out move-in process, designed with both safety and efficiency in mind, kept things moving along.
"I'm feeling good — it's exciting to be independent for the first time," said Shivang Vyas, a first-year student from Fremont, California, as he loaded his cart with the help of his parents, Swati and Anish — also excited to have their second and final kid off to college.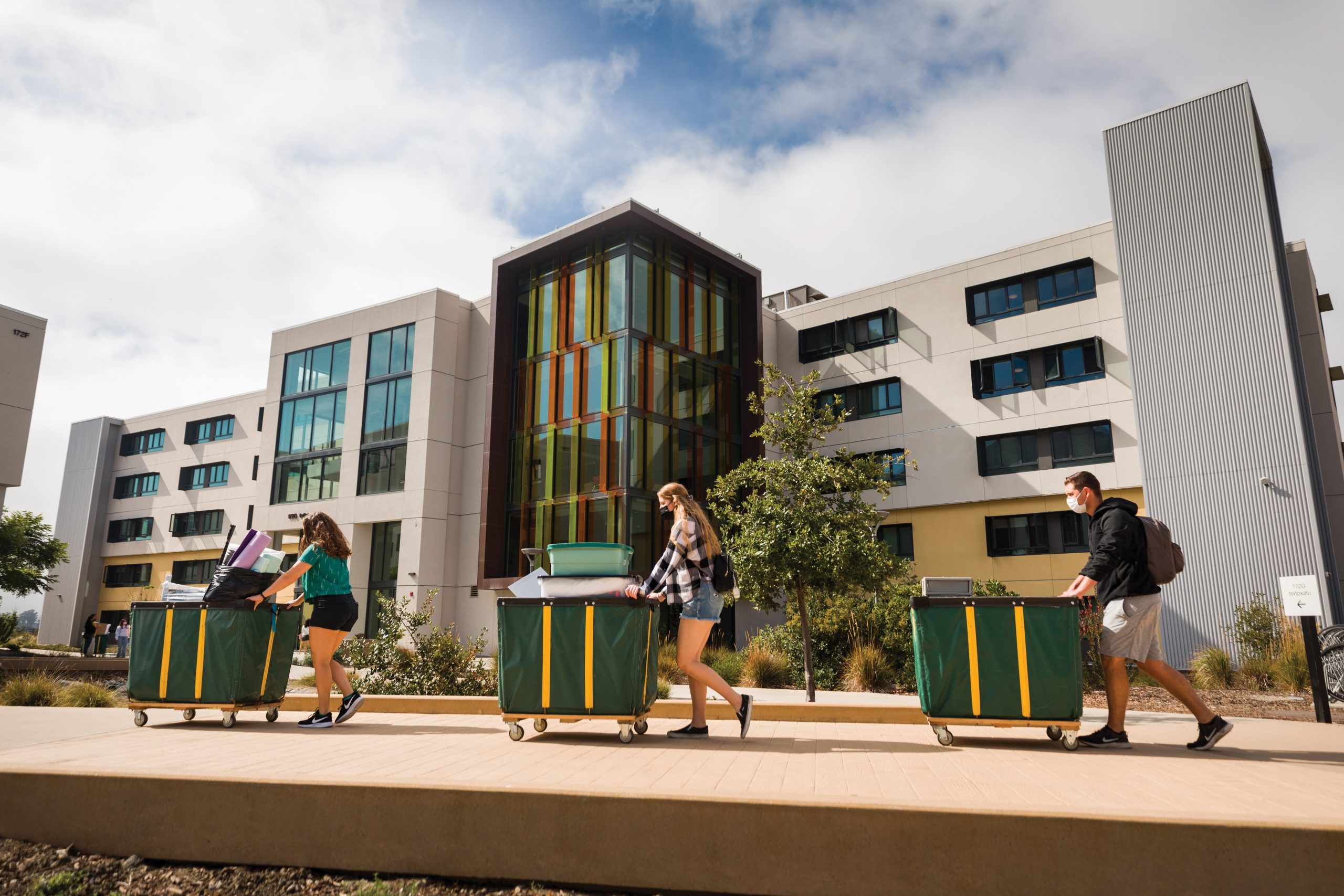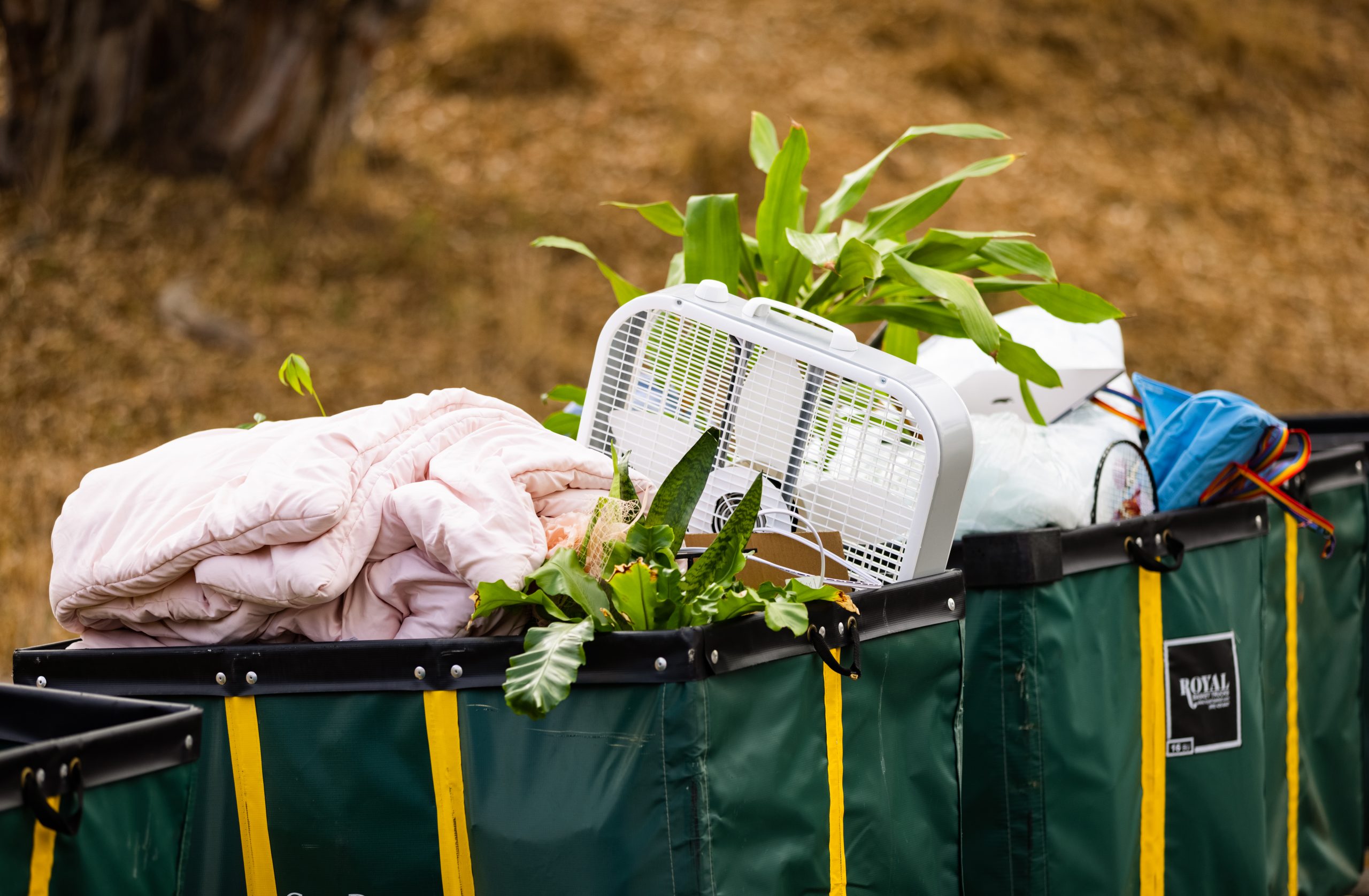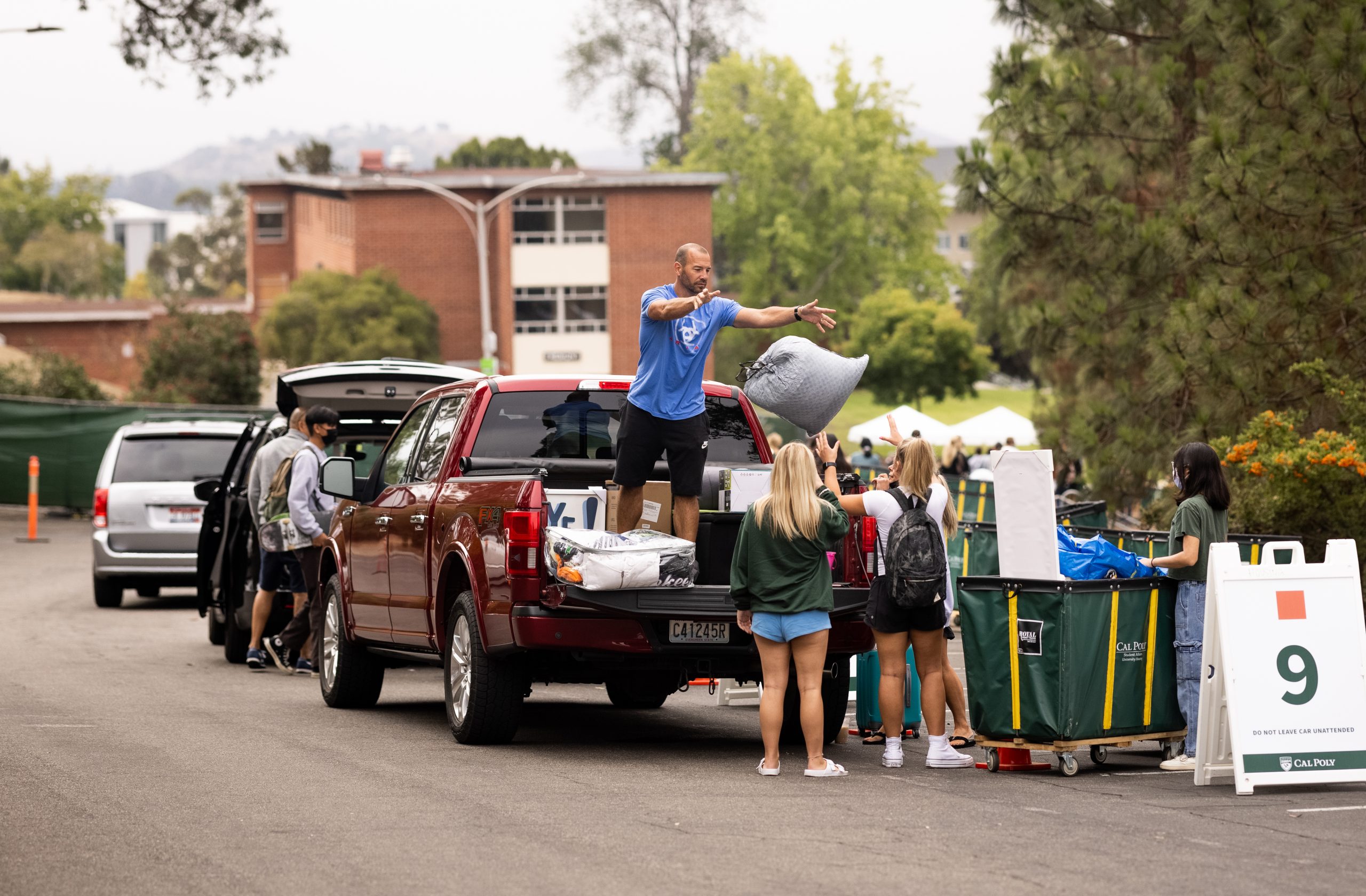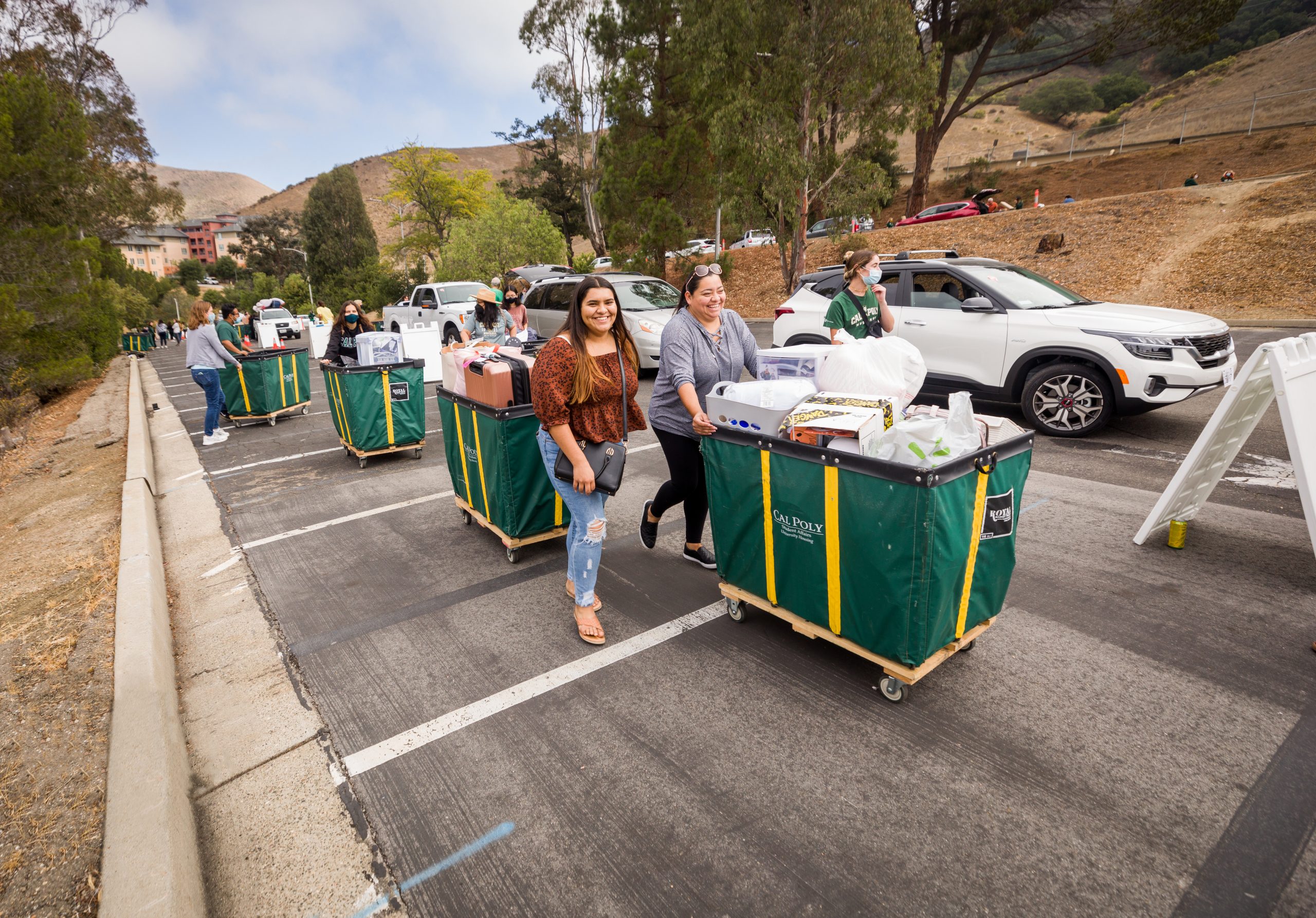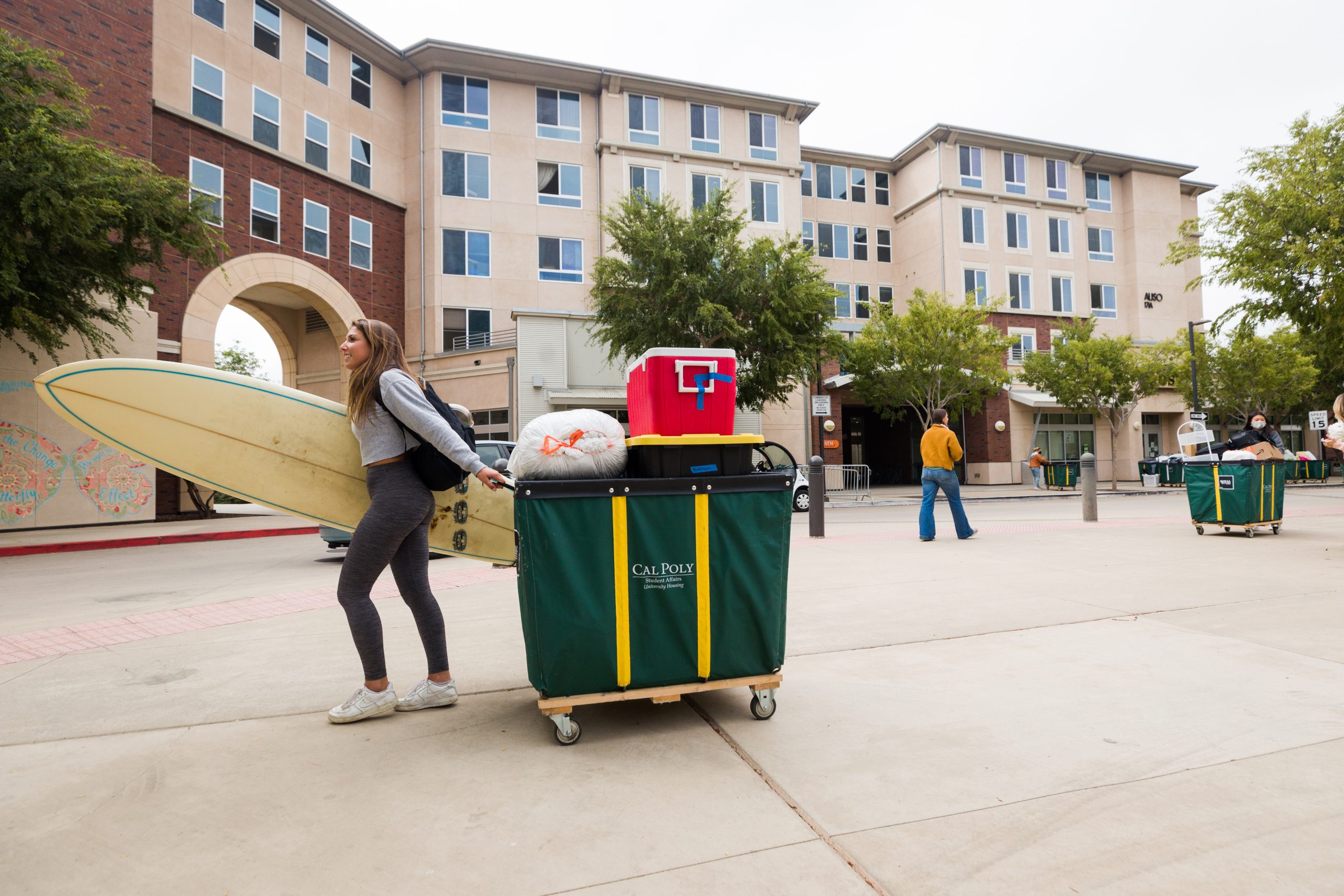 ---
Week of Welcome
For the first time since 2019, Cal Poly hosted a live, in-person Week of Welcome — better known as WOW. The award-winning orientation experience, a campus tradition for more than 60 years, brings new Mustangs together with more experienced student mentors who introduce them to campus life and critical resources for a successful college career.
"I'm just so excited to be here and to be doing this," said Abbie Bain, a WOW leader and second-year business major who is starting her own first full year on campus. "Even though we didn't get to spend much time on campus last year, we still have so much knowledge to share with the new students."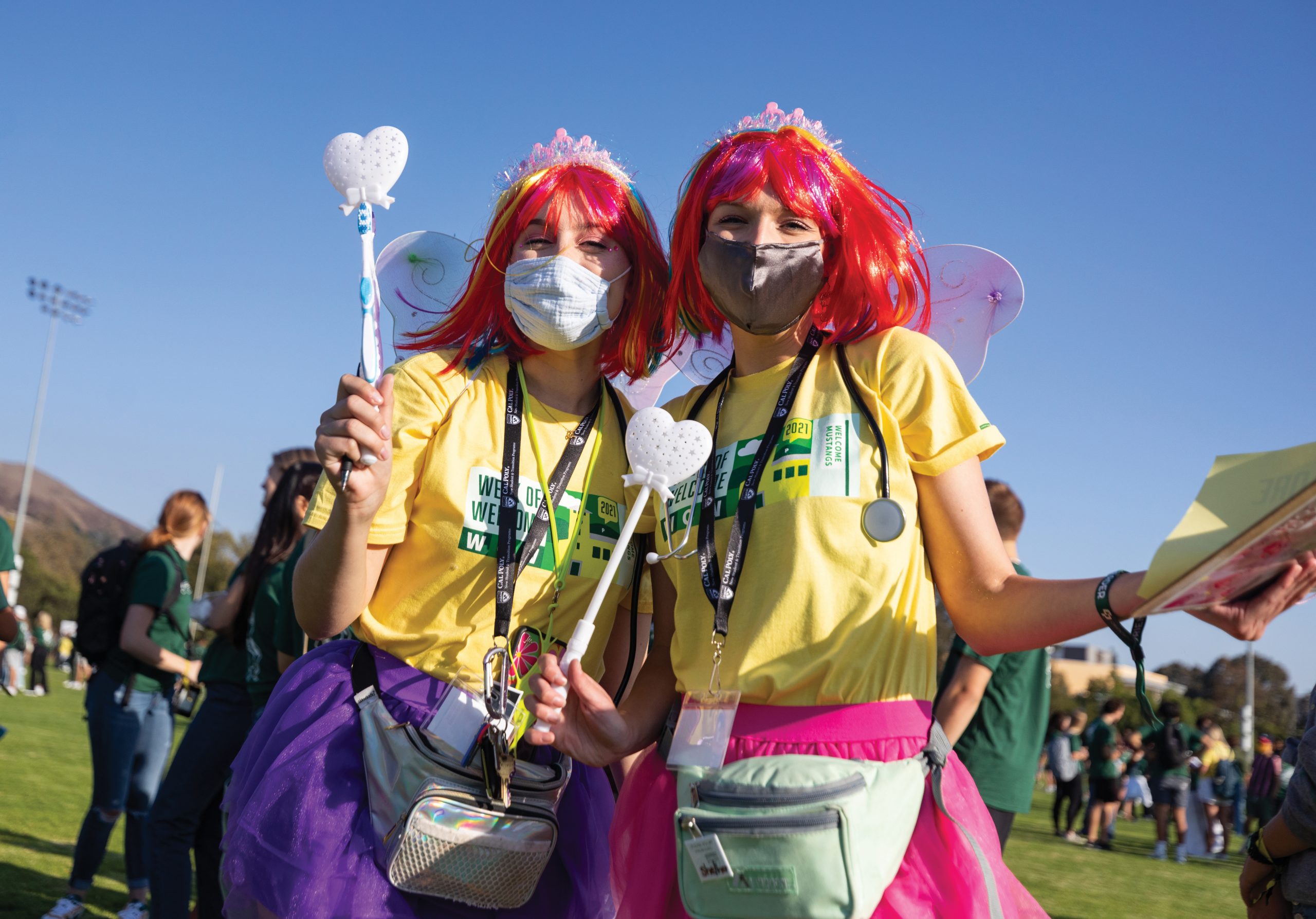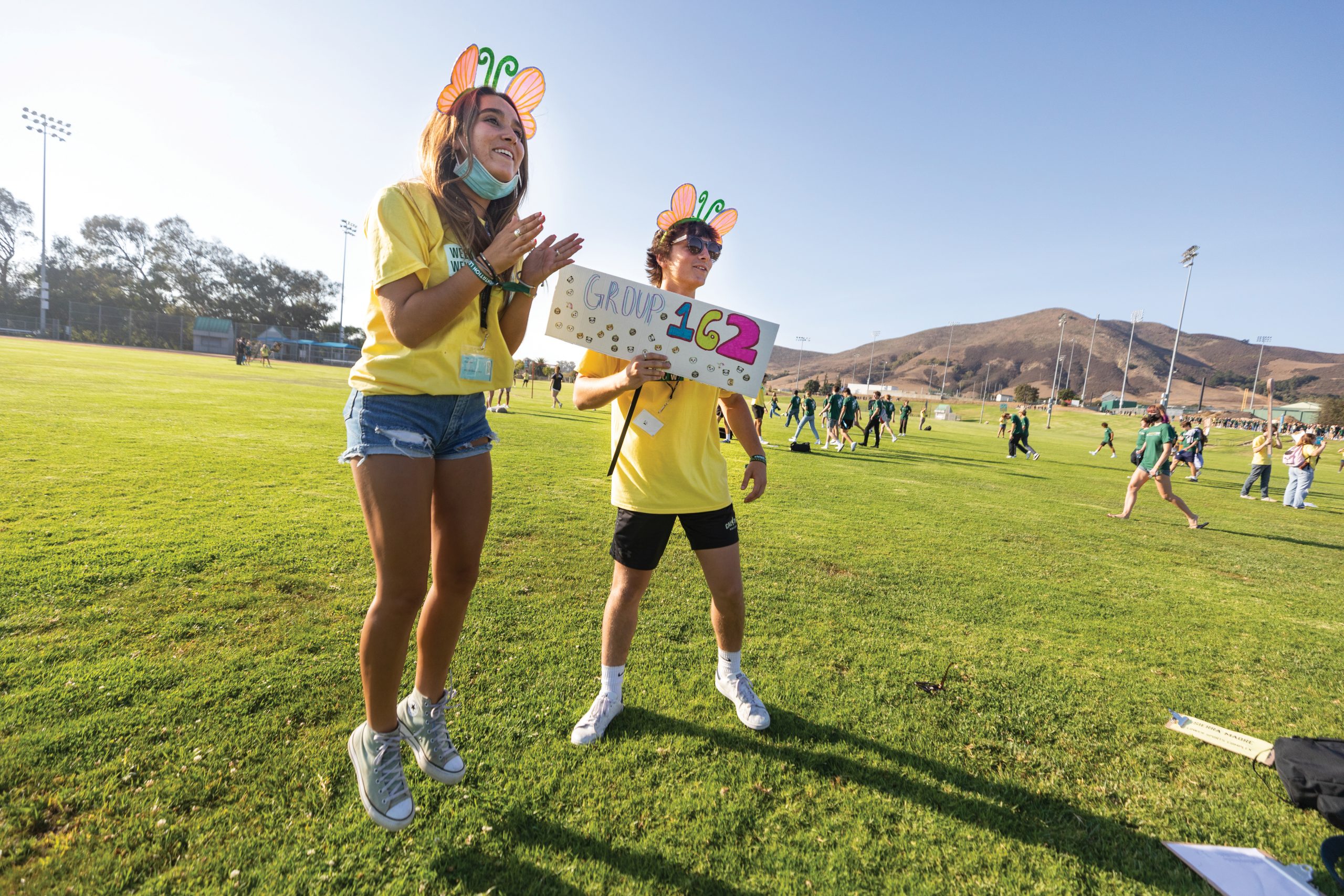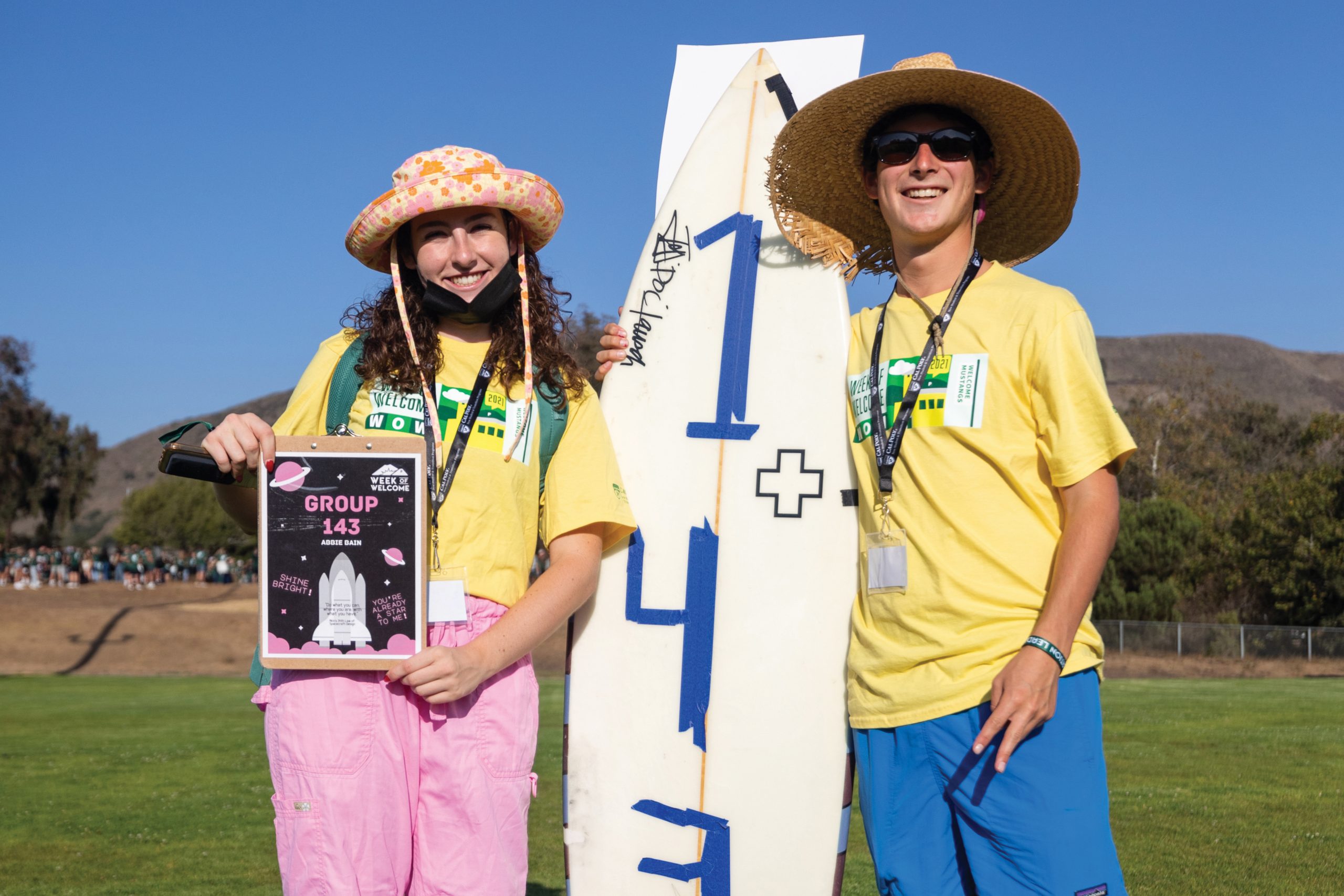 ---
Big Fall Welcome
One of the biggest moments of WOW came with the traditional Big Fall Welcome — a massive pep rally in Spanos Stadium where all the groups met together for the first time. The event included thrilling performances by Mustang Band and Cal Poly Cheer, and President Armstrong issued his yearly call for new Mustangs to "tear up your cool card" and dive headfirst into the college experience.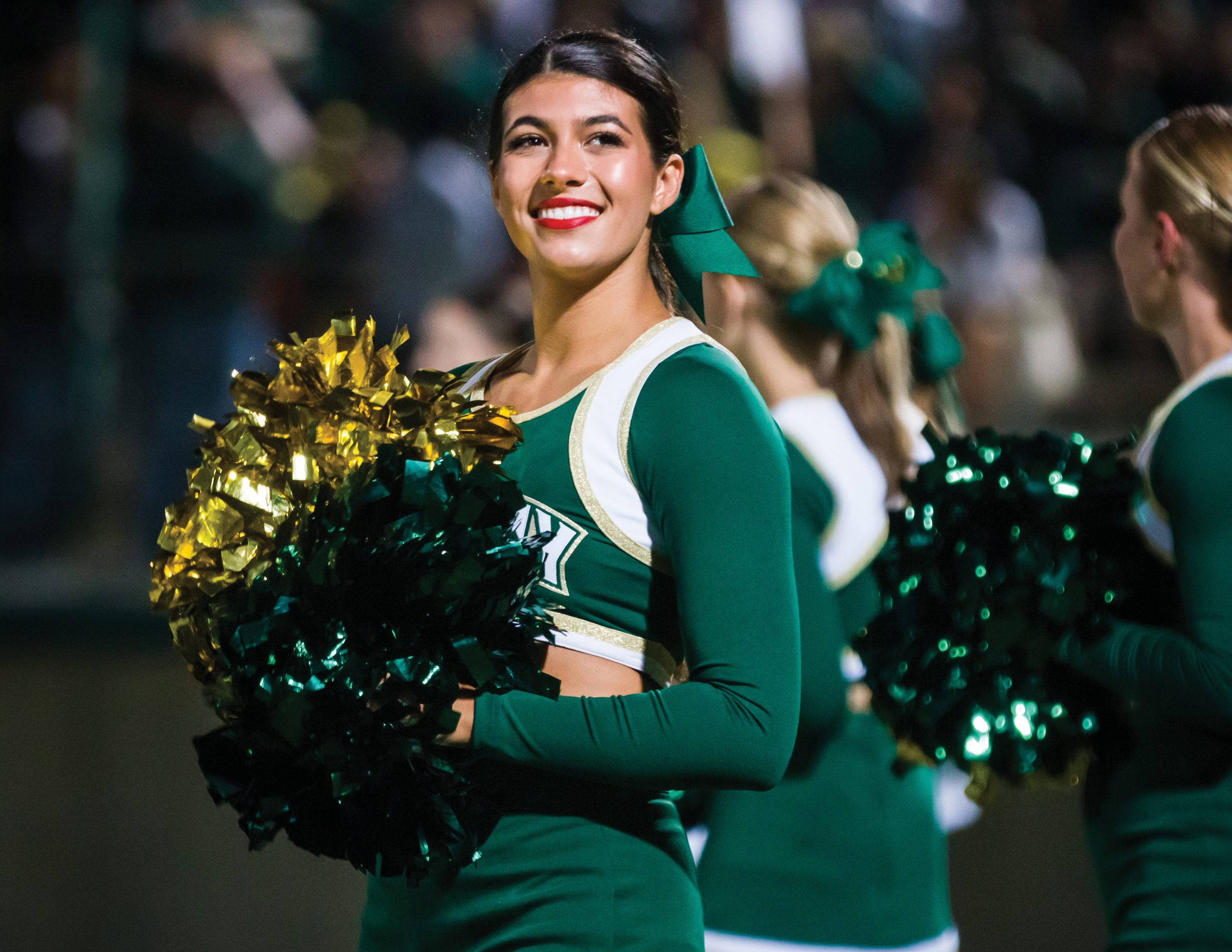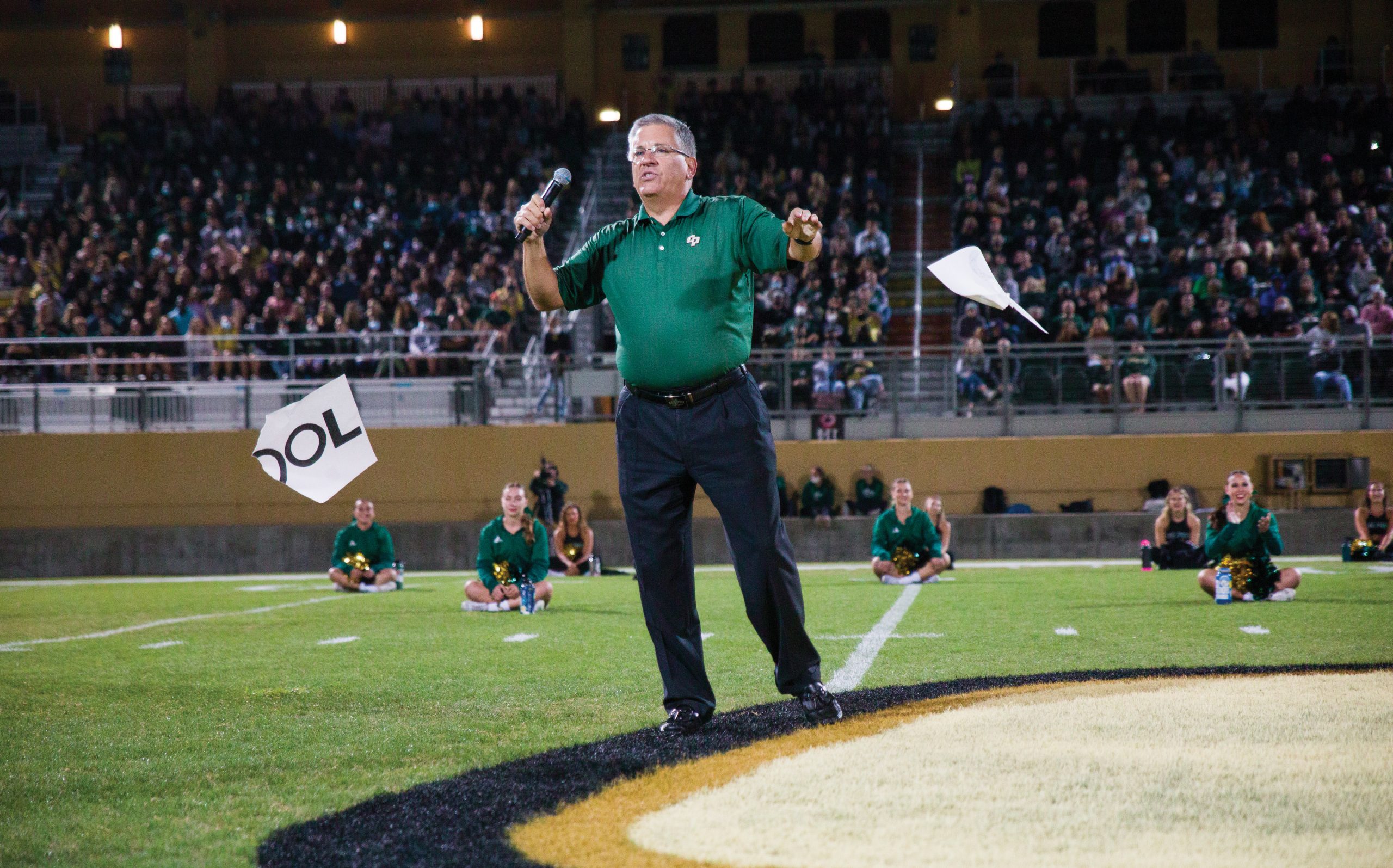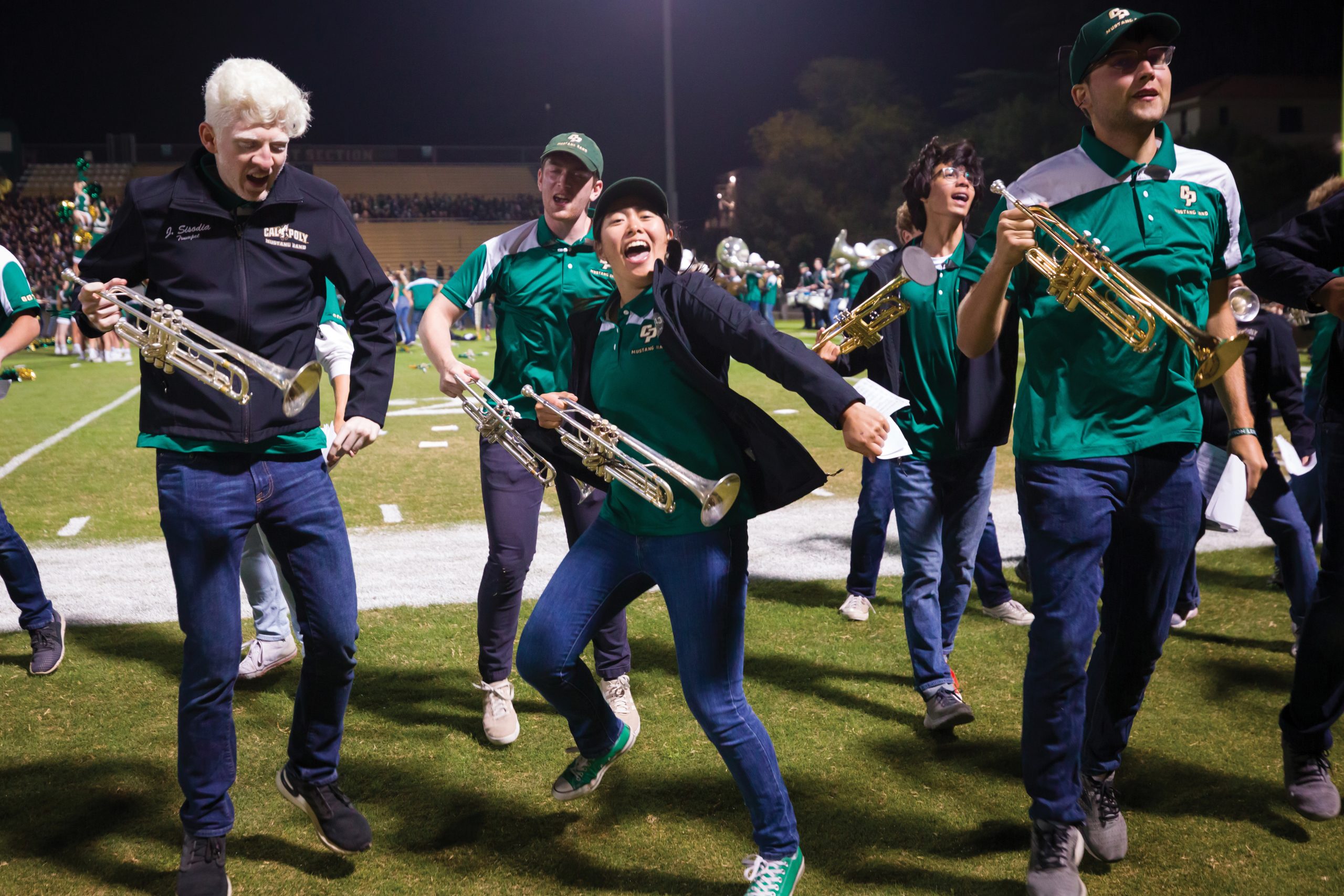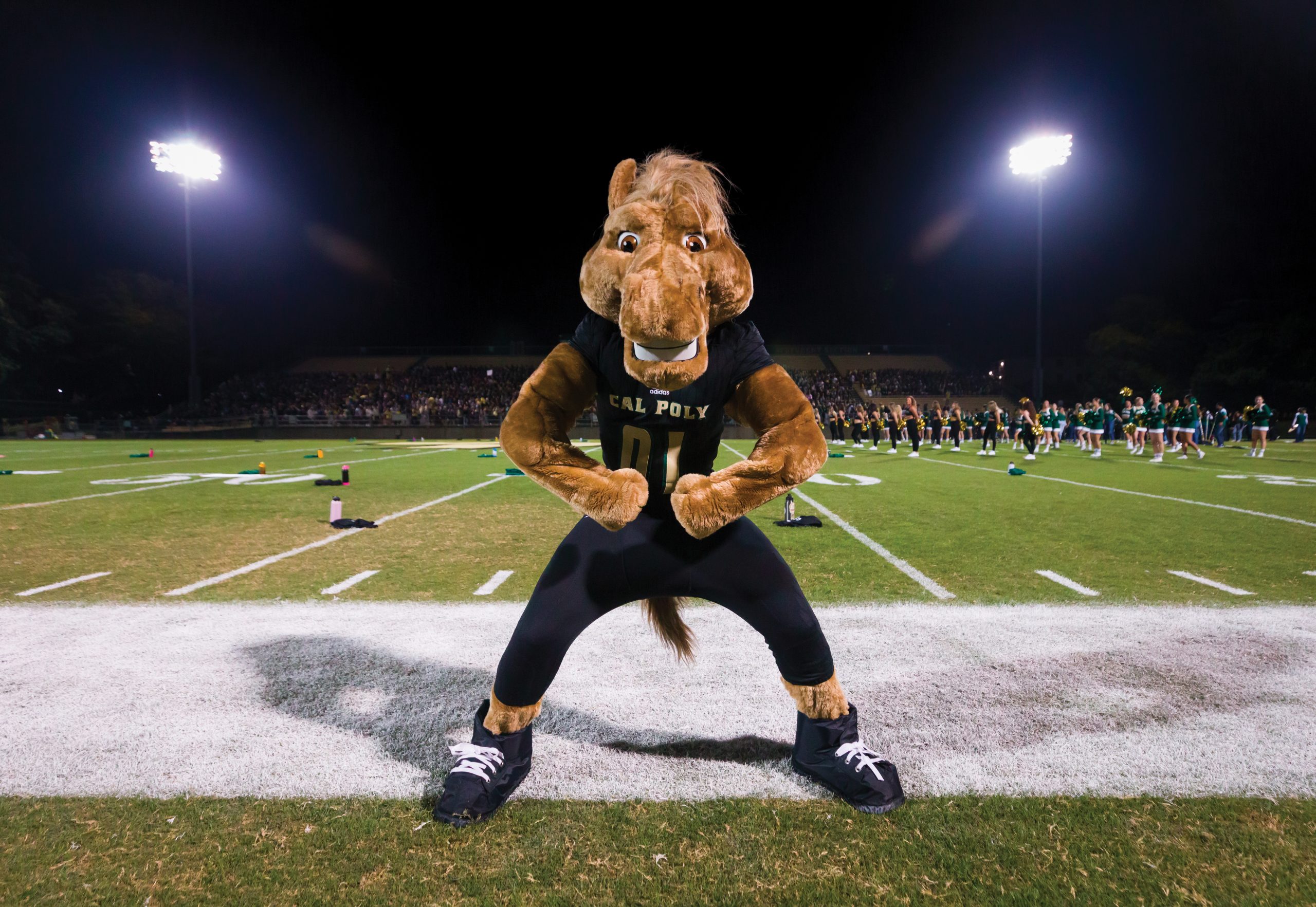 Curious who is inside the Musty the Mustang mascot costume? Read more about the students who bring the character to life at campus events.
---
Welcome to the Coast
For years, a beach bonfire with fellow WOWies has been a classic part of the Week of Welcome experience. With WOW back in person, group leaders lost no time in taking their students to experience one of the most distinctive features of life on the Central Coast — bonding with friends as the sun sets over the Pacific.
"It has been so great just seeing the groups bond," said Lauren Emo, a second-year journalism major and WOW leader who is having her own first year on campus along with her WOWies. "At first, everyone was kinda timid and nervous. I was a little bit nervous. It was a little chaotic. But today I got to see friendships forming, which is my favorite part."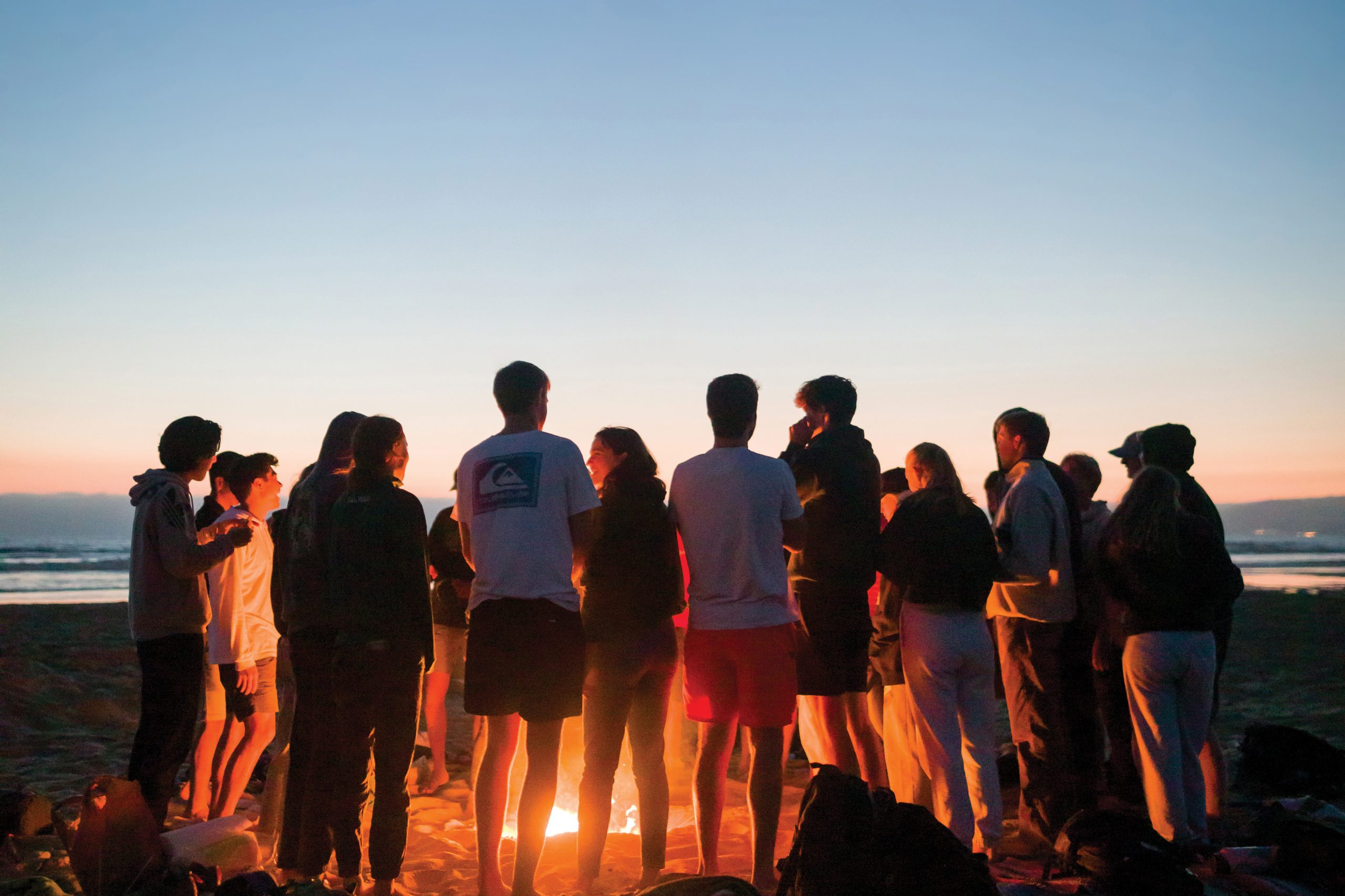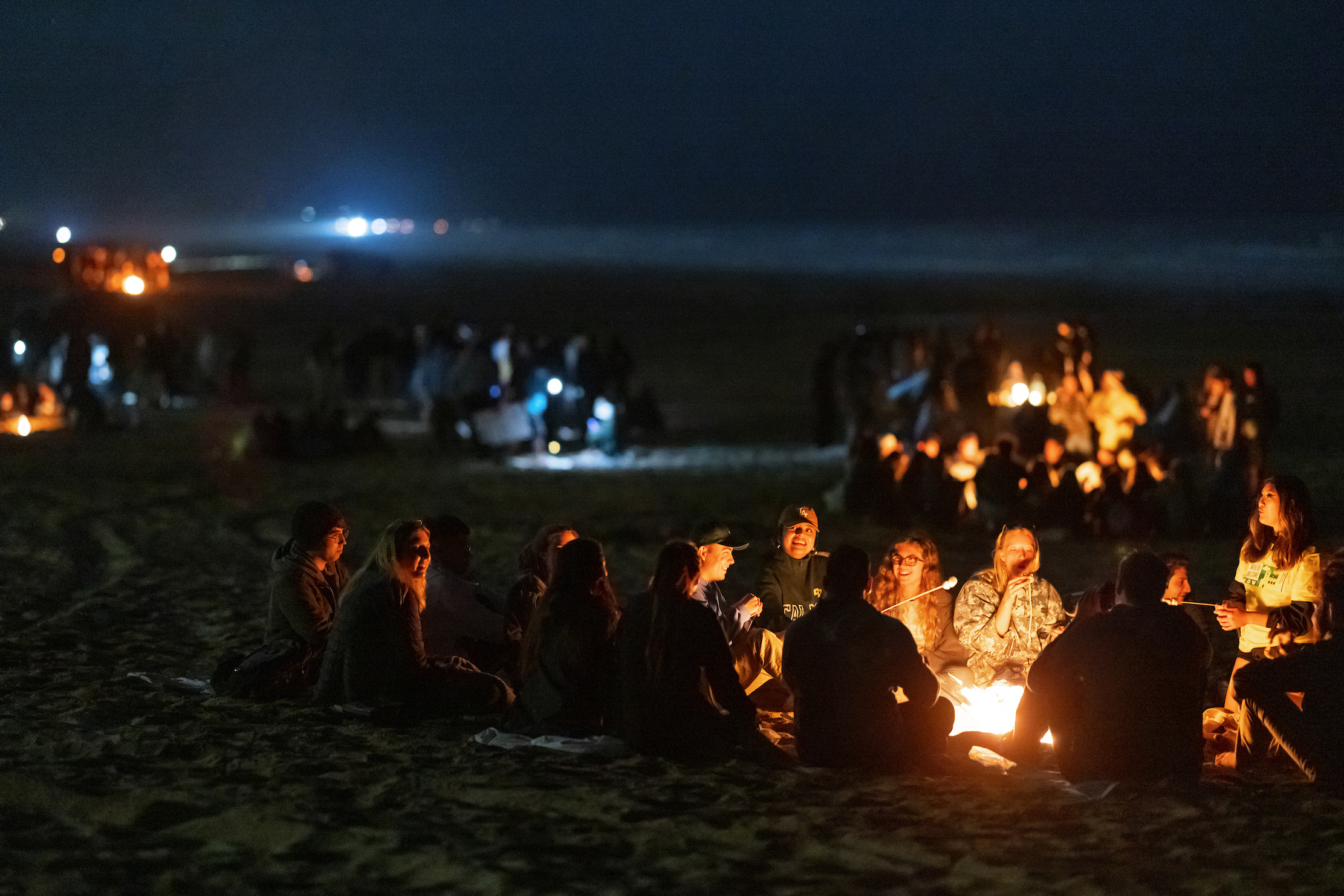 ---
Finding Where You Belong
College has always been a place where many students find their people. To that end, Cal Poly hosted a campuswide Club Showcase the week before the school year began. From activism and political groups, to hobby and interest clubs, to cultural associations and fraternities and sororities — student organizations of all kinds hosted booths to recruit new members and give students a place to find where they belong.
"A lot of identity exploration is happening at this time, and we want to make sure they have the supportive space to do that," said Kristine Guzman, assistant director for Student Diversity and Belonging, who helped staff the program's booth at the showcase. "We want to start early on, making that impact in their lives to make sure they know, 'You have a place here. You belong here. You matter here.'"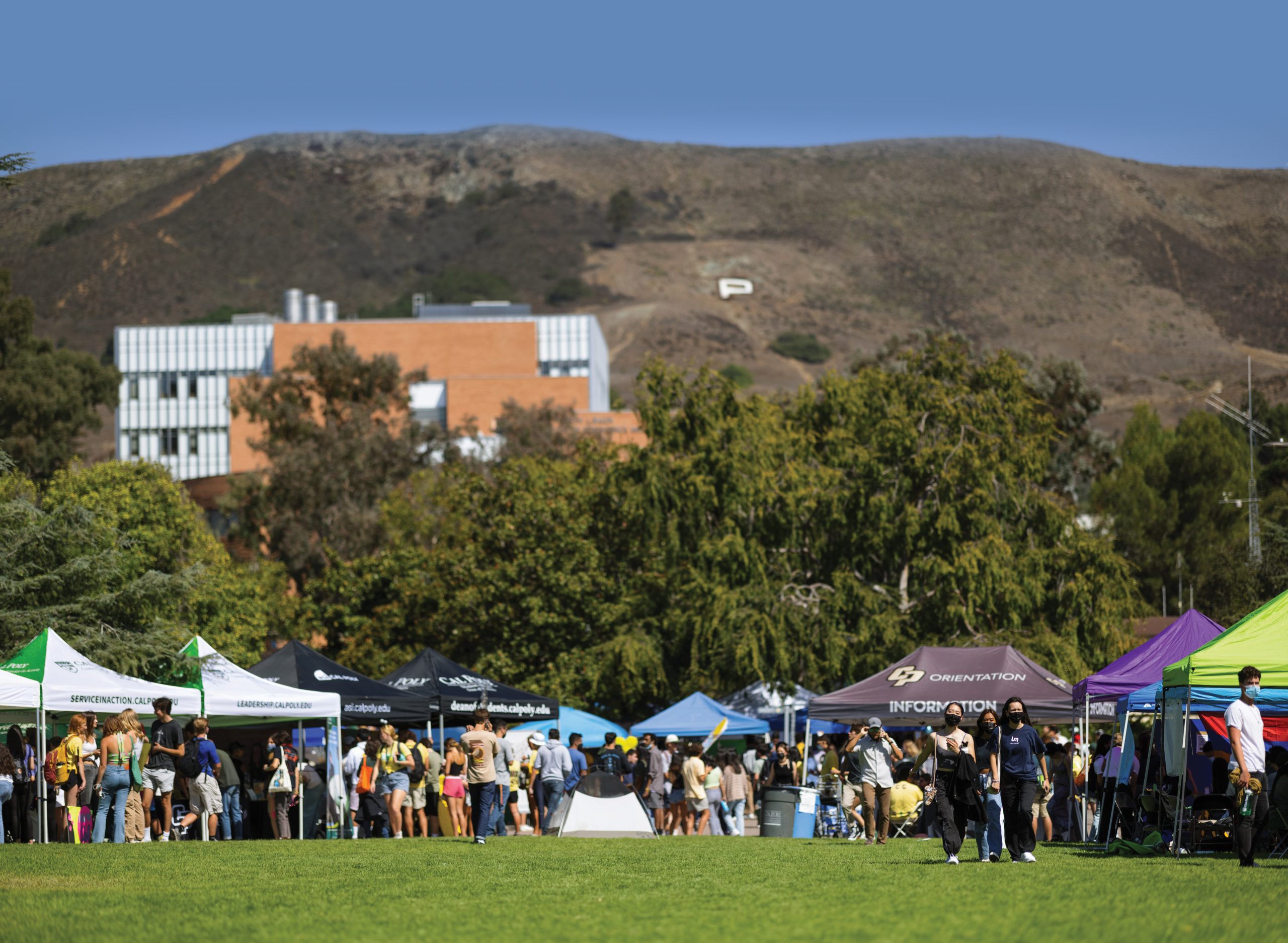 ---
Feeling the Energy
What do you do when you've been attending Cal Poly for nearly two years but have never set foot on campus? This year the university offered an orientation aimed at second-year and returning transfer Mustangs coming to campus for the first time. The program featured concerts, ice cream parties and pep rallies designed to add some sparkle to the transition back to campus life — as well as presentations on campus resources and opportunities for community service.
"I hope the students are getting the opportunity to build connections and that they get to feel the energy of being back at Cal Poly," said Ameera McQueen, who coordinated the program with the Office of the Dean of Students. "We want to help them connect with Cal Poly in different ways, because a lot of them feel like they've missed out on a big part of the college experience. This is how we're trying to help bridge that gap."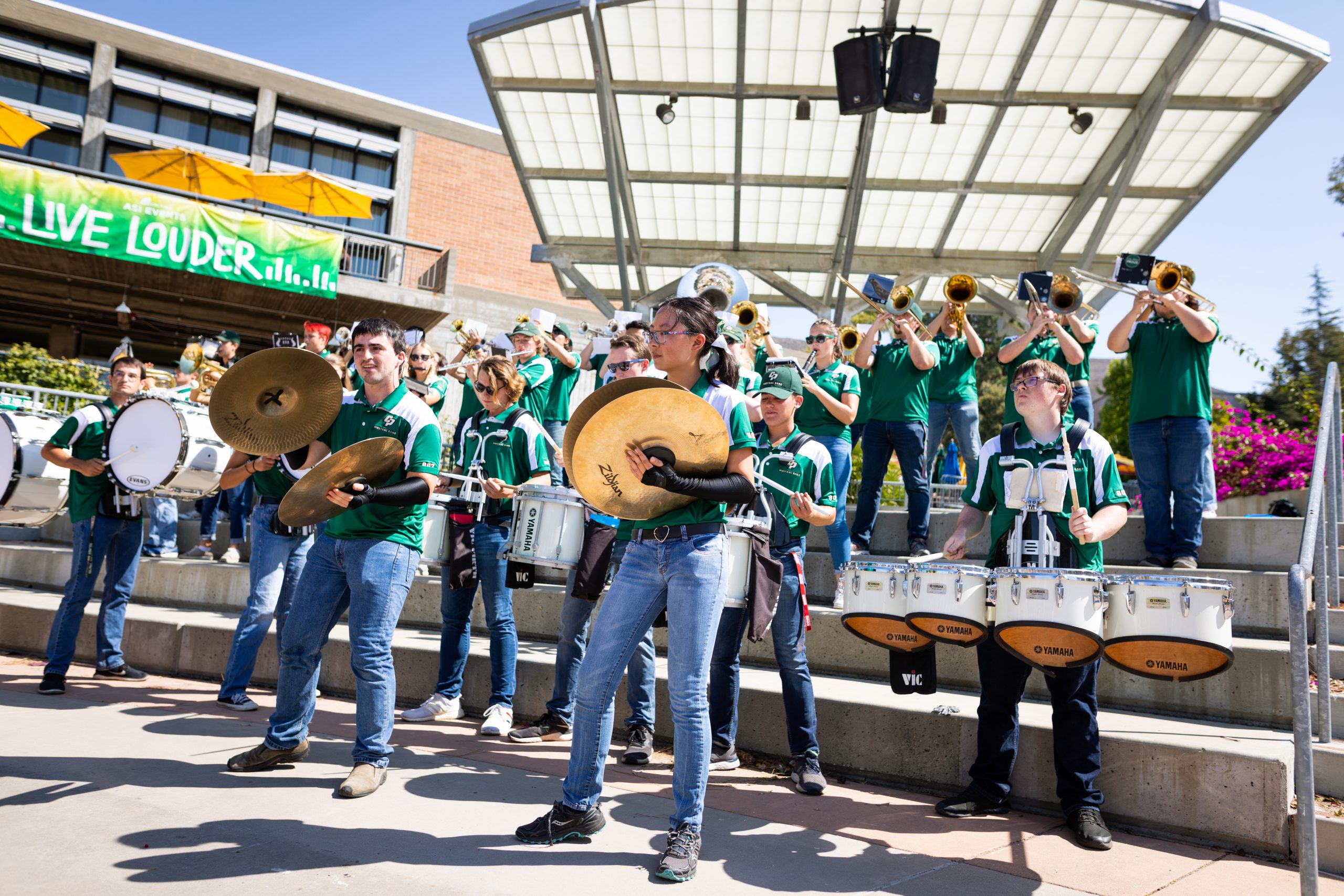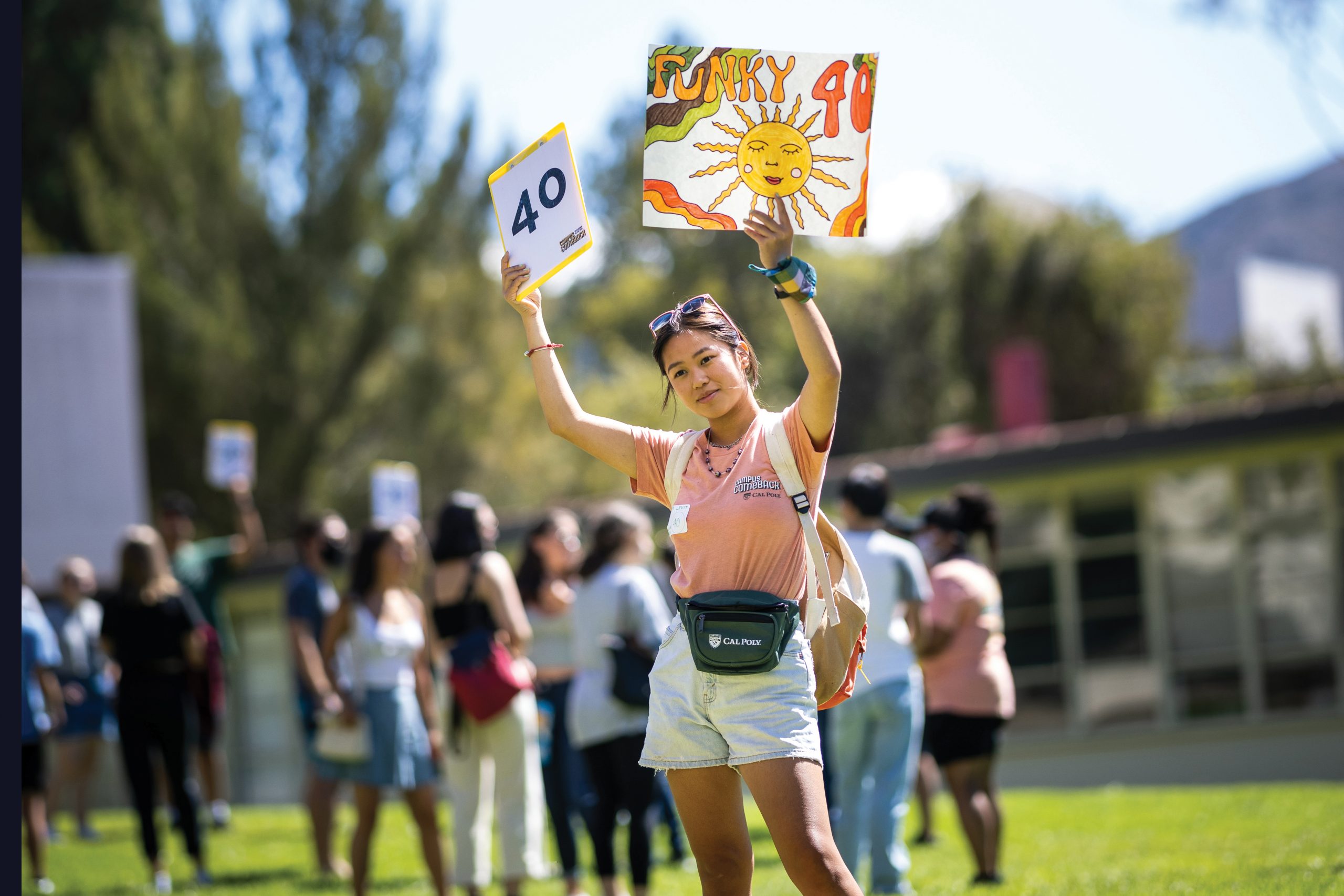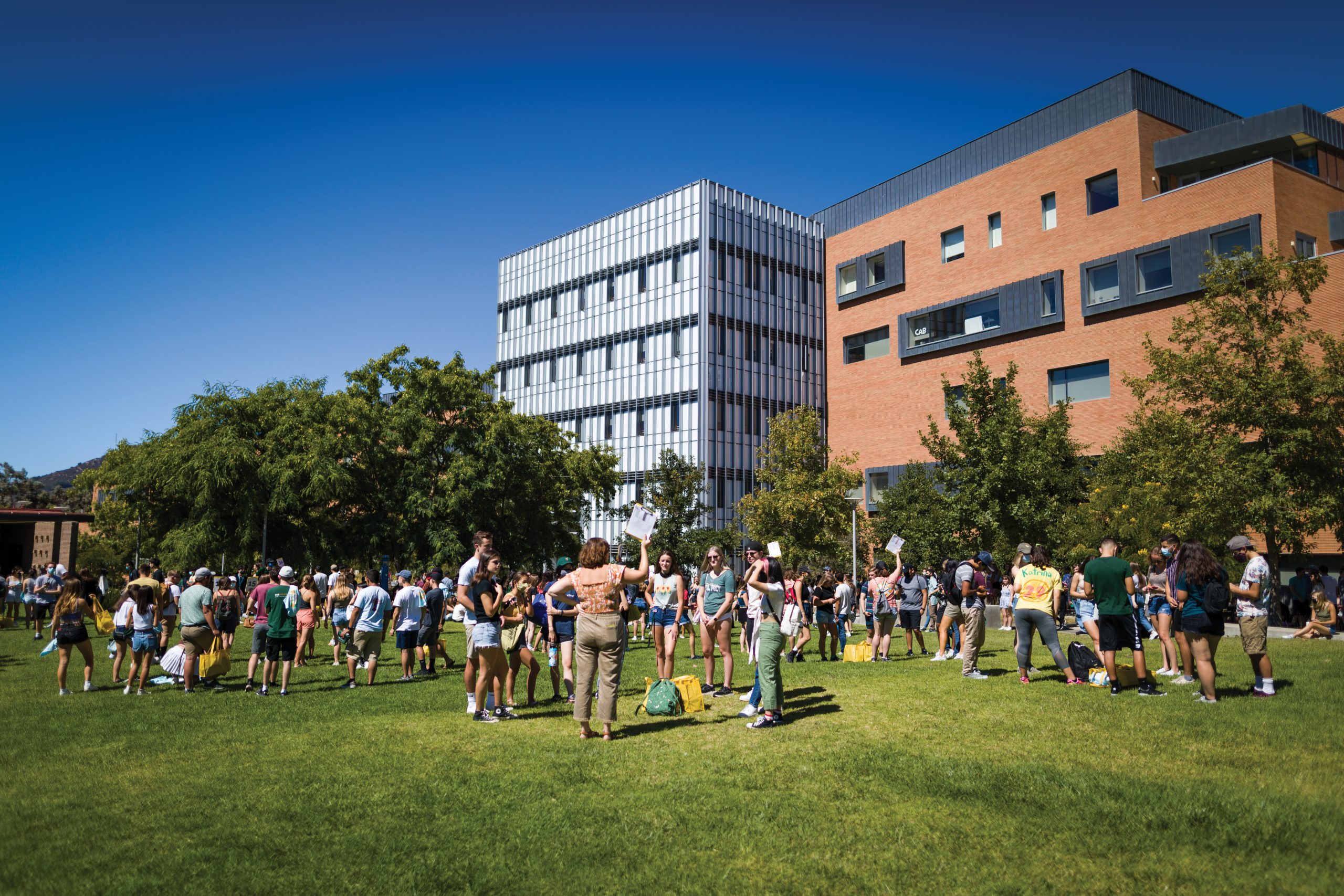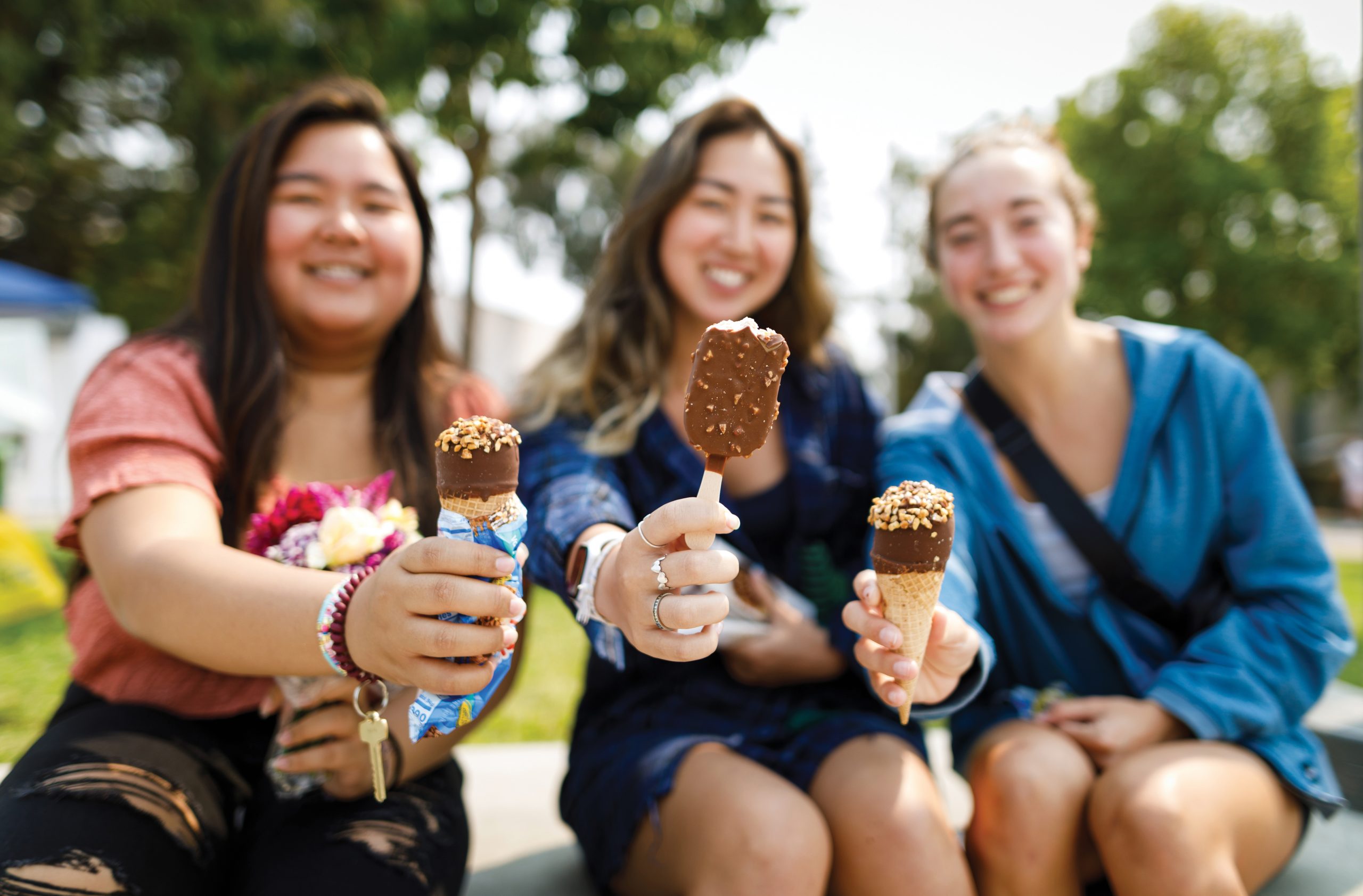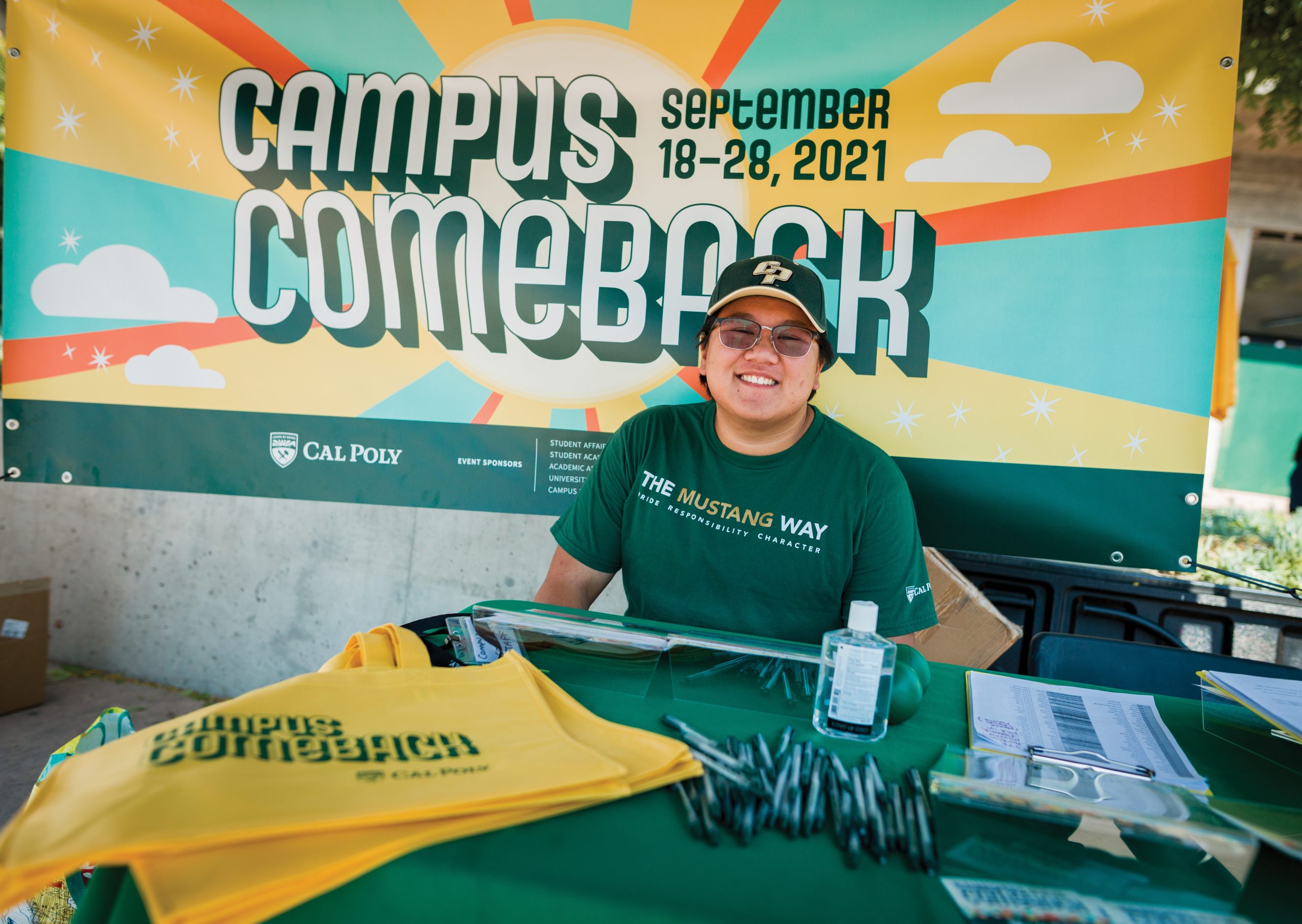 ---
Back to Normal…ish
Of course, despite the fun and the new connections, the back-to-campus fanfare was always just a gateway to a much bigger goal: a successful year of learning, growth and collaboration in a thriving campus community. As the celebrations gradually calmed down and classes began, the sense of excitement gave way to an all-new feeling — some long-awaited semblance of normalcy on campus.
"I'm just looking forward to getting a close-to-normal experience," said Lauren Emo as her WOW duties came to a close. "I've only been in a college classroom once, so I'm going to be kinda lost on my first day. But I'm excited to be in a classroom and learning — and now I've got all these new friends too."