Who is Musty?
Student performers have serious fun bringing Cal Poly's beloved mascot to life at campus events.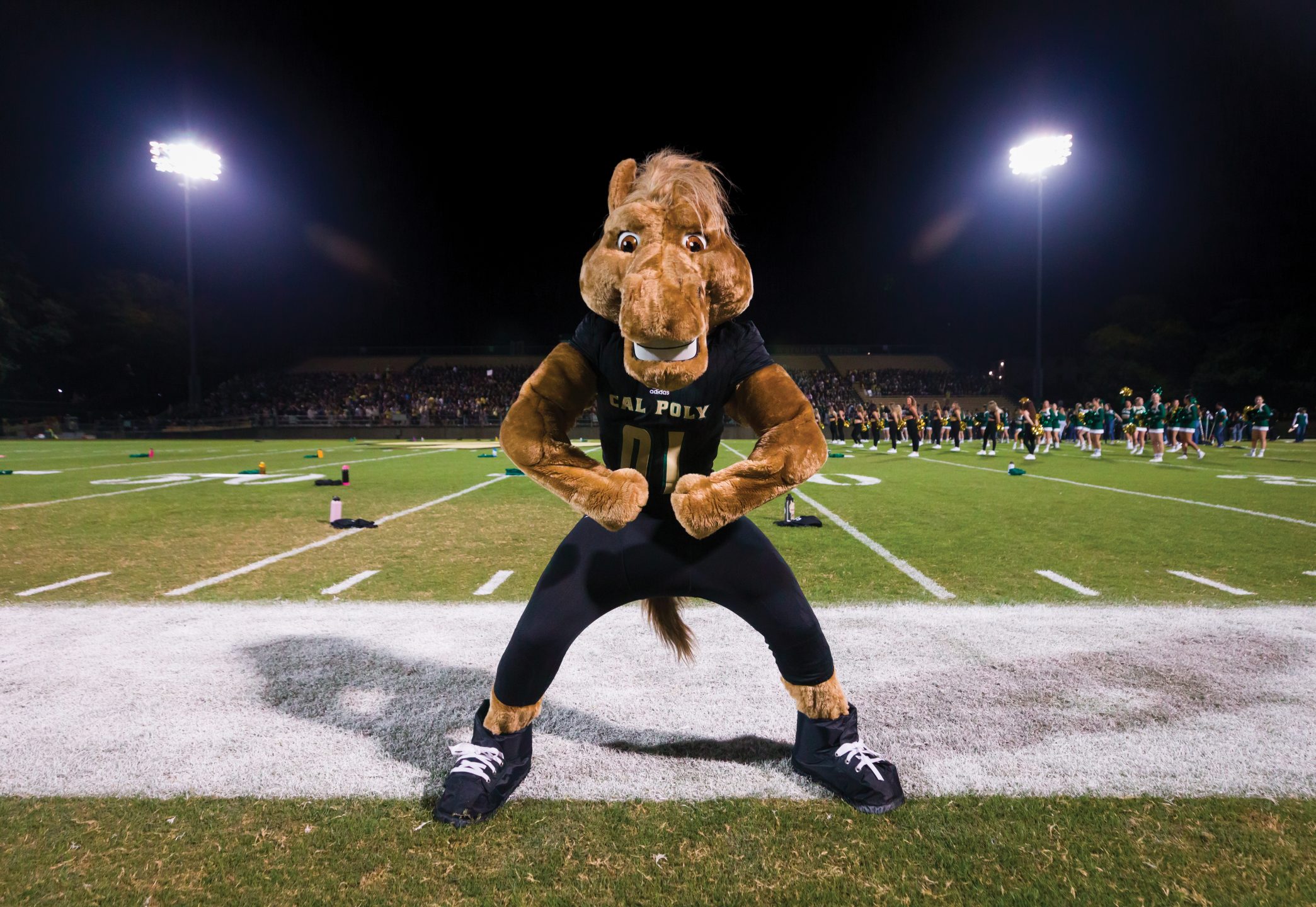 As the Cal Poly Magazine team assembled this issue, we sifted through hundreds of vibrant images of a university coming back to life.
The photo we ultimately chose for our print cover featured a pep rally at full tilt, complete with cheerleaders and an exuberant Musty the Mustang, epitomizing the joy of our reunited campus community.
Looking at that photo, we couldn't help but wonder: who was front-and-center inside our beloved mascot? And what is it like to inhabit this enduring symbol of Mustang pride?
As it turns out, three students currently bring Musty the Mustang to life, according to Cal Poly Athletics. Their identities are kept secret for a combination of security and logistical reasons, as well as to keep the mystique of the character alive in the minds of fans from year to year.
One of the current students, a first-year majoring in liberal arts, described the thrilling experience of transforming into Musty.
"The atmosphere was dense with anticipation and excitement for the new school year, especially returning to events after COVID stripped us away from those opportunities," said the student, who portrayed Musty at several events in September. "I feed off of the energy of my crowd. When I see them pumped, it challenges me to match and surpass their hype."
Jason Namanny, who supports the student mascots through Cal Poly Athletics, said student performers must apply for the role and take on special training to walk, dance and otherwise inhabit the Musty persona. A team of handlers also support Musty during days the mascot is booked for multiple events — which can include anything from a club showcase to an athletic competition.
As Musty, it metaphorically feels like 1,000 volts of energy surge through me… it's magical, every single time.
"Musty is a symbol for Cal Poly that represents all the students, not an avenue to fame for an individual student or two," Namanny said.
All three students performing as Musty this year are new to the role, as past student mascots moved on from the program during the pandemic, and all three are in their first year at Cal Poly.
"It was a huge selling point for me to imagine dancing in a sweaty horse suit — only able to speak through gestures — and taking pictures with friends who have no idea it's you," said one of the students. "The opportunity to dive into a whole new character, especially one that belonged to a part of campus I have not participated in, was super exciting."
Even though all three students have some previous mascot experience, the role of Musty still comes with some unexpected challenges.
"You must be aware about where Musty's head is pointing," says one student. "Sometimes where you want to look is not where Musty should be looking!"
One of the most exciting aspects of performing as Musty is the opportunity to pump up the crowd at Cal Poly's home football games, which are some of Musty's biggest performances. Each student talked about the thrill of taking the field and motivating a stadium full of spectators to switch into "full dance mode."
"As Musty, it metaphorically feels like 1,000 volts of energy surge through me," says one student. "That is when I can dance like crazy, I feel the high of the adrenaline, and I feed off of the crowd's excitement. It's magical, every single time."
Another says their favorite moment happens at the start of every football game: greeting Mustang Band.
"The students in the marching band are the most lively, happy, and enthusiastic people in the entire crowd. I can count on their cheers when Musty walks by. The wild support of the band serves as an amazing reminder that Musty encompasses the values of Cal Poly, and I too represent those values."
At the end of the day, the hard work is worth it to see people together again — smiling and cheering on the Mustangs.
"The feeling of being the symbol of Cal Poly is absolutely amazing," says a first-year engineer in the mascot program. "Every person treats Musty with a little bit of love, respect, and enthusiasm, and Musty delivers it right back.
"The energy around Musty is always positive, and I am certainly proud to spread that energy to others."