A Sweet Reunion
The Parent Facebook Page helps reunite a graduate and her parents traveling from Vietnam.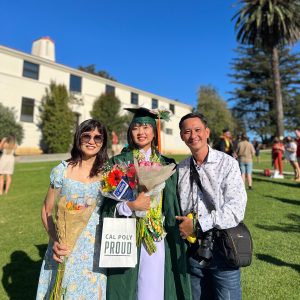 As civil engineering student Vy Vu finished out her last quarter at Cal Poly, she was looking forward to graduation — and to seeing her parents for the first time in three years.
Vu last saw her parents, who live in Vietnam, in 2019. Due to the COVID-19 pandemic, they weren't able to reunite sooner and were eagerly anticipating seeing each other and celebrating Vu's accomplishment.
But her parents almost didn't make it.
Vu's parents planned to fly from Vietnam to SLO in time for their daughter's graduation on June 8, but their flight from San Francisco to San Luis Obispo was canceled twice. Desperate, Vu first posted in a Facebook group for carpools and rideshares to see if anyone could drive her parents down to SLO for the ceremony, but everyone offered solutions that weren't workable for her parents.
"For personal reasons, I didn't want them to drive, and taking the Amtrak train would be our last resort. They're new in the country so it's not preferable," Vu said. "I waited two days and was stressed out the whole time."
Finally, someone reached out and offered to let her post about the predicament on the Cal Poly Parents Facebook page.
"Within a day, I received so many messages and offers," Vu said. "A kind mom named Amy Guzules ended up driving my parents to SLO. Amy was incredibly sweet and kept my parents company during the drive."
With the crisis averted, Vu and her parents were able to focus on being together again for her milestone achievement.
"I was very grateful to have my parents there with me at my graduation after not seeing them for 3 years," Vu, now a project engineer in San Francisco, said. "They were pretty amazed at the community I've made at school and how wonderful the Parents' Page was for helping them."