Learn by Doing — and chewing
Students in an Introduction to Botany class got hands-on — and more — with a taste test party. Professor Nishi Rajakaruna brought fruit and miraculin, a compound extracted from a fruit in West Africa that tricks taste buds into thinking sour foods are sweet, for the class to sample. Then they tried durian, a giant, spiky, stinky fruit with a unique appearance — and an acquired taste. "The impact experiential botany has on students and their worldview is very powerful," Rajakaruna said. "Those are the things you remember, not something you see on a PowerPoint slide."
Campus News
Running Up That (Capitol) Hill
Ethan Gutterman, a history major from the San Fernando Valley, will head to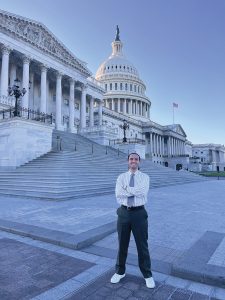 Capitol Hill to serve as Cal Poly's 2022 representative to the Panetta Institute Congressional Internship Program. The third-year student is also making history as the first Panetta intern from the Cal Poly Scholars program, which supports high-achieving California students who come from low-income backgrounds.
After a two-week training period at the Panetta Institute at CSU Monterey Bay, Gutterman will work in the capitol office of a California congressional representative in Washington, D.C., for 11 weeks in the fall.
"I have been interested in politics for a long time, and I am thrilled for this opportunity to work in Congress and be immersed in the experience," Gutterman said. "I'm also excited to meet and work with so many accomplished students from across the state through the program."
One of Gutterman's earliest involvements in politics and government was participating in the YMCA Youth and Government program during his time in high school.
"I was able to go to the State Capitol, serve in a model State Assembly and gain a greater understanding of policy at the state level," he said. "I'm looking forward to learning more about the federal legislative process and bringing this knowledge back to my work at Cal Poly."
Gutterman, who is also completing a minor in ethics, public policy, science and technology, has performed research through Cal Poly's BEACoN Research Program. After earning his degree from Cal Poly, he hopes to work in local government with a focus on housing and transit policy.
He is the 22nd Cal Poly student to participate in the Panetta Institute program since 2001. He will join 24 other students, all nominated by the presidents of California State University campuses, as well as Dominican University of California, Saint Mary's College of California and Santa Clara University. The program is open to all academic majors and is recognized as one of the leading internship courses in the nation because of the rigorous training it provides.
— Keegan Koberl
Seen and Heard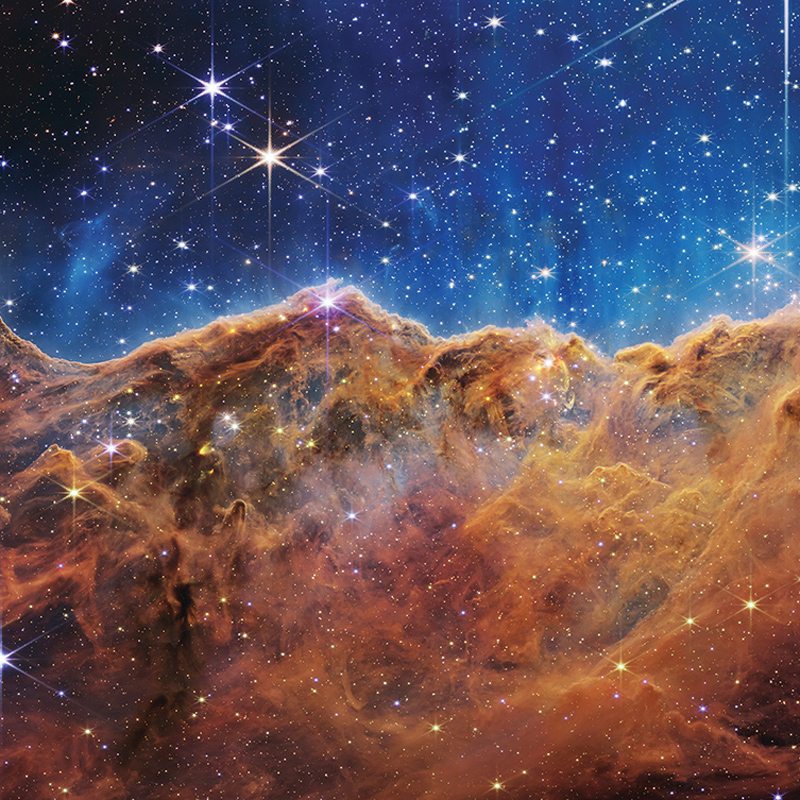 What we know of the universe — what you and I are made of, what stars and galaxies and ordinary matter are made of — is only 5% of the universe.
Physics Professor Vardha Bennert is involved in two research projects aboard the James Webb Space Telescope, which has captured breathtaking images of the universe, including the Carina Nebula pictured here. Bennert is advising other scientists as they use the telescope to study supermassive black holes at the center of galaxies.
Read more at calpoly.edu/news.
By the Numbers
Jam Session

15,000 jars

+ 40 years

2016
Traditions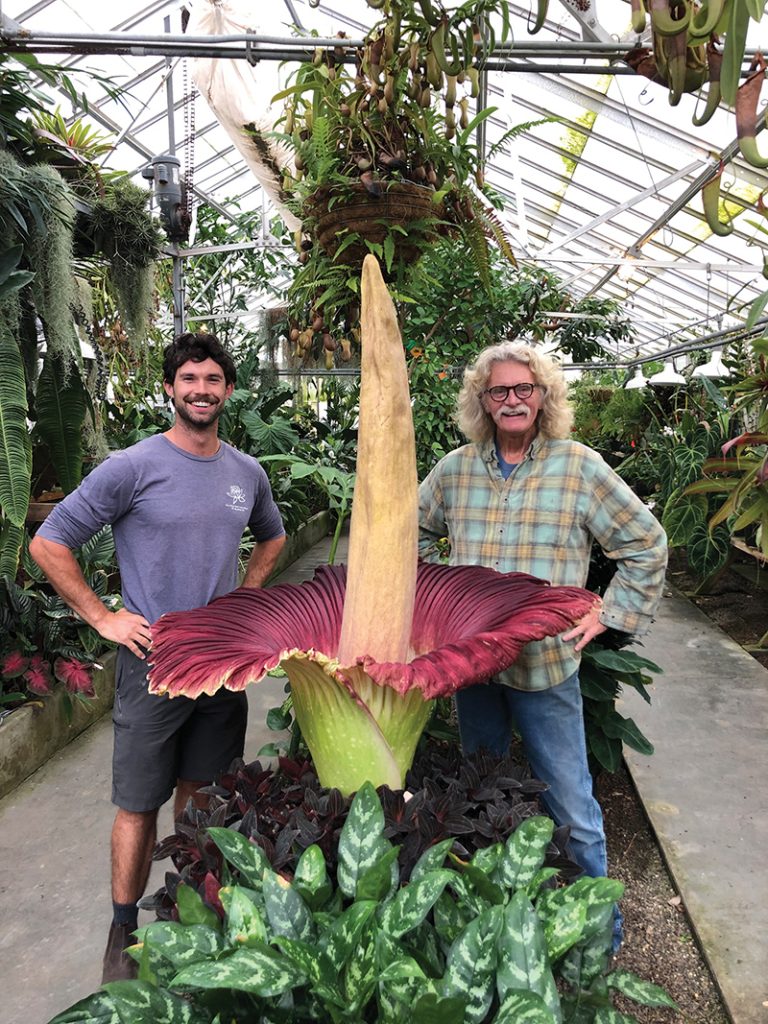 Back-to-Back-to-Back Blooms
For the third year in a row, a corpse flower bloomed on Cal Poly's campus. The seven-year-old plant, nicknamed Mustito, is a sibling to the very first corpse plant to bloom at Cal Poly, Musty. Musty, which bloomed in the summer of 2020 at about six years old, attracted more than 3,000 visitors. The bloom streak continued last summer with an 18-year-old corpse plant, Bertha. The blooms are generally rare and can take several years of growth to achieve. Cal Poly is currently cultivating about a dozen corpse plants ranging in age from five to 20 years old.
— Nick Wilson
Read more at calpoly.edu/news.
Campus News
Paddling into History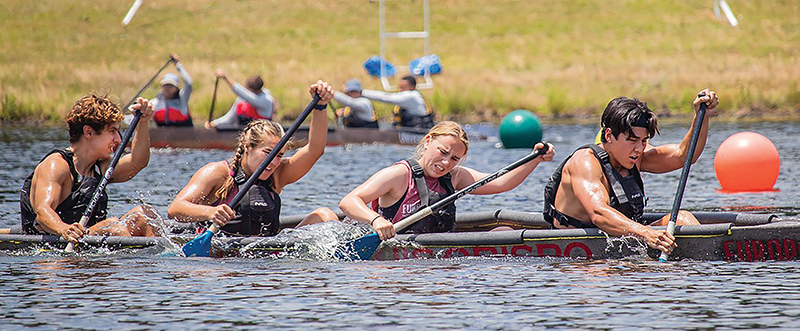 The Cal Poly concrete canoe team got back in the water after a two-year pandemic delay and claimed a sixth national title at the 2022 American Society of Civil Engineers (ASCE) Concrete Canoe Competition at Louisiana Tech University in June.
Cal Poly became the school with the most title wins in the competition's 35-year history, adding to its list of victories in 2010, 2011, 2012, 2017 and 2018.
"It feels amazing," said Heather Migdal, a civil engineering senior who served as construction team lead. "My team and I have sacrificed so much of our time working on the canoe this year, so taking home the national title made it all worth it. It truly became a labor of love."
The team of created a space-themed canoe, "Europa," to compete against 19 other universities. Mustangs not only swept the races but also finished first in the technical presentation and proposal categories while taking second place for its final product prototype. Cal Poly also received the R. John Craig Memorial Award as the winner of the coed sprint race.
The team included civil engineers Migdal, Nathan Felde, Nicholas Toma, Michael Wang, Sarah Scherzinger, Peter Cline, and Carson Bak with environmental engineer Clarissa Arredondo.
— Dennis Steers
Media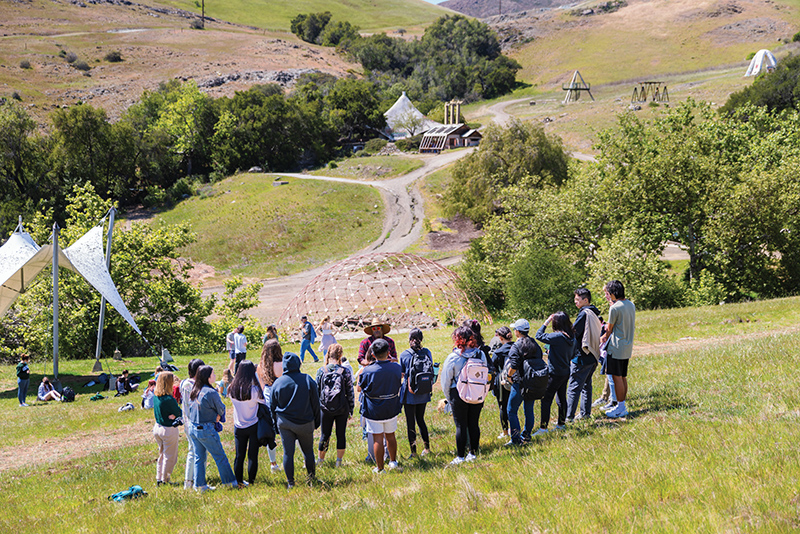 For a Good Time, Hike
Next time you're on campus, hike up into Poly Canyon and check out the Experimental Projects Lab. The legendary outdoor space, home to the annual Design Village event and dotted with more than 20 student-designed structures, was recently named one of the 101 best experiences in California by the Los Angeles Times. The list highlighted other local experiences, including the Downtown San Luis Obispo Farmers Market and Morro Rock.