Honoring Mustangs Who Rise Above
President Armstrong on a few Mustangs who illustrate the power of Learn by Doing.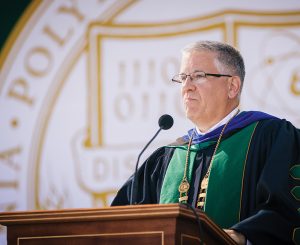 This issue of Cal Poly Magazine is packed with examples of Learn by Doing, from rattlesnake education hikes to fighting wildfires. It also recognizes and honors two very important Cal Poly alumni whom we sadly lost this past year.
Cotton Rosser was a giant in rodeo and a consummate and unapologetic promoter of Cal Poly. He wore his love for our university on his sleeve and will be greatly missed. While saddened by his passing, I am pleased that Cotton was on hand this past May at Poly Royal Rodeo for the dedication of the Cotton Rosser Rodeo Complex.
We also sadly lost John Madden this year. In this issue, you've read about Coach Madden's life, including some stories never before told by his wife, Virginia, and son, Mike. You've also read about a transformational gift by the family to build the John Madden Football Center at Cal Poly!
A few elements of John's amazing story especially resonate with me. When a career-ending injury took John off the football field before he had played a single professional game, he didn't just throw in the towel. With his Virginia's encouragement and support, he went back to school right here at Cal Poly and shifted his focus to teaching and coaching. His beginning was humble, teaching physical education in Orcutt. However, John built on that early start and quickly secured a number of coaching positions that ultimately resulted in him being named as the head coach of the Oakland Raiders — the youngest head coach at the time. John went on to win the Super Bowl and become the head coach with the highest win percentage in NFL history, a record that remains today.
When the time came to end his coaching career, John — with Virginia and sons Mike and Joe by his side — again reinvented himself and began writing and teaching about football. This led to a job as a sports commentator for CBS, and the rest is history. John grew and persevered when he encountered times that might have derailed him. He honed new skills by learning them and doing them — turning himself into the success story and person he wanted to be.
Growth is the goal of education, whether that happens in a classroom or lab, on a farm field or on the sidelines.
John's family is leading the way to create the John Madden Football Center, a state-of-the-art facility that will be located at the south end of Spanos Stadium. The Madden Center will bring together the resources that Cal Poly's football players need to excel, both as athletes and as students. Through their generous gift, John and his family are helping provide opportunity and good fortune to new generations of student athletes.
Although John found fame, there are thousands of similar but less-well-known stories in Cal Poly's history — students who worked hard to overcome obstacles and find success. Some beat long odds just to get into Cal Poly; others graduated despite working many hours to pay the bills; and still others overcame tragedies or disasters not merely to survive but to thrive.
Growth is the goal of education, whether that happens in a classroom or lab, on a farm field or on the sidelines.
In honoring John Madden, we honor all the Mustangs who have risen above, have learned new skills by applying them, and in that way have put their Cal Poly educations — and Learn by Doing — to the best possible use. Our hats are off to all of you!
Like their students and graduates, universities must also grow and change. In recent years, we have focused very intently on growing the diversity of our campus so that it better reflects the state we serve. Our work toward this goal is ongoing, but we have seen progress and successes along the way. I'm thrilled to report that this fall's entering class is our most diverse and our highest performing yet. We have also been able to offer unprecedented amounts of financial aid to California students.
As John Madden and Cotton Rosser did throughout their careers, our university continues to strive for improvement, to grow and to reach greater successes. After all, it is these principles that are at the heart of Learn by Doing and the Cal Poly experience.
Jeffrey D. Armstrong, President
Learn about how you can support Cal Poly at giving.calpoly.edu