Life in Plastic
Krista Berger, who has worked on Barbie, American Girl and other legendary toy brands, found her calling thanks to a personal mission statement.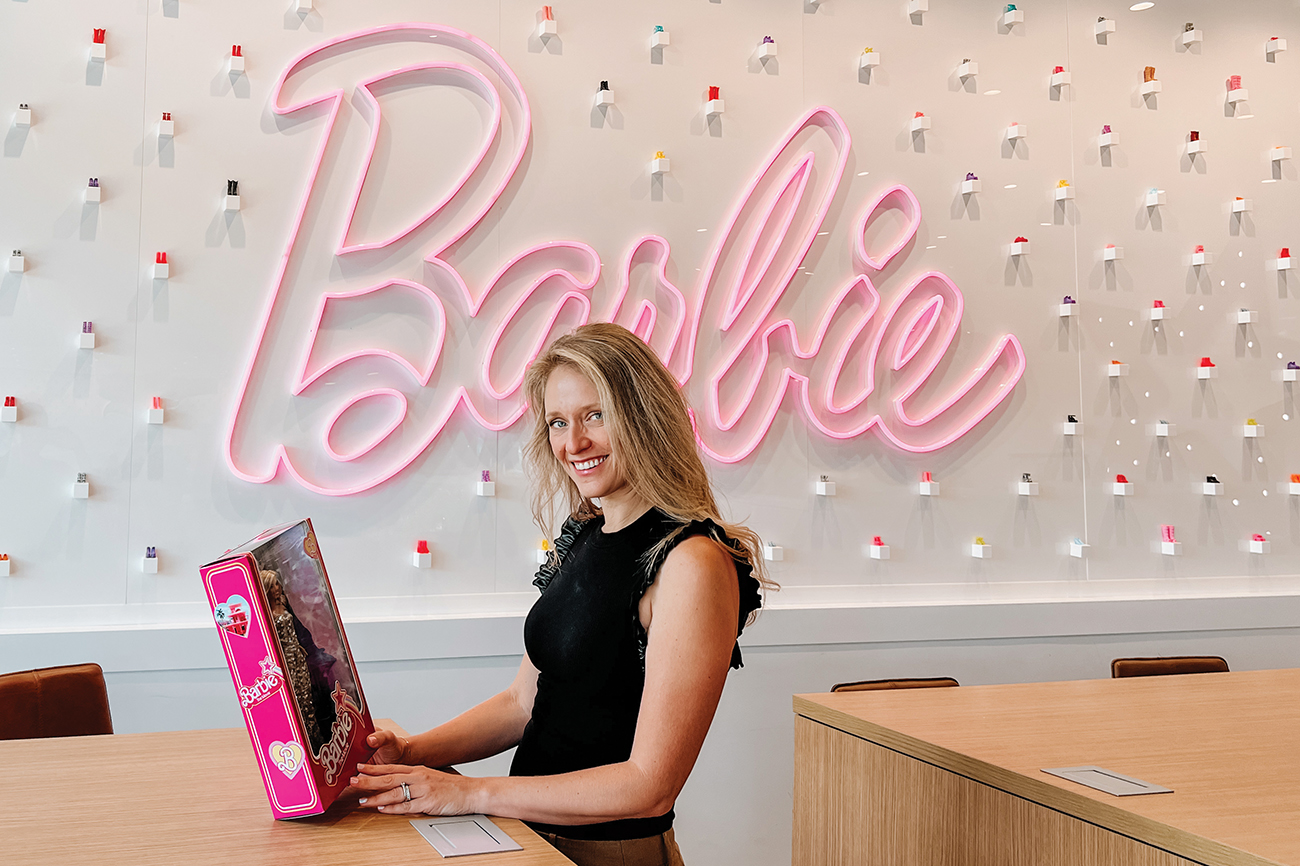 When Krista (Couch) Berger (Business Administration '06) graduated from Cal Poly, she received a key piece of advice: develop a personal mission statement to guide her career.
"I knew I wanted to work within a company or within a field that encouraged kids to stay kids as long as possible," she said. "I have a soft spot in my heart for childhood, for imagination, for play. I come from a family of educators, and I know how important play is to developmental benefits and learning."
This realization led her first to Disney, where she worked during graduate school, and then to Mattel.
"Mattel looks to inspire the wonders of childhood," Berger said. "That certainly resonated and felt like a restating of my own personal mission statement." Now the vice president of American Girl's marketing and content division, Berger has worked on several iconic brands within the company, including Polly Pocket and yes — Barbie.
Up until early 2023, Berger was the vice president of Barbie's global marketing and brand partnerships division. In that role, she focused on "future proofing" the brand: making sure the 64-year-old toy stayed relevant and fresh via partnerships including the record-breaking hit "Barbie" movie that came out in theaters over the summer. Berger was heavily involved and even visited the set of the movie as it was in production, calling the experience a "pinch me" moment.
"We're all still, I think, taking it in," she said, adding that the idea for a movie was discussed for more than a decade before falling "into the best of hands."
She worked with the actors and actresses on toy approvals, as well as the movie's costume designer, Jacqueline Durran, on translating the designs from the movie (many of which were inspired by vintage Barbie designs) back into toy form.
"I was thrilled to be surrounded by the partners I had. It was truly a dream team that brought this to life," she said. "It's been a long time in the making and we could not be more proud of the product that has been put out, both literally in terms of the film and the toys that accompany it."
Some of the toys and other products that came out in concert with the movie include doll versions of the Barbies and Kens from the movie, a sweatshirt with Ryan Gosling's iconic line, "I Am Kenough" splashed across the front, coffee mugs, fanny packs and more.
"I think the movie just inspires so much joy and levity while tackling some really big thoughts and feelings," she said. "Having a tangible piece of that, whether it's a sweatshirt or a toy from your childhood that you want on your desk because it makes you smile — it's so much fun to see how fans of all ages are interacting with the brand."
In her current role as the vice president of American Girl's marketing and content division, Berger is thinking 18 months out about marketing plans and leading the content team, which works with authors and illustrators to bring American Girl stories to life.
"I show up every day and I am challenged. I am inspired. I learn new things," she said. "Toys are a little like fashion in that they are constantly evolving. It is a trend-driven business."
Part of the key in working on a legacy toy brand is thinking of ways to innovate and disrupt, Berger said.
"The average life cycle of a toy brand is five years. Barbie is 64 years young and American Girl is 37 years young," she said. "These are brands that have stood the test of time because they have innovated and pushed, and the people who have driven them stayed curious."
Keeping these brands at the top of their game requires a lot of coordination, teamwork and creativity. Berger and her team work closely with a consumer insights team, use online data pools and connect directly with kids who play with their toys — but here's also room to use their own intuitions and imaginations as they come up with the next great idea.
"It's that combination of art and science that makes toys really fun," Berger said. "As adults, we think kids will like X idea, but we need to hear it from them. And sometimes, you have to take that leap of faith because our people have such strong instincts."
Berger credits her senior project at Cal Poly — where she, professor Lynn Metcalf and other students worked with the Wheelchair Foundation to deliver wheelchairs to Belize — with preparing her for her future career and shaping her mission statement.
"It was not only a great leadership experience in how to galvanize a group of my peers toward a common goal, but it also then unlocked that level of thinking to prepare me for what was going to come next as I went into graduate school and prepared to enter the workforce," Berger said. "There's a world of choice out there for you, right? You need to know what to say no to, as much as you need to know what to say yes to."
And if there's one thing current Cal Poly students should know as they prepare for the workforce, Berger says to chase leadership and experience — not money and title.
"As you're looking and trying to figure out what to say no and what to say yes to, you need to find your north star because it's easy to get distracted," she said. "Hold firm to your convictions, assume your goals are yours to realize and have the audacity to make it happen. You can do it; you can be anything."