When it comes to renewable energy sources, Cal Poly researchers are exploring olive the options. Food science graduate student Ningjing Hua and her undergraduate research assistant Kiveli Pandelidis (pictured above) are researching how to transform olive pomace — the pulp left over from oil production — into a renewable energy source called biomethane. Read more at

calpoly.edu/news

.
In the Headlines
Lucky Number Seven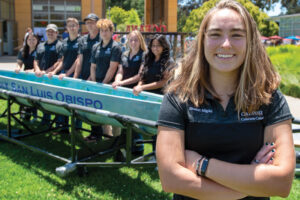 The defending national champion Cal Poly concrete canoe team was the team to beat at the 2023 American Society of Civil Engineers (ASCE) Concrete Canoe Competition in June — and they rose above the rest.
Cal Poly was one of 20 university teams from the U.S. and Canada that had advanced to the finals from a series of ASCE regional qualifiers.
"This year, we've had our fair share of obstacles, but we've all come together and put a tremendous amount of work and effort into this," said Heather Migdal, the team's project manager and one of four paddlers on the canoe, Oceana. "The five senior captains were all on the team last year. We all know what is expected, and I'm just beyond excited and happy that we're able to say, 'We're a two-time, national-winning team.'"
Cal Poly concrete canoes are known for their aesthetic design while being surprisingly light (175 pounds) and strong. The Oceana canoe is 18 feet and 8 inches long, with a quarter-inch, carbon fiber and fiberglass reinforced hull.
Since a new ASCE rule change allows the use of concrete dyes, the canoe features ocean flora and fauna all in an artist's palette of realistic hues. Oceana's bow deck includes the team mascot, an otter named Ellie.
"We just went and gave it absolutely everything we had to finish out that race," Migdal said. "I'm just so proud of what we were able to finish. That last leg, there was lots of yells to get over the finish line — but we did it right."
— Jay Thompson and Dennis Steers
Campus News
Blazing a Trail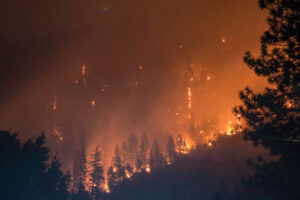 Cal Poly's Wildland-Urban Interface (WUI) Institute recently partnered with the Western Fire Chiefs Association (WFCA) to further the institute's mission: developing holistic solutions to destructive wildfires and helping build more resilient communities.
"WUI communities are facing, and will continue to face for decades to come, extraordinary wildfire threats from a perfect storm of ecologic, economic and climatologic forces," said WUI Institute director Frank Frievalt.
"Exceedingly difficult policy decisions are on final approach and legislators and administrators will need our organizations to bring evidence based recommendations from trusted sources."
The strategic alliance will provide the platform for the Cal Poly WUI Fire Institute and the WFCA to collaborate on mitigation efforts from analysis to management, leading to solutions that reduce the threat to those living in WUI communities.
— AnnMarie Cornejo
Rankings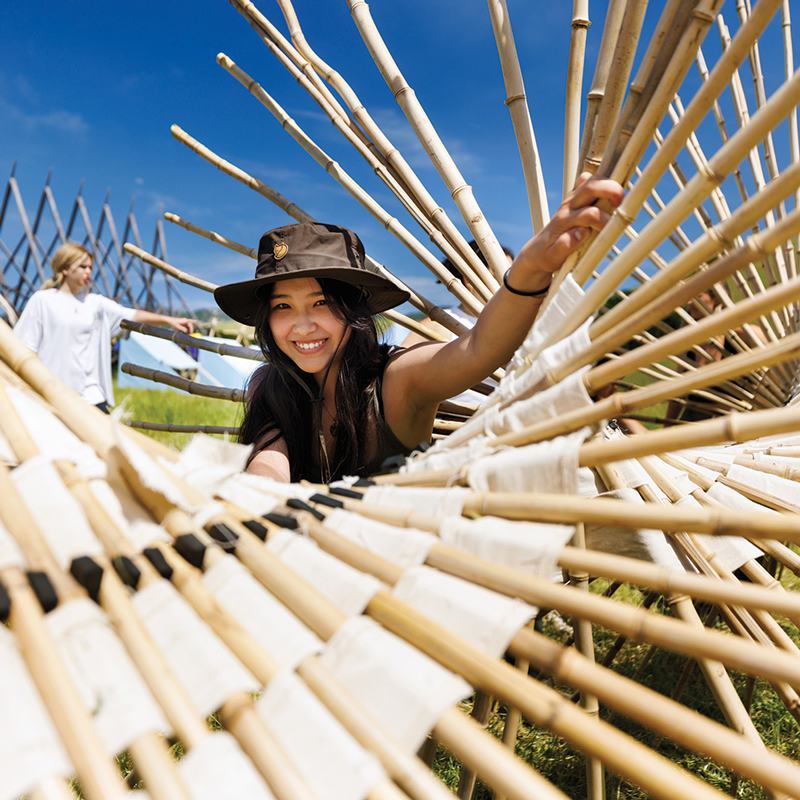 The Very Best
For the very first time, U.S. News and World Report ranked Cal Poly the best overall master's-level university for both public and private institutions in its annual Best Colleges Guidebook. Cal Poly was also ranked best public institution in the west for the 31st consecutive year. Additionally, Cal Poly ranked at the top of the specific regional categories for best public school, most innovative school, and best school for veterans, as well as No. 5 for undergraduate engineering programs and No. 17 for overall value.
Seen and Heard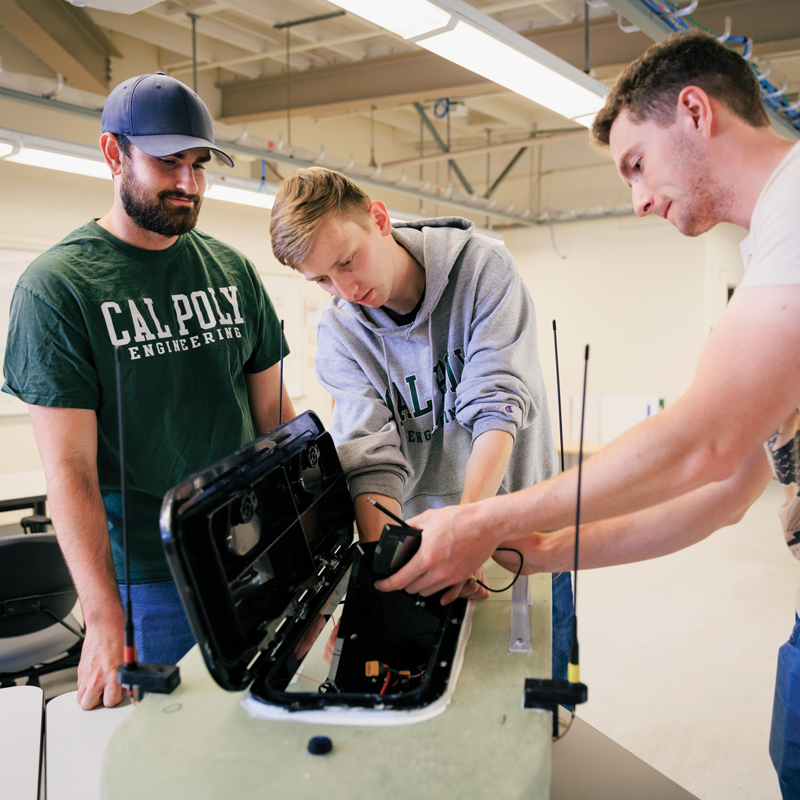 I'm still just shocked that my Cal Poly education has provided me an opportunity like that.
— Mechanical engineering student Andrew Reese, member of an engineering team who flew to Houston in early summer to compete in NASA's Micro-g NExT Challenge. NASA scientists will incorporate the best ideas from the student-designed projects into plans for future space missions.
Campus News
Branching Out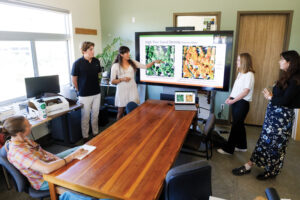 This summer, a group of students embarked on a groundbreaking project: mapping tree canopy cover in California.
Tree canopies, which provide shade, can offset the heat island effect in cities. The effect is caused by buildings, roads and other human-made infrastructure absorbing and then re-emitting heat. In a warming climate, the heat island effect only intensifies, making cities hotter than ever.
The students involved created a public, open-source urban tree canopy map using geographic information systems (GIS) and an AI deep-learning model. They're also writing a research paper to document their methodologies and share their discoveries with the world.
"With our map, city managers can say, 'OK, here's where our trees are, here's where we don't have trees, and here's where we've lost a lot of trees and need to replace them,'" said Cami Pawlak, a graduate advisor on the project who graduated with her master's degree from Cal Poly in June.
"Cities that have good canopy cover can be 10 degrees cooler than cities without it. It has a big impact in terms of stress on people and urban heat."
Students digitized images from the National Agriculture Imagery Program (NAIP) of hundreds of tree canopies across the state to make an image training library for artificial intelligence. The AI will then use the learning library of images to identify tree canopies in other areas, building a baseline estimate.
One of the team members, fifth-year landscape architecture student Jessica Baiza, has worked on parts of this project since January with a particular focus on canopy cover at public schools.
"I hope that my work in this project can serve as a catalyst for positive change, inspiring others to embrace nature-based solutions and sustainable practices," she said. "The well-being of our children and our environment depend on it."
— Gabby Ferreira
California Impact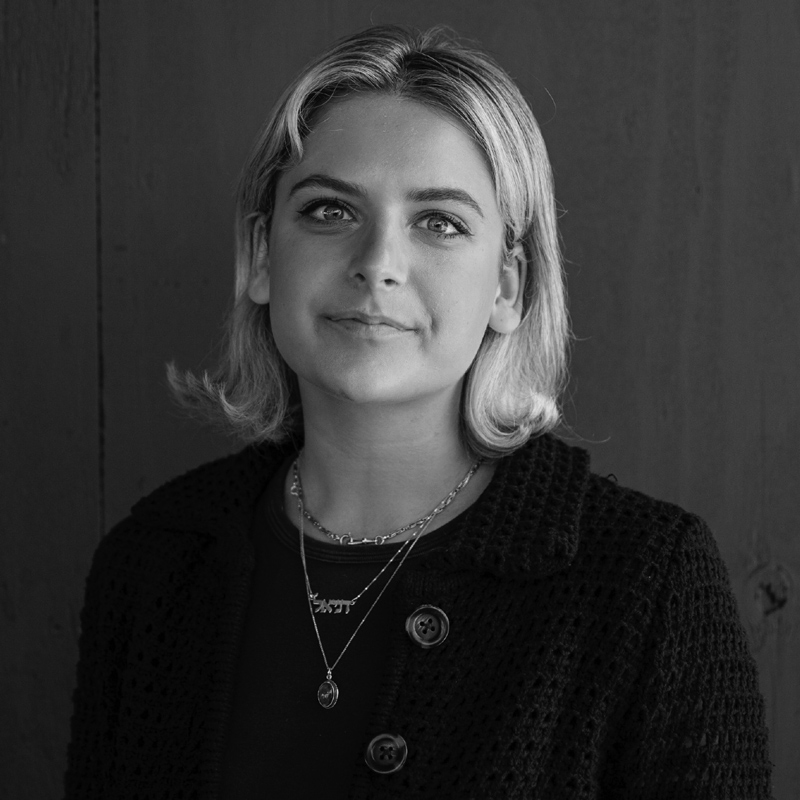 Capitol Candidate
Fourth-year political science student Dani Bello is serving as Cal Poly's 2023 representative to the Panetta Institute Congressional Internship Program, spending this fall interning in a California representative's office. "In my time at Cal Poly, I've felt encouraged to seek out opportunities and learn beyond the classroom — I'm excited to bring this mindset to Washington," she said in an interview this summer.
— Keegan Koberl