From Cal Poly to the Stars
CubeSats are not only orbiting the Earth, they're now officially in the Space Technology Hall of Fame.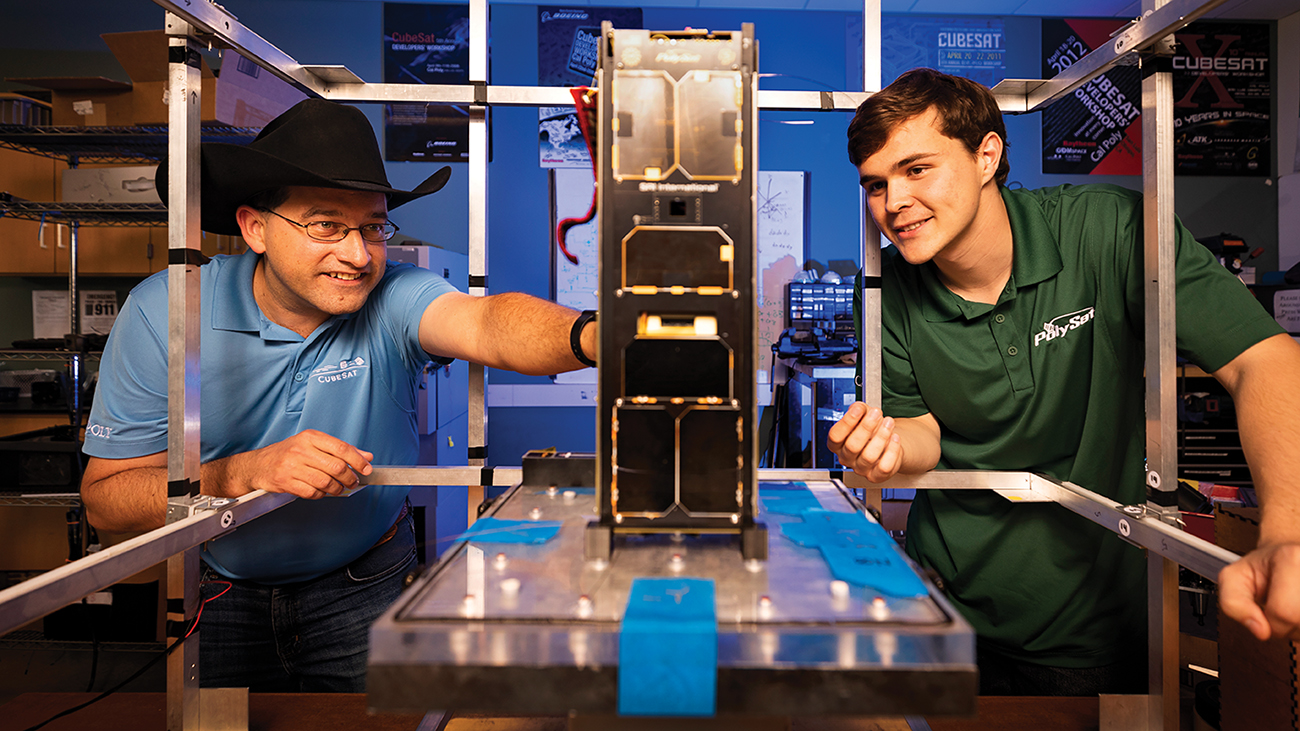 CubeSats, the small, briefcase-size satellites that have become a regular feature of important space missions and developments, were recently inducted into the Space Technology Hall of Fame — just the latest step in a journey that began with Cal Poly.
The key to understanding the wide-ranging influence of CubeSats is to think of them as the sandbox where the aerospace engineering industry learned how to do space in a different way, according to retired Cal Poly aerospace engineering professor and CubeSat co-creator Jordi Puig-Suari.
"Faster, smaller, taking more risk and leveraging the technological developments of non-space industries, such as the commercial electronics sector," said Puig- Suari. "Those new ways of doing business that were introduced by CubeSats form the basis of many of the new missions being developed by space companies."
Before the CubeSat existed, satellites were massive and expensive to launch, so only a few space organizations could create them.
Puig-Suari created the CubeSat with now-retired Stanford University Professor Bob Twiggs in 1999 as a teaching tool, intended to give students experience in satellite functionality. They built the device to standard dimensions (units or U) of 10 cm (about 4 inches) per side.
The standardization of the invention — they can be 1U, 2U, 3U or up to 16U in size and typically weigh less than 3 pounds per unit — made it relatively simple and affordable for other schools, governments and private organizations to create satellites that could be launched into space and used for research.
"Not only have thousands of students from all over the world been able to launch a satellite, it has turned into a billion-dollar industry and has played a major part in bringing about a renewed enthusiasm about space that hasn't been there since the moon landing," said Ryan Nugent, director of the Cal Poly CubeSat Lab.
The twin MarCO communications relay satellites, launched from Vandenberg Space Force Base in 2018 as part of the Mars Insight lander mission, were the first test of CubeSat technology on another planet. The Planetary Society's two LightSail projects demonstrated the feasibility of solar sailing propulsion with CubeSats. The small satellites usually ride as secondary payloads below much larger satellites and are also regularly launched from the International Space Station.
As of Jan. 1, 2022, more than 1,660 CubeSats have launched to space, according to the Nanosats Database, the largest organized collection of information for launched, planned and canceled CubeSat missions. The database estimates that more than 700 are planned for this year alone, including over 300 from companies.
And it all started with Cal Poly.
"Any discussion of the evolution of CubeSats should include Cal Poly's prominent role," said John Bellardo, a computer science professor and faculty advisor to the program.
The induction from the Space Foundation, whose leadership includes a former NASA astronaut and several space industry executives, does just that — and more.
"This distinction is also a validation of the idea that the 'traditional' way of doing things isn't always the best and can be an inhibitor to innovation, which we hope to continue as we strive to provide our students with hands- on experience with cutting-edge space technologies," said Nugent, who worked on CubeSats when he was both an undergraduate and graduate student at Cal Poly.
Last year, a CubeSat launched on a Virgin Orbit rocket released from the wing of a Boeing 747 was the 12th mini satellite designed, assembled and tested at Cal Poly that has made it into orbit. One of the current CubeSat projects will look at a new radiator technology.
"The radiators are a critical component of spacecraft because they allow waste heat to be rejected from the vehicle, a necessary process for both higher-powered missions and missions that operate in a hotter environment for an extended period of time," Bellardo said.
An upcoming partnership with the Air Force Research Laboratory will provide access to newer equipment, facility upgrades and experts in the field.
"While we proudly claim a major role in the advent of the CubeSat, we want to remain relevant with this important technology," said Associate Dean Eric Mehiel, an aerospace engineering faculty member. "This partnership will help Cal Poly continue to push CubeSat innovation well into the future."
While Puig-Suari was singled out in the Space Symposium release about this year's three Hall of Fame inductees, he was quick to note the support the program had from the university's administration and the Cal Poly Corporation, which helped navigate significant legal and regulatory obstacles that the first Cal Poly CubeSat launch, in Russia, required.
"I feel that this high-level effort reflects the commitment of the university to facilitate activities that enhance the educational experience of the students," Puig-Suari said.
And eventually those efforts allowed space research and exploration to proliferate, making CubeSats a regular feature of space industry news.
"It is a little overwhelming to think that a lot of these new developments in the space industry are 'my fault,'" Puig-Suari said. "When we started, we never expected to have such a significant effect. At this point, I am very proud of what we accomplished and to be able to say that I helped change the world for the better."
See how CubeSats fit into Cal Poly's history of aeronautical and aerospace innovation over the nearly 100 years in our timeline, Taking Flight.
---
Want to support Learn by Doing in the CubeSat program? Make a gift at giving.calpoly.edu.