Snakes in my Mane
When an innocuous request gets hairy — and scaly.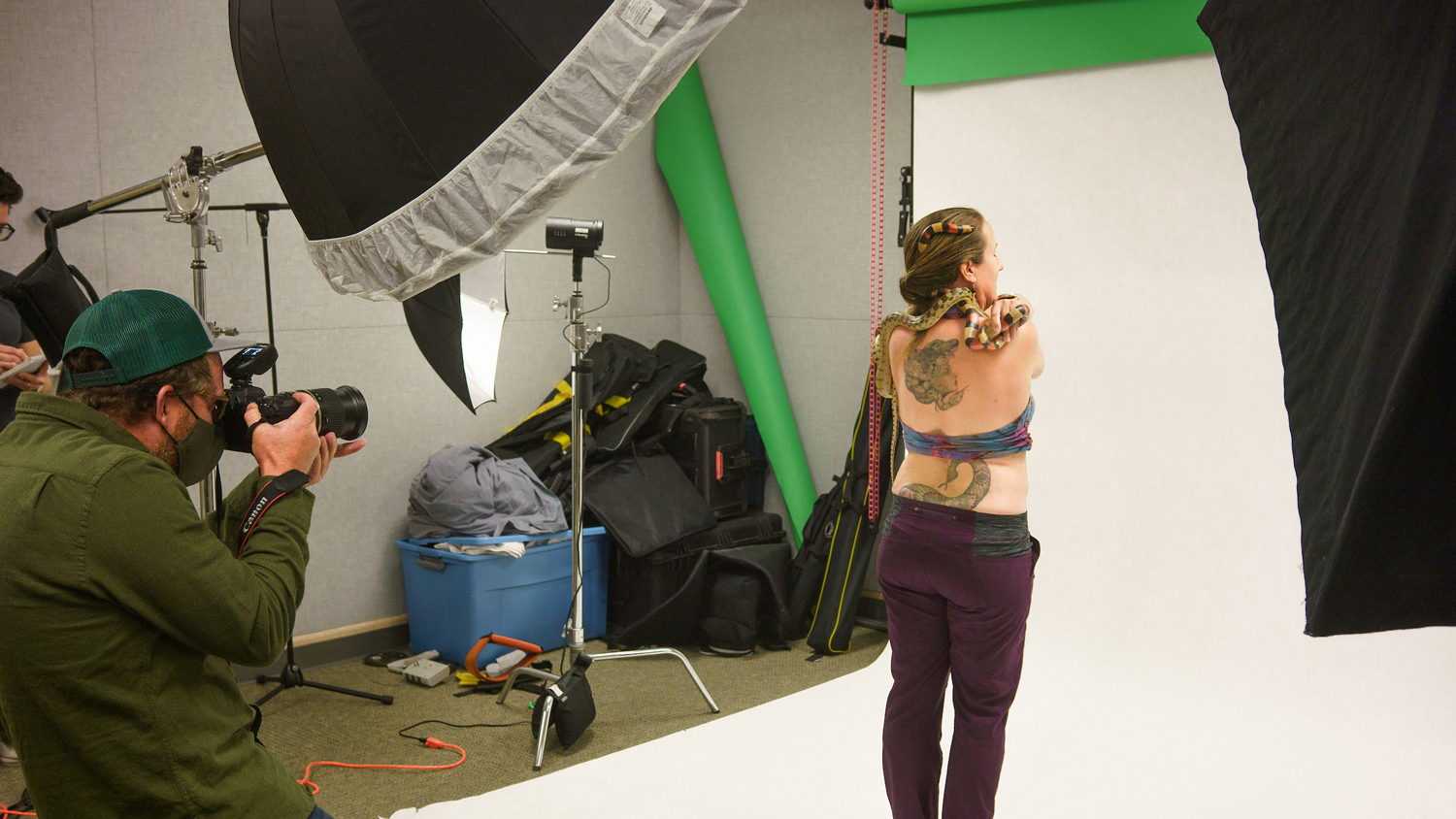 When magazine editor Larry Peña and I started reaching out to faculty, staff and students to be photographed and interviewed for the Geek Ink feature, we included this request: if you want to, bring props. A lot of people did! We saw fire gear, models of chemical compositions and a bouquet of dried flowers. Then Professor Emily Taylor walked into the studio, carrying two wriggling pillowcases: one for each snake.
That's right — she brought two live snakes to the photoshoot. As our photographer, Joe Johnston, helped her get situated, she asked if someone could hang on to her scaly friends. I saw Larry back away, but I once had a friend who owned a pet snake. They're harmless! I was more than happy to help, so Andy, Joe's student assistant, and I each grabbed one while she set up.
The shoot went smoothly, as the snakes coiled around Taylor's hair and shoulders, accenting her extremely cool snake-themed tattoos (which you can check out in the feature) … until the very end. Joe asked for a few photos sans reptiles, so Taylor handed them back to me and Andy. I grabbed the snake I held before, expecting him to be docile as he had been at the beginning of the shoot. I was very wrong.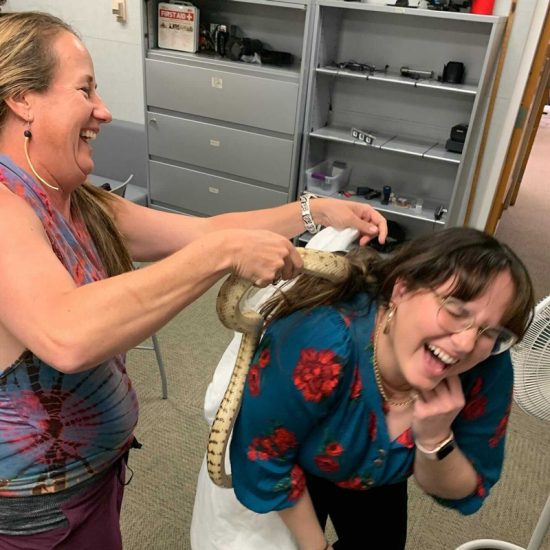 The saucy serpent shot straight up my arm, going for my hair and coiling up in it before I could react. I motioned to Andy to help me get the little guy out of there, but any time Andy tried to pull him out he dug in even more. Suddenly he had an idea:
"Lean your head this way and let's see if we can get him to get onto my arm. That works with bugs."
Honestly, not the worst suggestion ever. I leaned down but ol' snakey wasn't budging. I started to freak out a little bit, trying to keep my cool. I knew he wasn't venomous and I was in the best place I could possibly be — right next to a snake expert.
Thankfully, they were just finishing the photos. I asked Taylor to please get her little friend out of my hair and she began trying to untangle him.
But just when I thought this snake was already in there good, somehow it found a way to get in even deeper, coiling around my neck and attempting to burrow into my ear.
I'm very ticklish, so it was hard to stay still as Taylor patiently worked the snake out of my hair. As I flailed and giggled uncontrollably, I was vaguely aware of Larry taking pictures in the background while this was happening. He's such a good friend.
Finally, the snake was out and safely tucked away in a pillow. It took me about ten showers to finally stop feeling that little tongue flicking into my ear canal.