Sailing the Skies
Above, Aerospace Engineering Professor Paulo Iscold and his students designed and built a sailplane with a 93-foot wingspan and the ability to travel at speeds up to 170 mph. Pilot Jim Payne helped Iscold and his team test out the plane earlier this year at the Paso Robles Municipal Airport. Photo by Joe Johnston.
Local Community
Envisioning the Future of Harford Pier
From picnic areas to paddle-in camping sites, Cal Poly students are envisioning what amenities could be added over, under and on top of the Harford Pier in Avila Beach.
Nearly 250 Cal Poly architecture and architectural engineering first-year students were involved in a project during winter quarter to analyze, imagine and design new uses for the 1,320-foot-long pier, in part by adding 20 feet on each side of it.
"We're exploring the concept of adding more edge to the pier," architecture faculty member Emily White said. "It's a really great collaborative project. So many professions in the world work in teams, and these students are doing so from their first year at Cal Poly."
In January, the students visited the pier in 12 teams, studying and measuring the entirety of it. Students from 11 studio classes are working in teams of three or four to design different sections of the pier.
"The idea of integrating new ideas into an existing space and how to make it properly flow has been one of the main challenges," architectural engineering student Tynan Castro said. "The more we go through it, the more we learn. The whole project is a learning process."
The Harford Pier was constructed in 1878 by its namesake, John Harford. It is one of the last piers the public can still drive on, according to the Port San Luis Harbor District, which owns and maintains the pier.
It's possible that some of the students' ideas could be included in future plans for the site. Port San Luis Harbor Manager Andrea Lueker said the district plans to complete a site plan for the Harford Pier, which will include short and long-term proposals for the next 20 years.
"The timing is pretty cool," Lueker said. "I'm very interested in what the students come up with. I'm thinking there's a way we can incorporate at least some of their input in our site planning process."
Castro's team designed a section to include a picnic area, a sea lion research station, and a site where kayakers could disembark, store their kayaks and sleep overnight.
Quoted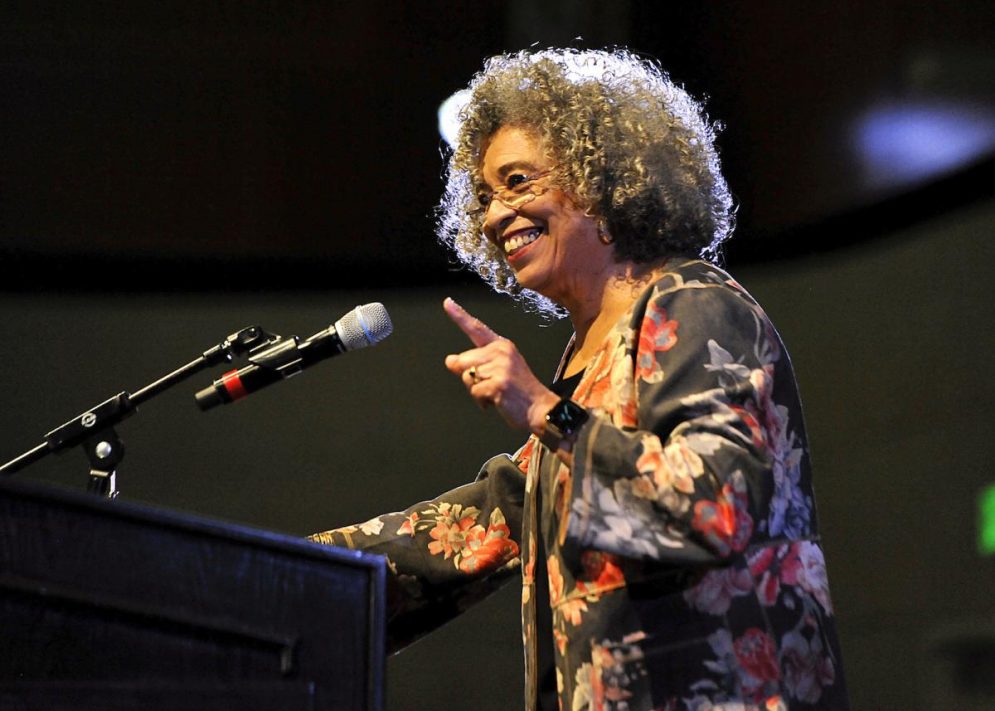 History is made by ordinary people. When ordinary people join together to create movements, they make change happen. We join social movements in order to transform our relatively powerless individual selves into a great collective self.
Activist and author Angela Davis, speaking at Cal Poly's 18th annual Change the Status Quo Social Justice Leadership Conference. More than 700 people attended the event, which began with a keynote from Davis and included a series of workshops and sessions designed to empower attendees to challenge social norms, ask critical questions, demand solutions and make lasting social change.
Numbers
Networking from Home

61

658

67+
Campus News
A New Provost
This spring, Cal Poly announced the appointment of Michigan State University dean and professor Cynthia Jackson-Elmoore as its new provost and executive vice president for academic affairs. Jackson-Elmoore will begin her new role at Cal Poly on Aug. 1.
Jackson-Elmoore is currently dean of the Honors College at MSU and a professor with affiliations in the School of Social Work and the Global Urban Studies Program. She also currently co-chairs a university level Diversity, Equity and Inclusion Steering Committee and is a presidential appointee to MSU's Strategic Planning Committee.
At Cal Poly, Jackson-Elmoore will oversee the Academic Affairs division, which includes the university's six colleges, along with the international and extended education programs, the Kennedy Library and the university's Office of Equal Opportunity. In addition, she shares oversight of research and economic development; graduate education; financial aid; the registrar; admissions; and enrollment.
"We are tremendously excited to bring an educator of Cynthia's caliber into one of our key campus leadership roles," said Cal Poly President Jeffrey D. Armstrong. "Her strong academic and administrative background will play an important role in the continual improvement of our already world class Learn by Doing education. And as we work to enhance our campus culture through diversity, equity and inclusion, her passion for and experience with these issues will be a valuable addition to Academic Affairs and the university as a whole."
Prior to her current post, Jackson-Elmoore served as acting assistant dean of MSU's Urban Affairs Programs, director of the Urban Studies Graduate Program in the College of Social Science, and co-director of the Program in Urban Politics and Policy that was jointly housed in the Department of Political Science and Urban Affairs Programs.
She has taught courses in public policy processes and analysis, urban politics, and social welfare policy and services; conducted evaluations on community health care reform; and served as project manager for a multi-state research study.
"When I spoke with students and employees about the provost role, I saw a group of people who believe passionately in Cal Poly's hands-on approach to learning and who are dedicated to the idea that an already excellent institution can still improve," Jackson-Elmoore said. "I am honored and thrilled to join Cal Poly and eager to get to work with a campus community that is so clearly focused on doing all it can to help students succeed."
News Bites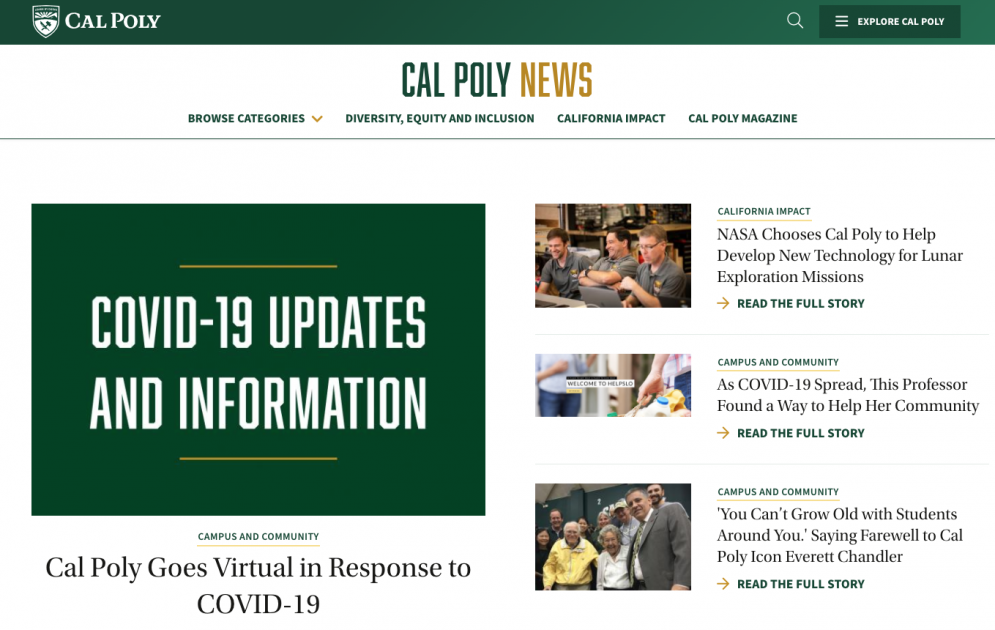 This Just In
Cal Poly has launched a new website dedicated to keeping the Mustang community up to date on what's happening on campus. Visit calpoly.edu/news for weekly updates and the university's biggest stories.
Impact
Thumbody Cares
When Andrew Emmert heard last spring that a fellow engineering student at Cal Poly Pomona lost his thumb in an industrial accident, he knew he wanted to help.
He asked the student for permission to design a prosthetic for him, and with that permission he teamed up with his friend, Sahil Sharma, a biomedical engineering student at Cal Poly in San Luis Obispo.
They planned to build the prosthetic as a joint senior project between their schools.
"Being an engineering student, the use of your hands is very important," Sharma said. "Losing one of your digits can be devastating."
Sharma pitched the prosthetic project to his class, and Cale Foreman and Ally Sigdestad joined the group, motivated by the idea of having a direct, positive impact on another person's quality of life.
"This is something you might see in QL+," Sharma said. "This is the first project of its kind that required coordination between both schools, and it's forming a professional connection between the two schools as well."
The team drafted different ideas of what the prosthetic might look like and how the student might use it: some designs would look more similar to a human thumb but wouldn't move, while other mechanical designs would move but wouldn't look like a normal digit.
To figure out what would be best for their patient, they sought his input on designs and asked him about the things he missed doing.
"He wanted to be able to lift weights at the gym. He missed playing video games," Emmert said. "He had trouble getting things out of his pockets."
The group said they plan to stay committed to their patient and his prosthetic even after the senior project portion is over, and ultimately hope that their prosthetic will be a bridge until he needs a professional prosthetic.
"We all have the same common goal: to enhance the lives of others through engineering," Foreman said.
And with each challenge, "We were thrown into it and had to figure it out," Sigdestad said. "This is the most Learn by Doing thing I've done at Cal Poly."