Remembering Everett Chandler
Cal Poly says farewell to a longtime leader in the campus community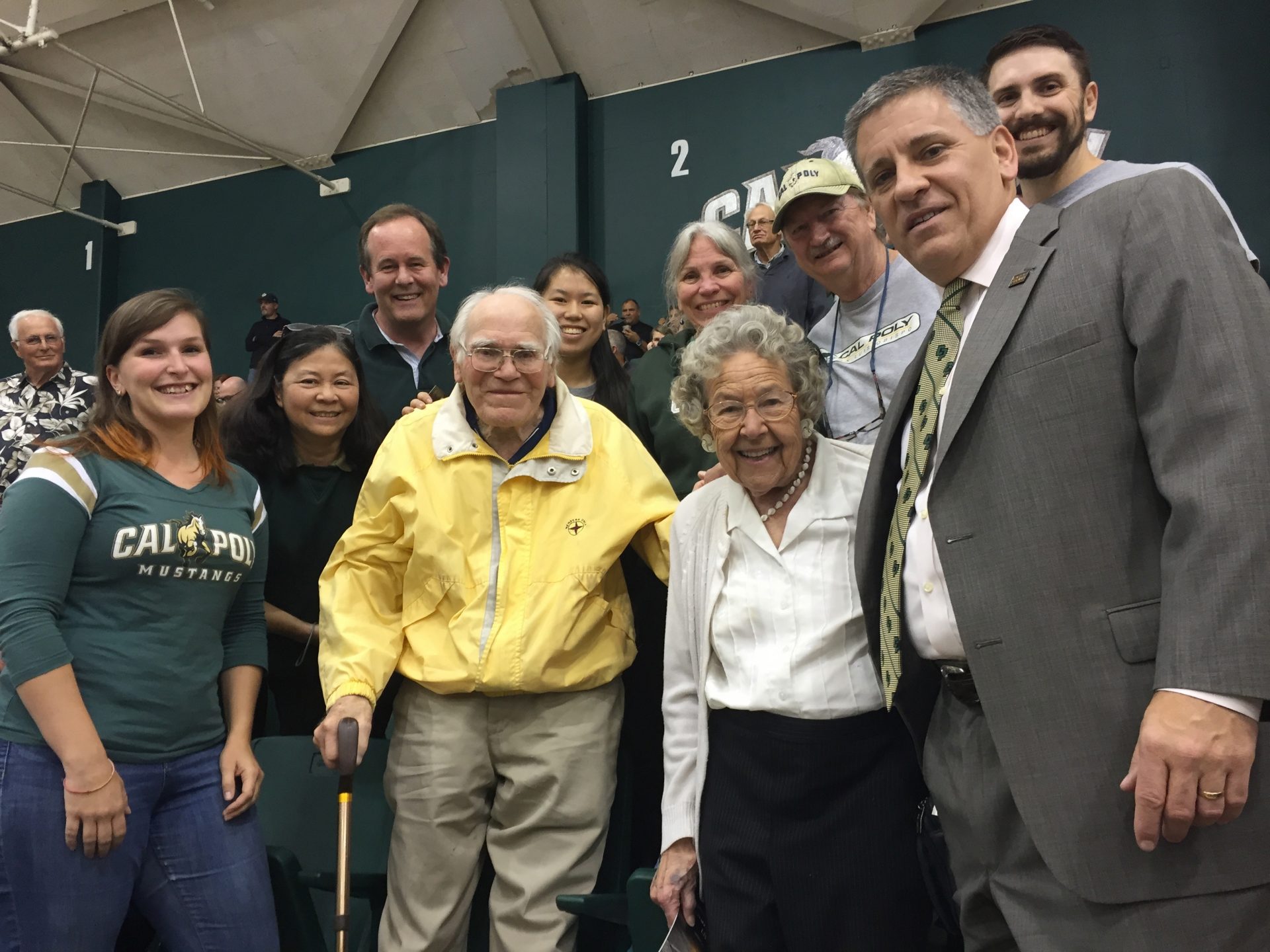 Everett Chandler, Cal Poly's dean of students for 27 years, passed away Monday, March 23. 
Chandler turned 103 on Feb. 6. He was honored on his 100th birthday in 2017 during halftime of a Cal Poly men's basketball game.
Chandler served the campus from 1951 to 1978. His legacy includes his support for the families of those who died in a devastating Oct. 29, 1960, plane crash carrying the Cal Poly football team home from a game in Toledo, Ohio. Sixteen players, a team manager and five others died when the team's charter plane crashed on takeoff, and another 22 were injured, according to news reports at the time. Chandler helped develop a memorial committee to administer funds for the victims' families.
In the 1970s, the football team presented Chandler with the "Honorary Mustang" award. Seven years later, he was awarded the Scott Goodnight Award, which is presented by the National Association of Student Personnel Administrators to a dean who has demonstrated sustained professional achievement in student affairs work. He was inducted into Cal Poly's Athletics Hall of Fame in 1996.
Prior to the 1956-57 academic year, Chandler convinced then-President Julian McPhee to allow the first female students to be admitted to Cal Poly. 
Cal Poly's Educational Opportunity Program was initiated in 1968, due in large part to the vision and professional commitment of Chandler. Even prior to legislative funding, Dr. Chandler focused his efforts on pulling together a group of administrators, counselors and other committed staff of Student Affairs as well as Academic Affairs to develop a successful pilot EOP program. 
The Chandler Award for Service to Students and the Profession was established in 1998 to recognize and honor Cal Poly staff within the Division of Student Affairs who, through their work, exemplify outstanding performance and service to students and the general campus community.
"Working at Cal Poly was the best job I ever had, and I had several," said Chandler in a Cal Poly Magazine article in 2017. "It is one of my proudest accomplishments. That, and marrying Arlene.
"You can't grow old with students around you," Chandler added.
Don Morris, an emeritus professor and administrator who worked under Chandler as Cal Poly's director of housing, said Chandler's tireless support of Cal Poly Athletics is unparalleled.
"From the day of his arrival on campus as the dean of students, 'Chan' demonstrated his love of athletics and devotion to the young men and women who played the games," Morris said. "The athletic department's director reported to him through 1961, and he took pride in voicing and assisting in the needs and concerns of the department with the administration.
"Many young individuals visited Everett for counsel and support during their difficult times as a student-athlete," Morris added. "But his legacy revolves around a tragedy, the 1960 football team plane crash in Ohio."
After retiring from Cal Poly in 1978, Chandler obtained a stockbroker's license and worked part-time with Blakeslee and Blakeslee in San Luis Obispo. He enjoyed golf and the company of his wife, five children and three grandchildren.
Chandler was an avid backpacker, world traveler and member of the Lions Club and Rams Club in San Luis Obispo.
Arlene, Chandler's wife of 53 years, passed away on April 4, 2017. She was a former head of the humanities department at Cuesta College.