In the springtime, in a sun-drenched field off Highland Drive, students gather for a class that generates a lot of buzz.
Cal Poly has had a beekeeping program in some form or another for at least 60 years, but its latest iteration, run by adjunct professors Jeremy Rose and Patrick Frazier, attracts students from all different majors, many of whom start trying to sign up for the class during their first year.
At the start of spring quarter this year, the class had 48 students enrolled and 98 on the waitlist, Frazier said. Frazier spoke to department head Scott Steinmaus to see if there was something they could do to ease the sting of being waitlisted, and the department ended up adding two more sections.
"All these potential beekeepers are in our Thursday lab and I still had to turn roughly 30 to 40 students away," Frazier said. "It shows you the demand for it. We might add more classes, more beehives and see how big we can grow this thing."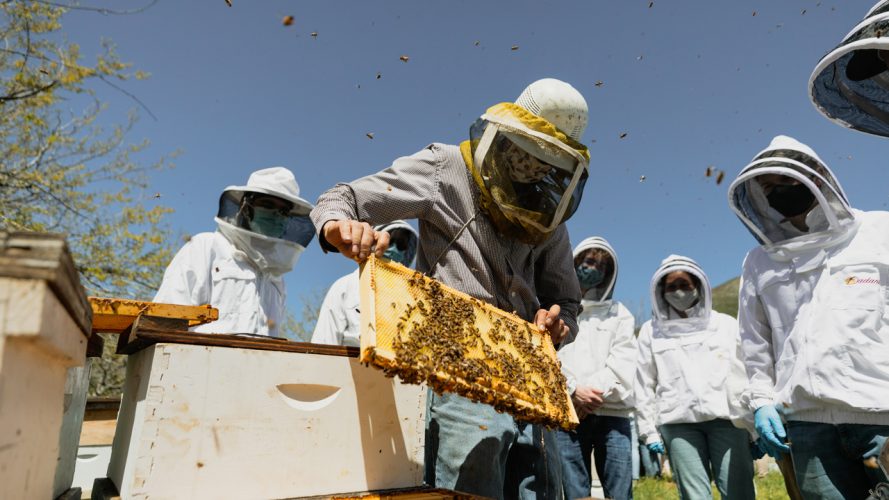 Many of the hives the students work with are personally maintained by Rose, who has a full-time gig running the California Bee Company.
"What I'm enjoying about being at Cal Poly is being able to share the bees with new beekeepers, in some cases, and in other cases sharing them with students who are taking this class just to explore a new topic," Rose said. "It's great to have all these different backgrounds in class because they ask different types of questions about different aspects of beekeeping, and everyone learns more that way."
In addition to looking at hives, students assemble some of the hive boxes and learn how to make products from the hive, like beeswax lip balm, mead and extracting honey.
Juliane "J" Douds, a fourth-year sociology major, signed up for the class because she had heard it was a rite of passage.
"This has been a class I've heard about since my first year of college," she said. "It's such an awesome opportunity to learn about something that has nothing to do with my major at all; since taking it I've been able to see that beekeeping is this huge industry of its own.
"Every day of this class is my favorite because it truly embodies the Learn by Doing mentality so well," she continued. "We literally showed up to class the first day, they gave us these suits and they said, 'All right, no lecture, we're just heading out to the crops unit.'"
About 90 percent of students in the class have never opened a beehive before, Rose said.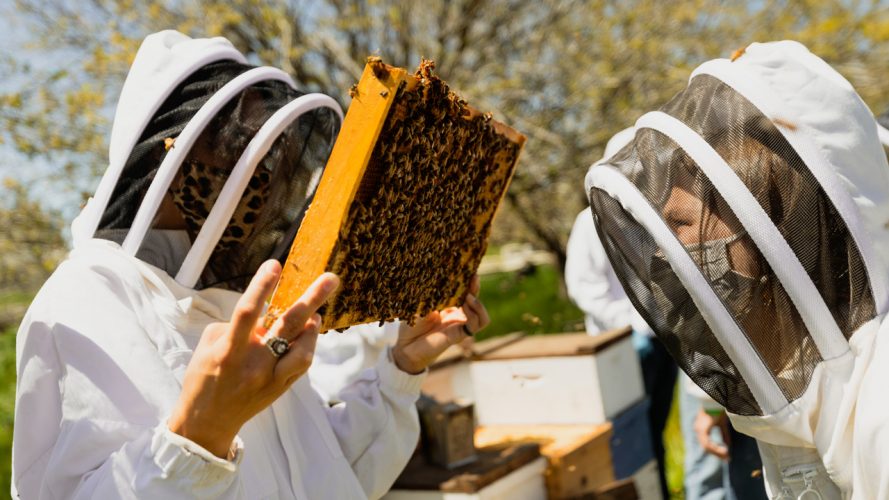 "It's fun to open it, hand around the frames of bees, let everybody look at the activities of the bees on the combs and let everybody see how gentle the bees are and how they pretty much ignore us while we're invading their hive and looking at what they're doing," he said. "It's a really, really magical moment."
Rose noted that during the very first class, most students aren't paying attention to him once they open up the hive — they're enraptured by holding the frames of bees themselves.
"That first-time experience can't be replicated again," he said.
Frazier and Rose hope that, whether students decide to take a serious interest in beekeeping or not, the class helps them become more aware of bees and more appreciative of bees' place in our ecosystem.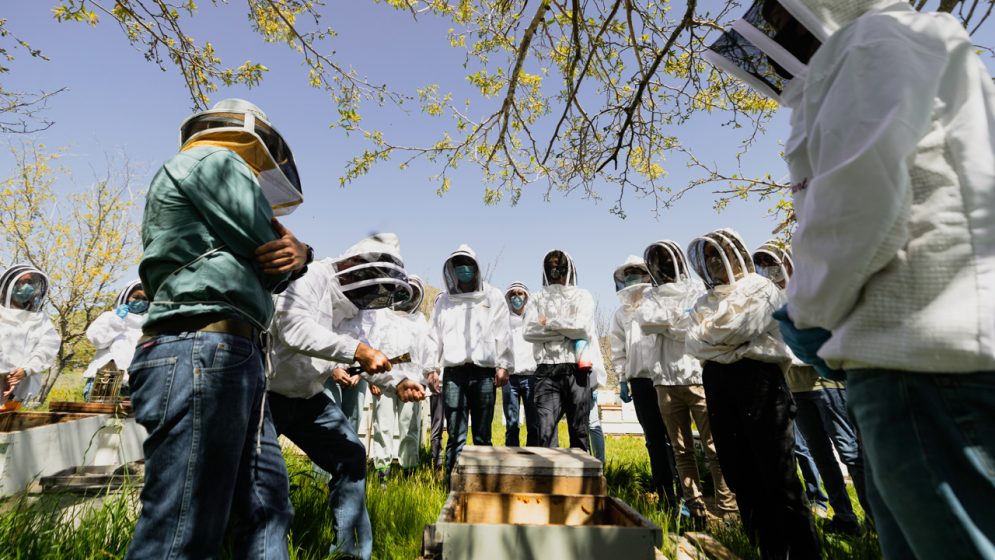 "We're open to everybody. We all teach and learn together," Rose said. "I teach better when they're asking questions because it drives the discussion toward what they want to learn about, which is the best because then they'll remember it."
And does this class instill Cal Poly values? You better bee-lieve it.
"This class is the epitome of Learn by Doing," Frazier said. "We're in the hives, we're actually handling the bees and learning how to take care of them. It doesn't get more hands-on than this class."