Up for Debate
Mustangs leading the English and Spanish Debate teams explore the bounds of civil discourse while shining at competitions around the world.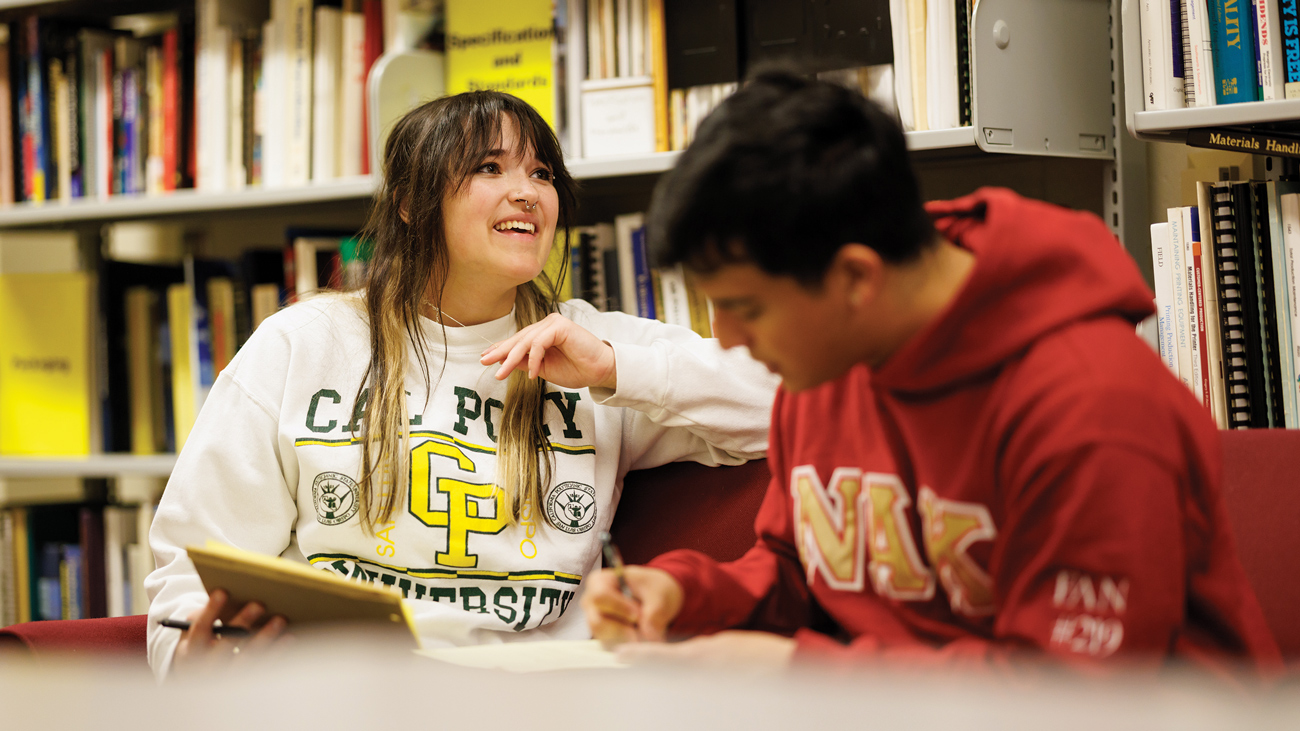 Universities commonly create safe spaces for students. The Cal Poly Debate program prides itself on something a little different: fostering a "mutually supportive dangerous space" that teaches students to navigate civil discourse in not one, but two languages.
The program is rooted in communication studies courses COMS 250, 350 and 351 and taught by co-directors and professors John Patrick, Marion Hart and Chris Skiles. The courses teach the basic structures of debate while building research, persuasion and listening skills. Students bravely battle-test their arguments in class — knowing their peers will disagree with them but the discussion will be productive, civil and honest.
"The goal is to fully understand these different ways of viewing the world," Patrick says. "Not to indoctrinate people into believing one thing or another, but to educate people about how to assess the value of evidence and reasoning in order to make the best possible decision with the information available — while still remaining friends."
And though English-language debate at Cal Poly goes back more than a century, Spanish language debate has been around for less than a decade. Hart shaped the program by listening to her students and learning from faculty in Spain and Latin America, where debate leagues thrive. Cal Poly's team remains one of the only Spanish debate teams at a public university in the U.S.
"Teaching students how to advocate for themselves, in English or Spanish, is one of the highlights of the Learn by Doing process," says Hart. "We are centered on student growth rather than just the win. Obviously, we're a competitive team, but we prioritize building students up."
First-year student Araceli Aronin signed up for the Spanish debate course on a whim. The computer engineering major is trilingual — speaking English, Spanish and Hebrew — and aimed to stay fluent in Spanish while away from home. After just two quarters, she's gained public speaking prowess and much more.
"Debate is such an important way for me to be better [informed about] current events, better at formulating my opinion and articulating it in a way that can be convincing, which I think is really important for whatever career I eventually go onto," she says. "Having this space [where] I'm comfortable expressing my beliefs and speaking Spanish conversationally to others — it's so vital."
Like Aronin, most debate students are from a variety of majors outside of communication studies and have no prior debate experience. The cohort welcomes new members frequently and learns to respectfully challenge one another as they build their confidence.
Rachel Strohecker, an aerospace engineering student, joined the English debate course to follow a passion for liberal arts classes and political conversations. She has been amazed with the range of information she's absorbed.
"Beyond keeping up to date with the news, I have also found a need to become educated on economics, the technology sector, philosophy and psychology," she says. In a British Parliament style debate, teams only get 15 minutes to organize thoughts on a topic before assuming a pre-assigned pro or con position. With so many possible prompts or "motions" — everything from feminism to religion to international conflicts — the teams research specific proof points that can be applied ubiquitously.
But debating in Spanish is not simply an English debate, translated. The team focuses on nuanced issues facing diverse Spanish-speaking communities and empowers students to explore global media outlets for a wider perspective. Hart says the program has deliberately aligned its strengths with some the university's polytechnic disciplines, like agriculture.
In March, the Spanish-speaking team traveled to Mexicali for the Legados México debate at The Center for Technical and Higher Education (CETYS University). Teams discussed the H-2A program, a temporary agricultural visa where most participants are from Mexico. Unlike other lightning-fast debates, the team had two months to prepare policy improvement recommendations.
Aronin and teammates Sebastian Laprea and Alejandro Valentín Martínez won with their proposal and analysis. In April, the CETYS team traveled to San Luis Obispo to continue the debate, where students from Mexicali debated in English.
At the same time, Strohecker and English debate team members traveled to Washington, D.C., for the European Union's Schuman Challenge, where undergraduate students debated climate change issues and its impact on migration, political instability and resource scarcity.
You could have the most brilliant idea ever known to humankind, but it means nothing if you aren't able to communicate it to others." — Rachel Strohecker, aerospace engineering student
Strohecker says the nature of debate forces her to keep an open mind, even when she has strong personal beliefs to the contrary.
"My partner and I have often seen a motion and have been uncomfortable with the side we have been assigned to argue," she says. "Unless it is a motion that we find morally unable to argue, we will argue that side. And often, we walk away from that debate with a greater understanding, and sometimes we even convince ourselves that it is the 'better' side."