Big Swings
Tennis player Kim Bhunu left Zimbabwe to take a chance on Cal Poly. Now she's making an impact beyond the court.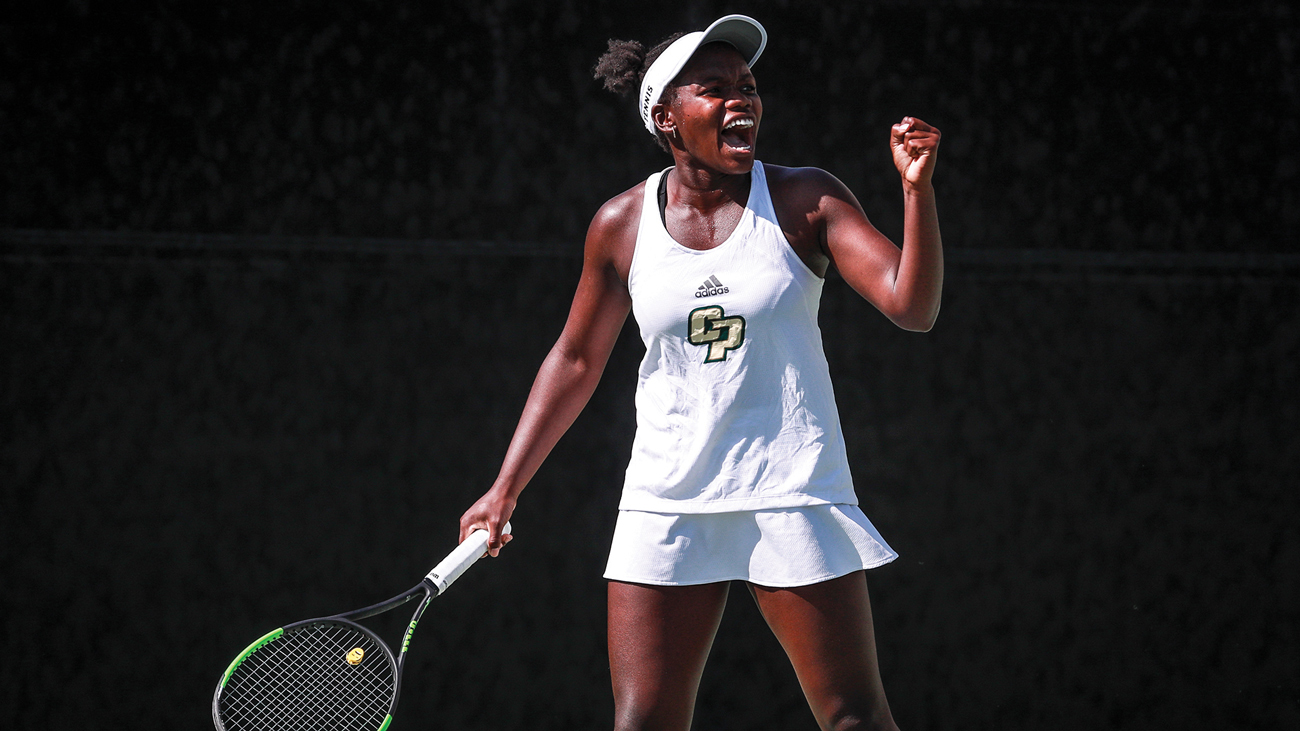 In her five years at Cal Poly, Kim Bhunu has led the women's tennis program to exceptional heights, fought back from a devastating injury and helped create a nonprofit addressing poverty in Nigeria and Zimbabwe — cementing her legacy as a Mustang in the process.
Her journey from Harare, Zimbabwe, to a French tennis academy run by Serena Williams' former coach Patrick Mouratoglou — where she saw tennis legends like Williams and Novak Djokovic — culminated in a desire to play collegiate tennis, which brought her to Cal Poly.
Due to visa issues, she committed to becoming a Mustang without ever getting a real look at her future home.
"Honestly, that was scary," Bhunu said of her 2018 arrival. "Coming here and having this whole different atmosphere was really hard to adjust to." Despite the change, she found success in her first few matches. Then, just over a month into the spring season, she suffered a torn ACL in a dual against University of San Francisco.
I always felt that I was given these opportunities so I could give back someday.
Bhunu's drive to heal over the nine-month rehab process helped her return to the Mustang lineup early in the 2020 spring season — and then the COVID-19 pandemic cut everything short. It also prevented her from seeing her family for over two years. But, she persevered.
"I've had a great community around me," she said. "I was able to create a family out of people that are very diff erent from me, which is something that is beautiful to see." Bhunu's persistence led to staggering success on the court. She is a two-time All-Big West First Team selection in doubles and earned All-Conference honors in singles twice.
Last season, Bhunu and doubles partner Emily Ackerman achieved a 14-6 record at the No. 1 spot — tied for the sixth-most victories in a season by a doubles pairing in program history. Their performance helped Cal Poly reach the Big West Championship match for the second consecutive year and finish with a 17-7 overall record, the team's second most wins in a single season in Division I program history. Bhunu is one of only seven players in program history to receive First Team All-Big West honors in singles and doubles in the same season.
Off the court, Bhunu co-founded the nonprofit Craft by Jáde, which aims to upend generational poverty in Zimbabwe and Nigeria by selling Afrocentric apparel in the States. She helped develop an initiative to provide children in Zimbabwe with free tennis lessons from a professional coach. Donations from the San Luis Obispo community have already turned into equipment for the children there, and there are plans to build a tennis court at a nearby school.
Now that Bhunu has earned a bachelor's degree in business administration and a master's in business analytics, she's headed for the corporate world while remembering her bigger purpose.
"Growing up I always wondered why I was so lucky," she said. "Why do I get to have this or do this but then others don't? I always felt that I was given these opportunities so I could give back someday."
---
Mustangs keep winning big. Check out the highlights from a few major comebacks and Big West Conference championships.