Designing Hollywood
A chance meeting with Steven Spielberg led alumnus Rich Toyon from architecture to the entertainment industry.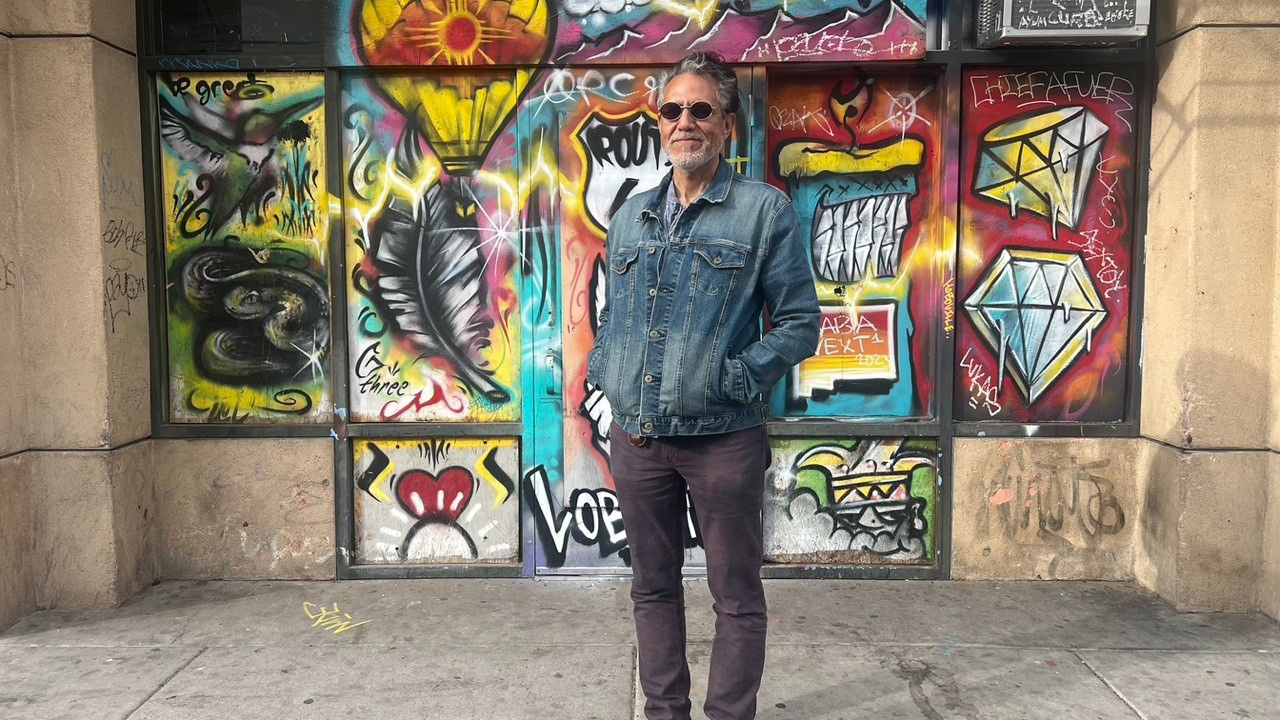 When Rich Toyon (Landscape Architecture '82) enrolled at Cal Poly after six years as a U.S. Forest Service firefighter and ranger, he had every intention of returning to the agency with a degree in soil science.
But instead, he studied architecture and worked as a DJ at KCPR, where he worked with Weird Al (Toyon said he was across the hall from the infamous bathroom on the night Yankovic recorded his first single).
Now an Emmy-winning production designer who has worked on dozens of acclaimed TV shows and movies, Toyon says the Learn by Doing ethos has helped guide him throughout his career — and it's something he tries to pass on to his staff today.
"I always tell them, in the words of the great acting coach Stella Adler, 'Don't step out onto the stage if you don't understand the intent of that scene,' and to me that is really Learn by Doing," Toyon said via Zoom from Albuquerque, N.M., where he is filming "Rez Ball," a project that's being produced by Lebron James for Netflix. "You've learned what the intent needs to be, and before you tackle the project, have your plan in hand and move forward with it."
Toyon said his time at Cal Poly showed him how to use logic to think through decisions and channel his passion for drawing into a career path.
"All of my staff knows I've been someplace because I draw on everything — it's the way I communicate," Toyon said. "What I learned to do at Cal Poly was how to take my drawing ability and turn it into a communicative ability. Design is communication through drawing."
As a college student, Toyon was drawn to entertainment and worked shifts at KCPR and other San Luis Obispo-area radio stations in between his classes and studios. But it wasn't until after college, when he saw a performance by iconic improv comedy troupe The Groundlings, that Toyon fell in love with live theater.
What I learned to do at Cal Poly was how to take my drawing ability and turn it into a communicative ability. Design is communication through drawing.
As he looked for work as an architect in the Los Angeles area, he became The Groundlings' technical director and designed their sets, later building sets for large and small theaters around Hollywood. Even after he was hired as an architect, he continued to design and build sets in his spare time.
"Just like at Cal Poly, I was burning the candle at both ends," Toyon said.
A few years later, he wound up working at Steven Spielberg's house as a landscape architect. One day, after their weekly project meeting, Spielberg asked him if he had ever considered production design. Toyon hadn't heard of it, but the wheels started turning in his mind, and he signed up for a class at UCLA.
"I was just on fire about it and I was just lit up," Toyon said. "It took into account everything that I had learned at Cal Poly. It encompassed my love of design and drawing, and I was a huge movie fan."
Since that conversation decades ago, Toyon's production designer credentials include "Dead to Me," "Reservation Dogs" and "Silicon Valley."
The first thing he does on a project is read the script while imagining how the story will look onscreen.
"My job is to create a three-dimensional world in which the narrative can be told," Toyon said. "I really flesh out the ideas with the director and then help shape what the movie is going to be and what it's going to look like to support the narrative."
In addition to collaborating with the director and overseeing the art department, which encompasses everything from concept drawings to set design, Toyon also works closely with the producer, who oversees logistics and finances; the director of photography, who films the movie or show; and the costume designer.
"It's a lot of moving parts and conceptually, you have to keep it straight," Toyon said. "You select your people very carefully and you trust them."
Highlights of Toyon's career include creating and designing the sun and the moon during his very first production design gig on the HBO miniseries "From the Earth to the Moon," and designing a Las Vegas casino on a sound stage.
But for Toyon, who descends from the Juaneño Band of Mission Indians, Acjachemen Nation, the projects that hold a special place in his heart are the ones that center Native American perspectives and people, like "Rez Ball" and "Reservation Dogs."
Through it all, he carries the lesson of Learn by Doing and hopes current Cal Poly students will too — along with the knowledge that wherever they go after college, it's all about teamwork and patience.
"Next to Cal Poly, your next step is going to be the greatest education because you'll be able to put all the things you've learned into practice," he said. "Be patient with yourself and your choices."
---
Want to hear from more Cal Poly alumni? Read about one grad designing toys at Mattel.