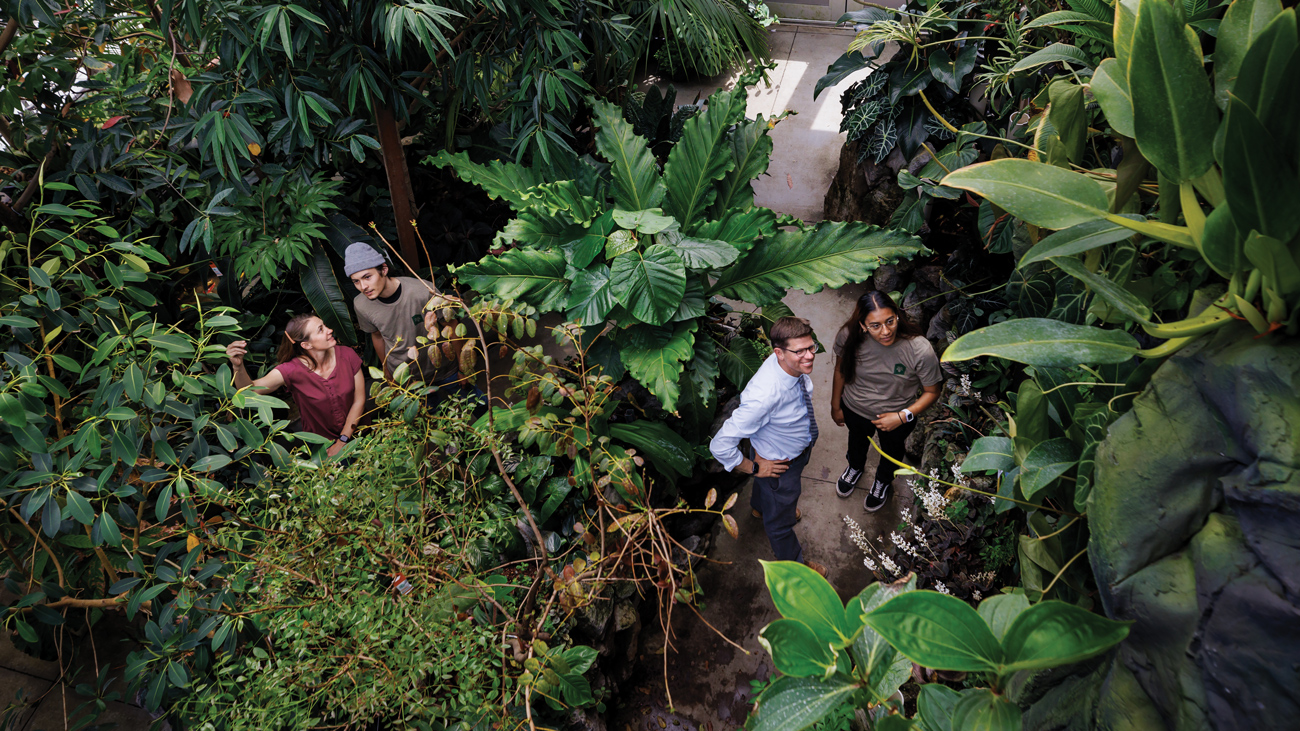 The Plant Conservatory brings extreme environments to campus, helping Mustangs find wonder in the world's most diverse plants.
Just past a vibrant living wall heaving with colorful succulents and flowers stands one of Cal Poly's newest learning spaces: the reimagined Plant Conservatory. The facility is a fertile resource open to anyone interested in botany, horticulture, biology or food science.
The conservatory builds on the legacy of beloved greenhouses instrumental in a Learn by Doing curriculum. The new high-tech structure contains three teaching greenhouses featuring distinct environments: canopy-covered lowland tropics, rain-soaked elevated tropics, and a parched desert. Each atmosphere is meant to be an abrupt contrast with the Central Coast's Mediterranean climate.
The experience of moving through the stifling heat and humidity — with a thriving spectrum of plants — was intentional. Professors Jenn Yost and Matt Ritter of the Biological Sciences Department aim to inspire a sense of awe and wonder among the more than 1,000 students who will explore the conservatory in their classes, labs and research projects every year.
Don't see the video above? Watch it on YouTube.
Students can see black pepper, vanilla and coffee plants, plus carnivorous pitcher plants, rare cacti and some endangered species. Several faculty have even brought seeds back from their global travels, resulting in a range of species now rooted in the conservatory.
Every plant is thoughtfully maintained by conservator and curator Gage Willey and a team of skilled interns. Willey teaches students to care for each species while physically constructing parts of the greenhouse. Seeing plants grow in the soil, the instructors say, helps students understand how plants work in an evolutionary context.
"The conservatory provides this opportunity for students to actually feel with their hands, to smell with their noses, to see with their eyes all that plants are doing," says Jenn Yost, botany professor and director of the Hoover Herbarium.
"Another huge role that this conservatory plays is exposing students to plants that are rare and endangered in the environment. Hopefully, we're cultivating a generation of conservation biologists who are interested in protecting these plants."
Every inch of the conservatory was meticulously planned. The living wall was created and donated by Habitat Horticulture, founded by alumnus David Brenner. In addition to offices, the conservatory also holds two research greenhouses to grow plants for industry and state agency partnerships. Outside, a wisteria-lined pavilion hosts outdoor classes and campus events with a view of Bishop Peak. A botanical garden will soon take shape to highlight the Central Coast's unique plant life. Eagle-eyed visitors will also spot native plants pressed into the concrete surrounding the structures.
The conservatory was funded through the construction of the new William and Linda Frost Center for Research and Innovation.
Explore more images of the Plant Conservatory's greenhouses — use the arrows to scroll left and right: