In Memoriam: George Gowgani
Remembering the far-reaching impact of George Gowgani, an alumnus, faculty member, industry leader and CSU trustee.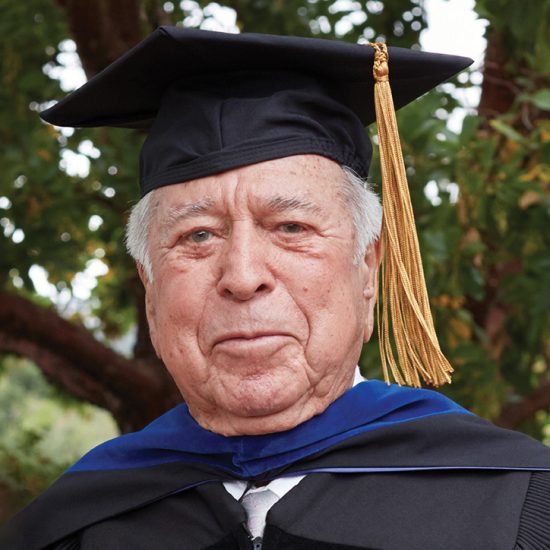 It's impossible to think of crop science at Cal Poly without thinking of George Gowgani, one of the department's most notable alumni.
Gowgani, who died in December 2022, spent more than 30 years educating students in the College of Agriculture, Food and Environmental Sciences — and continuing to lead far beyond campus.
Gowgani, who was born in Tabriz, Iran, immigrated to the United States in 1958. He earned his bachelor's degree in crop science and master's degree in education at Cal Poly before attending the University of Nevada, where he earned a master's degree in agronomy and a doctorate in biological sciences.
He returned to Cal Poly in 1967, subsequently serving as head of the Crop Science Department, associate dean for the college and president of the university's faculty association.
Gowgani's focus, according to his family, was always on his students, whom he cherished. He mentored countless young academics, and it was not uncommon for them to join the Gowgani family for dinner.
In 1994, then-President Warren J. Baker appointed Gowgani as Goodwill Ambassador for Higher Education, CSU. Gowgani served on the CSU board of trustees from 2004-11 and was named Honored Alumnus for the College of Agriculture, Food and Environmental Sciences in 2006.
"George's contributions to the department and the college set a strong path for student success that continues today," Dean Andrew Thulin said. "Both in the classroom and as a mentor to faculty, his dedication to Cal Poly and higher education was boundless."
His impact is still deeply felt by campus community members: Plant Sciences Department Head Scott Steinmaus fondly remembers Gowgani stopping by his office to share a pile of notes and slides for his weed science class.
"George introduced me to a different way of teaching, more practical and something that college students could actually understand," Steinmaus said. "He was a great perspective-builder for me, and my students are very thankful."