Our Time to Grow
President Armstrong on addressing the emerging challenges of a modern campus.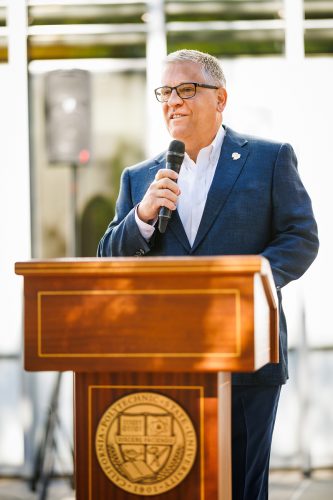 My messages to the community this year have frequently mentioned the need for Cal Poly to grow. There are many kinds of growth, but for a university the central form is increasing the number of students we serve. 
There are two main reasons why Cal Poly needs to enroll more students: (1) every year we turn away enough exceptionally qualified applicants to fill every seat on campus, and there are new incentives from the CSU and the governor to graduate more students; and (2) there is enormous demand for our graduates, with 70% finding jobs before graduating and 96% pursuing their intended after-college plans within six months of graduation. 
Enrolling more students will also enable us to pursue important campus goals. One of these critical goals is raising employee compensation to be both competitive with salaries at peer schools and adequate to meet the Central Coast's high cost of living. The fact that Cal Poly has such exceptional faculty and staff is a testament to the dedication of those individuals, rather than to the excellence of their compensation. That must change, and quickly, or we risk losing and not being able to replace the very people who make Cal Poly what it is. 
The transition to semesters currently underway is a tremendous amount of work. Yet I believe it is also time to seriously begin discussing the need to change how and when we work and study, examining a shift to a year-round calendar under which students would study on campus for one or two summers and off campus for one or two typical academic terms. This will allow us to expand enrollment and have a larger total student body without increasing our numbers excessively during any given term. It will help us balance the urgency of growth with the limits of our current facilities — we want to make sure that the campus and community can comfortably house any additional students we bring. We are currently making plans for several pilot projects to test these ideas. 
We are also always looking for opportunities to improve efficiency. For example, there are many non-student facing staff offices and functions on campus that do absolutely essential work but don't really need to be on campus to do it. So, we have found off-campus space for them to relocate into, thereby freeing up high-demand space on campus for academic purposes.  
As well, we have several transformative building projects starting or ready to start on campus in coming months, including the long-awaited library renovation, construction of hundreds of new student housing units, and groundbreaking on a second, much-needed faculty and staff housing complex. These projects, in addition to the newly opened William and Linda Frost Center for Research and Innovation, will lay some of the groundwork for expanding the student body without overusing our existing facilities. I can't resist mentioning in this context the proposed renaming of one of the colleges that is part of the Frost Center to become the Philip and Christina Bailey College of Science and Mathematics, in honor of two of our most stalwart teachers, leaders and friends. 
There are a lot of changes to plan for and consider, but such is the nature of a modern university!