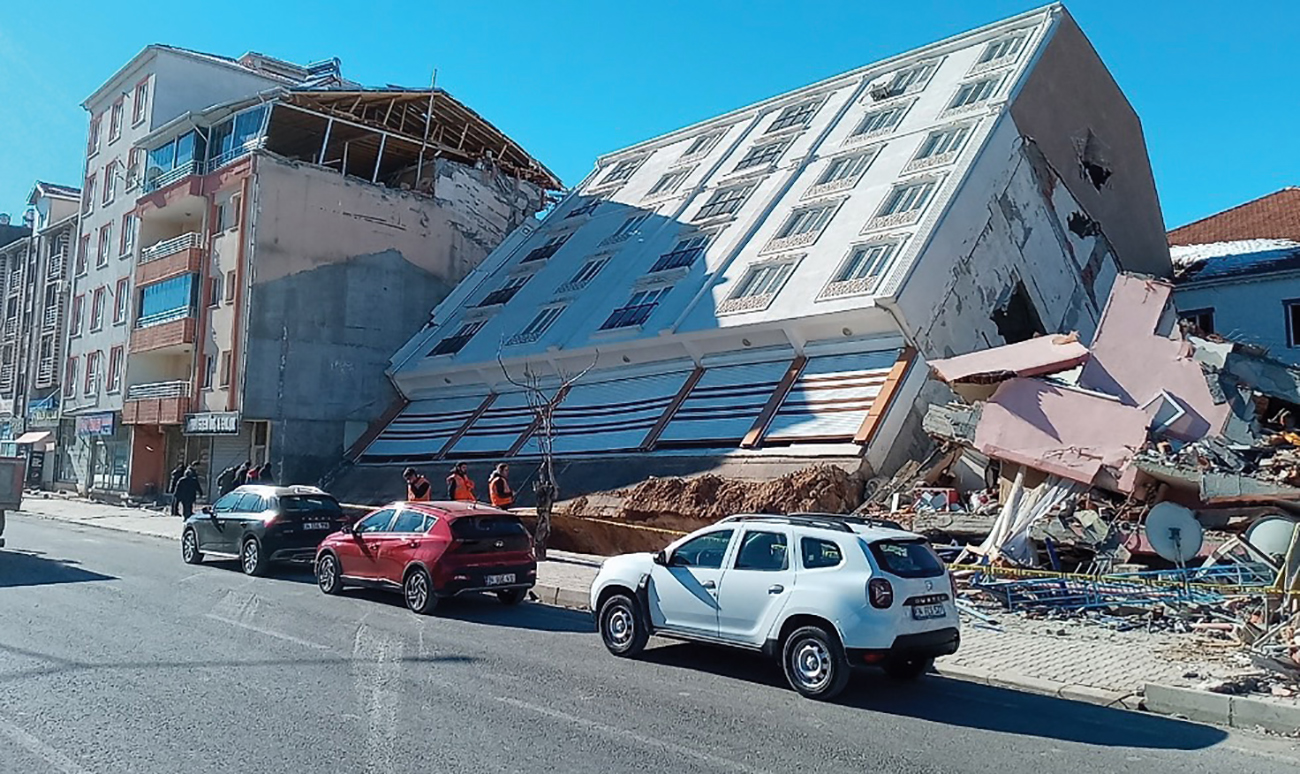 When the Earth Shakes
When earthquakes — and tragedy — struck Türkiye and Syria, civil engineering Professor Robb Moss headed to the region to investigate.
In early February, a pair of powerful earthquakes struck southern Türkiye and northern Syria, leaving more than 50,000 dead and millions more asking why.  
Just days later, civil engineering professor and earthquake expert Robb Moss led a research expedition in the region, hoping to find answers. Moss navigated and documented the damage in Türkiye, a country he loves, to make firsthand observations for U.S. agencies and research teams studying how the earthquakes impacted the built environment and resulted in so many casualties.  
"At every stop on our trip, we met people who desperately wanted to understand what had happened," said Moss, who conversed with locals through an interpreter.
While visiting the severely damaged port of Iskenderun on the southern coast, Moss encountered the harbor master and his assistant who offered the scout team coffee along with their account of the 7.8 and 7.5 magnitude quakes that killed their relatives and destroyed their homes.
Their livelihood was their only lifeline, but severe damage had halted all operations at the port, so they sought answers from Moss about why their wharfs had cracked apart and how they could rebuild.
"My job as an educator and scientist is to explain complex things simply, and I was happy to take whatever time was needed to give them that understanding," he said.
For Moss, the story of Türkiye is simple: Quakes toppled structures that were not built to code, resulting in a staggering death toll. Over the last 20 years, he's investigated multiple earthquakes and said it's readily apparent when countries don't follow building codes designed to protect and save lives.
Solutions are more complex, but Moss believes the key lies in educating Turkish youth about seismic safety so they can one day change their country's narrative.
What happened and what's next?
Moss, who has taught at Cal Poly since 2006, traveled to Türkiye for the Geotechnical Extreme Events Reconnaissance (GEER) Association — a volunteer group of geotechnical and geological researchers funded by the National Science Foundation — to investigate fault ruptures, landslides and liquefaction in the damage zone.  
"There is an overwhelming amount of interest in this event," said Moss, who is presenting his findings to federal agencies, experts and hundreds of concerned citizens. "People want to know what led to a scale of life loss that is impossible to grasp."
Moss and GEER colleague Özgür Kozaci of the global engineering firm Mott MacDonald traveled over 1,550 miles in six days, assessing damage to buildings, bridges, highways, dams and lifelines — water, gas and power transmission.'
Failed foundations and structural collapse began to tell a story of inadequate soil testing, shoddy construction or a combination of the two, according to Moss.
He saw piles of rubble where apartments once stood next to fully intact homes, magnifying the difference between structures that were built following building codes and those that were not.
"The No. 1 goal of seismic safety is life safety, and here you had a blatant disregard for ensuring that safety," Moss said. "Türkiye is left reckoning with what was certainly a man-made disaster."
In Golbasi, Moss walked among tent villages, stopping at a community tent where volunteers served soup to the thousands who had been displaced.
"Initially, people are just happy to be alive, but in the days after the quakes, they must decide whether to keep searching for buried relatives, evacuate or rebuild," Moss said. "There's been a mass migration out of the damage zone because in some places, there is just nothing left."
Those who do choose to stay will contend with aftershocks that will rock the areas for years, Moss said.
"The aftershocks are demoralizing because they keep coming and coming," he explained. "The ones at night are the most terrifying because the main event was at night. People are jolted awake and then must decide whether they are going to get out of bed, get in the tub or just wait it out."
A Turkish business owner opened his still-habitable hotel to researchers and rescue workers but was deciding whether to join his family who had fled to Istanbul because of the continuous shaking.
"He told me business was the best it had been, with all the emergency workers filling rooms, but he was debating whether to leave the hotel he had built his career around."  
How does Türkiye move forward?
In the aftermath of the deadly Nepal quake in 2015, Moss asked a question he's revisiting: How can we work outside of the system to change it?
Moss can't alter how building codes are enforced in Türkiye, but he can offer an education-based solution to mobilize Turkish youth.
"We have to arm people with the knowledge and tools to protect themselves," said Moss, who developed a deep appreciation for the country and its people during myriad research trips.
For two years following the Nepal quake, Moss and several of his civil engineering students developed learning modules about seismic safety for middle school teachers. Engaging lessons and experiments include one in which children build shear-resistant structures using marshmallows and straws.
The goal is that principles of seismic-resistant design will become intuitive so those middle schoolers will grow into adults who examine structures before moving into apartments or designing a home.
"We can train kids without having to rely on a broken system," he said.
Moss pointed to the effectiveness of an education campaign in the U.S. that taught a generation to recycle and believes the same can happen in Türkiye.
While Moss never gained traction with his modules in Nepal, he said the seismic community in Türkiye is engaged and eager to help.
"This project is a long haul, but it's worth putting the time and effort into it," said Moss, who shares his plan whenever he talks to audiences about the quakes to build support. "It's hard not to be hopeless after a tragedy of this magnitude, but this is a hopeful thing, and people, including myself, want something that provides hope."