Class Notes
Highlights and announcements from your friends and classmates, plus a fond farewell to an alumnus and a beloved professor.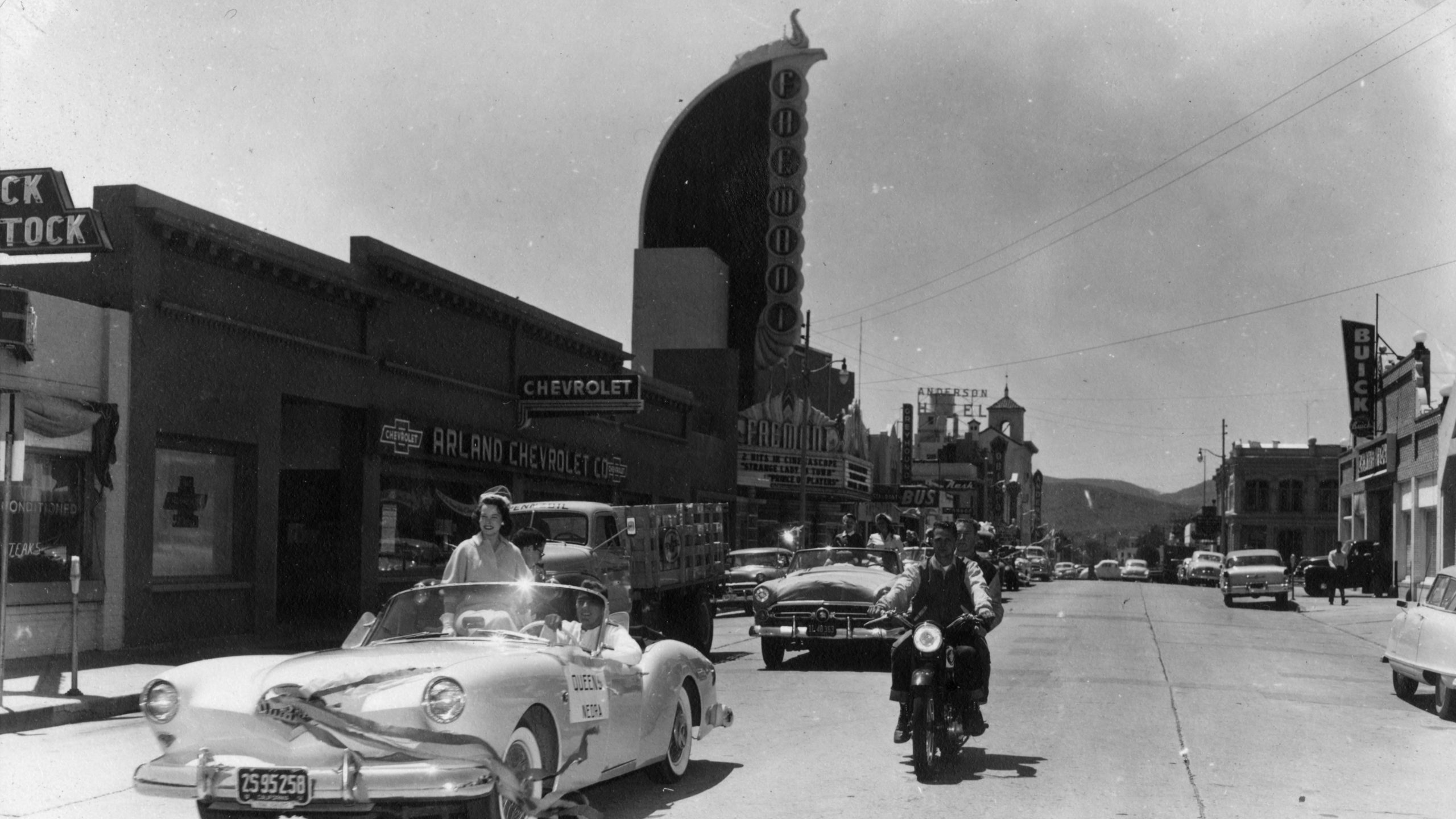 College of Agriculture, Food and Environmental Sciences
60's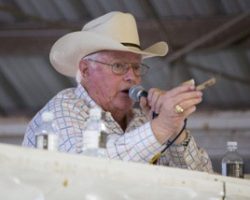 Jim Glines (Farm Management '65) has enjoyed a 50-year career in banking. In 2001, Glines opened Community Bank of Santa Maria as the bank's first president and CEO. Today he serves as its chair of the board. Glines is also a state champion auctioneer and has helped lead Cal Poly's annual horse sale in the new equine center. Glines and his wife, Kathy, live in Santa Maria. They have four children and five grandchildren, including Taylor, an agricultural business sophomore.
80's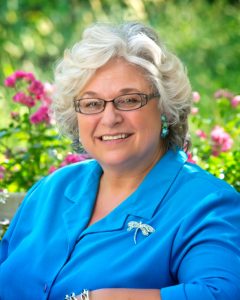 Robin Hauck (Agricultural Business '82) was recently inducted into the Nevada County Fair's Hall of Fame. She served as the deputy manager of the Nevada County Fairgrounds from 2009 until she retired in July 2017. Previously, she was CEO of the Merced County Fair for four years, worked for the El Dorado County Fair for 17 years, and was involved at the Grand National Rodeo at the Cow Palace. Hauck is the past treasurer of the Greater Grass Valley Chamber of Commerce and the current president of the Nevada County Fairgrounds Foundation Board.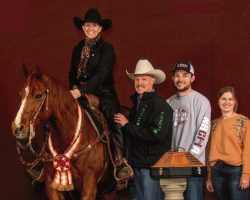 Paula (Whittet) Francis (Agricultural Business and Agricultural Management '88) and her American quarter horse, named Roosters Zack, earned the Reserve World Champion title at the National Reined Cow Horse Association's annual Celebration of Champions in Fort Worth, Texas. Francis and Zack have only been competing together for three years, and she counts the win as "a gift from God and truly a dream come true!"
90's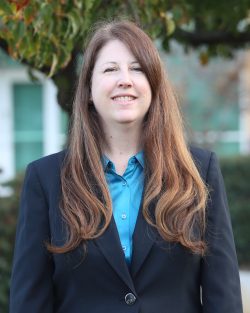 Kelle Schroeder (Agricultural Business '93) was appointed to a four-year term as Tuolumne County's agricultural commissioner in December 2018. In her role, Schroeder serves as the region's sealer of weights and measures, director of animal control and air pollution control officer. Across her 27 years of public and private-sector experience, she previously worked as deputy agricultural commissioner in Stanislaus County.
Austin Hope (Fruit Science '96) was named the 2018 Paso Robles Wine Person of the Year. He works as the owner and winemaker of Hope Family Wines, which includes Austin Hope, Treana, Quest, Troublemaker and Liberty School labels. Hope works with industry organizations including the Paso Robles Wine Country Alliance and the Paso Robles CAB Collective. He says, "Our goal is to make wine that expresses all that Paso has to offer, with its pastoral beauty, perfect soils, maritime climate and limitless possibility."
00's
Thaddeus Barsotti (BioResource and Agricultural Engineering '04) was named the Organic Grower Summit's Grower of the Year by the California Certified Organic Farmers and the Organic Produce Network. Barsotti is co-CEO of Farm Fresh To You, a community supported agriculture and home delivery service that delivers 30,000 boxes per week of organic produce to consumers' doorsteps across California. Alongside his two brothers, he helps lead Farm Fresh To You's farming operation, Capay Organic, producing more than 60 varieties of organic fruit and vegetable crops.
Zack Stuller (Agricultural Business '05; M.S. Agricultural Business '06), who farms and manages citrus fruit, kiwifruit and walnuts in Exeter, California, was recognized with the Young Farmers and Ranchers Achievement Award for his accomplishments in production agriculture and leadership. Stuller received the award during the 100th California Farm Bureau Federation annual meeting in San Diego. He also serves as treasurer of the Tulare County Farm Bureau and has served on his county's water commission and stakeholder committees focused on groundwater sustainability. He lives in Exeter with his wife, Samantha (Agricultural Science '05; M.S. Agriculture '09), and their children, Henry, Eleanor and William.
David Brenner (Environmental Horticulture Science '09) recently designed the living walls made of approximately 25,000 plants within the new Salesforce Tower in San Francisco. Brenner and his team created 24 floor-to-ceiling columns of living plants on the tower's top floor at more than 1,000 feet above street level. His firm, Habitat Horticulture, has also designed living walls for the California Academy of Sciences, the San Francisco Museum of Modern Art, and Stanford's Graduate School of Business.
10's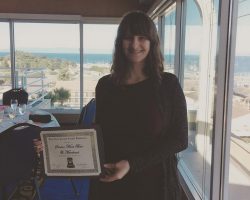 Claire Sutton (Wine and Viticulture '11) is a sommelier and owner of Sovino Wine Bar, which opened in Monterey in 2014. In addition to recently being featured in Monterey County Now, Sorovino also received the award for Best Small Business in downtown Monterey.
College of Architecture and Environmental Design
70's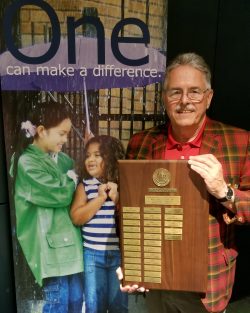 Matt Gregory (Architecture '71) received the 2018 Distinguished Service Medal at the Pacific Northwest District Kiwanis Convention in Spokane, Washington. The award was "given in grateful appreciation for many years of loyal and outstanding service to Kiwanis and community." In addition to 36 years of Kiwanis service, he has been a VISTA volunteer, a Big Brother, city planning commissioner, Construction Specifications Institute chapter president, church elder and deacon, school board director, and school foundation trustee in his communities.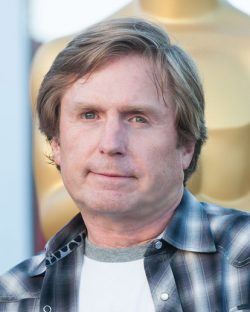 Tom Duffield (Architecture '76) was elected as a Governor of the Academy of Motion Pictures, Arts and Sciences in 2018 and involved with the 2019 Governor's Awards and Oscar telecast. Duffield has worked in the motion picture business for more than 40 years, serving as production designer on such films as "Lone Survivor," "Hell or High Water," "Patriots Day," "The Ring" and "Ed Wood," and art director on "Beetlejuice," "Edward Scissorhands," "Men in Black," "The Birdcage" and many more.
90's
Helen Ramirez (City and Regional Planning '97) was appointed deputy city manager of Brownsville, Texas, in March. She previously served as assistant city manager in Hutto, Texas. Ramirez has worked in municipal planning for more than 20 years, managing projects such as the Los Angeles Air Force Base's $115 million New Space and Missile Command Center Redevelopment project.
10's
Salem Ahmed (Architecture '16) recently launched the Inscribe Self, a combination journal, pen and wallet that promotes the power of journaling on the go. After a successful Kickstarter campaign, the product has grown its following and continues to move into retail stores.
College of Liberal Arts
80's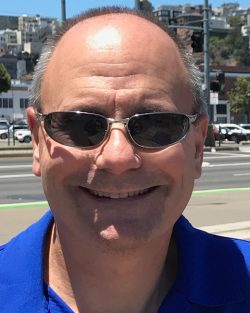 Bob Starr (Social Sciences '80) joined Zap Surgical Systems as the vice president of Human Resources. Zap, a startup located in San Carlos, California, produces a unique medical device used in stereo-tactic radiosurgery. As its first-ever VP of human resources, Starr is responsible for cultivating, developing and shaping Zap's strong culture to facilitate its rapid growth.
90's
Simone Hosey (Human Development '99), who has served at-risk youth communities since graduation, was one of five Women of Distinction honored by Cuesta College and The Community Foundation San Luis Obispo County's Women's Legacy Fund. Hosey, a U.S. Navy veteran, is the state outreach coordinator at Grizzly Youth Academy, a voluntary residential program for at-risk youth aged 16-18 located at Camp San Luis Obispo. She serves as a mentor to cadets, especially women, and brings speakers to the academy to inspire and encourage the group.
00's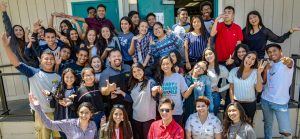 Kevin Ilac (B.A. History '00; CR Government '02) is a social science teacher and head wrestling coach at Pioneer Valley High School in Santa Maria. After being nominated by his students, Ilac was honored in November 2018 as one of 12 nationally recognized teachers in excellence.
Odessa Jenkins (Social Sciences '02) was inducted into the Women's Football Hall of Fame. She is a two-time USA Women's Football National Team member, winning gold twice. She's also the co-founder and COO of the Women's National Football Conference. Jenkins was captain of Cal Poly's Women's Basketball team, earning all-conference honors three times and Big West Hustle Player of The Year twice during her college career.
Heidi Steinecker (M.A. English '03) was recently appointed deputy director of the Center for Health Care Quality at the California Department of Public Health. She has worked in health care in a variety of roles with UC Davis, Global Health Consulting and Susan G. Komen since 2004.
Erin Partridge's (Applied Art and Design '06) book, "Art Therapy with Older Adults: Connected and Empowered" was published in February 2019 by Jessica Kingsley Publishers. The book covers art therapy and creative interactions across many different settings for older adults.
Johannes Lichtman's (English '08) debut novel, "Such Good Work," was published in February by Simon & Schuster. A darkly comic novel about trying to be a good person, "Such Good Work" follows the life of an American recovering drug addict who moves to Sweden during the refugee crisis of 2015. Since its release, the book has been positively reviewed by The New York Times, The New Yorker, The Economist, Dagens Nyheter (Sweden's largest newspaper), and several other publications.
10's
Ariana Chini (English '14) earned her M.A. in student development administration at Seattle University. Now she has landed her "dream job" as the program manager at the University of Washington Bothell's new Student Diversity Center. Chini's passion for student affairs and multicultural services was stoked by her work in Cal Poly's Pride Center and Gender Equity Center. She says, "Thank you, Cal Poly, and especially the Cross Cultural Centers, for helping me find my way. Sending much love and gratitude from the Pacific Northwest."
College of Engineering
50's
Eugene Wallock (Aeronautical Engineering '57) recently shared this reflection: "I made it to 85 years of age and had a very enjoyable ride. My thanks go to Cal Poly for a hands-on education that served me well. My wife and I chose to move to Lawton, Oklahoma, to be near the grandkids while they grew up. When I graduated in 1957, there was only one female student. Now, times have changed for the better, and the women have access to the best education they can get."
80's
Charles Motte, Jr. (Industrial Engineering '85) serves as the associate director for the District of Columbia Small Business Development Center. After graduating from Cal Poly, he worked for nine years in aerospace in Silicon Valley. Later he served in various capacities either as a manager, co-owner or owner of several small management consulting firms in California and Maryland. Motte currently resides in Maryland with his wife of 16 years.
00's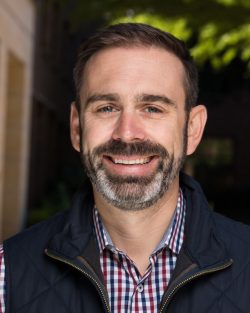 Preston Smalley (Computer Engineering '02) serves as the vice president of product and engineering at Comcast Silicon Valley Innovation Center, where he helps navigate major digital disruptions in his industry. He successfully led his company's acquisition of a sports analytics startup. Smalley shares his experience at conferences and by writing industry articles on leadership and product management. He and his family are grateful for the Northern California snow and continue to compete for the title of "fastest skier in the family."
Dan Hedstrom (Computer Engineering '09) is Cubic Corp.'s new chief information officer, managing Cubic's global IT team, including information security and platform services, as well as business support. Headstrom has served other roles with Cubic Transportation System's business division and Newport Corp. He is active in the Technology Services Industry Association and the Society for Information Management.
Orfalea College of Business
70's
Michael Cappetti (B.S. Industrial Arts '74; M.A. Industrial and Technical Studies'94) retired in 2016 after a 37-year career as an industrial technology instructor at North Monterey County High School and Hartnell College, where he implemented a career path in CAD drafting and construction technology. He holds a California contractor's license, community college credential in architecture, engineering and related technology, an M.V.E. equivalency degree from UC Berkeley Extension and a California State teaching credential in fire science. Cappetti says his success in his life long career is primarily due to the inspiration and guidance he received from the industrial technology instructors at Cal Poly. He now spends his time traveling, sailing and restoring old wooden sailboats.
00's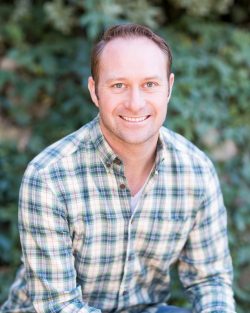 Josh Greenbaum (Business Administration '03) formally relaunched his consulting practice in Los Angeles, The Accounting Co., in 2018. After more than 15 years working with small businesses, The Accounting Co. helps management teams achieve business goals through meaningful financial management and reporting. Greenbaum and his team provide an approachable end-to-end solution to ensure financial transparency and operational success.
Hendrik Pretorius (Business Administration '04) has been practicing as a business immigration attorney in the Bay Area for over a decade as co-founder and CEO of ImmiPartner. He works with tech companies and founders in creating immigration programs to attract and retain top global talent. Pretorius recently published an article in Forbes CommunityVoice on immigration's role in competing for STEM talent.
Jeffrey Stern (Business Administration '09) is putting his skills to work at the Santa Barbara-based independent running apparel brand, rabbit, which manufactures its product line in Los Angeles. Stern works in marketing, product development, community engagement and more with a small team. The brand is available in roughly 100 specialty retailers, including San Luis Obispo-based Running Warehouse. He says, "Without all the skills and real-world experience I gained at Cal Poly, I wouldn't be able to juggle the many responsibilities I have on a day-to-day basis growing this ever-expanding business in a booming running industry around the world."
Eric Schalla (Business Administration '09) was recently featured in the Santa Barbara Independent for his work with ShelterBox USA. He helps the nonprofit distribute tents and tools of survival to refugees displaced by war and natural disasters. Schalla, who served as a logistics specialist in the Marine Corps, recently traveled to Northern Iraq to deliver ShelterBox supplies to Syrian refugees. By day, he works as a sales manager for Tri-Co Reprographics in Santa Barbara.
College of Science and Mathematics
60's
Steve Hazzard (Physics '69) was inducted into the Green Industry Hall of Fame on May 4, 2019. Inspired by his mother's World War II victory garden, Hazzard founded Organic Control Inc. in 1976 to promote nontoxic tools like natural predators to home gardeners. He regularly shares his expertise on gardening and natural pest control with media and garden enthusiasts throughout the country.
80's
Peggy Eileen Herrera (Liberal Studies '82; M.S. Education '92) reports that she is retired, widowed, and sharing her life between Grover Beach and La Paz, Mexico, surrounded by family and friends. She uses her bilingual skills to volunteer for her churches and her communities, support the charities Care for Kids La Paz and Niños Arriba/ Kids Up equine therapy for disabled children, and teach English in elementary schools in Mexico.
---
In Memoriam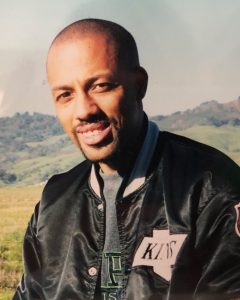 Michael Welch (Computer Science '93) has passed away. While attending Cal Poly, Michael was active in the National Society of Black Engineers (NSBE), where he first became involved in mentoring programs designed to motivate and inspire the next generation of engineers. Through NSBE he also formed many incredible friendships that endured until his passing. After starting his career in Silicon Valley, Welch accepted a job with Symantec and returned to Los Angeles, where he lived with his wife, Marche Boose Welch, and daughter, Marjani, until his passing in December 2017. Welch's sister and fellow alum Melanie Welch-Kirk (Psychology '97) recently shared a reflection on her brother's life: "Michael was beyond proud to be a Cal Poly SLO Mustang. So, we, his family and friends, would like to say one last time for him — GO SLO!!!"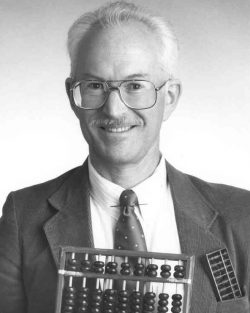 Zane Motteler, who joined the Computer Science Department in the fall of 1982 as a faculty member, died Jan. 3, 2019. Motteler worked for the department for over 10 years and was instrumental in the initial development of the Computer Engineering program, which launched in 1989. He was involved in the Computer Science Accreditation Commission and played a significant role in the accreditation of the computer science program. After leaving Cal Poly, he worked at Lawrence Livermore National Laboratory before retiring from the laboratory and from Computing Accreditation Commission activities. After retirement, Motteler moved with his wife, Marilynn, to Albuquerque, New Mexico, where he kept busy with his hobby of genealogy and volunteered in a number of activities. Members of the Retired Faculty and Staff Club praise Motteler's professional demeanor and moral character.