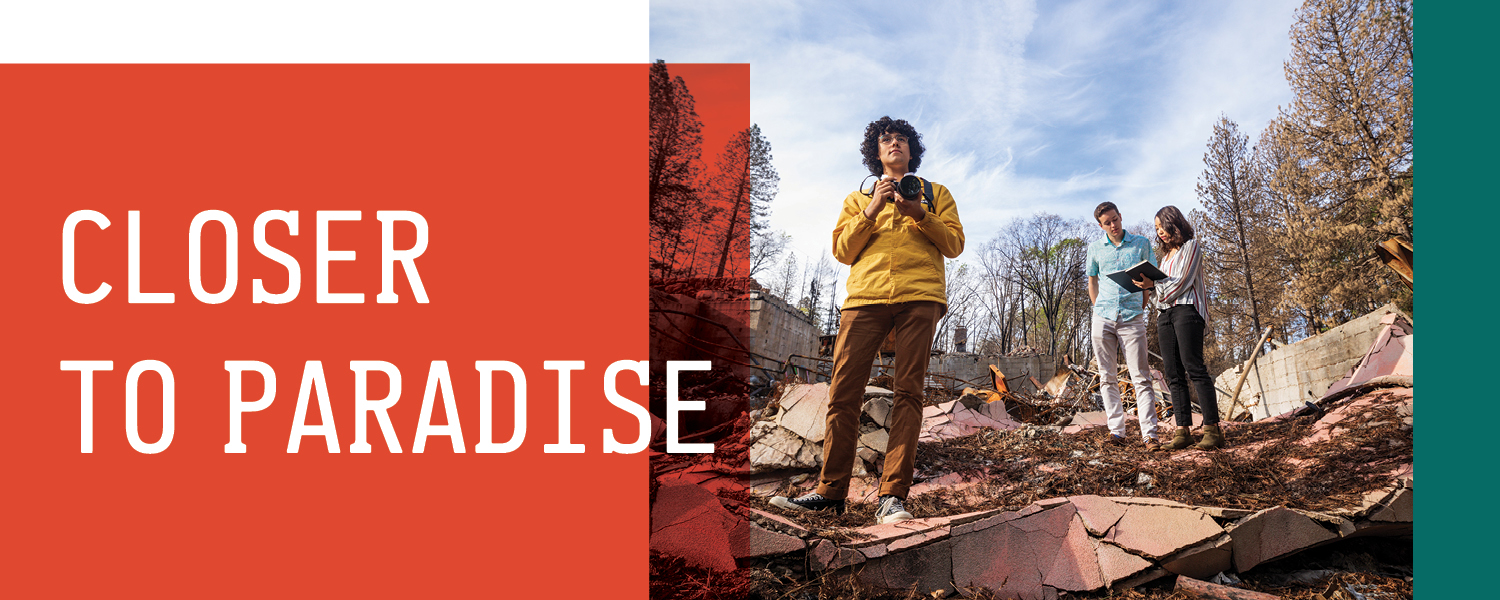 By Robyn Kontra Tanner
Photos by Joe Johnston
Walking through the town of Paradise, California — taking in the piles of twisted metal, the persistence of newly sprouted wildflowers, and the clatter of debris removal crews — it's easy to feel caught between two vastly different worlds. There is the town's history as a quaint bedroom community of 26,000 that once sat among the ponderosa pines just outside Chico. Then, there is the reality locals have been grappling with since the Camp Fire ignited Nov. 8, 2018, and forced a frenzied and traumatic evacuation. After more than 18,000 homes and businesses were reduced to rubble and 85 people died, displaced residents are knee-deep in an exhausting, complex cleanup effort.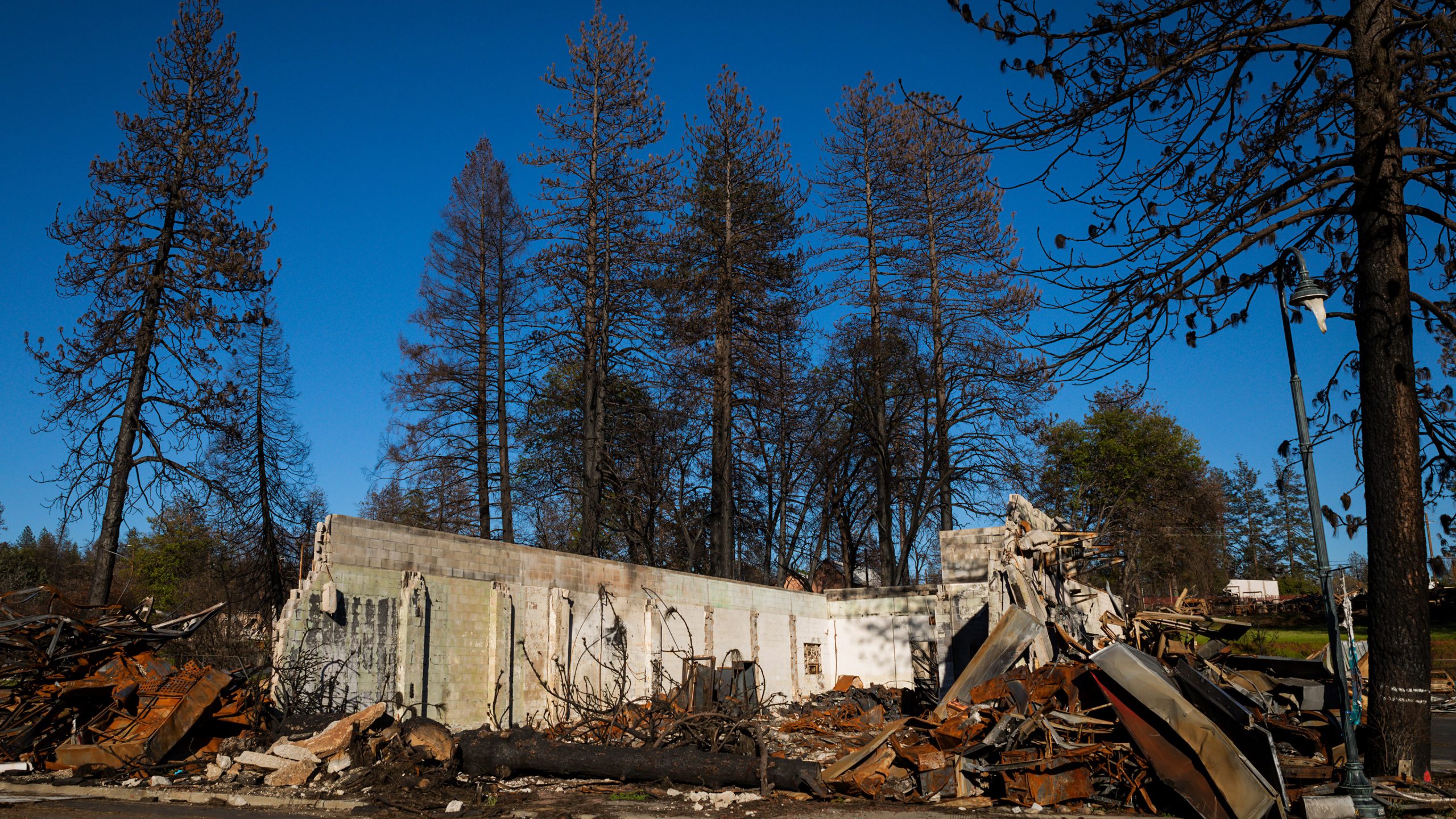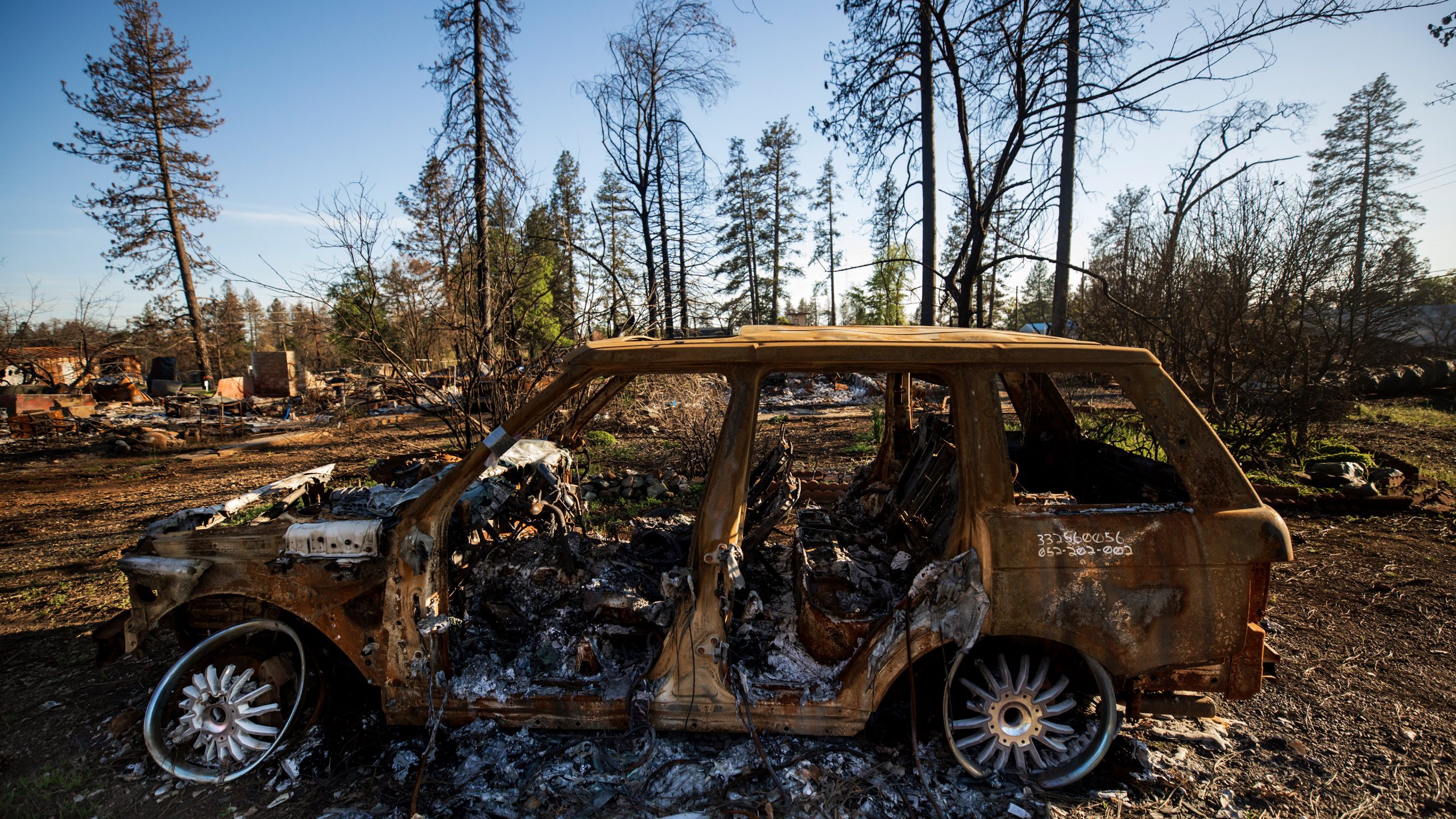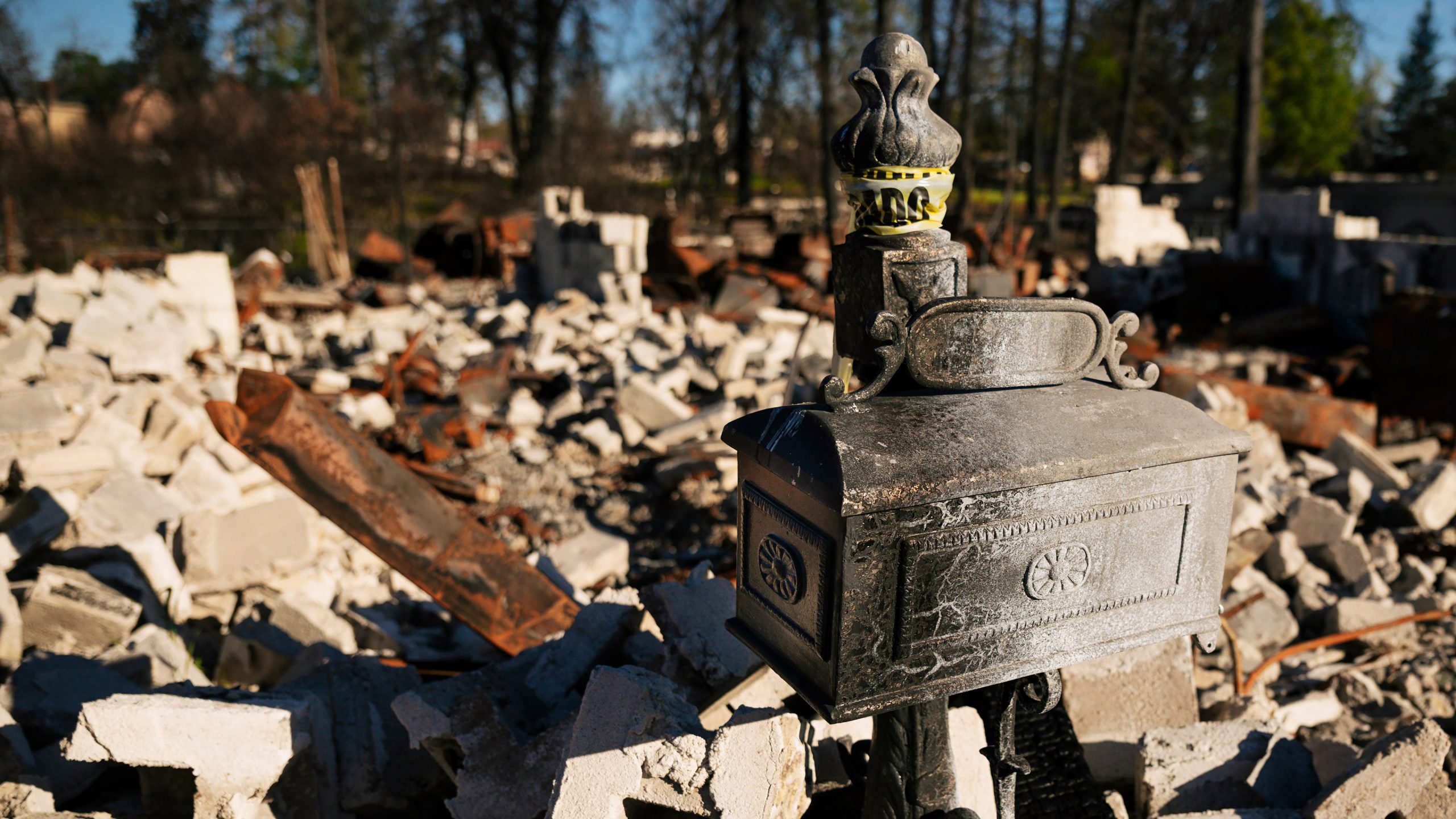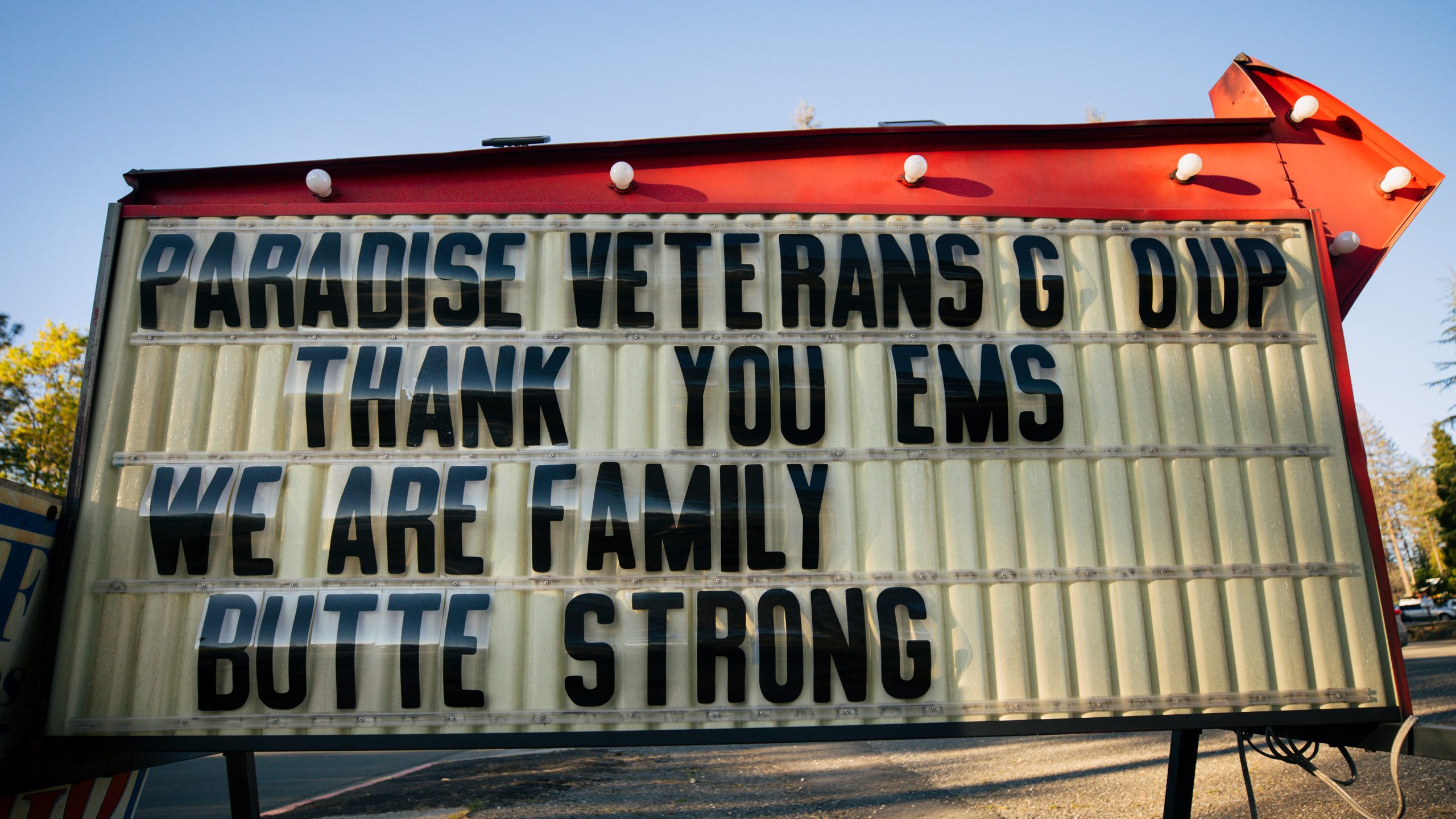 In January, third-year architecture students from Cal Poly stepped up to help locals envision an entirely different state: an optimistic future where new homes stand strong and local businesses thrive. Cal Poly's work, with the guidance of faculty members Stacey White and Kent Macdonald, has taken shape in both the technical redesign of the town's structures and the emotional reconstruction of a community that has the courage to come back together on its scarred landscape and hope again.
As the design process began, students had to confront the destruction firsthand. "When I stepped off the bus, I could almost travel back in time to when the fire started and envision people running to their cars," said Alyson Liang of her first trip to Paradise in January. "For me, it was really emotional. Last year, I had to evacuate from the Santa Rosa wildfire … I literally had to get out of my house at 2 a.m. with my family."
Liang and her classmates set out to develop cohesive town plans and resilient designs of civic buildings, including downtown businesses, a conference center, a health care campus, and even a memorial for those who lost their lives in the fire. The design work ran parallel to community brainstorming and strategic planning led by consultants Urban Design Associates.
"We've taken the stance that, for rebuilding to be worth it, you have to do it right — we can't afford to build temporary towns anymore," said White after facing questions on whether the town should rebuild at all.
"If the town is built like it was, it would be at risk to the same thing happening again in 10 years. These students are being asked to consider a different way."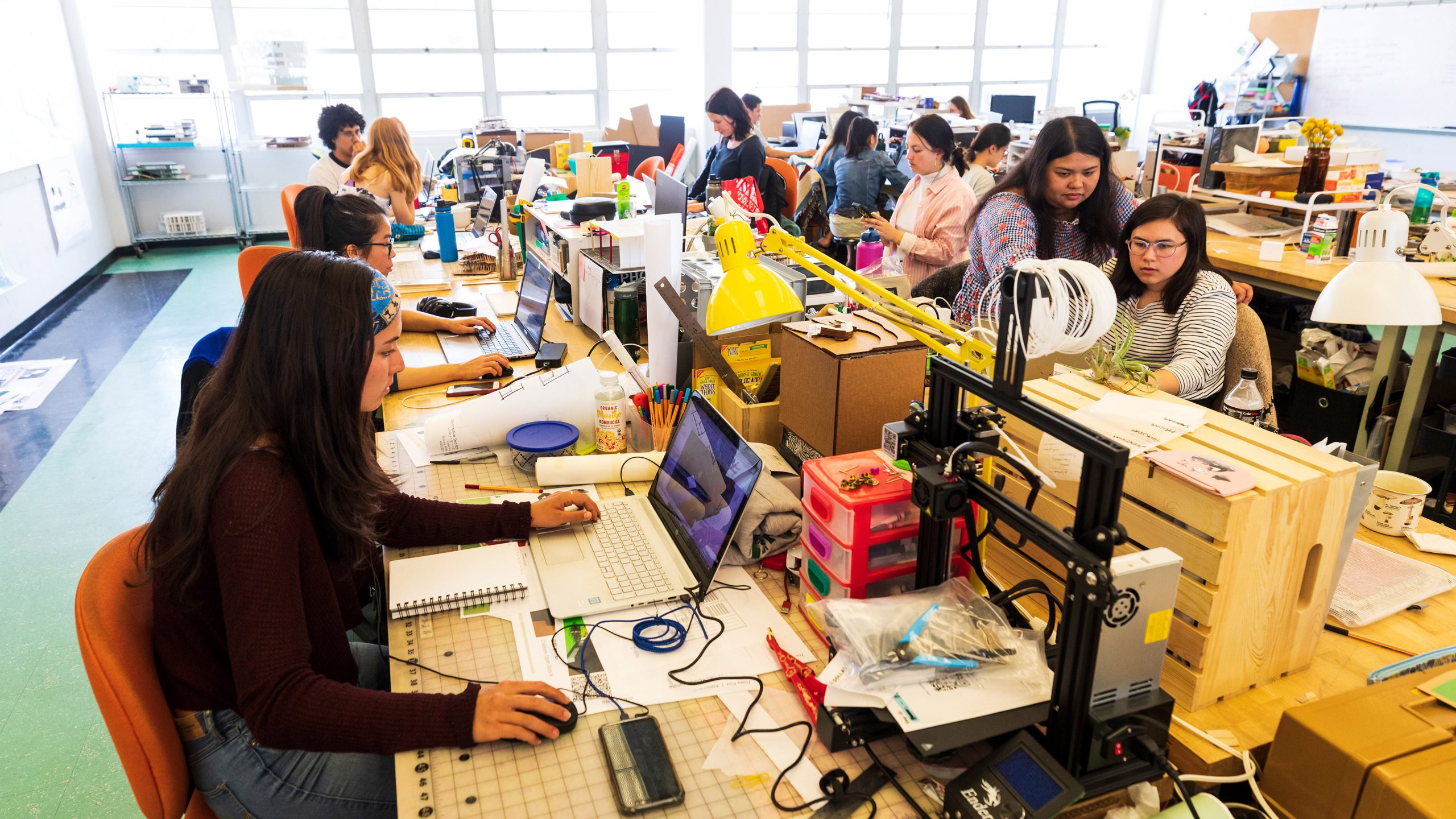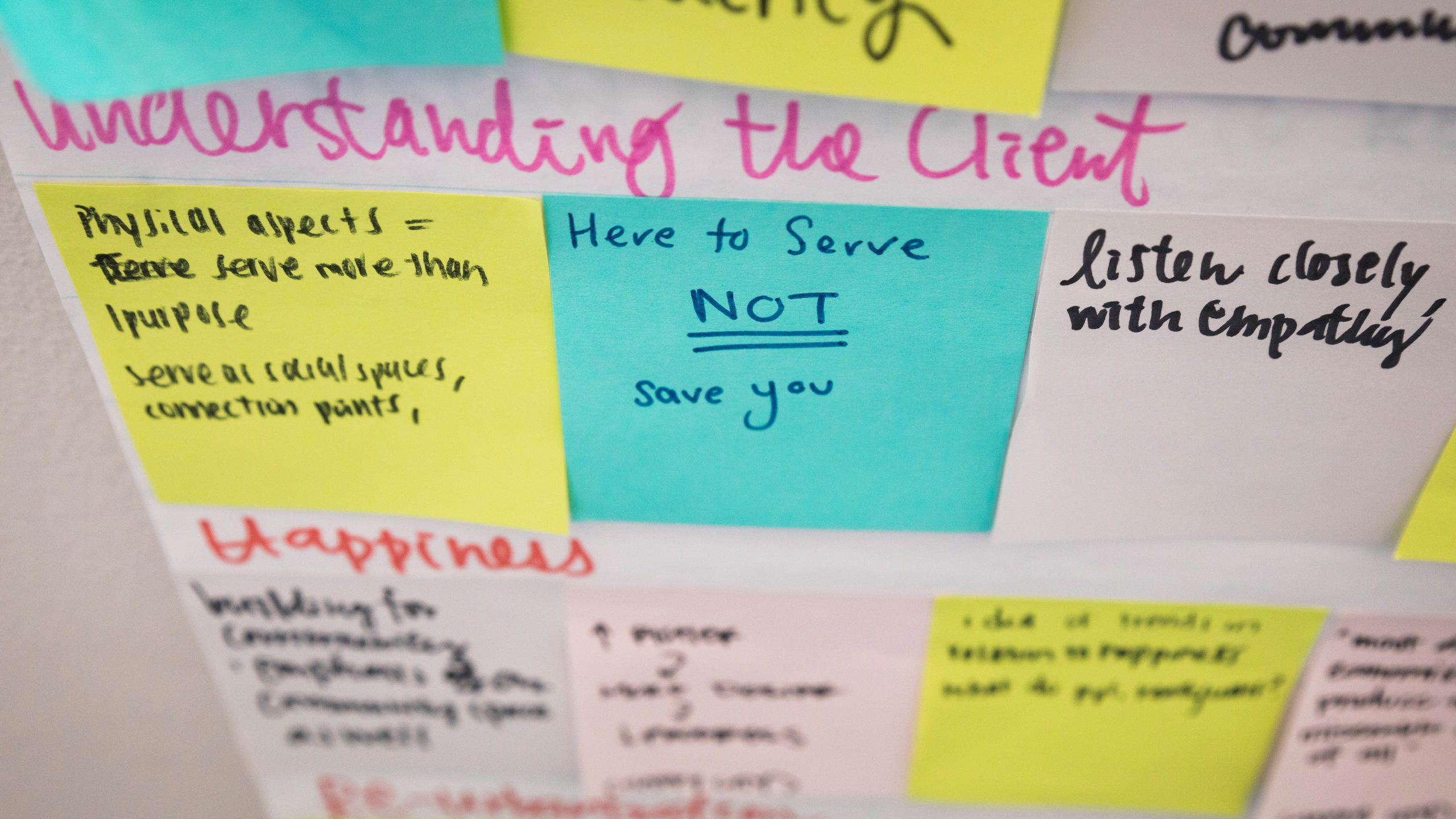 For many students, this Learn by Doing experience was their first opportunity to design for a real client. But the first few meetings weren't always easy to navigate for the students or the locals they aimed to serve.
"To be honest, when I first heard about the group coming here, I was kind of taken aback," said Paradise Town Council member Melissa Schuster. "My knee-jerk reaction was more like — and I'm being very candid here — 'Oh no, we can't have a bunch of kids coming in and telling us how to rebuild our community. They don't know our community.' We were still very, very raw when they first came in."
The dynamic between the students and their clients posed a major opportunity for students to empathize and leverage the design process to aid healing. While imagining new storefronts, bike paths, and a more walkable community, students like Jarrett Boynton realized they had the chance to harmonize the town's haphazard layout and establish pride in architectural continuity.
"At first it can be hard because you want to help, but then it's hard for them to feel like you're helping," Boynton said after navigating his first meetings with Paradise residents. "There's no one firm that's going to fix this — it takes a collective effort, and that's exactly what we're trying to do."
Other universities partnered with the town throughout spring as well. Cal Poly's design work for Paradise complemented student and faculty research from CSU Chico's College of Engineering, Computer Science and Construction Management, which focused on an emergency notification system along with water and sewer infrastructure. Architecture students from Montana State also developed residential community designs for an existing neighborhood with 100 households.
"If the town is built like it was, it would be at risk to the same thing happening again in 10 years." —Stacey White, architecture faculty member
Nolan Delgado, a Cal Poly student developing a library and internet café, saw this collective design process lift the spirits of many residents wading through daily obstacles, from insurance claims to tainted water. As locals clarified their own vision for their community, he says it gave Paradise more energy to endure the cleanup phase of recovery.
"You could see the hope sparkling in their eyes as they envision a new future of the town," Delgado noted after speaking with high school students who were forced to move out of Paradise. "Our project is helping those who were affected remain hopeful, and that motivates me to keep moving forward with the designs."
After rounds of feedback from residents, the cohort's nervous energy tempered into steely resolve. Cal Poly students — whose numbers grew to 50 across three studios — made it their mission to both reflect and advance the community's ruggedly independent idea of itself through self-reliant buildings that collect all the energy and water they need on-site. Many designs also featured locally sourced materials and a persistent connection to the region's natural beauty.
"This is the point where progress accelerates exponentially," said White, "and you see work come to life at a rate that even surprises the students, even though they're generating the work."
Long nights in the studio, seven-hour bus rides north for site visits, and spring break field trips to other communities that have recovered from disaster cemented the designers' trust in one another. The cohort's bond proved essential during the iterative design process where dozens of original ideas were critiqued and winnowed down to more complete proposals for the town's consideration.
Watch the video about this Learn by Doing project for Paradise
Liang and Boynton collaborated on a design for a new recreation center with an occupiable green roof leading to the slope of an adjacent park. They hope to use the area's readily available timber with non-combustible fiber cement panels for the façade.
"We understand that nature is not our enemy," said Pacific Austin, nodding to the wood interiors and natural light permeating different projects. Austin and her classmates learned that lesson firsthand on her studio's field trip to New Orleans, a city still piecing itself back together after Hurricane Katrina. After she saw some designs succeed while others faltered in the face of climate change, she realized, "you can't fight nature — nature will always win."
Elsewhere in the studio, a few projects leaned into a more youthful vision for Paradise. Elisabeth Frizzell designed a group of mixed-use buildings that fit within the proposed town plan while appealing to young professionals. In her schematics, one- and two-bedroom flats topped retail space, normalizing more densely populated streets and freeing up square footage for pedestrian sidewalks and parking.
"I was most struck by how in alignment the projects that the students did were with the wishes and desires of the community." — Melissa Schuster, Paradise Town Council
In reality, many of Paradise's retirees have scattered to other locales not weighted with traumatic memories or years-long rebuild timelines. That includes alumnus Glenn Bruno (Architecture '70), who based his design/build firm in Paradise and constructed dozens of projects in the area before narrowly escaping the blaze in November.
"It's hard. The one that hit me the hardest was my dad's house," he said tearfully taking stock of his favorite homes, now destroyed. "Those early houses I did, the really sad part is they were all hand-drawn before 1985. All those plans burned up too."
Bruno and his wife, Sherry, have relocated to Montana, buying a log cabin to live in while he builds their new dream home in the foothills of the Bridger Mountains, east of Bozeman. While they felt pangs of guilt for leaving Paradise after 45 years, they were inspired by a presentation students made to locals in April. He took time to discuss solutions for a revitalized downtown with his fellow Mustangs and explored several virtual reality walk-throughs.
"They're looking at bringing medical industry here," he said. "That's cool. I hadn't even thought about that. I just looked at this as a bedroom community to Chico."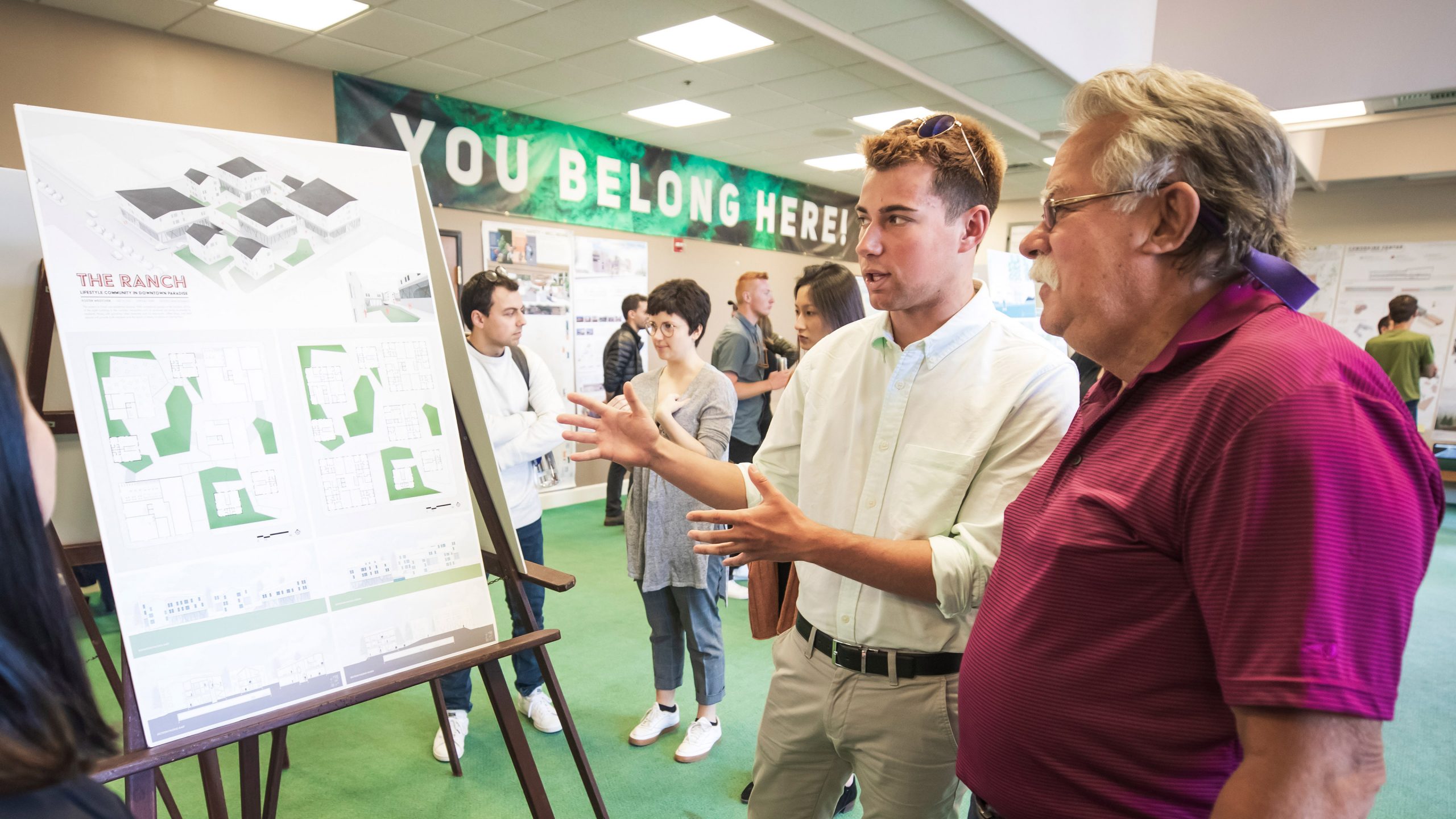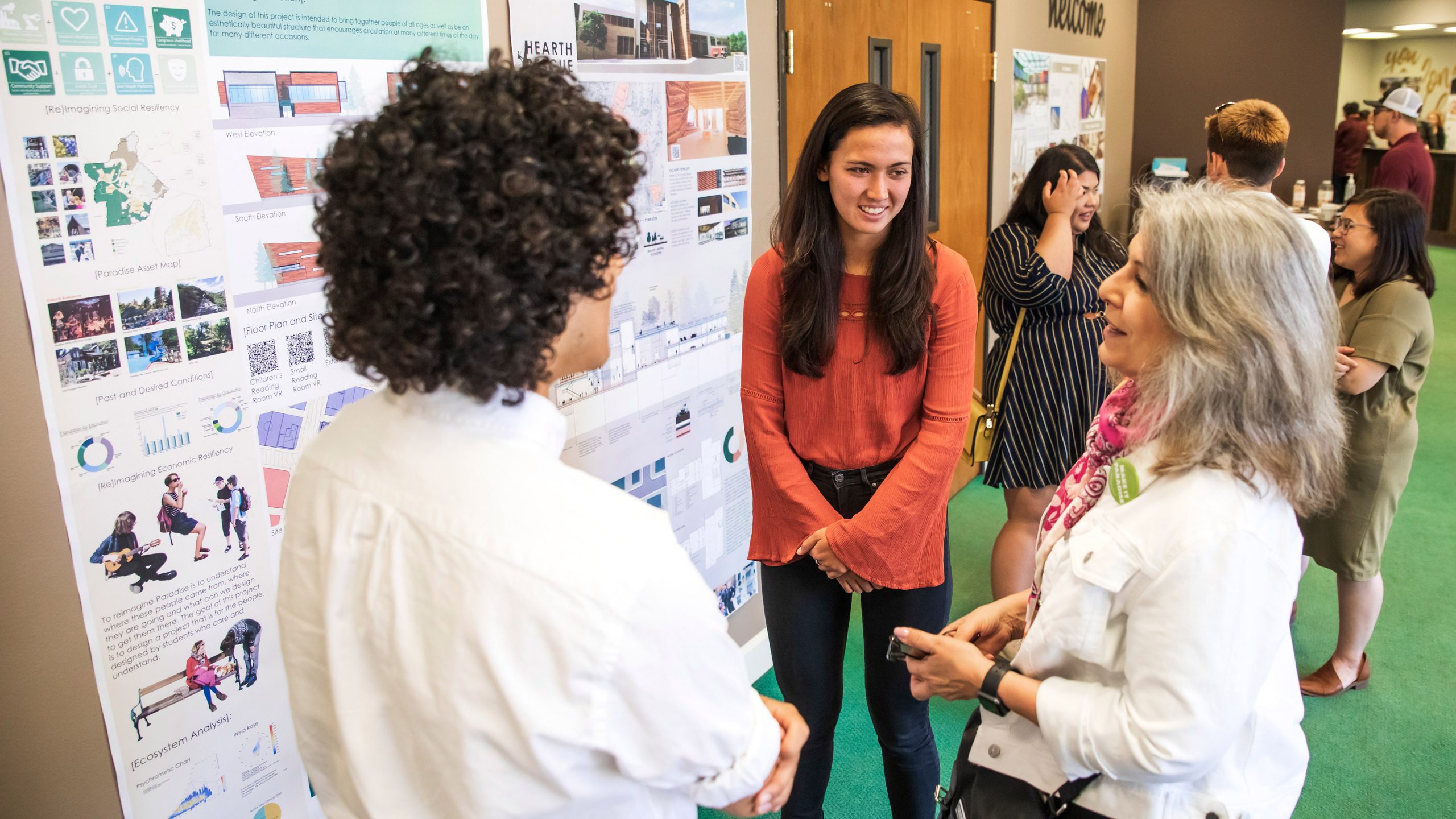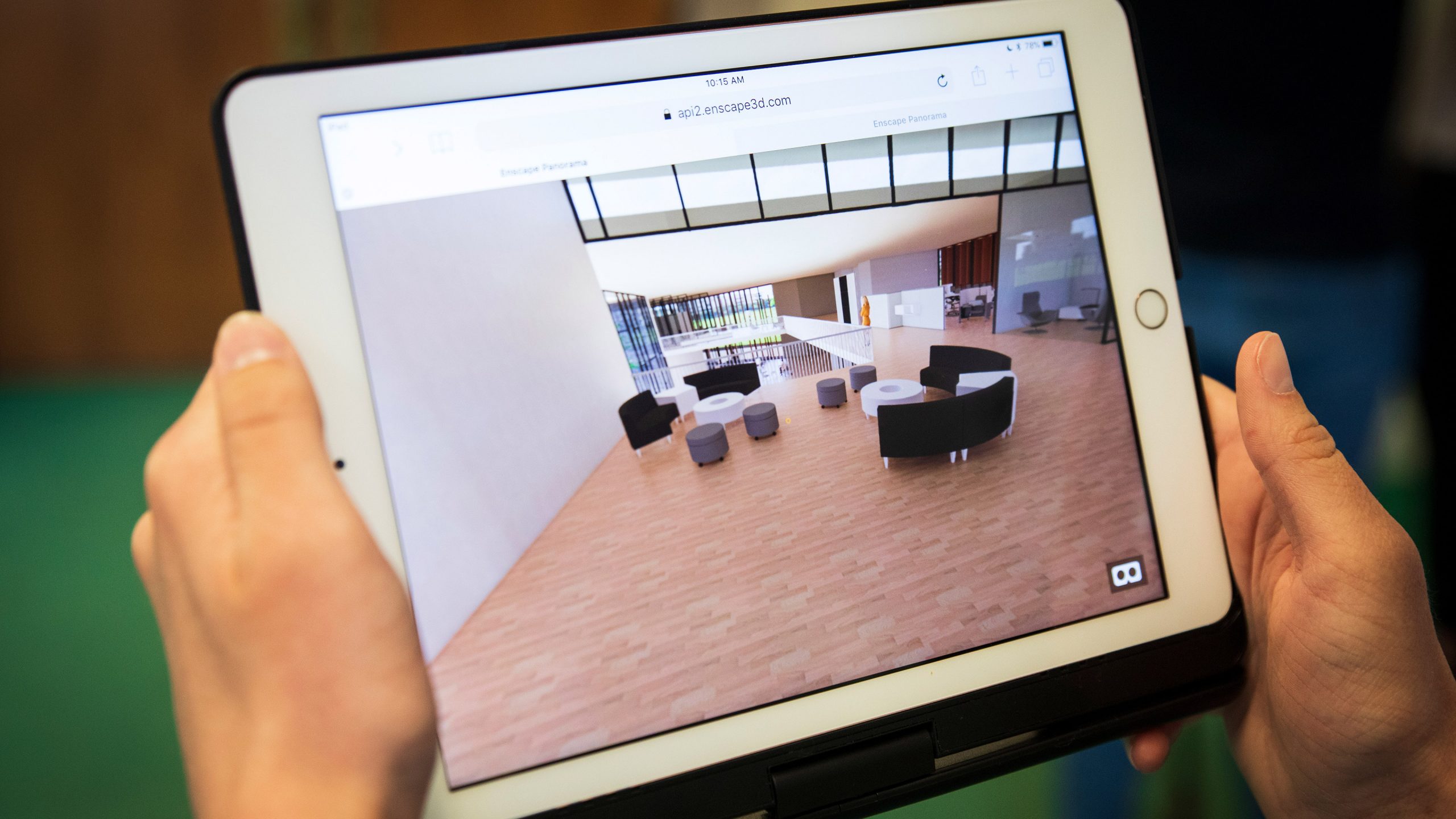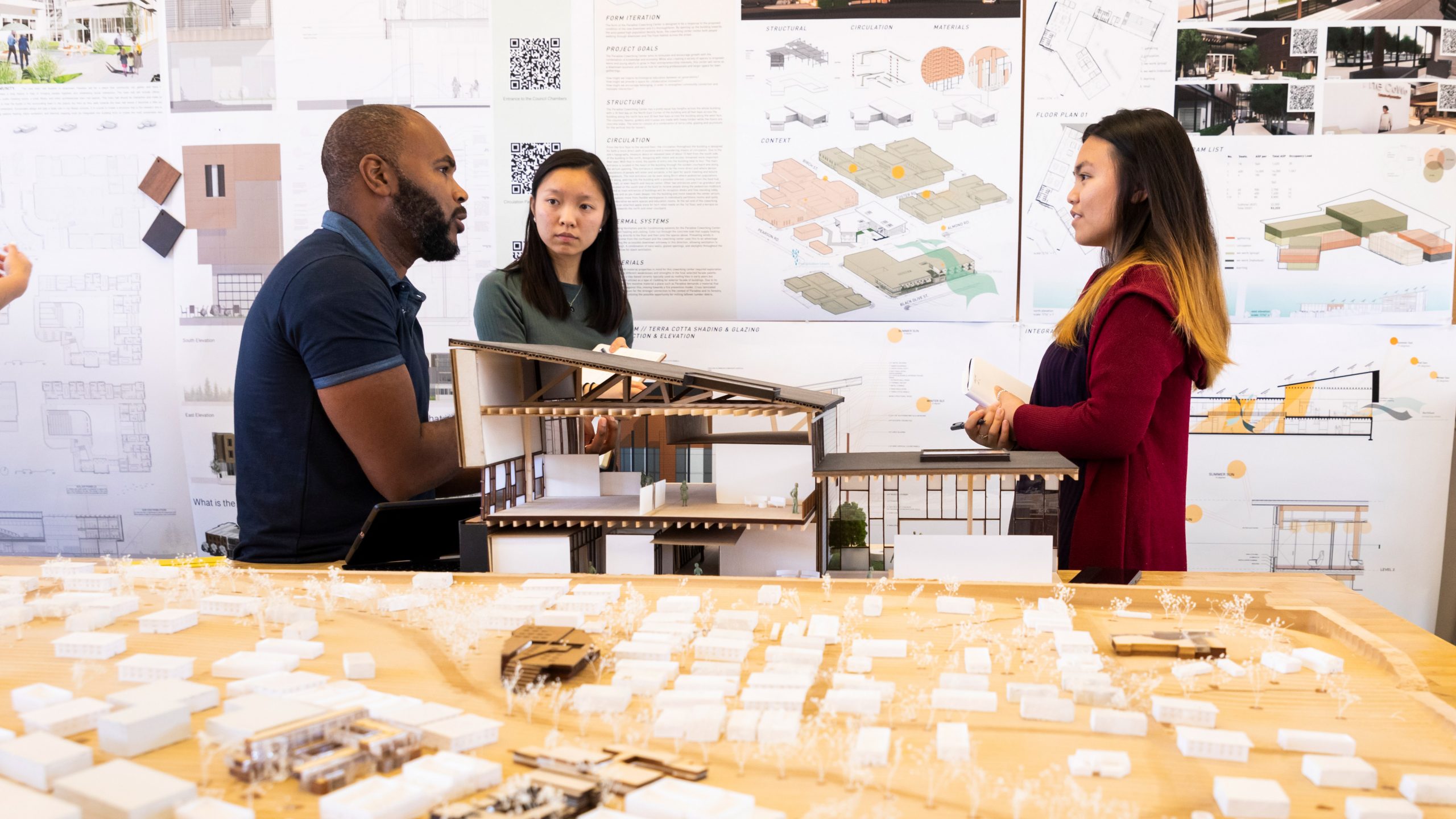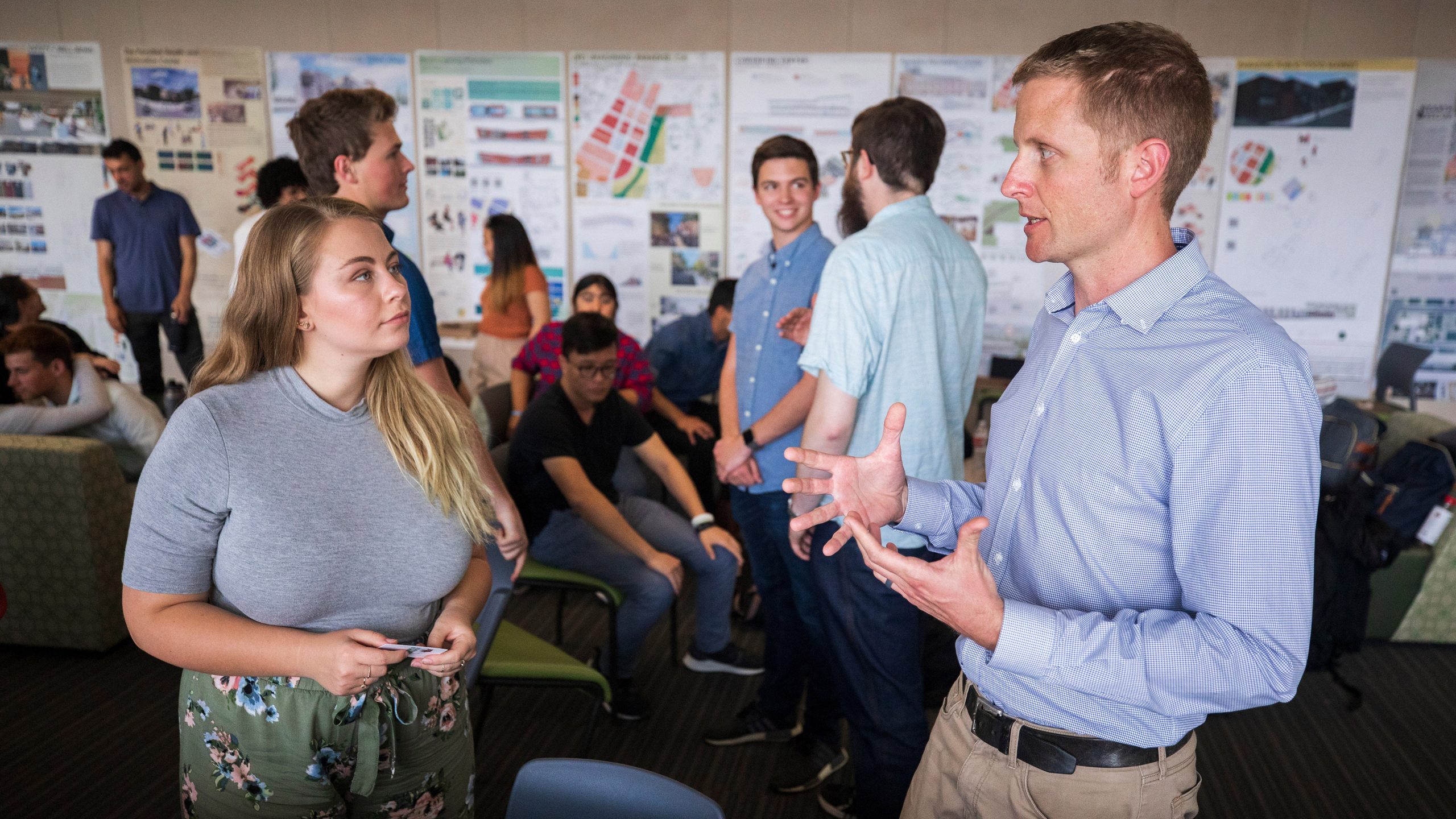 The student's big ideas also caught the attention of State Treasurer Fiona Ma, who invited Cal Poly students to present to her team and the Lieutenant Governor's office in April. Students received a front-row seat to better understand how optimism in the town's future could translate to tangible investments in the recovery effort.
Those real-world epiphanies are what faculty member Stacey White lives to create for her students. "Not only are they learning the technical content, they're seeing the impact their profession can have and better understanding what role they might play," White said as students prepared their final deliverables. "You can see students get excited that they might have found their place in architecture."
Community leaders like Charles Brooks, founder of local aid organization Rebuild Paradise, have the power to leverage Cal Poly's final reports, open-source plans, and virtual reality renderings to anchor grant proposals and garner investments in the recovery effort. Looking ahead to reconstruction in the next five years, Brooks hopes to see 2,000 of the town's homes rebuilt with a cohesive plan to connect the community's past, present and a more resilient future.
"To have some conceptual ideas and visuals to present to potential investors is going to be phenomenal," echoed Town Council member Melissa Schuster. "It's important to have those outside eyes that don't have that emotion — that aren't wrapped up in the drama and the grief process. We needed to have eyes of a younger generation making these recommendations to us."
A lot has happened in Paradise since the Camp Fire. With the cleanup effort charging ahead and recent rains greening the ridge, locals committed to rebuilding seem inspired by the new trajectory toward a more sustainable future. Cal Poly's student architects take solace knowing their work — from the tough conversations to the final designs — helped Paradise step closer to that future.
"I was most struck by how in alignment the projects that the students did were with the wishes and desires of the community," Schuster remarked. "Seeing their projects and seeing that alignment changed my attitude entirely."