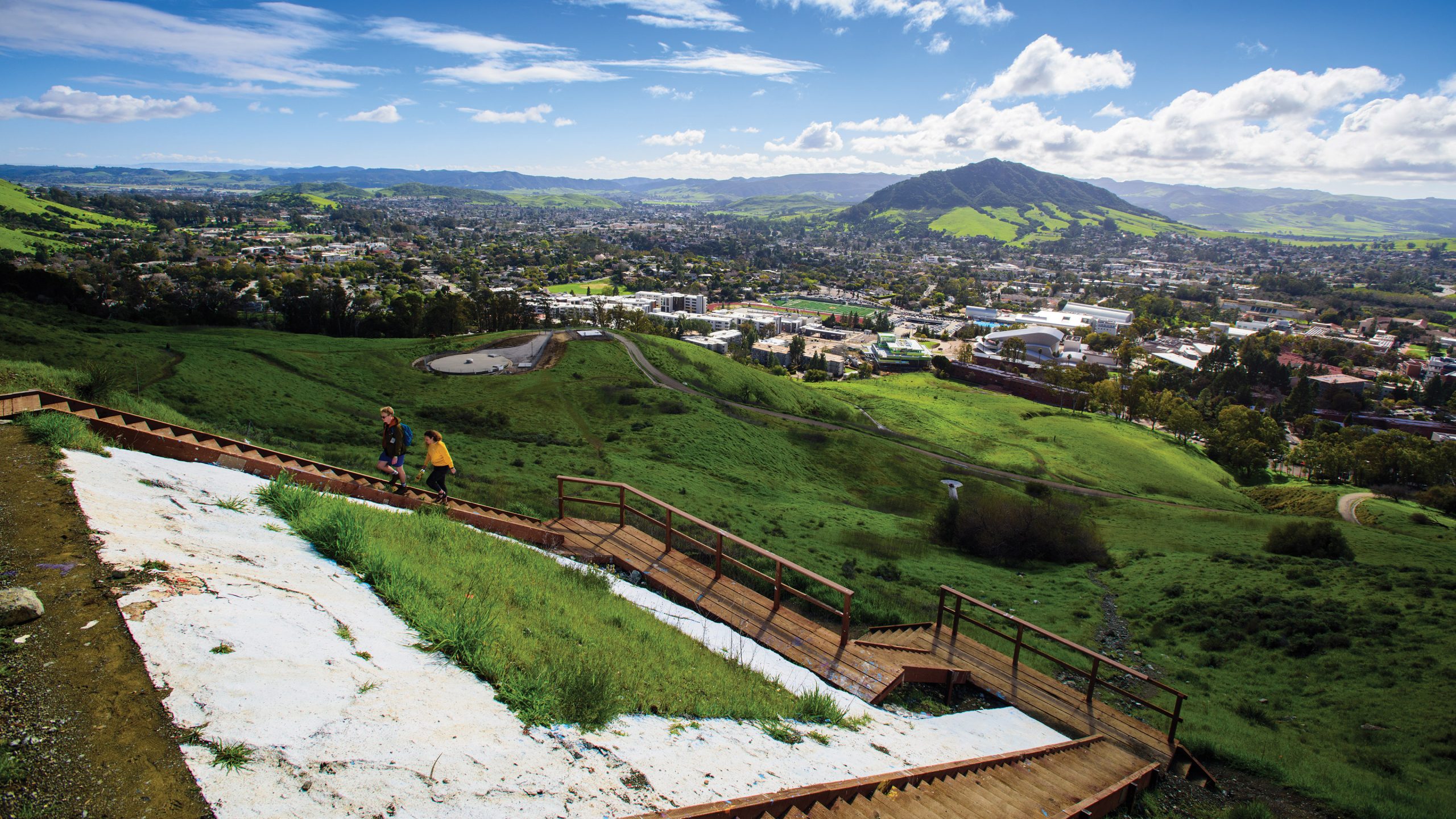 See the history of Cal Poly's most enduring symbol through the eyes of first-year outdoor enthusiast.
After a century on the hill (and a few new coats of paint), the P stands proudly as one of Cal Poly's most enduring symbols and popular lookout points. Kennedy Library estimates the P was created on a lark in 1919 after a rivalry with San Luis Obispo High drove Mustangs to spell out their school pride on the hillside.
First-year student Cole Ross initially gazed upon the P while touring campus; his first adventure to the monument happened one night during Week of Welcome (WOW), where he remembers marveling at the lights of his new home. Since then, the former Boy Scout founded the Cal Poly Hiking and Backpacking Club, blazing a trail for students to survey the best treks right in their backyard. "I want to try to unite everyone from different backgrounds in the common love of the outdoors." He hiked to the P in March with club Vice President Isabella Herrin to appreciate the view.
Material Science
Though it has been made from stone, lime and even barn doors over the years, the latest incarnation of the P is made from concrete and measures 35-by-50 feet. According to Kennedy Library, it was completed in 1957 by Delta Sigma Phi using donated supplies.
Tri-Tip, Hold the Beef
The P, Bishop Peak and Cerro San Luis make up the three hikes in the now-popular "Tri-Tip Challenge." Ross looks forward to completing the series soon, but he'll reward himself with something other than the customary tri-tip sandwich (he's a vegetarian).
Quite the Character
Students have decorated the P many times over the years — a practice that has stirred some controversy — with everything including zebra stripes, red hearts, twinkle lights and rainbow hues.
Gravity and Other Laws
The P is at the mercy of some hillside erosion and gravity pulling the concrete down little by little. In 2015 and 2016, the P was closed temporarily to allow for some much-needed repairs, including trail maintenance and adding steps around the monument itself.
Caretakers of a Landmark
For decades, student groups from the Dormitory Club to the Running Thunder spirit organization cared for the P. Now the monument is in the hands of Facilities Management staff, who ensure safe access and even repaint the P.