Undercover
A peek into how our cover image came together, thanks in large part to the help of a Paradise resident leading the recovery effort.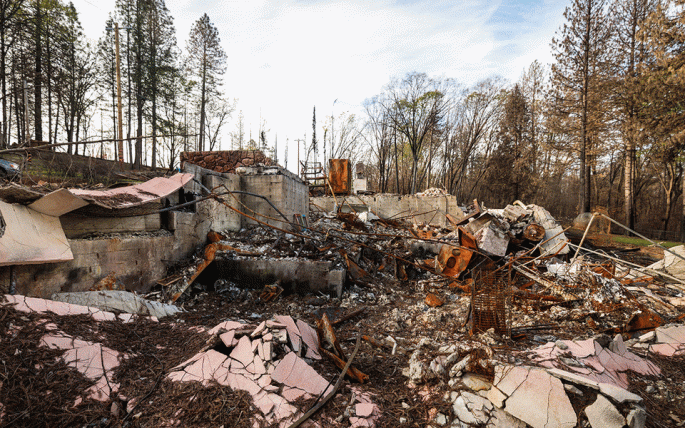 "Watch out for rusted nails."
That was the biggest piece of advice we gave to three Cal Poly architecture students who agreed to take a few photos for Cal Poly Magazine in April. They were in the town of Paradise to present their designs to community members looking to rebuild their community with a fresh, resilient direction. The morning of April 19, students Alessandro Zanghi, Alyson Liang and Jarrett Boynton were busy setting up their posters, models and virtual reality walk-throughs when they took a brief detour into a neighborhood around the corner to examine an all-too familiar scene of family home reduced to rubble.
We set up at a Paradise property belonging to Charles Brooks, founder of the Rebuild Paradise aid organization, who was following the students' projects. He is focused on grass roots connections that help locals continue to feel rooted and supported in Paradise even through insurance paperwork, noisy debris removal and infrastructure issues. Brooks graciously met us early that morning and gave us the low down on what life was like in Paradise lately.
"Now that the weather is getting better, and you're seeing the dump trucks and the amount of clean up, you can definitely see that people are hopeful again," he said. Across the street, Brooks' neighbor just finished debris removal. In the front yard across the street, Brooks pointed out an American flag that somehow survived the fire and continued to wave.
When Boynton, Zanghi and Liang arrived on the quiet cul-de-sac, we asked them to do what they had done when they first set foot in Paradise in January: survey the scene as only an architect can. The students tried to gather as much information about the place as possible through notes, sketches, photos and geographic data. Cal Poly Magazine's staff photographer, Joe Johnston, orchestrated the photos with brilliant efficiency.
Standing on Brooks' property, it was hard for the group to ignore the neighbor's house somehow standing relatively untouched just a few yards away. It was even harder to ignore the view off of the west end of the property through the pines that undoubtedly made for spectacular sunsets.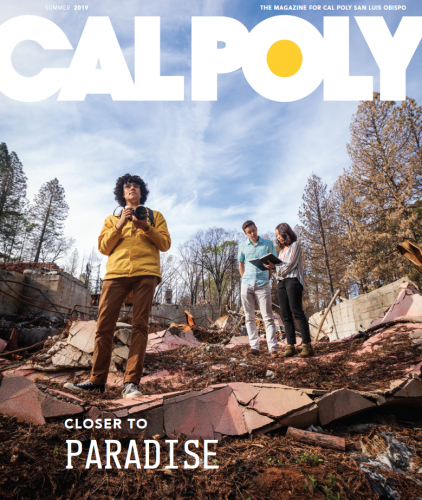 Still, not all residents are encouraged by the promise of a comeback. "There are people who are horribly traumatized by this, and no matter what, they're not coming back," Brooks said. "They never want to see that again — a lifetime of memories being cleaned up and now gone. It's one thing to see it destroyed, but it's another to know in a couple weeks, it will all be gone, like it never existed."
Instead, Brooks says he focuses on working with those who are passionate about returning to the ridge with realistic goals for building a stronger community that can adapt to a more sustainable future. His family just felt a boost of encouragement after seeing the second round of architectural renderings and securing a date for his property to be cleaned up.
After about 15 minutes of talking, taking photos and capturing some video footage, the students loaded back into the minivan to return to Paradise Alliance Church for their full day of presentations. Even on the way back, the trio of students continued to express their awe at both the scale of devastation on Paradise and the spirit of its people committed to a safer future.
Looking back on the final image now, the final photo captured a brief moment that represented some quiet reflection for the students as they charged ahead with their design projects. It was a unique opportunity to pause and remember why the students continued to work so hard – to help the individuals and families looking for hope on the horizon.