Leaving It on the Court
Athletes reflect on their last games before the shut down – and how they're tackling their chance to compete during the pandemic.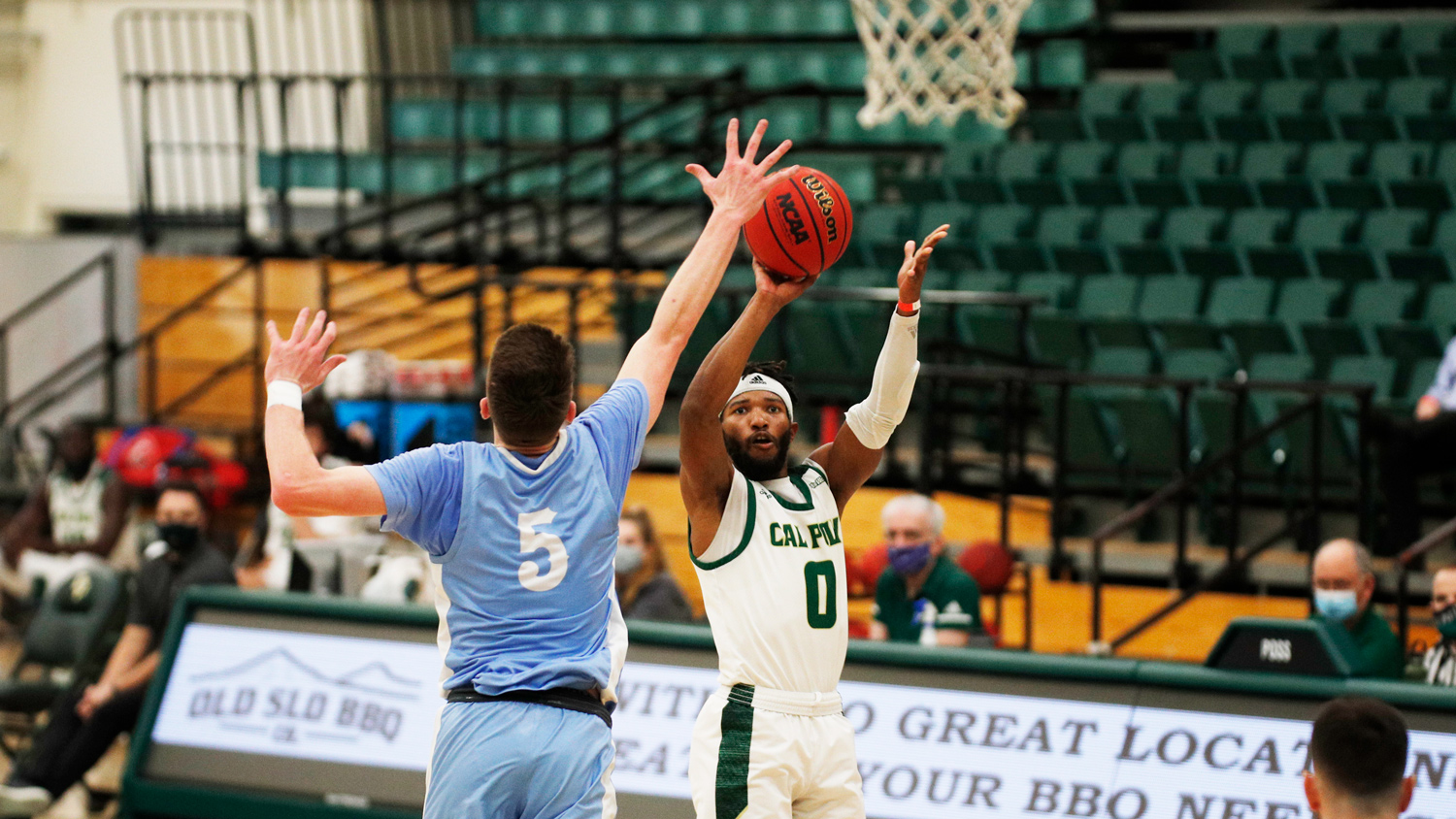 By Robyn Kontra Tanner
Photos by Owen Main / Cal Poly Athletics
When major sporting events were canceled in the early days of the pandemic, it was a bellwether for how serious the coronavirus was about to get.
Cal Poly's men's and women's basketball teams were some of the last Mustangs to compete before the spring shutdown. The women's squad had just won two major upsets to start the Big West Conference Tournament, which had already gone fan-less due to coronavirus concerns.
Kirsty Brown, a junior power forward pursuing her MBA, imagined a Cinderella run to get to the NCAA tournament. Then, her coaches broke the news that everything was cancelled immediately.
"I know personally didn't really believe it at first," said Brown. "We knew we were finally at that point in the season where we were playing our best basketball. Everyone's at the top of their game. Everything's finally coming together, and to not be able to ride that out for as long as we could was definitely frustrating."
"It was just… it was a shock," said Mark Crowe of the men's basketball team, who saw their season conclude the week before. "It was interesting to leave basketball season and then have new stressors ramp up — and really ramp up at that."
Many players returned to their hometowns during the first months of the stay-at-home orders. Crowe went back to Texas with his family, where he was able to decompress and attend his business classes online. Brown, who broke her nose earlier in the season, returned to the Bay Area and prepared for surgery to correct it.
When spring quarter began, the teams reconnected virtually as athletes found ways to stay sharp with what they had at home. Many shifted gears to body weight strength workouts and solo drills on the court at local parks. As she healed from surgery, Brown focused on cardio with her parents, who are both international track athletes.
Crowe is also from a family of athletes, including a sister who plays collegiate soccer, which helped motivate him through the uncertainty. "We would all go to the gym, we would all go to the park, or we would all do something together. So that made it a lot easier, but it was definitely a tough time."
It wasn't until late summer, when many players made the move to San Luis Obispo, that Cal Poly's basketball teams saw a glimmer of hope for their upcoming season: a firm start date when in-person workouts could resume with modifications.
"That was exciting because, up until that point, nobody had any clue what was going to end up happening," said Crowe. "And then, whenever we all found out that we could all get back together and practice again, our group chat blew up and everybody was excited."
The enthusiasm helped the athletes adapt to a host of new protocols when it came to training, including wearing face coverings, taking weekly COVID tests, and dividing into small groups to limit possible exposure during their first workouts. On the court, the early months focused on transition drills and individual skill work as newcomers got to know the team's plays. Brown says that early fall practices for the women's squad had a one-person, one-ball setup with no rebounds. It wasn't until October that the players were allowed to pass the ball and scrimmage two or three players per side.
The two programs announced their abbreviated seasons kicking off just after the Thanksgiving holiday and running through early March. The slate of games followed a more streamlined travel schedule and a new game-day COVID testing routine. Both teams faced a series of nationally ranked non-conference opponents before a circuit of Big West match ups.
"Our conference schedule is truly unique and will provide us with a tourney-type game turnaround every single weekend," said women's head coach Faith Mimnaugh. "It will be interesting to see how our team rises to the challenge of not only competing against our opponent, but also navigating around the virus that has impacted all of our lives."
"Positivity will help drown out the sorrows that COVID-19 continues to try to bestow upon us," said men's basketball head coach John Smith, stressing that his team will focus on the controllable aspects of their game plan by taking the season one day at a time.
Some mechanics on the court changed, too, like verbally calling plays. Under normal circumstances, the noise of pep bands and spectators would cover those calls, but in a fan-less environment, the team has to use other signals to communicate without divulging too much to their competition, says Crowe.
Weighing most heavily on these athletes is the reality that games — or even the entire season — can be cancelled at a moment's notice. Crowe compares it to walking on a bridge with faulty planks, but he says it's motivating the Mustangs to stay focused on their end goal.
"You never know if you can actually be truly excited for this next game because you don't know if it's going to happen," he said of his senior year. "Just be ready to give it your all and go 100% whether it's one game or 25 games — just to be ready to compete and get our championship this year."
Brown is prepared to leave it all out on the court too, saying she recommitted to healthy habits so she can feel her best for every game she gets to play. "I want to be ready to go for whatever amount of time I'm allowed to have left, especially it being my senior year," she said. "Once they say it's done, it's really done, so I just want to be able to give my best for as long as I can."
Though games aren't hosting in-person spectators, fans can watch streams of games live at gopoly.com.
The Seasons Ahead
Curious what other Cal Poly teams are back in action this year? Here's a quick update:
Football, which is part of the Big Sky Conference, will start their season Feb. 27. The Big West Conference cancelled all other fall sports for the academic year, including men's and women's cross country, men's and women's soccer and women's volleyball. All sports continue practice and conditioning, whether it's part of an actual season, preparing for one or staying sharp until a season comes.
Men's and women's basketball games are happening now. Cal Poly wrestling, which is part of the PAC-12 Conference, and swimming and diving seasons are underway now and will continue through mid-March.
Looking ahead, all spring sports are expected to compete. The softball team opens their season Feb. 12 while baseball will have its first game Feb. 19. Other spring sports, including men's and women's golf, men's and women's tennis, track and field, and beach volleyball, will begin their competition schedules shortly thereafter.
For more information about schedules, rosters and live streaming, visit gopoly.com.