By Larry Peña // Photos by Joe Johnston
At the start of 2020, Aaron Lee found the perfect job.
Lee, who grew up working on his grandfather's Montana farm every summer, and studied sustainable agriculture and food systems at UC Davis, was looking for work after graduation when he stumbled upon a job posting for an agriculture management specialist at Swanton Pacific Ranch, a working educational ranch owned and operated by Cal Poly.
Newly married, Lee and his wife, Nicole, moved to the ranch in northern Santa Cruz County last January.
"It's the most amazing place in the entire world and the most amazing job ever," Lee says, a big grin lighting up his face. His new workplace and home was spectacular: 3,200 acres of ranch, farmland and commercial redwood forest nestled between steep canyons and hillsides with a stunning view of the Pacific Ocean.
Along with his regular duties conducting soil research and managing the ranch's agricultural resources, Lee took on a special project: rehabilitating one of the ranch's orchards that had fallen into disrepair — "a peaceful good time," he says. Even when COVID-19 hit, he was still able to work with agriculture students who traveled from San Luis Obispo to get hands-on experience in managing an orchard.
He even had the opportunity to pursue a master's degree while working.
"Learn by Doing at Cal Poly is not just for students — it's for staff too," he says. "It's a dream job. I get to live up here, I worked in my orchard. And then, yeah, it just all changed."
'It Just Looked Like an Apocalypse'
On August 19 and 20, the CZU Lightning Complex fires swept through Swanton Pacific Ranch, racing across hilltops and through the canyon.
"We got the evacuation order at like 10:30 at night and I woke my wife up," says Lee. "We went to Tomcat Ranch first because we had to get our horses out. And then it was just this crazy night."
In the forests, trees fell burning. Roads, including the main route in and out of the canyon, became impassable due to falling debris. Houses and barns went up in flames.
Lee, along with several other ranch staff, spent the night evacuating animals, moving ranch vehicles out of harm's way, and coordinating water and other resources with Cal Fire teams battling the blaze.
Fortunately, all humans and animals on the ranch made it through the fire unscathed. But the same couldn't be said for the land and facilities. Many of the ranch's most important structures were leveled, including the Al Smith house — the ranch's community center — and all of the staff homes and student housing.
In fields and forests, monitoring stations that collected massive sets of data for agriculture and forestry research were damaged, lost or destroyed.
Many pieces of the ranch's iconic train system, the Swanton Pacific Railroad, were lost or severely damaged.
It's a dream job … and then, yeah, it just all changed.
In some cases, the destruction was seemingly random, with burned out ruins standing side-by-side with untouched buildings and trees. On a recent winter day, Lee walked through the burned-out ruins, pausing at the charred foundation where a house had once been. An overhanging tree that would have once shaded the home was completely intact. Nearby, a green field of vegetables stood in stark contrast to the blackened husk of a barn.
"If you look at my house, it looks like it's standing — but the fire had gotten underneath somehow and so it's all burned hollow inside," Lee says. "We left for a couple days to stay with family, and when we came back, it just looked like an apocalypse."
Hands-On Experience
Long before the blaze, Swanton Pacific Ranch was meant to serve a unique purpose at Cal Poly.
Beginning in the 1940s, alumnus and Orchard Supply Hardware founder Al Smith (Field Crops '44) purchased the Swanton Pacific Ranch property bit by bit over several decades, eventually deciding to turn the property over to his alma mater as part of his estate plan.
A key part of the bequest was the requirement that the ranch be used in perpetuity to provide Learn by Doing experiences to students in crop management, cattle management, forestry and more.
"I am a graduate of Cal Poly, and one of the phases I liked best was the opportunity for 'hands-on' experience," Smith said in 1990 while discussing the gift with the university. "Although the 178-mile distance is an obstacle, the Swanton Pacific Ranch offers a real opportunity for those who want or need the experience."
Since Cal Poly took over the property in 1992, the university has operated the ranch as a living laboratory where students can get one-of-a-kind experiences working in nature that exceed even the Learn by Doing opportunities on the main campus.
"The majority of our students actually come from cities, and have never had these opportunities," says Andy Thulin, dean of the College of Agriculture, Food and Environmental Sciences (CAFES), which oversees Swanton. "This ranch gives them an opportunity to really explore, learn about themselves and learn about the environment. It's one of the best things we have as a university to share that experience."
Animal science professor Marc Horney knows firsthand how beneficial the ranch is for his students. For 12 years, Horney has taught a cattle enterprise course — a hybrid class and commercial business. Every weekend from January through May, he leads his students to Swanton Pacific Ranch to work with the ranch's herd of beef cattle.
"The students stay on the ranch," he says. "They're responsible for taking care of the cattle, fixing fences, mending water lines, doing medical work, giving the animals vaccinations, everything."
For Horney, the remoteness of the ranch — a three-hour drive from San Luis Obispo — is one of its biggest assets.
"We've got to work on things together and it's just us," he says. "I love that, because I love trying to stimulate students to be creative, come up with ideas and weave these ideas together to an actual useful solution. And I think that engaging people in that way, when there's no being able to call out and get somebody else to come out and do it for us, that really is instrumental in helping students to understand that they can do things."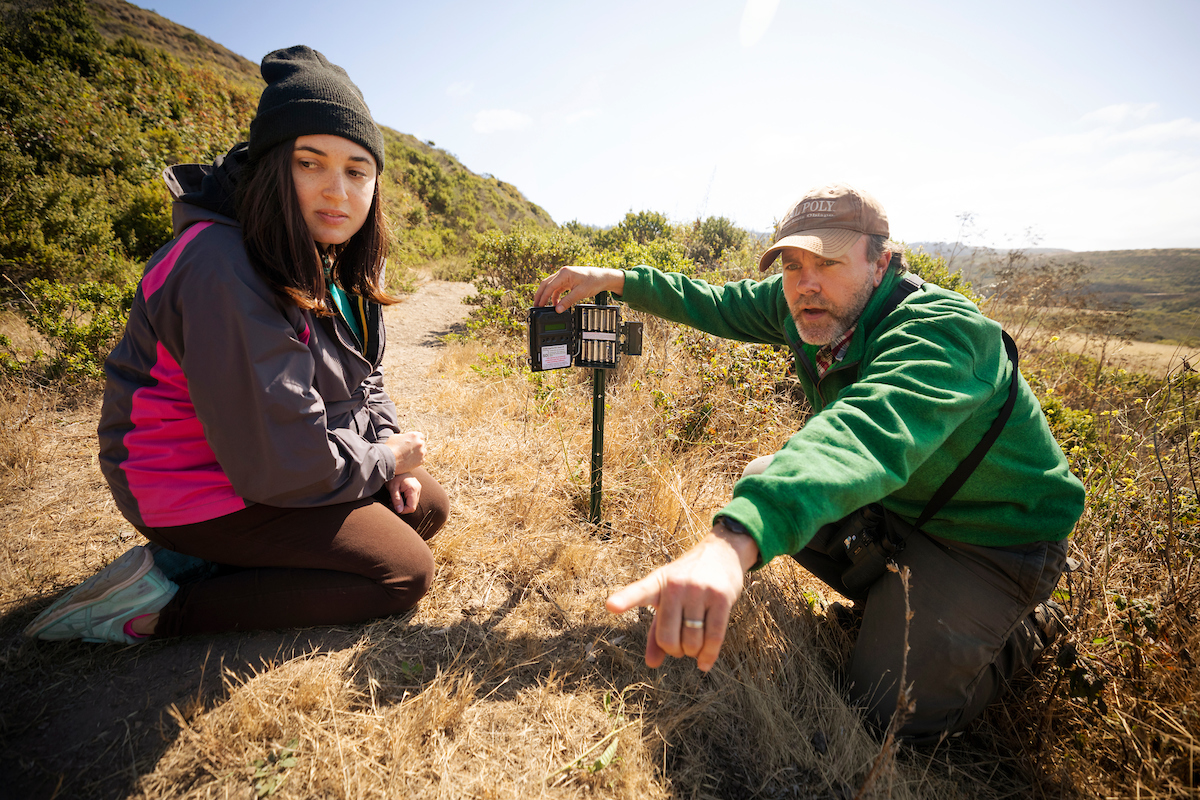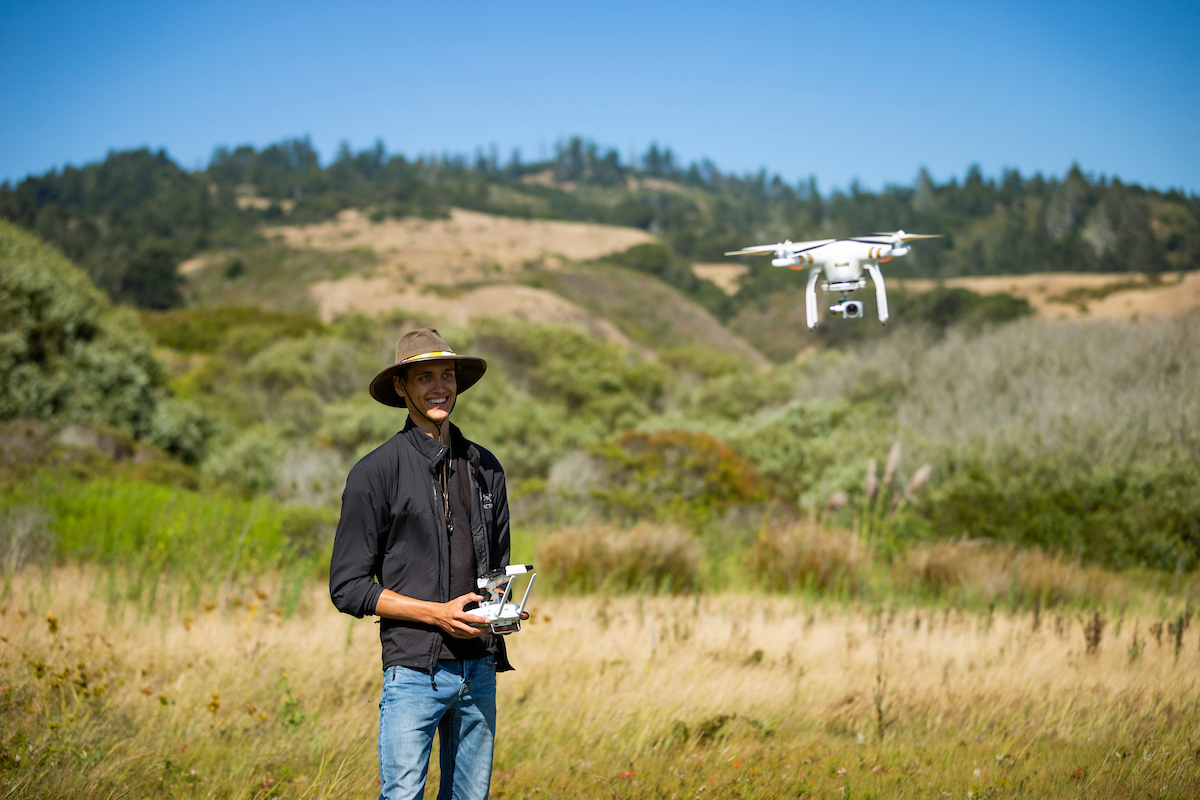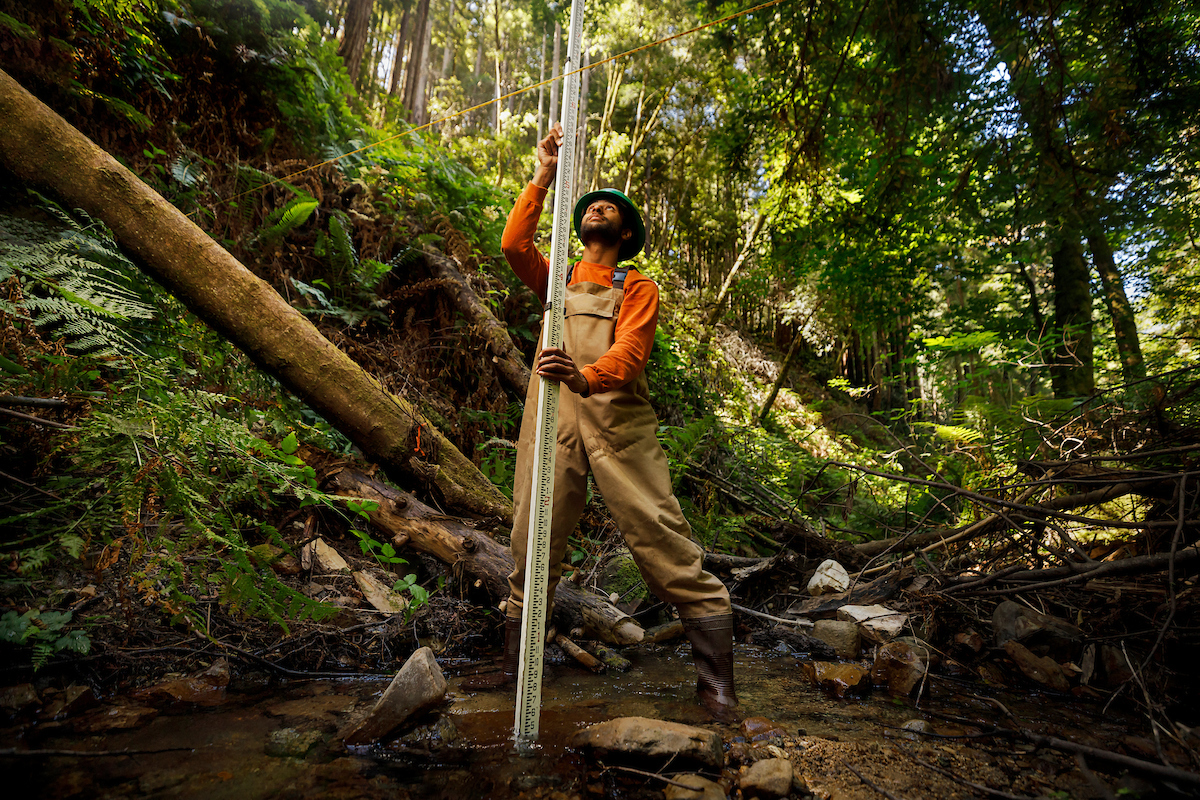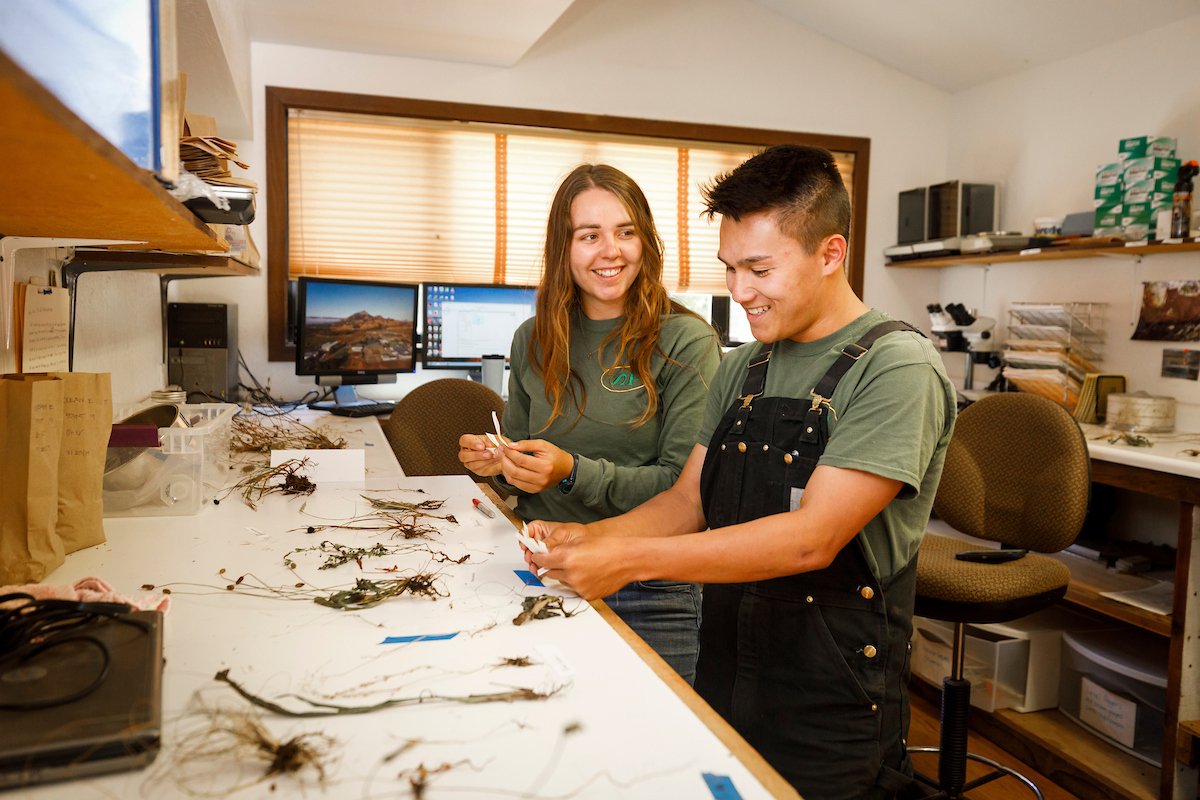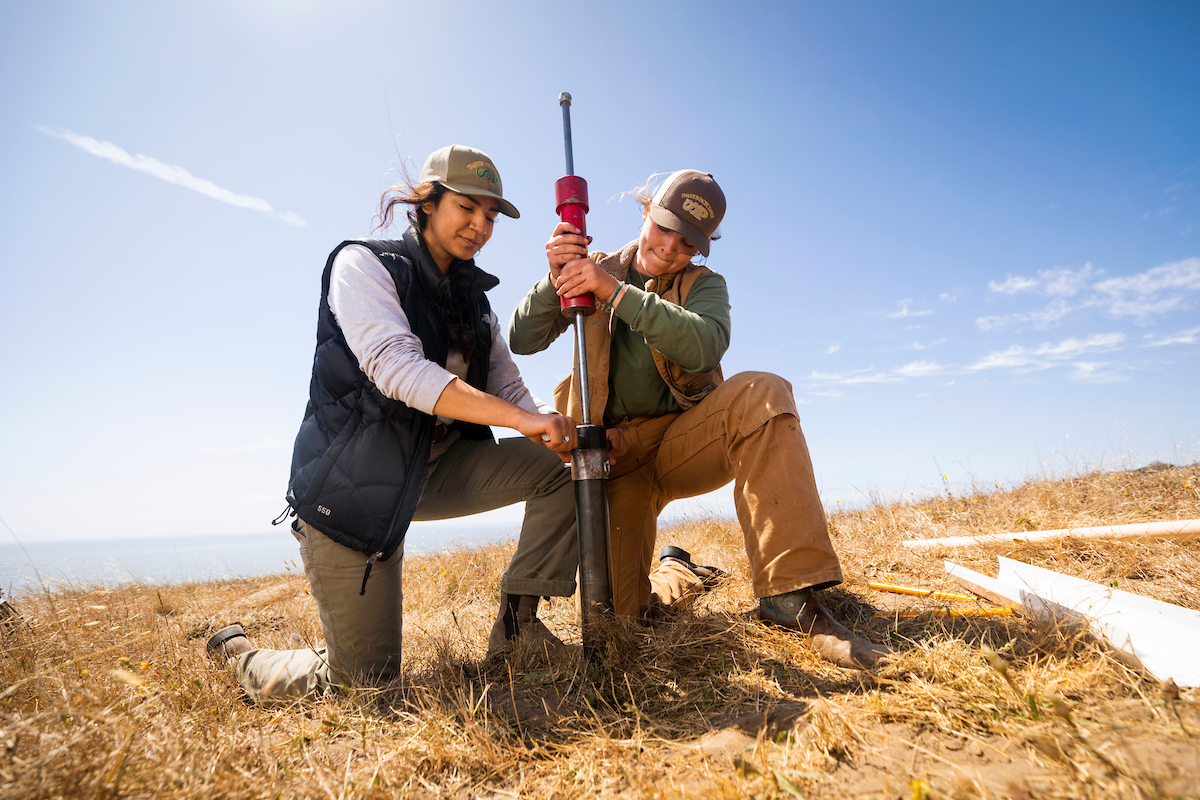 Biology professor John Perrine uses Swanton Pacific Ranch as the site of his intensive summer course called Field Techniques in Wildlife Ecology. For two weeks each year, he brings a group of 15 students to the ranch to give them practical experience in the mechanical details of how to study wild animals: tracking, trapping and handling small creatures.
"It's not just exposing students to it — you can do that in an hour. It's about building proficiency," he says. "If you're studying and handling a live bird, you have to be able to do it right, and that second day is when 'Oh, now I get it' happens."
For Perrine, the vast dedicated space where managed land and wildlife overlap is an invaluable resource — especially in an ecologically diverse and vibrant place like Swanton, where endangered and protected species live alongside timber forests and grazing land.
When there's no being able to call out and get somebody else to come out and do it for us, that really is instrumental in helping students to understand that they can do things.
"I stress the false dichotomy of 'developed land' versus 'conservation land,'" Perrine says. "It's not just about science. We need land for crops and timber production. But how are we going to do it in a way that considers the needs of other species? That's a much deeper conversation than just scientific technique."
He describes the past year as a one-two punch — he had already had to cancel his summer course due to COVID-19, and now the fire puts future sessions in jeopardy as well.
"We lost the classroom we use, we lost student housing, we lost the instructor housing — all that infrastructure," he says. "I think we could probably still teach the course there, but the infrastructure for meals and housing is just as critical as the course content."
An Exciting Time for Research
On a hillside on the western edge of the ranch with the thundering Pacific far below on one side and the deep canyon of Scott Creek on the other, Aaron Lee drives a tractor back and forth in long rows. Behind the tractor, a trailer releases dark compost over the ground.
It's part of a research project Lee is working on, along with a multidisciplinary group of faculty, funded by a grant from the California Department of Food and Agriculture's Healthy Soils Initiative. The objective is to determine how spreading compost over large areas impacts the release of greenhouse gases like CO2 and methane, and whether it could be used as part of a carbon sequestration strategy.
The project is part of Lee's master's program through Cal Poly, and he hopes that what he's working on now might eventually develop into a research demonstration site, engaging faculty and students from the main campus who want to experience active research related to agriculture.
Research is the other half of Swanton Pacific Ranch's educational mandate — using its resources to discover new ways to advance the fields of agriculture and natural resource management.
"We want to be on the cutting edge of regenerative land management — not just sustaining these systems, but recovering these systems from past mistakes we might've made," said Grey Hayes, the ranch's research and education coordinator. "Making those systems more productive over time, more healthy, and restoring biological diversity."
In terms of research, the fire has proven an unexpected benefit. It's turned the ranch into a perfect site for testing how rangelands, forests and watersheds in California respond to and recover from fire damage — a critical area of study as climate change makes natural disasters like wildfires more frequent and severe.
Some Cal Poly faculty are learning how stream flow and sediment content changes after a fire. An interdisciplinary group of faculty from CAFES, the College of Science and Mathematics and the College of Engineering are using unmanned aerial vehicles to take detailed maps of the damaged areas at regular intervals, laying the foundations for a long-term documentation of how ecosystems rebuild after a fire.
"It's probably going to last longer than my professional career at Cal Poly," says Horney, who is part of the research group. "But I think it'd be really cool and useful to have a deeply documented process showing the plants and the wildlife together come back together as the years pass."
Since the fire, Hayes says, researchers from beyond Cal Poly have also come to the ranch to study different aspects of this topic.
The National Oceanic and Atmospheric Administration and National Marine Fishery Service are studying how post-fire runoff impacts fish food supplies in the watershed. Teams from the U.S. and California Geologic Surveys, U.C. Berkeley and Oregon State University are using drone and laser technology to take detailed measurements of fire-damaged slopes to study how fires affect the risk of landslides.
"I've never seen a wave of researchers this thick," says Hayes, who has been affiliated with the ranch since 1997. "It's dizzy. I'm trying to keep up with the emergency recovery and at the same time, there are new researchers knocking on my door all the time."
Starting Over
Over the coming months, ranch staff, Cal Poly and CAFES leadership, volunteers, and industry and alumni advisors will discuss what the ranch needs to continue bringing Al Smith's vision into the future.
Top of mind for Dean Thulin is taking care of those most immediately impacted by the blaze.
"Our first and foremost priority has to be taking care of our displaced employees or staff," he says. "All of their homes and possessions were lost, and we've bought some temporary housing for them for the time being, but we're trying to get them back into the ranch as soon as we can."
Despite the devastating property losses, the fire has given Swanton Pacific Ranch a potential gift: a clean slate.
"Now's the time to make changes," says Thulin. "We've got a new canvas, a fresh set of paints, and now we can paint whatever it is that we need. So starting this spring, we're going to be taking a look at all of it."
Even before the fire, there was already a great need for more and better infrastructure on the ranch: more housing for staff and students, and dedicated classroom and lab space for education and research.
"We're excited about that opportunity to rebuild in such a way that lets students learn from students, from architecture to engineering to natural resource management," Hayes says. "They can all take part in the planning of the rebuild and have hands-on experience doing it."
Months after the fire, blackened logs still lie scattered along the road, charred chimneys still stand over ash-covered foundations, and in the forests the fresh scents of fern and evergreen are still tinged with smoke.
But even in the middle of the obvious damage, nature is already starting to heal. Despite the spots of ashy gray and black pockmarking the earth, the the landscape is deeply, startlingly green.
Not long after the evacuation, in the middle of their wild first year at Swanton, Aaron and Nicole Lee found out they were having a baby.
"It's almost like a cool symbolic thing — all this death around us and this new life coming back," Lee says, a grin beaming across his face. "It's just like, you look at the base of trees and there's new life coming out. And hey, there's going to be a little baby on the ranch."
Despite all the challenges of the past year, he says he feels blessed to be there.
"I just fell in love with this place," he says. "It's not just a job for me — it's a whole lifestyle and it affords my family opportunities beyond what we could ever have on our own.
"We're gonna rebuild it," he adds. "I can't leave now. In five years it's going to be amazing."
---
Did you learn or work at Swanton Pacific Ranch as a student at Cal Poly? We want to hear your stories! Share your experiences and how they impacted you at [email protected].