A Few Words from Space
Talk about high standards for a keynote speaker! Astronaut and alumnus Victor Glover presented the keynote address at Cal Poly's virtual winter commencement in a video recorded aboard the International Space Station, where Glover is stationed for six months. In the address, he encouraged graduates to be resilient in the face of challenges and told them he was expecting big things from them. "From up here, your futures look very bright!" he said.
Campus News
Vista Grande Reopens
Cal Poly has opened its newest dining venue, a $39 million complex that will feed the campus community for decades and help reduce the university's carbon footprint.
The three-story Vista Grande Dining Complex houses seven new dining venues and a neighborhood market in an energy-efficient building that over the summer gained Leadership in Energy and Environmental Design (LEED) Gold certification
"Opening the new Vista Grande Dining Complex is the result of years of work, research and collaboration by the campus community," said Cody Van Dorn, CEO of the nonprofit Cal Poly Corporation, which supports many of the university's operations and oversees campus dining. "The complex brings a leading dining experience to campus and launches the university's renewed focus on the student experience with an adaptable space to dine, socialize and study."
The facility's new dining options include a deli market and smoothie bar; Balance Café, a self-contained restaurant serving allergen-free food options; an international noodle bar; a dessert station featuring local gelato and house-made baked goods; a restaurant inspired by global street food trends; wood-fired pizza and hot sandwiches; and an all-day gourmet brunch bar.
"When I came for move-in day I was blown away by the looks of Vista Grande and was excited by the opportunity to be able eat there while still feeling safe," said Megan Bame, an agricultural communications freshman from Danville, California. "The short rib mac and cheese sandwich is amazing. I definitely recommend!"
Read more at Cal Poly News.
Science and Creativity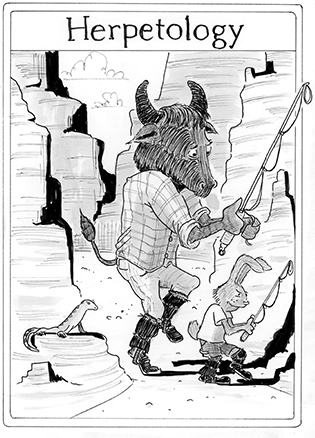 "I feel like in Biology and all across the College of Science and Mathemathics and Cal Poly, we really do provide neat opportunities for students to learn in a hands-on way. I think I can speak for every instructor at Cal Poly when I say we really miss having those experiences with students, and we're eager to phase those back in a safe way."
– Biology professor and cartoonist Ed Himelblau on his cartoon series inspired by students in his lab courses. The drawings celebrate some of the many unique labs at Cal Poly, the majority of which are not happening currently due to the coronavirus pandemic. Follow Himelblau for his latest cartoons at his Instagram account, @himelblog, or read more at Cal Poly News.
Environment
Fighting Fire with Knowledge
An interdisciplinary group of Cal Poly faculty and staff, partnered with industry and community members, have received support from the university to officially establish a unique institute to research wildfires and risk reduction strategies, tactical and technical firefighting practices and more resilient methods of building in fire-prone areas.
The Cal Poly Wildland-Urban Interface (WUI) FIRE Institute will focus on the area known as the wildland-urban interface, which is where the natural environment meets the built environment. Fires in the wildland-urban interface make up the most frequent source of declared disasters in California and are becoming increasingly more frequent and damaging because of climate change.
The WUI FIRE Institute is the first of its kind at a California university, and its status as a research institute will open up more opportunities for funding and projects related to WUI fires. The objective of the institute is to reduce wildfire losses on an international scale via public education, applied interdisciplinary research and workforce development. The faculty involved with the institute will recruit graduate students to attend Cal Poly to work with institute research, and they have partnered with leaders in industry to provide internship opportunities for both undergraduate and graduate students.
"It's crucial that we have a shared focus, both on helping firefighters address what they're challenged by in the field and on helping communities understand and mitigate the negative consequences of these fires," said Dan Turner, a retired CAL FIRE chief who is leading the initiative. "We have to do our part to educate the public and policymakers on how these fires happen and what we can do to make them less destructive."
Read more at Cal Poly News.
Numbers
Dreaming of Studying Abroad?

No. 2

1,216

44
Research
The Birds are Singing
If you thought your morning hike was contributing to your well-being, a new Cal Poly study shows that you're right, especially if our avian friends were singing while you strolled.
A Cal Poly research team investigated how much the natural sounds humans hear during their time in the great outdoors contribute to this sense of well-being. The study was published in Proceedings of the Royal Society B on Dec. 16.
The researchers, led by biology graduate student Danielle Ferraro, hid speakers that played recorded songs from a diverse group of birds on two sections of trails in the Open Space and Mountain Parks in Boulder, Colorado. The researchers alternated playing birdsong and turning off the speakers on each trail section in weekly blocks. Hikers were interviewed after they passed through these sections.
Hikers who heard the birdsongs reported a greater sense of well-being than those who didn't. The survey results showed that both the sounds themselves and people's perception of biodiversity can increase humans' feelings of well-being.
A growing body of research shows that time spent in nature contributes to human mental health. Although many studies have found that humans benefit from spending time in nature, few studies have explored why.
"I'm still kind of flabbergasted that only 7-10 minutes of exposure to these sounds improved people's well-being," said Cal Poly biology Professor Clinton Francis, who oversaw the research. "It really underscores how important hearing is to us and probably to other animals."