This past year has been challenging on many fronts — and that's an understatement. But in the face of unprecedented change, as the devastating coronavirus pandemic ground most facets of day-to-day life to a halt, signature and well-loved Cal Poly programs, facilities and events found a way to persevere and continue old traditions while making new memories. With safety modifications, of course.
Here's a brief roundup:
Band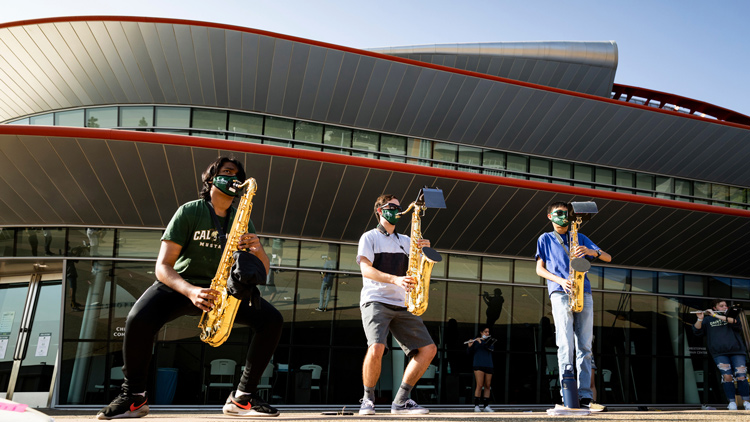 While the Mustang Band got off to a bit of a delayed start in the fall, the show went on, with safety modifications like bell covers for instruments and special masks for players. Practices were also segmented by section. "Having an opportunity finally to do it safely and be in a group and play together has been the biggest thing pushing me through this," said Madi Glozer, Mustang Band's chief executive officer and a fourth-year tuba player. Read more about how the band adjusted for fall quarter at Cal Poly News.
Rose Float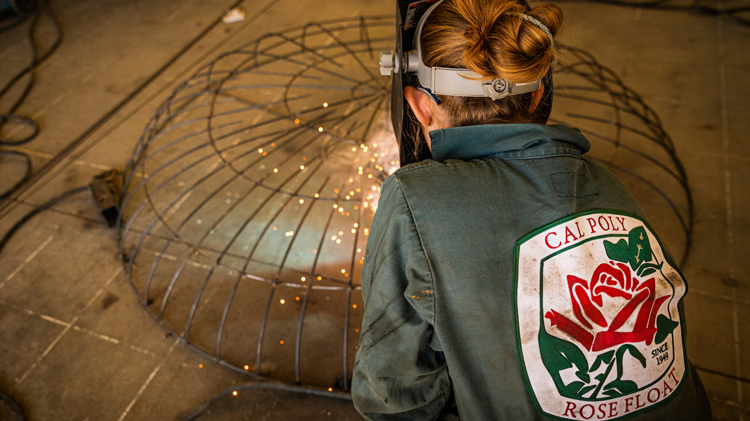 Cal Poly's Rose Float team started designing the float back in early February, and both campus' Rose Float Leadership Teams met in-person twice before the pandemic shut things down in March, according to Rose Float coordinator Josh D'Acquisto. The students persevered: completing the float design virtually during the spring quarter and receiving final approval from the Tournament of Roses in June. After organizers announced the parade's cancellation, students shifted their focus to helping the Tournament of Roses develop a replacement TV special. The special will air at 8 a.m. New Year's Day on ABC, NBC, KTLA, Univision, Hallmark Channel and RFD-TV.
The Poly Royal Rodeo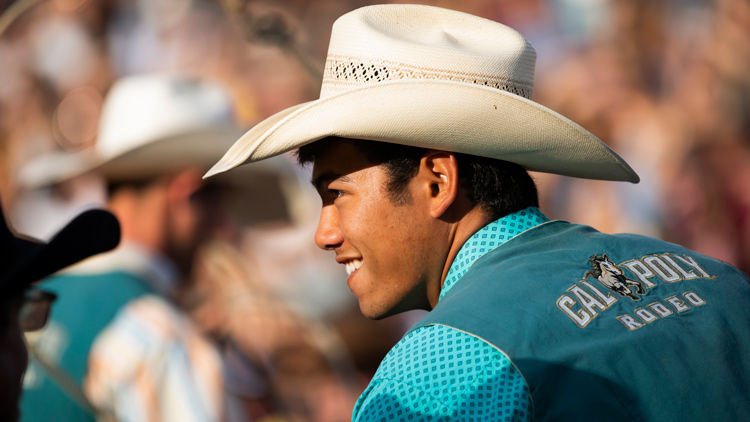 The 80th annual Poly Royal Rodeo was canceled this year. The program, which would have been staged in the Alex G. Spanos Stadium, was scheduled for April 17 and 18. It would have featured a new event, the Poly Royal PBR (Professional Bull Riders) Classic that would have featured top bull riders from around the world.
"This is something that happens. We don't have a lot of control over it," head coach Ben Londo told local news station KSBY.
PolyCultural Weekend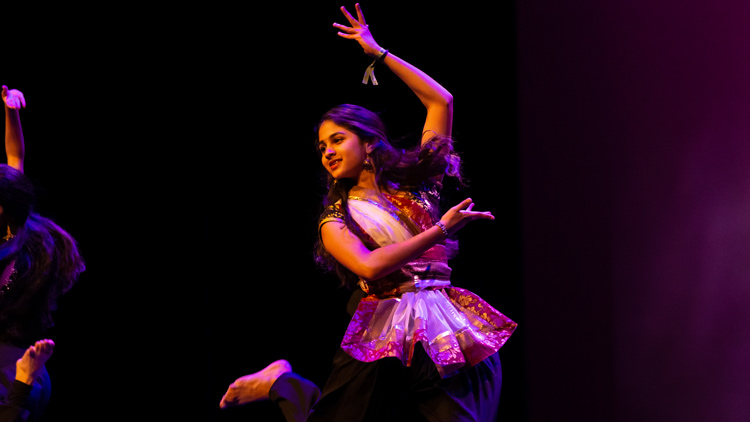 This year's in-person event, which was scheduled for April 3-5, was canceled. The 2021 event, which is set to be entirely virtual, is currently in the works, according to a statement from the organizers on the group's Instagram page.
"Although this isn't the type of PCW we are used to, we hope that this won't discourage you from staying involved," the statement read. "We still have many opportunities for everyone to participate and will be releasing more information later in the year."
Commencement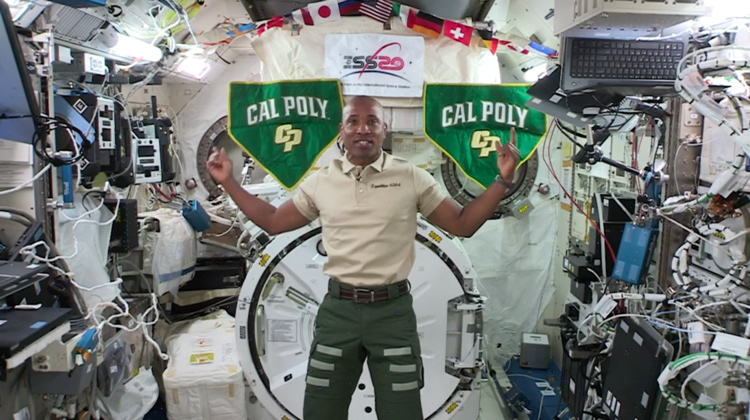 The spring 2020 commencement program was the first all-virtual ceremony in Cal Poly's history. The main program featured messages from campus leaders and alumni and memories from Cal Poly, while cultural ceremonies also continued virtually. Some commencements got creative — the Computer Science and Software Engineering Department held a graduation ceremony on Minecraft, complete with a computer replica of Spanos Stadium and avatars of students and faculty. Graduates at the all-virtual winter commencement ceremony received an out-of-this-world surprise: a keynote address delivered by alumnus and astronaut Victor Glover, who's currently on board the International Space Station.
"From up here, your futures look very bright," Glover said.
Vista Grande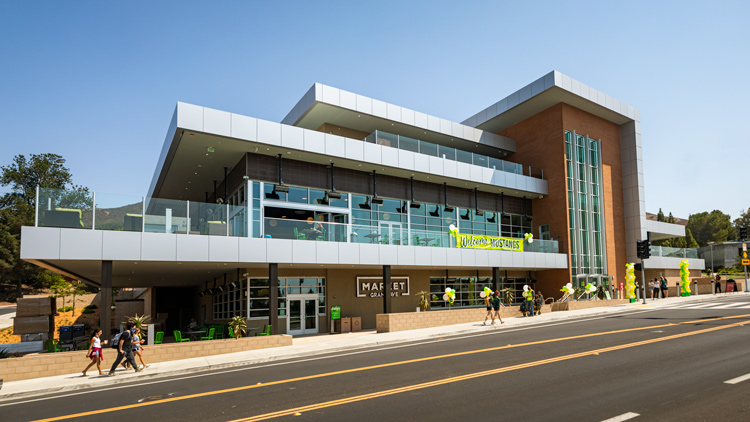 Cal Poly's newest dining venue, which will feed the campus community while helping to reduce the university's carbon footprint, opened during the fall quarter. The $39 million, 35,400-square-foot Vista Grande complex offers a variety of meal options, including allergy-friendly and kosher-certified dishes. The building itself is LEED-certified and taps into the campus' solar farm system to reduce energy costs. A 9-foot-by-14-foot living wall of plants, which is prominently displayed near the main staircase, was designed by Habitat Horticulture, a company founded by alumnus David Brenner. During the pandemic, the venue has adapted physically-distanced outdoor seating and asking customers to use the Grubhub mobile app to order food.