Making A Safer Campus
For 25 years, a homegrown Cal Poly institution has worked to prevent sexual assault and support survivors.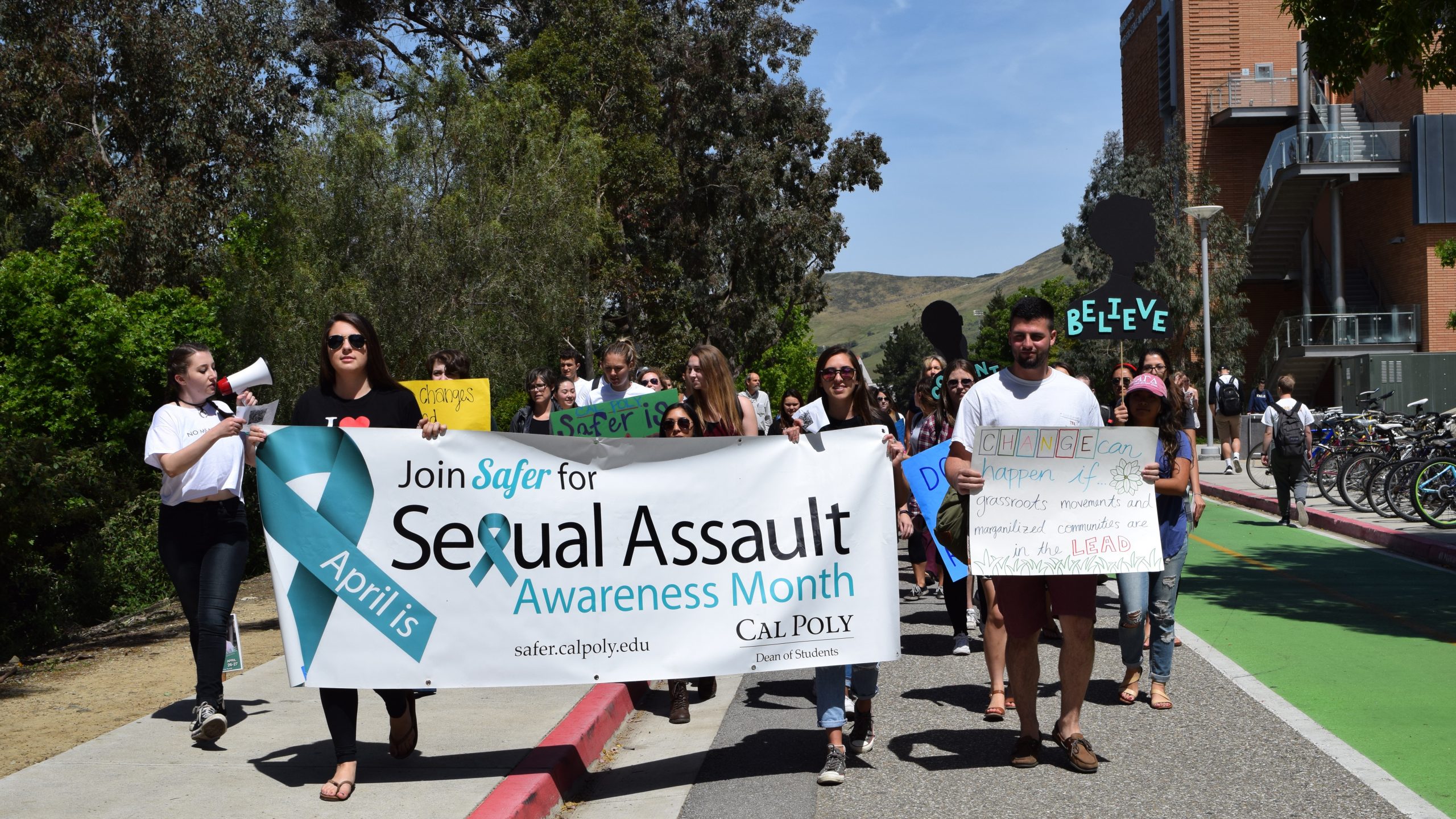 When people think of the "college experience," new friends, late-night hangouts, and an exciting sense of newfound independence might come to mind — but unfortunately, sexual assault and other forms of intimate partner violence can also be a part of college life.
For the last 25 years, Safer, a homegrown Cal Poly institution, has worked to provide invaluable support for survivors and reduce how often these traumatic experiences occur.
This spring, Safer will mark their quarter-century anniversary with a series of events, including a "Take Back the Night" event promoting awareness of sexual assault, a rally to support survivors, a fundraiser aimed at easing financial hardships for survivors, and a "Where Are They Now" campaign celebrating the program's alumni.
Safer was formed in 1996 by a group of students who volunteered as peer counselors, moved to action by the tragic disappearance of Cal Poly student Kristin Smart. At first, the group worked with other students who were survivors of sexual violence, in addition to raising awareness of sexual assault on campus.
"It was entirely student-staffed, and it was almost entirely up to the students to come up with the programming, so as soon as they graduated the group had to start all over again," said Shawn Burn, a Cal Poly psychology professor who worked with Safer's student volunteers in the early 2000s to bring a more scientific approach to the group's work. "They had the passion and the concern, but they didn't really have the tools they needed to create quality programming."
Today Safer has become the largest university-sponsored support system for survivors of sexual assault in the California State University system, with a full-time staff of three state-certified advocates and an education outreach coordinator. The program offers a professional set of services, divided into two broad categories.
The first, and most critical after an incident takes place, is survivor advocacy and support. Safer's advocates act as resources and guide the survivors through all their options.
"The first and foremost thing survivors need to know is that we unconditionally believe them — we don't question their truth, and we let them know that this is a confidential and a safe place to share what happened," says Kara Samaniego, assistant director of Campus Health and Wellbeing and Safer director. "The most powerful thing right off the bat for an advocate to say is, 'I believe you. You have worth and you didn't deserve for this to happen to you, but now that it has, here are your rights and your options.'"
Some survivors may come to Safer because they just need a listening ear. In other cases, Safer advocates may help provide access to supportive measures like academic and housing accommodations; accompany survivors to medical exams, police interviews and court appointments; or coordinate security for those in continuing danger.
To ensure survivors get the support they need, Safer works closely with many different departments on campus: University Housing; the Cal Poly Police Department; Student Diversity and Belonging; Academic Affairs; and the Title IX office, the department tasked with ensuring equal access to a safe and supportive academic experience.
The most powerful thing right off the bat for an advocate to say is, 'I believe you. You have worth and you didn't deserve for this to happen to you, but now that it has, here are your rights and your options.'
"If there's a barrier for survivors to address their experience, I want Safer to help remove those barriers," says Samaniego. "That comes from having really strong relationships across campus, which enables us to support survivors in a really holistic way."
The other side of Safer's work focuses on preventing acts of violence in the first place.
Safer staff provide an ongoing series of prevention education — training programs designed to teach bystander intervention, promote personal safety, and help potential perpetrators understand boundaries and consent.
"A lot of our students have never meaningfully talked about what it looks like to obtain affirmative consent from somebody," says Samaniego. "They have never been really given an opportunity to talk about what their boundaries are. That's really what primary prevention is — getting down to the bare bones of those interactions and helping students develop those skills."
Safer courses are required for students as part of the new student orientation process — SLO Days and Week of Welcome — as well as groups and programs within spaces including Greek life, athletics and student housing, where students can face greater risk. Various other student and staff groups can, and often do, voluntarily request Safer trainings for their members.
"We are honing in on the aspects of campus culture, behaviors, attitudes and beliefs that lead people to commit acts of violence, as well as the role that we all play in creating a campus culture where those actions are not allowed to flourish," says Samaniego.
Outdated modes of thinking about sexual assault put the onus on survivors, who are often women or female-presenting, to protect themselves from being assaulted. Safer's approach actively invites men to become allies in the work of stopping violence before it happens.
"Men have the power to remake masculinity culture in ways that don't involve objectifying and sexually exploiting women," says Burn. "The whole idea of bystander intervention is to help our friends — helping women reduce their risks, but also helping men reduce their risks of crossing the consent line."
Christina Kaviani, Safer's first official director, who led many of the changes that made the program what it is today, believes the program's efforts to respond to and end sexual violence are ultimately about helping each other be better friends and partners.
"At its core it's about having better relationships," said Kaviani. "Managing our relationships with each other is one of the biggest parts of our human existence, and Safer is in the business of helping students become better at it."
There's no way to accurately quantify just how many violent incidents were avoided or attitudes shifted by the work Safer has done in 25 years on Cal Poly's campus. But for Samaniego, every point of contact made is measurable progress.
"You'd be hard pressed to find a student or staff member that doesn't know that Safer exists on this campus," she says. "Year after year, we continue to see more people accessing our services, which is not indicative that it's happening more, but rather that people know where they can go. They know that there is a resource here that will support them. I see that as a huge win."
"We want to do everything we can to completely scaffold survivors in the support that they need, and Safer is an important part of that campuswide commitment," says Maren Hufton, Cal Poly's Title IX coordinator. "Not every university has that kind of commitment to having a service like this on campus advocating for student care."
For Kaviani, the ultimate impact of Safer is even more personal, as she's seen in the stories of the students she worked with.
"Students would tell me, 'The only reason I stayed at Cal Poly was because of Safer,'" she says. "It made them feel respected and supported to know that there was someone there to talk to who believed them — someone who cared.'"
---
Visit safer.calpoly.edu for more information about the 25th anniversary celebration in April.