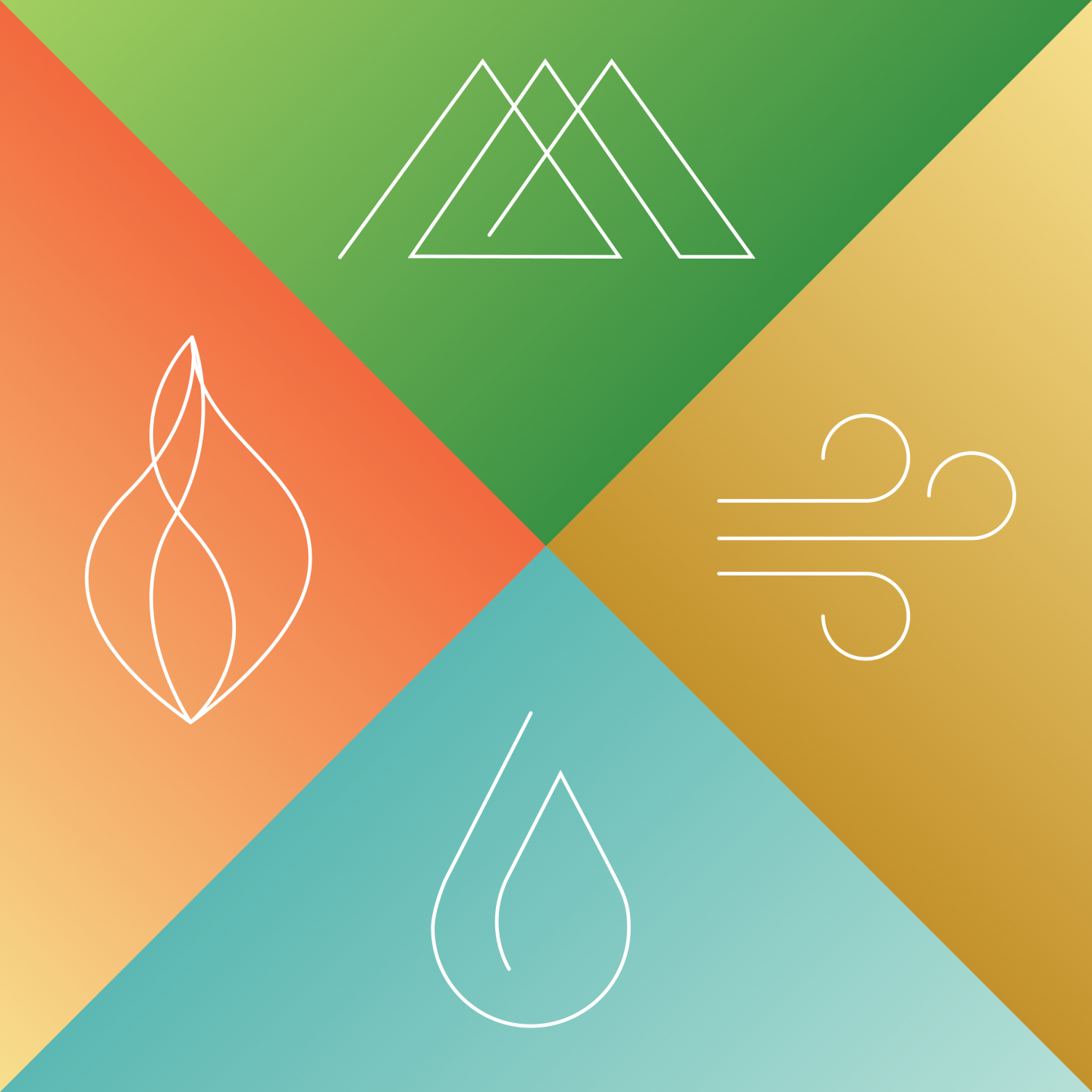 Our Climate Future: Earth Edition
Faculty research and advocacy has become vital to California's — and the world's — approach to climate change.
Any prediction about the future comes with an asterisk: climate change. There is no industry, geographic region, community, nor individual on Earth that will continue unaffected by the compounding effects of a warming environment. Convulsions of severe weather, massive wildfires and extinction events are already taking their toll, driving more people to realize climate change is occurring than ever before.
Scientists confirm humans must reign in greenhouse gasses to curb atmospheric warming to 1.5 degrees Celsius by the end of the century to avoid the worst possible effects. But nations like the United States aren't on track to reach that target, and time is running out to course correct.
So, what happens next?
For decades, faculty and student research has not only tracked increasingly dramatic shifts driven by climate, but produced real-world solutions in the fight to delay tipping points. Mustangs working on campus and beyond are vital to how California and the world will approach the make-or-break decade ahead of us.
In this first installment of a series focused on climate research, get to know a few key projects happening on land. Projects related to the other classical elements — Wind, Fire and Water — will take center stage in future editions of Cal Poly Magazine.
---
The Secrets Stored in Arctic Soil
Though soil can look inert, Professor Seeta Sistla of the Soil Science Department knows it actively adapts to climate change alongside water, air and living things. In addition to research in agricultural settings that face global changes, Sistla's lab is studying how permafrost soil in the Arctic is handling increasing temperatures — and major wildfires.
The frozen ground acts like a vault, storing vast amounts of carbon locked in trees, leaves and grasses that have yet to break down, Sistla said.
"Carbon is stored because Arctic systems are cold most of the year and that slows down decomposition," Sistla explained. "As the Arctic warms, there's the potential for that carbon to be released through decomposition — and now through fire."
Most Arctic research happens in the warmer months, when warmer weather improves access to remote areas, but Sistla is most concerned with how the soil systems function in winter. To gather the right data, she travels to the region — at times in challenging conditions — using instruments that might not have reliable solar power. But she says the work is crucial to understand the balance of the system, which is in a constant dance with warming air, melting ice and rising seas.
The Arctic is on track to become a significant emitter of carbon due to warming in the polar regions, accelerating even more drastic change. And once the Arctic's carbon "vault" is open, it won't close again.
"The rate of change is sobering," said Sistla, who began working in the region as an undergraduate student in 2004. "I'm going to the Arctic year after year and seeing those changes in my own lifetime.
Even if the models projected it, linking a model with reality and the lived experience of a rapidly changing climate is something that's difficult to really wrap your mind around, even for someone who studies it every day."
But Sistla says that rapid change has triggered a rapid growth in awareness that the climate is changing. She and her fellow researchers document and project the far-reaching consequences of Arctic warming to motivate governments, industries and individuals to do everything possible to cut carbon emissions and slow the rate of change.
"I think there's a strong recognition right now of the need to adapt and adjust practices in order to create a more climate-resilient system," she said. "It's my hope that in my lifetime, we will see some of these changes start to unfold."
— Robyn Kontra Tanner
---
Low-Carbon, Resilient Communities
With the devastating wildfires, hurricanes, floods and tornadoes that have torn through American cities and towns in the last several years, many communities are quickly realizing they can't wait for climate change tipping points to face their futures. That's why civic leaders locally and internationally are moving forward with municipal climate action planning, with guidance from experts at Cal Poly.
Professors Adrienne Greve and Michael Boswell of the City and Regional Planning Department have been working for more than 15 years to develop policies, plans, texts and frameworks that help city officials create more sustainable built environments. Their book, Climate Action Planning: A Guide to Creating Low-Carbon, Resilient Communities, has become the de facto textbook at other universities for teaching students how to plan sustainable cities. It also serves as the most comprehensive manual for local and city governments working on the science and practice of climate action policy.
"When we started doing some of this work more than a decade ago, this was still a very novel field in terms of how cities and local governments approached climate action planning," said Boswell, the head of the City and Regional Planning Department at Cal Poly. "Since then, we've had the opportunity work on a lot of projects that have brought together some of the best minds and practices in the field to rapidly advance it to the next stages."
Boswell and Greve have consulted for the United Nations and World Bank in different capacities on climate action planning and helped to write and present climate planning strategies around the world — Boswell in Germany, Norway and France, Greve in Uganda, Tanzania, Ethiopia, Turkey and India.
The thrust of these plans: cutting greenhouse gas emissions and building sustainably. Leaders must look critically at a community's built environment to adapt existing infrastructure and apply new standards in future structures to be more resilient. New construction should start with site analyses that account for more flooding and wildfires while making use of renewable energy like wind and solar. Plans often champion fossil fuel mitigation across the spectrum, including in transportation, manufacturing and household amenities like indoor heating.
Closer to home, Greve and her city and regional planning students have prepared thorough assessments and action plans now in use by municipal governments in San Luis Obispo and Benicia, California.
The duo has focused considerably in California as the state contends with simultaneous drought, wildfires, sea level rise and ocean acidification. Both Boswell and Greve had a hand in drafting the California Climate Adaptation Planning Guides for the State of California and the California Office of Emergency Services. In 2013, Boswell also launched and directed the annual California Climate Action Planning Conference with Greve's support, an event that has brought together more than 200 professionals to share advanced practices.
Today, Mustangs are feeling the benefits of having such expertise on campus. Greve and her students co-wrote Cal Poly's Climate Action Plan, which is currently guiding agricultural land management, public transportation plans, and energy audits for buildings. According to Greve, reports show the plan is ahead of schedule in certain initiatives, including the university's pursuit of solar power.
— Alex Wilson
---
Dig Deeper
More climate research, advocacy and high-impact projects are rooted throughout Cal Poly.
• In the College of Agriculture, Food and Environmental Sciences, Professor Anastasia Telesetsky and Associate Dean Catherine Kleier received a California 100 grant to investigate the role agriculture and food systems will play in California's next century.
• The university is also taking the lead in the region through the Initiative for Climate Leadership and Resilience led by Professor Erin Pearse of the Mathematics Department. The initiative behind the Climate Solutions Now conference, which aims to tackle the human side of the climate crisis: education, consensus and implementation of available solutions. By uniting a spectrum of professions, including health, engineering, public policy, marketing and more, organizers hope to infuse a climate conscious approach to every industry and confront the crisis from all sides. After a successful virtual event in 2021, the group looks forward to an in-person summit in October 2022.
• The initiative will also play a role in the statewide #CaliforniansForAll College Corps by building partnerships with local organizations that will enable students to address climate action, among other pressing issues. Beginning this summer, Cal Poly will lead the Central Coast consortium, which  includes CSU Long Beach, Cuesta College and Allan Hancock College. More than $10 million will aid the consortium over two years as it supports more than 630 students, who will put in more than 400 hours of work each in exchange for $10,000 in stipend and education funding.
• In the College of Engineering, faculty are thinking globally. Electrical engineering Professor Taufik, who directs Cal Poly's Electric Power Institute, runs the DC House Project. The project tests a patented system called MISO that combines small renewable energy sources, like wind turbines and solar panels, with batteries and DC electrical distribution for in-home electricity needed for millions living off the grid globally. In addition to the previously constructed DC House in Philippines and Indonesia, Taufik plans on building another DC House in Java Island, Indonesia with a local university.
---
Look for more stories of climate research, advocacy and action in future editions of Cal Poly Magazine.