An Unforgettable Class
Graduates and supporters of the fall Class of 2021 and the Class of 2020 celebrated in Spanos Stadium over the course of two days in December. Speakers lauded the resilience of the graduates, some of whom were back on campus for the first time since March of 2020. "Our time at Cal Poly showed us who we really are and what we are capable of in challenging situations," said former ASI President Shayna Lynch, a member of the Class of 2020. "You are the class Cal Poly will never forget, and we hope you never forget your time as a Mustang."
California Impact
Grants Aid Swanton Pacific Ranch Recovery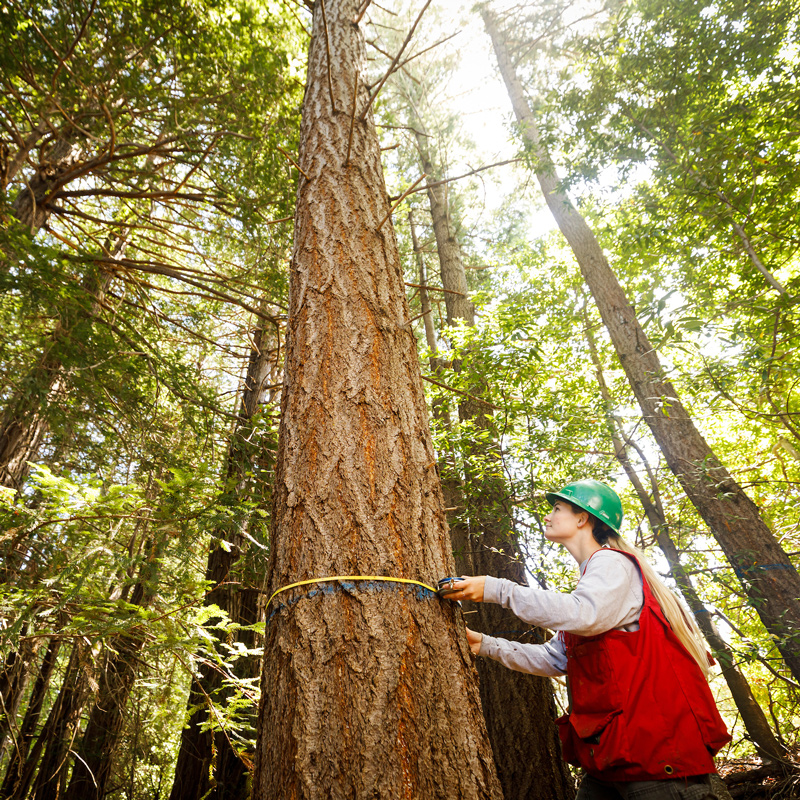 Cal Poly's Swanton Pacific Ranch has received nearly $9 million in grant funding from Cal Fire to assist with post-fire recovery efforts and reduce future fire risk more than a year after a devastating wildfire burned through the area. The CZU Lightning Complex Fire, which scorched more than 86,000 acres in San Mateo and Santa Cruz counties, swept through the ranch in Davenport, California, destroying many structures and much of the surrounding forest often used in Learn by Doing projects and applied research.
A $4.2 million grant announced in June will enable the ranch to provide increased fire mitigation training for the current and future workforce. A second grant announced in August brings $4.7 million to Swanton and nearby Cal Fire Soquel Demonstration State Forest through Cal Fire's Forest Health Program. That funding will help restore ecosystems and reduce future fire risk through reforestation, forest thinning, removal of dead trees and other potential fire fuels, and tree pruning to more than 930 acres of forest between the two sites, both of which are designated as outreach forests in coastal redwood systems.
"Through this work, we are improving our forests and establishing leadership and expertise at the Central Coast's premier outreach forests to create more resilient forests for demonstration, research and teaching," said Grey Hayes, Swanton Pacific Ranch's research and education coordinator.
The extent and ferocity of recent catastrophic wildfires, including at Swanton Pacific Ranch, have elevated the need for improving the health and resiliency of forests prior to and after wildfire, especially in California's coastal redwood ecosystems, as wildfires become more frequent.
"This grant funding from Cal Fire will significantly enhance our ability to complete critical forest health treatments at Swanton Pacific Ranch," said Mark Swisher, director of Swanton Pacific Ranch. "Cal Poly faculty, student and staff involvement with the planning, execution and monitoring of those treatments will have far-reaching impacts on the pace and scale of fuel treatments in California."
In the classroom, students will be taught practical lessons such as designing vegetation management plans to make forests more resilient to fire. Students will also partake in fire recovery research, create community workshops, and aid in reforestation efforts that include planting 55,000 trees across 270 acres.
— AnnMarie Cornejo
Seen and Heard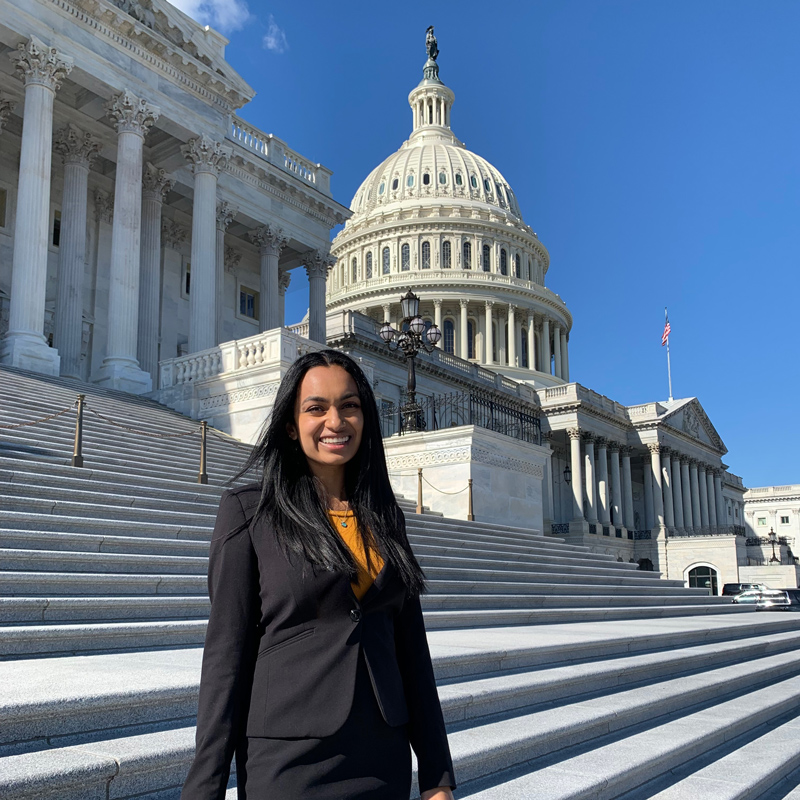 I thought I knew a lot about politics, but I've realized there's so much left to learn when you see how government operates up close.
— Desiree Nunes, political science student who completed a Panetta Internship on Capitol Hill in Washington, D.C. this fall. Read about Nunes' experience working in the office of Speaker Nancy Pelosi on the Cal Poly News website.
Learn by Doing
Fully Furnished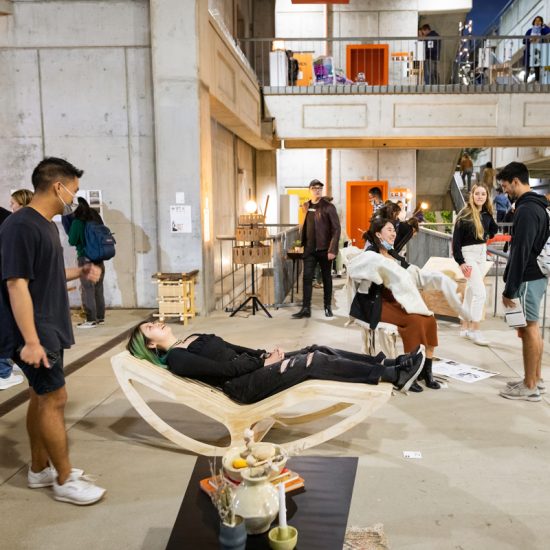 For two days in early November, the stair court in the Cal Poly Architecture Building became a gallery space for hundreds of one-of-a-kind furniture design projects, including functioning seesaws, spindled shelving units, ethereal lamps, a hydroponic table and time-lapse videos of chairs being constructed.
It was the culmination of the 18th annual Vellum Furniture Design Exhibition, a competition hosted jointly by San Luis Obispo firm Vellum Design Build and the College of Architecture and Environmental Design. The event gives Cal Poly architecture students the chance to experiment with design, function and construction. It was also the first in-person competition since the beginning of the pandemic.
"The sheer amount of work and passion on display make you aspire to be a part of the exhibition," said Munira Aliesa, a fifth-year student who submitted a textile chair with knitted sleeves that were meant to be worn by the user. "It's also an opportunity to put out work to be seen by your peers, and to see the work your peers are doing."
The origins of the competition reach back more than 20 years, to 1999, when the event's co-organizer, Professor Tom di Santo, created a three-week furniture project for his students.
Adam Harris, a third-year architecture student, took home the Space Architects Milano Grand Prize for his submission, "Wish," a lamp he constructed by steaming and bending thick boughs of timber to form an arresting and functional wishbone-shaped source of illumination. He has the opportunity to attend Salone del Mobile, the world's largest furniture exhibition, in Milan.
"I'd like to create spaces like churches, mosques, synagogues and gardens," Harris said. "I feel like this exercise will translate to how I approach light and materials, the connections between the materials and the negative space the materials create."
— Alex Wilson
By the Numbers
Turning Service Into Tuition

$10.6 million

315

$10,000
Campus News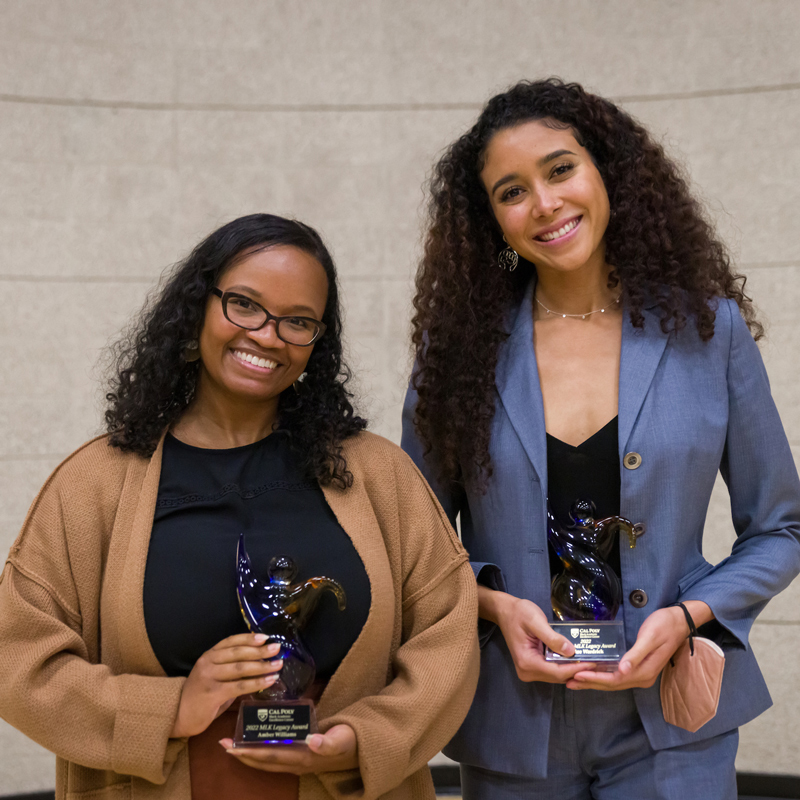 Leading with Love
For the first time, two Mustangs received the MLK Legacy Award. Professor Amber Williams of the Psychology and Child Development Department and Black Student Union President Chole Wardrick, who studies architecture, were honored together at the MLK Jr. Legacy Event in January. Since 2019, the award has celebrated community members who uphold the legacy of the Rev. Martin Luther King Jr. by leading with love and hope to create a better campus for all.
California Impact
Confronting the Opioid Epidemic with Technology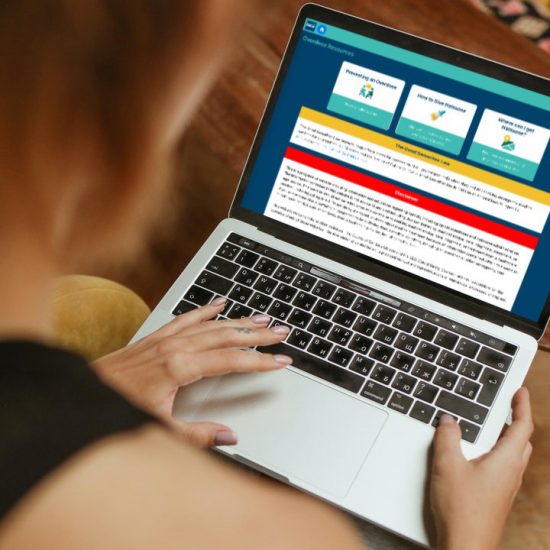 In an effort to reduce the number of opioid-related deaths in San Luis Obispo County, local health officials, in collaboration with the Cal Poly Digital Transformation Hub (DxHub), powered by Amazon Web Services (AWS), and a team of students released a new app that could save lives.
Using the Naloxone Now app, community members can find the nearest location to get naloxone — an opioid overdose reversal medicine — or have naloxone delivered to their door at no cost.
It was designed with help from the DxHub and a team of Cal Poly students using AWS Cloud-based tools and Amazon's Working Backwards innovation methodology. The web app provides people with access to opioid overdose response training and a complimentary naloxone kit, confidentially delivered to their homes. This empowers people to be ready, able and equipped to respond to an overdose event enabling them to save a life. Within two weeks of the app going live, the county received more than 100 requests for Naloxone with 64 requests filled and more shipments on the way.
The app is the result of a collaboration between the DxHub and the SLO Opioid Safety Coalition, composed of a spectrum of local leaders and health experts working to address the local opioid epidemic.
"Thanks to the DxHub, our community members will be able to access naloxone and learn how to administer it without fear of stigma or judgment," said Jenn Rhoads, coordinator of the SLO Opioid Safety Coalition. "We'll be able to get naloxone in the hands of anyone who needs it, whether they are struggling with addiction themselves or trying to protect a friend, family member or neighbor."
The cross-discipline student team worked with DxHub staff to research and understand the problem and needs of the coalition and collaborated with AWS Cloud Practitioner Certified staff to design the solution. The students included: Natali Markowitz (M.S., Engineering Management, '21; Industrial Engineering, '21); Chloe Heinz (Graphic Communication, '21); Danielle Knell (Business Administration, Information Systems Area, '20); and Reilly Salkowski, a software engineering senior.
"The mission of the DxHub is to use software to help make an impact on the community," Salkowski said. "With open-source solutions like this, developers can build on each other's technology to make the world a better place."