Preparing for Takeoff
A flight performance class puts students in the cockpit at the San Luis Obispo Airport.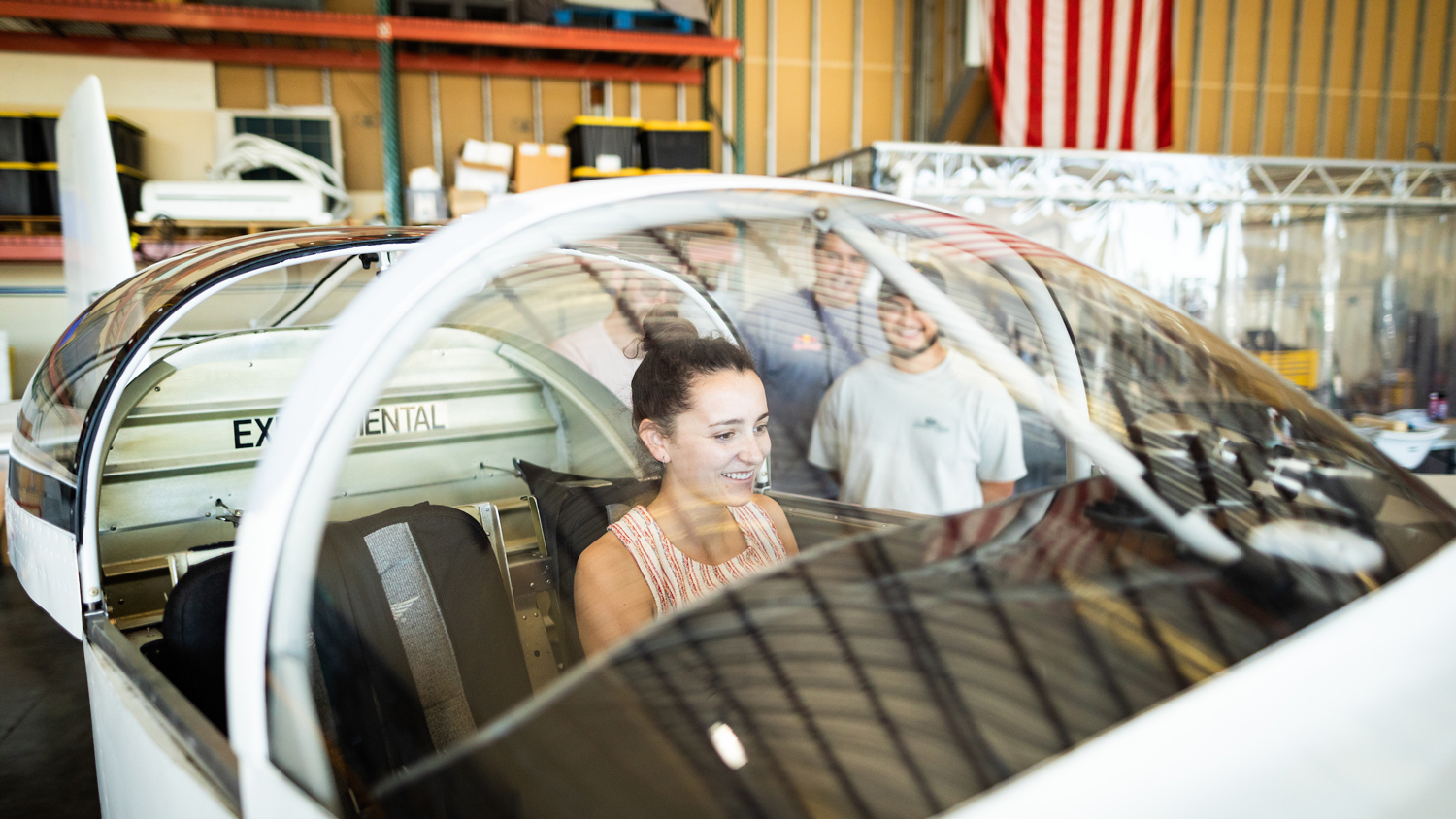 Sitting in the cockpit of a small prop plane, aerospace engineering student Carolyn Flitsch navigates a colorful touch screen flight display to determine how many gallons of fuel are in the aircraft's two tanks.
"Is it eight and seven?" she asks.
"That's eight and seven," Professor Paulo Iscold affirms, standing next to one of the wings containing the fuel. "That information is coming from levels inside the fuel tanks."
Iscold's course, Aerospace 425: Aircraft Performance, applies Cal Poly's Learn by Doing approach in a unique setting — the San Luis Obispo County Regional Airport — where the university rents hangar space. Currently, the university has one plane and, thanks to a partnership with the Air Force Research Lab, will soon have a second for instruction and research.
Iscold said it's crucial for students interested in aircraft performance careers to have physical planes they can actually work on.
"Can you imagine a music student going to the university but never touching the instrument they're learning to play?" he said. "So I think bringing the aerospace engineering students to the airport is an opportunity for them to get in touch with that instrument — which are the airplanes — that they will be working on eventually in their careers."
His students modeled a flight, using software they developed, to calculate performance of the plane on a round trip to King City. Iscold, a pilot, later flew the plane on that path so they could compare the calculations to the actual data.
"I find it really motivating being at the airport, getting to see in a tangible way what it is we're analyzing and calculating," said Diego Silva, another aerospace engineering student in the class. "All the hands-on work we do should prepare me pretty well for where I end up in my career."
Scroll to the left and right to see more images from the class, captured by campus photographer Joe Johnston in November.