Time Travels
Two Cal Poly grads help astronomers explore the mysteries of space with their work on the James Webb Space Telescope.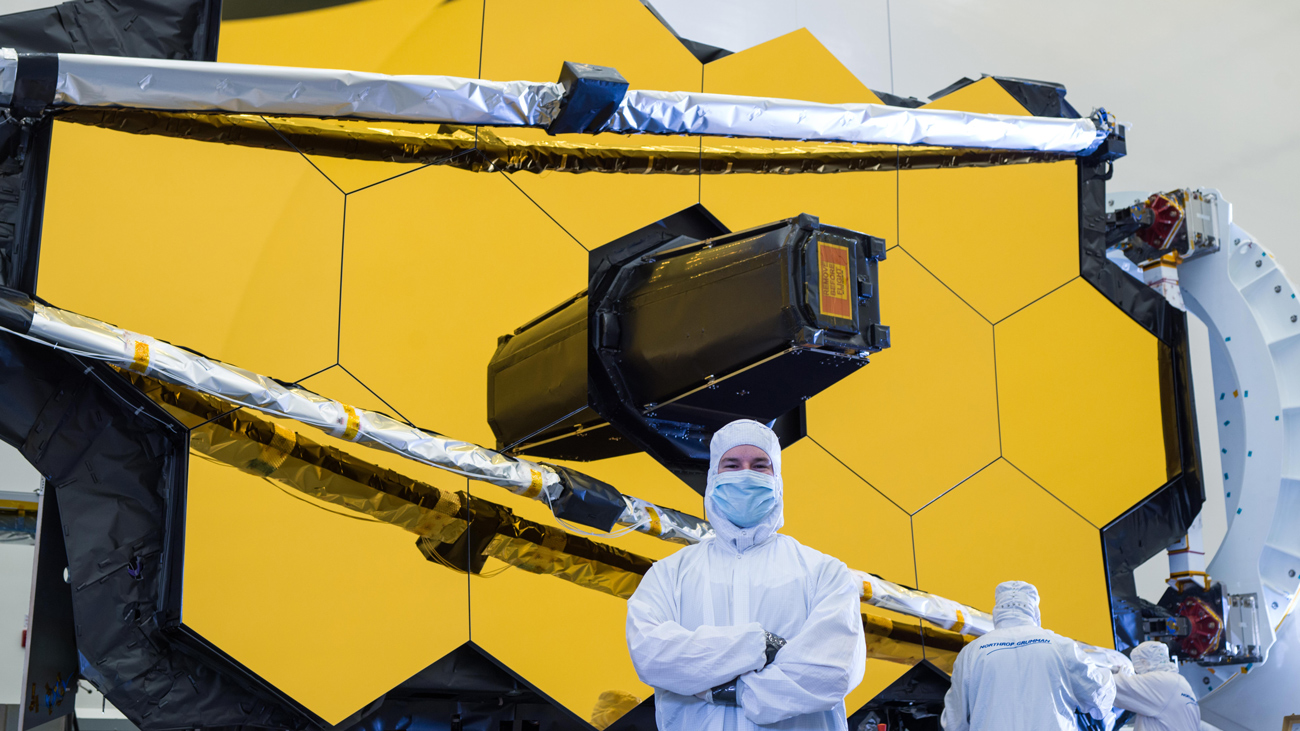 When the long-awaited James Webb Space Telescope prepared to launch from French Guiana on Christmas morning, Anthony Galyer (Aerospace Engineering '11) sat in a conference room at the Space Telescope Science Institute in Baltimore, watching his colleagues through glass windows in the nearby control center. Meanwhile, in an apartment a few miles away, Nick Weiser (Electrical Engineering '14) monitored data on telemetry pages with another Webb project teammate.
Weiser and Galyer were between shifts that morning, but the two Cal Poly grads eagerly watched the livestream of this dramatic moment they helped make possible.
"The minute the launch controllers announced 'Décollage!' — French for lift-off — we were nervously jumping and high-fiving," said Weiser, who worked on the project as part of a Ball Aerospace team.
Working for NASA, Galyer was slightly anxious for the launch, but he knew he could relax a little — at least until the rocket launch team completed its mission.
"Once they get us into space, then the stress is on us," Galyer said. "Then we have to do all the hard work making sure the satellite and observatory are fine."
Because light needs time to travel vast distances, telescopes can act as time machines exploring deep space. Some call it the Great Beyond, the final frontier or a galaxy far, far away, if you will, but some believe the mysteries of the universe — and more — might just be solved with a bigger lens.
Thirty-two years after the acclaimed Hubble telescope provided eyes into deep space, the Webb telescope, which is 100 times more powerful, will be able to visit a time when the earliest stars and galaxies were born. While Hubble could explore "toddler galaxies," it has been said, Webb can introduce us to "baby galaxies."
"Getting the pictures of the first light in the galaxy will be awe inspiring," Weiser said. "However, as a non-astronomer, I'm also really excited to see some of the results of observing exoplanet atmospheres."
Both Galyer, an aerospace grad, and Weiser, an electrical engineering alumnus, previously worked at Northrop Grumman, which has also been involved in the Webb project. Prior to the launch, Galyer served as mission ops rehearsal lead, coordinating the group that would perform rehearsals. For that, computer simulations were used – though, he conceded, that doesn't replicate the true out-of-this-world experience.
"You can only simulate zero gravity," he said. "You can only simulate the shaking from the rocket and the coldness of space."
In the month prior to the launch, the New York Times reported, NASA had a list of 344 things that could have destroyed the mission. And while the teams even rehearsed for anomalies, Galyer said, pre-launch exercises were really more about preparing the team itself.
"The purpose of the exercises is not necessarily to get the team used to all the possible things that could go wrong," said Galyer, who served as mission ops manager post-launch. "It's getting them used to what they would need to do if something goes wrong."
The sophisticated $10 billion telescope, featuring 18 mirror segments and a sunshield the size of a tennis court, requires significant specialization. Webb had 50 major deployments with 178 release mechanisms that had to work, Weiser said, making each deployment a cause for stress.
Weiser, a systems test engineer at Ball, worked on the avionics box that controls the actuators moving each of the telescope's mirrors, as well as several of the structural deployment motors that helped the telescope blossom from its folded-up configuration to its current flower-like shape.
"To be able to see the lessons we learned during ground testing be applied in orbit, resulting in a flawless deployment was a pretty emotional moment for me, personally," Weiser said.
Both grads said their collaborative projects at Cal Poly helped prepare them for the teamwork needed to work on a project like this. Weiser had extracurricular collaboration as a member of the PolySat club, which creates mini satellites that are launched into space.
That experience involved design and testing satellites, plus orbit operations. And it required working with students from other majors, including software and mechanical engineering.
"The ability to understand each other across those disciplines is almost as important as the discipline-specific knowledge we gain in classes itself," Weiser said.
Having to coordinate efforts with several specialists when he's on the console as mission operations manager, Galyer said his role is similar to a band leader: Because all activities on the observatory require his approval, he has to have a broad knowledge and understanding of every function.
"I don't know how to play the trombone," he said, "but I know how the trombone should sound and how it works with everything else."