Wonder Wall
Alumnus David Brenner turns blank walls into lavish living landscapes — and works of art — with his company Habitat Horticulture.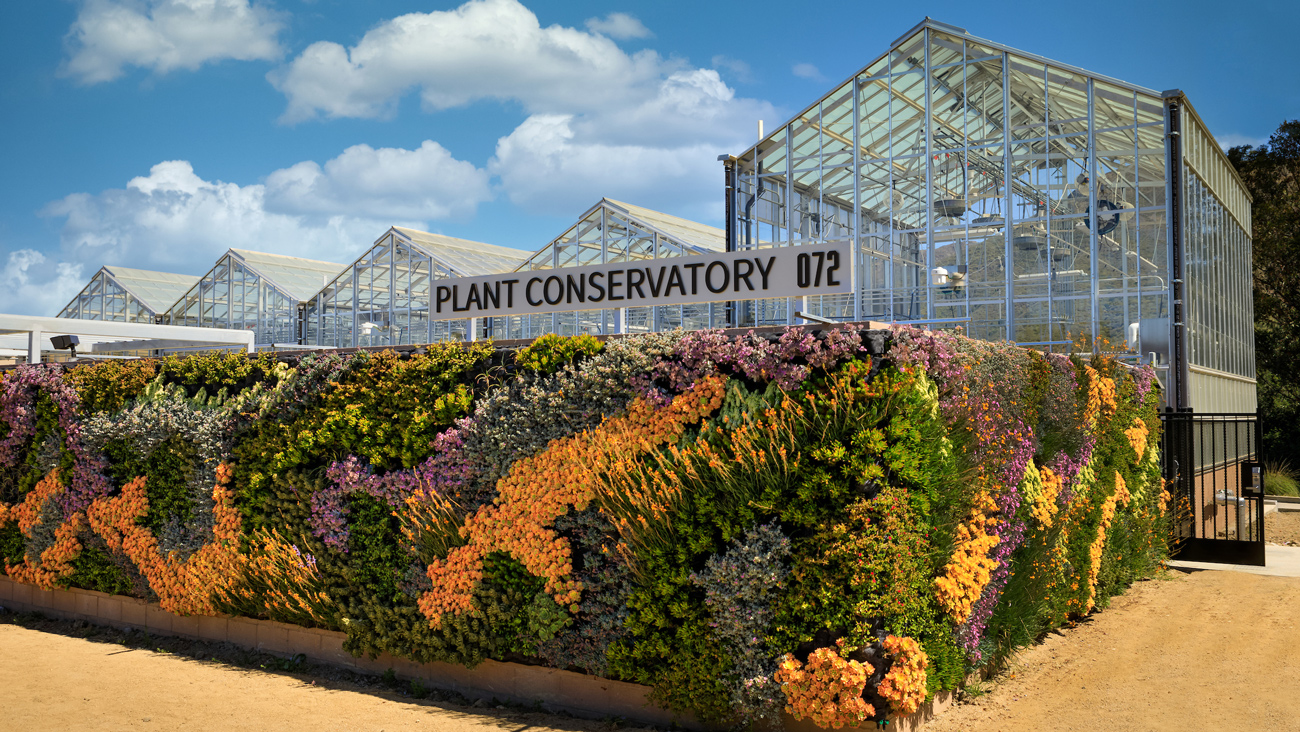 Walls. They're ubiquitous. Stark concrete barriers used to protect cities, divide properties, define spaces.
Yet to David Brenner (Environmental Horticultural Sciences'09), a wall is a blank canvas onto which he infuses vivid color and lush textures to create lavish living landscapes. The walls still accomplish everything they were intended to do; however, his are spectacular living works of art, providing viewers a glimpse of glorious flora where perhaps they least expect it.
Through his company, Habitat Horticulture, Brenner and his talented team have created more than 200 "living" walls and botanic installations nationwide, including the largest continuous living wall in the country at the San Francisco Museum of Modern Art (SFMOMA). Titled "The Living Wall," the structure measures 150 feet by just over 29 feet and features an abundance of California's native plant species.
Brenner is the first living wall designer in the U.S. to achieve formal "artist" designation for that piece as well as his "Urban Ecotones," an art installation in Oakland, California, that was commissioned as part of that city's public art collection.
He traces his illustrious career to his undergraduate days, tending to plants in a greenhouse at the Cal Poly Plant Conservatory.
I couldn't believe it. Right there in the middle of campus, I had my own greenhouse. I used it to develop the vertical garden system that we use today.
"I was studying horticulture and pursuing a minor in psychology," he said. "I'd always wondered why we have this natural affinity toward plants. I learned about plants' stress-reducing affects and how humans evolved with plants. That helped me understand why we need plants in our lives."
Brenner started tinkering with plants at the university's greenhouse. "I saw these living walls in Europe and decided they were the coolest things I'd ever seen," he recalled. "I hadn't seen them anywhere else — it was totally new and a way to integrate plants into the urban environment and into architecture. The sky was the limit.
"Botany Professor Matt Ritter, who was in charge of the conservatory, let me play around in this greenhouse," Brenner continued. "I couldn't believe it. Right there in the middle of campus, I had my own greenhouse. I used it to develop the vertical garden system that we use today."
Since founding Habitat Horticulture in 2010, the company has grown to include locations in Berkeley, where it's headquartered, as well as in San Francisco, San Jose and Los Angeles.
The staff roster includes a bevy of Cal Poly alumni from business to landscape architecture, including Director of Operations Billy Rose (Environmental Horticultural Sciences'14) and Greenhouse Manager Matthew Slaymaker (Agricultural and Environmental Plant Sciences '19). Rose, whose tenure at Habitat Horticulture started straight out of college in summer 2014, worked as a maintenance technician, an installer and a project manager before being promoted to his current position.
Recognizing that plants can have both a restorative quality and the capacity to enrich lives, Brenner and company strive to promote awareness of native and endangered plant species and to positively impact the quality of people's lives.
In late 2020, he launched Gromeo, a self-watering, living wall system for homes and personal spaces. Brenner handcrafts his designs from eco-friendly and sustainable materials, including the company's own Growtex — a geotextile felt made from 100% recycled water bottles and manufactured in the U.S.
More recently, Brenner and a team of other Cal Poly alumni donated their efforts to create a living wall on campus outside the new Plant Conservatory building.
"I hope my donation will inspire the next generation of horticulturists to give back," he continued. "I also hope it encourages future generations to consider horticulture as a lifelong profession."
Read the full story on Brenner and the alumni at Habitat Horticulture in the Horticulture and Crop Science Department Newsletter.