Bienvenidos a La CASA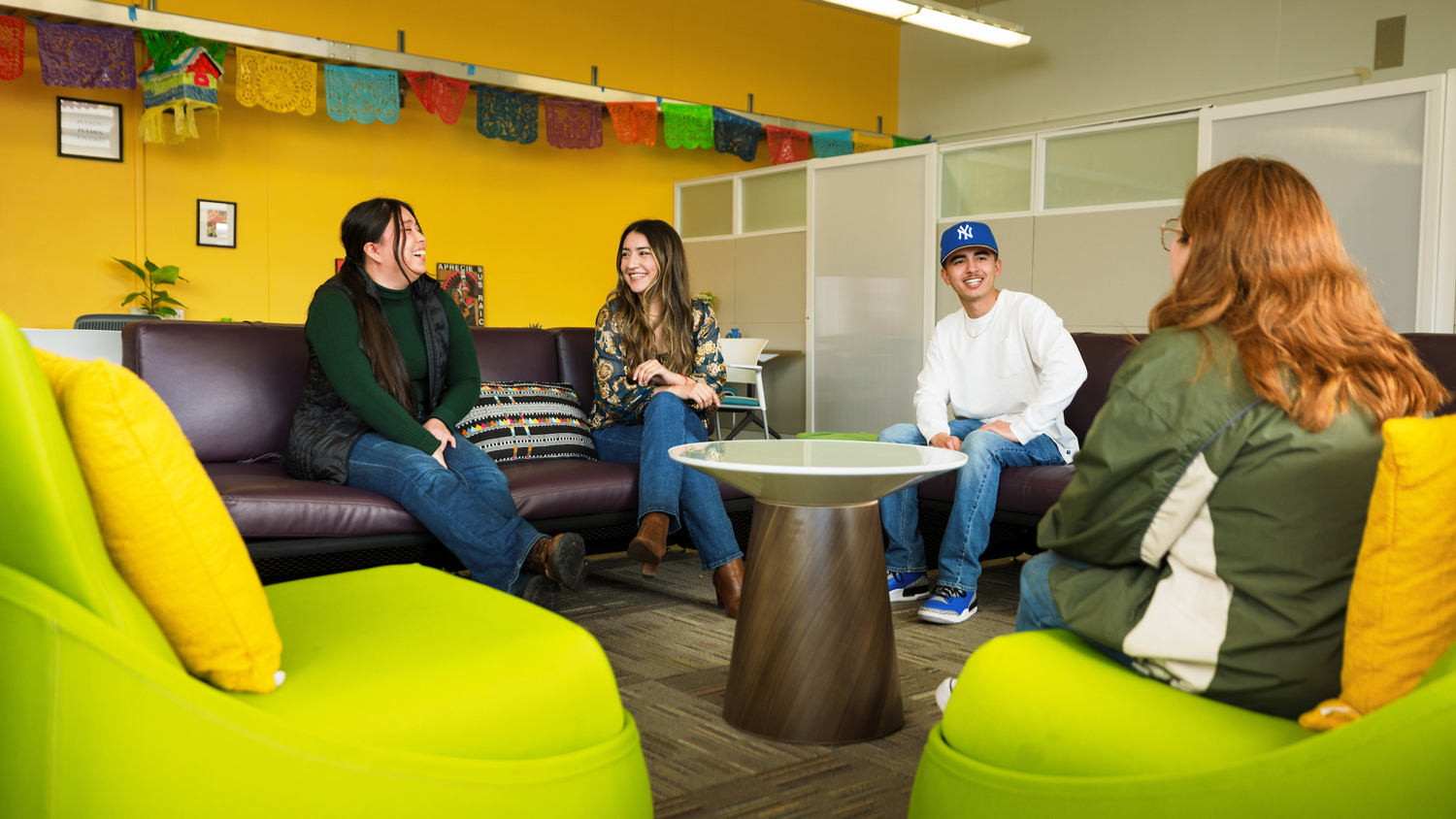 This fall, Student Diversity and Belonging opened its newest cultural space, Cal Poly's Latinx/e Center for Academic Success and Achievement, known as La CASA. The center and its programs help students who identify as Latinx build a community while exploring an inclusive spectrum of cultures, histories and traditions. In this accessible computer lab and lounge space, students can study, enjoy culturally relevant workshops, and attend events hosted in partnership with other campus cultural centers.
"I am genuinely filled with so much alegría," or happiness, said Daisy Paniagua-Uribe, coordinator for Latinx Initiatives at the center's grand opening in November. "La CASA has been a labor of love, and it's beautiful to see the center serve as a home away from home for so many students."
Student leaders Griselda Elizabeth Medrano, Pablo Gonzalez, Britney Lozano-Escareño, and Esperanza Guinevere Castillo helped bring La CASA and its programs to life over the last year. They chose the center's vibrant color palette, ensured La CASA's layout was optimal for gatherings centered around food, and developed programs that honor the Indigenous roots of many Latinx cultures.
Since the grand opening, La CASA has been bustling with club meetings, World Cup celebrations and new programs, from social gatherings like Cafecito con Pan Dulce to monthly mental health check ins with Counseling Services staff. Many gatherings welcome students from the Black Academic Excellence Center, the Multicultural Center, and the Native American and Indigenous Cultural Center. The activity is a testament to how desperately such a space was needed.
"This is a safe space," said Medrano. "This is somewhere we can talk freely. We can switch between our Spanish and English and we can tell each other things that maybe outside of this this room, some students on campus might not really understand."
Student leaders echo that the space and funding for La CASA has enhanced their ability to serve and connect more Mustangs in the Latinx/e community, helping students feel welcome and supported throughout their experience.
"Having this space here has made it easier to have that access to form a familia on campus," said Castillo.
Hear what students, alumni and faculty had to say about La CASA at its grand opening celebration.