Championships and Curtain Calls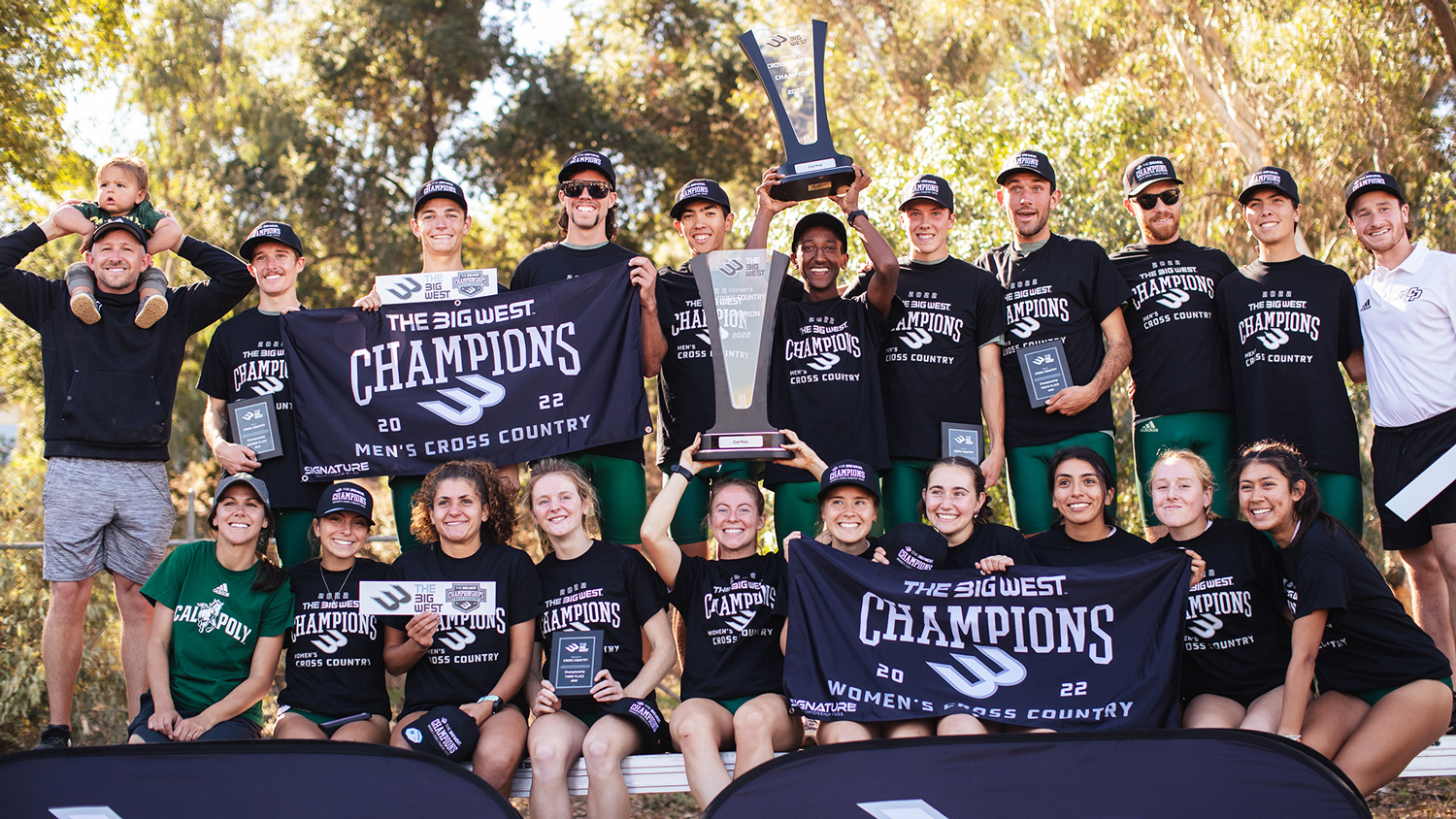 Several teams top the Big West Conference, and two Mustangs complete major comebacks in their final seasons.
Cross Country
For the sixth time in program history, women's and men's cross country swept the team titles at The Big West Championships.
The men's team finished with 22 team points in the 8K race thanks to a podium sweep by Jake Ritter in first (23:27.4), Will Fallini-Haas in second (23:41.9), and Aidan McCarthy in third (23:46.4) in addition to strong performances by Anthony Guerra in sixth and John Bennett in 10th.
Ritter not only set a conference meet record with his time, but he also became the first athlete in Big West history to capture three individual cross country titles, adding to victories in 2018 and 2019. The feat represented a comeback after the 2020 season was cancelled due to the pandemic and Ritter used a medical redshirt year in 2021 due to a hip injury.
"I really wanted to go out there and do something that no one else in The Big West had ever done," he said after the race, "so now I can say I've done that, and it feels great. I just really had to push the entire way today, nothing out there was easy."
The Cal Poly women edged out UC Irvine by 1 point — the closest finish in the history of The Big West Championships — with their best team effort this season, according to women's cross country head coach Michelle Chewens.
Standout sophomore Julia Heckey led the way for the women, finishing the 6K course in 19:50.2 to earn third and secure All-Big West honors. Four other runners placed inside the top 20 to help Cal Poly emerge victorious: Sydnie Rivas in 12th, Tatiana Cornejo in 14th, Misty Diaz in 15th and Carissa Buchholz in 19th.
"We are over the moon with how both teams ran and just ecstatic to walk away with both trophies," Director of Track & Field and Cross Country Ryan Vanhoy said. The teams are pictured
Less than two weeks later, the teams headed to NCAA West Regionals hosted by Washington.
The women's team finished in 11th place, their strongest regionals since 2018. Heckey, an All-Big West honoree, captured 35th place with a 6K time of 20:00.6 to become Cal Poly's highest women's finisher at regionals in four years. In total, six Mustangs finished within the top 100.
The men's team finished in eighth place overall — their best since 2013 — with 11 Mustangs recording personal bests and six finishing in the top 100. Ritter notched an impressive 12th-place finish, running a personal-best 10K time of 28:43.3 to punch his ticket to the NCAA Championships and earning all-regional honors from the U.S. Track and Field Cross Country Coaches Association.
On November 19, Ritter capped off a remarkable career by placing 90th overall with a 10K time of 30:09.8 at the NCAA Cross Country Championships in Stillwater, Oklahoma. His performance represents the highest individual finisher at nationals on the men's side for Cal Poly since Phillip Reid in 2007.
"The biggest thing I've learned about myself during this last season was that I keep moving forward no matter what challenges face me and no matter what the future may look like," said Ritter, reflecting on this season. "I am extremely excited for things to come."
Ritter aims to compete in USA Track and Field events this spring to qualify for the U.S. Olympic Trials in the 10K. He already qualified for the U.S. Olympic Marathon Trials thanks to his time in the California International Marathon on Dec. 4.
Lead photo: Cal Poly's men's and women's cross country teams and coaches celebrate their Big West Conference Titles. Photo courtesy of Raymond Tran/The Big West.
Women's Soccer
The women's soccer team earned their first outright Big West regular season title in nearly a decade with a 9-7-3 record. As a team, Cal Poly posted 10 shutouts this fall, their most since recording 11 in 2009, and grabbed at least a share of The Big West regular season crown for the second straight season.
"This is a special group," said head coach Alex Crozier, who was named Big West coach of the year for the sixth time. "We grew a lot over the season. We played some really tough games early on, took our lumps and kind of found a rhythm that got us through conference play. I thought we did a great job this year."
Their success was led by several standout performances. On defense, sophomore defender Emma Brown, an All-Big West first team selection, was part of a formidable foursome on Cal Poly's backline with senior Kylie Rojas, sophomore Aynsley Conner and freshman Camryn Penn. Sophomore Mackenzie Samuel, Big West Goalkeeper of the Year, posted nine shutout performances, including a program record seven in conference play. At one point this fall, she had a shutout streak spanning over 416 minutes.
On offense, senior Camille Lafaix, Big West Midfielder of the Year, led the team with 11 points and five goals, including three game winners. This season, she reached 42 career points, among the top 15 in program history. Senior midfielder Megan Hansen buried four goals this season, including three by way of penalty. They were among 11 Mustangs to score this season.
The top-seeded squad had the momentum heading into the Big West Championship tournament, which they hosted in San Luis Obispo for the first time since 2014. The Mustangs were unbeaten in their last seven matches (5-0-2), allowing just one goal during that stretch in a 1-1 draw against Long Beach State.
What was behind the team's strength? Lafaix said the squad went back to the basics: "Establishing clear expectations and goals at the start and consistently holding each other accountable on and off the field is what brought the team a ton of success this year."
The conference tournament semifinals set a rematch between the Mustangs and No. 4 seed Long Beach. In the end, Cal Poly fell 1-0 to end their tournament hopes and their season. But players say the momentum continues.
"This season captured exactly what the program has been doing for the past few years, which is proving to the Big West Conference that we deserve it," said Lafaix. "Being a part of a team that has won back-to-back regular season titles has been very special, and this program will continue to prove itself over the next few years."
Volleyball
Few Mustangs have endured the twists and turns that volleyball's Maia Dvoracek has seen in her five years competing for Cal Poly.
Her career started slowly, playing in a total of 30 sets across her first two seasons, which happened to be some of the program's winningest years ever. Then she had a breakout season in 2019, playing in every single set and cementing records for aces and kills. Her leadership blossomed as she stepped in for injured senior Torrey Van Winden and propelled the team to national rankings, a conference title, and her own All-American honors. Her momentum seemed unstoppable.
Then, the COVID-19 pandemic cancelled the 2020 volleyball season. As the team regrouped for the next season, Dvoracek sustained a massive knee injury, tearing multiple ligaments that required surgery and extensive rehab. She took a quarter off to maintain her eligibility, moved home to Truckee, California, to focus on recovery with the unwavering supporter of her parents, Tim and Pam.
Her goal: to play one last season in green and gold with her team. When she struggled to walk upstairs or ride an exercise bike, she thought of her favorite place, Mott Gym.
"Playing at home is probably the most special thing that I've ever experienced in my entire life," Dvoracek said. "Having the band show up, having the community there to support us at every single home game … just feeling that atmosphere again with a jersey on was the biggest thing for me."
Though she couldn't be on the court — or even interact with her team — during her redshirt season in 2021, she did get the chance to help call a game in the broadcast booth. The experience energized the journalism major and gave her a new perspective.
"I'm grateful for my injury in some senses because I got to try a bunch of different things and that was one of them, she said. "I think it made me realize that is something that I could see myself doing after I'm done."
After months of grueling therapy, Dvoracek rejoined the Mustangs and prepared for her comeback season in 2022. The Mustangs were quickly tested by an intense pre-conference schedule facing a number of nationally ranked opponents.
"We had a tough preseason, but I think the group still had a lot of confidence," Dvoracek observed. "There was never any panic. It was more just like, 'It'll click, it'll come.'"
And the wins came, including 14 conference victories and an 8-2 record at home. Dvoracek's offensive prowess came roaring back as she averaged 3.64 kills per set recorded double-doubles in 18 matches.
With fellow seniors Avalon DeNecochea and Meredith Phillips, Dvoreck says she felt like a "grandma" of the team and frequently passed on wisdom to her teammates. She realized just how stiff the competition is in the Big West Conference, and that success can't be taken for granted.
"None of this is easy. It takes hard work, but it's so worth it," she said. "Tomorrow could be the last day any of these girls step on the court, and I think I learned that and was lucky enough to come back."
This is not only Dvoracek's last season playing with her team, but also her last quarter at Cal Poly. With international career opportunities on the horizon, she says she has been grateful for every moment as a Mustang.
"It's hard to not look forward because looking forward for me is also potentially moving to Europe," said Dvoracek of her next steps. "I just feel like when this chapter closes at Cal Poly, it'll be in good time."