Character Study
Alumna Kristen Sanzari brings your favorite animated characters to life designing toys for Mattel.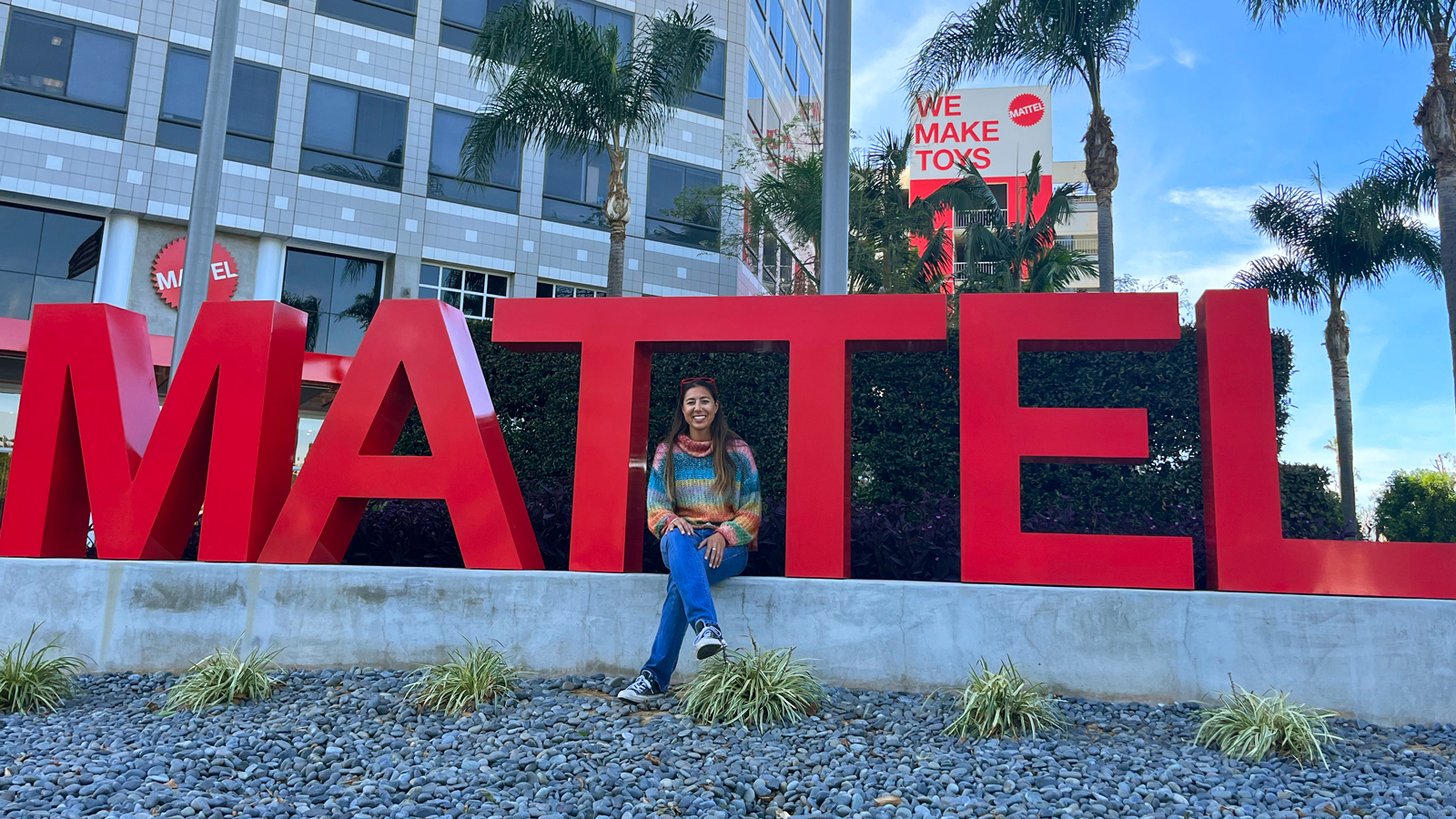 As a student concentrating in graphic design at Cal Poly, Kristen Sanzari (Art and Design '11) dreamed of working in animation for a company like Disney or Pixar, bringing characters and stories to life.
Now, more than 10 years later, she's doing just that — through her work as a toy designer at Mattel.
Sanzari, who also earned a master's degree in visual development for animation from the Academy of Art University in San Francisco, was working as a graphic designer and illustrator when she saw a job listing at Mattel.
"The position just said 'designer.' It didn't specify graphic designer or toy designer. I read the requirements and thought I was a good fit, so I applied based on the job description," she said. "During the interview I realized it was an actual toy design position and thought it was a really cool opportunity."
Even without any toy designs in her portfolio, Sanzari pivoted quickly and offered to send the team drawings for toy concepts, which she completed that night and sent in the next day. She was hired.
"I had never really considered toy design before," Sanzari said. "I took the skills I learned studying concept art for animation into this new dream of toy design that I kind of stumbled into."
As a key lead product designer, Sanzari and her teammates primarily design toys connected to Disney and Pixar movies. They start work on these toys about two years prior to the movies' releases in theaters.
Because of the logistics involved in toy production, Sanzari and her team are on a much tighter timeline than the studios they work with, but they still have to ensure that their products match up with the finished movies.
"In an animated film, they can keep changing things throughout the process," Sanzari said. "For example, in the movie 'Lightyear,' they changed the colors of Buzz's suits several times, so we were constantly trying to keep up and make sure that our toys matched."
The team starts by brainstorming ideas for toys based on what they know about the movie and the characters. They spend their creative energy coming up with features to make the toy engaging, such as a movement activated by pushing a button or moving some part of the toy.
Sanzari and her team then draw concepts of the design ideas they liked best. Once they choose the concepts to move forward with, they work closely with sculptors, engineers, model makers, and the packaging team to bring the toy to life.
Throughout the process, they continue to check in with representatives of whichever company licenses the designs to ensure accuracy and approval. They also test out the toys with children and adults to make sure everything is working well.
"We're just starting to work on toys for a movie Pixar will release in 2024 called 'Elio'," she said. "It's very cool to see the concept designs before the movie's even out, and it's fun to be in the know."
Thanks to her animation background, Sanzari is drawn to bringing things to life, and tries to bring that movement and animation into the toys she designs. One of her favorite toys she has worked on is the Indoraptor dinosaur, from the "Jurassic World: Fallen Kingdom" movie.
"We knew it slunk around like a cat, could stand on either two legs or four legs, had four fingers it used like hands and red eyes," Sanzari said. "I used what we knew about the dinosaur to make a quick animation that showed the movement we wanted the dinosaur to have and brought it to the model shop at Mattel so they could help me figure it out."
With their help, Sanzari created a toy that could slink around using a mechanism on its tail. But when a button on the tail is pressed, the toy also clamps its arms together like it's grabbing something. Another button makes its mouth chomp and eyes glow red.
"That was the first time I got to make a toy that really slinks and moves like it's alive," she said.
Throughout her time at Mattel, Sanzari has gotten to have brainstorm sessions at Disneyland, skip the lines at Universal Studios, attend San Diego Comic Con annually, and travel to Hong Kong and China to visit Mattel-affiliated factories. It may not be the path she envisioned as a student, but it's better than she could have imagined. Her advice: Don't pigeonhole yourself. Keep your options open.
"Sometimes things you don't expect will fall into your lap and end up being even better than what you thought you wanted to do before," she said.
And the Learn by Doing education Sanzari gained from Cal Poly still proves valuable every day.
"I don't have a toy design background, while a lot of people I work with went to school for toy design," she said. "The Learn by Doing attitude is, 'If I don't know something now, I am willing to learn, and I'm going to soak it in like a sponge.' I'm always absorbing new things and continually growing, and what better way than by just doing it and learning from the amazing people around you?"