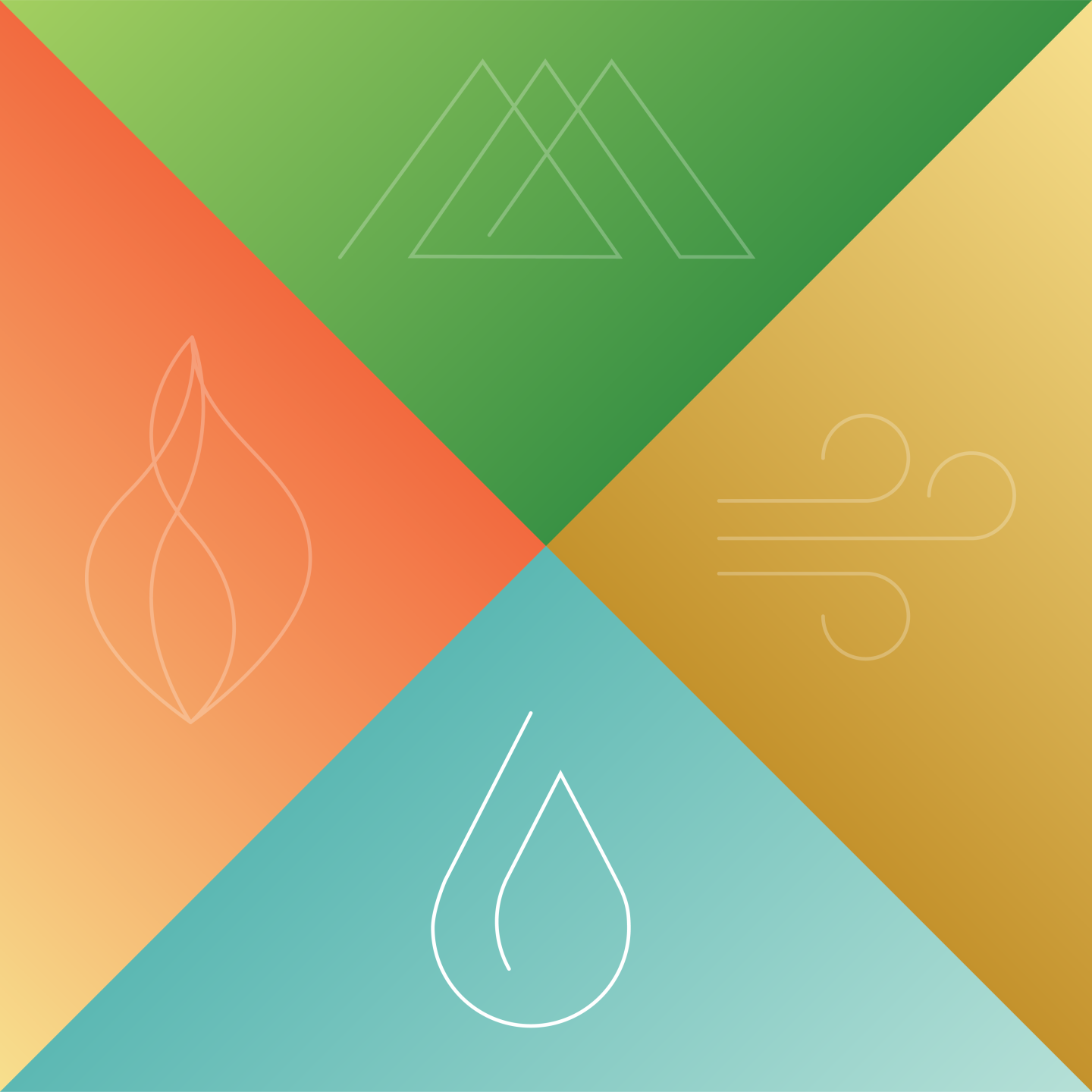 Our Climate Future: Water
On campus and around the world, Mustangs are helping people understand just how precious water is.
Water seems to be the ultimate battle ground of climate change, from warming oceans to sea level rise to volatile weather events. In California, sustained droughts — three in the last 15 years — are separated by potent atmospheric rivers delivering overwhelming rain and snow. Even NASA is now training new satellites, not on outer space, but on Earth's surface water.
On campus and around the world, Mustangs are fighting to conserve water. Faculty experts are leading projects that better track water use in agriculture and in the home. Artists are also using their work to inspire people to reconnect to water so they'll feel compelled to protect it.
As you dive into the latest chapter of the ongoing series on climate action, look back on how Cal Poly has confronted these challenges through fire, air and earth.
Irrigating California's Agriculture
Agriculture is woven into California's story and its economy — and the future depends on water. Over the last century, some growers have pumped immense amounts of groundwater as extreme drought, sporadic rainfall and dwindling reservoirs made it difficult to water crops any other way.
In 2014, when California passed the Sustainable Groundwater Management Act (SGMA), which limited groundwater consumption, the need for water use information accelerated. Growers needed data to accurately measure how to their crops would balance different sources — rainfall, surface water irrigation and groundwater — to report to new groundwater sustainability agencies tasked with enforcing the regulations.
Thanks to Cal Poly's Irrigation Training and Research Center (ITRC), farmers in the southern San Joaquin Valley are now able to see a clearer picture of their water use through advanced technology that calculates evapotranspiration: the net amount of water that irrigates the crops, evaporates into the air, becomes groundwater and stays in the plant.
Dan Howes, a professor in the BioResource and Agricultural Engineering Department (BRAE), is one of the faculty experts in the ITRC tackling this challenge.
Howes uses Cal Poly's ITRC-METRIC (Mapping of Evapotranspiration with Internal Calibration) system, which acts like a more detailed water bill, he said. The system combines satellite imagery and weather data to calculate a "surface-energy balance." The technology is so precise that it can account for different crops rotating through growing seasons throughout the year.
"It says you've used this much water this month, and you can compare that to your previous years," Howes said. "These farmers are getting a quantity: the evapotranspiration is this amount this month, this is how much you have left in your allotment, or this is how much it's going to cost you."
SGMA rules say the long-term impact on groundwater now must be net zero, which incentivizes landowners to conserve water and recharge aquifers during rainy years.
SGMA regulations and dropping water tables present farmers with some tough decisions, forcing some growers to fallow, or not use, parts of their land or change crops to those with different water needs, growing season lengths or profit margins.
With many of those small changes already in motion, Howes foresees major shifts in what California can grow and the worth of agricultural land where ground and surface water rights are scarce. Animal production, for example, might not be as profitable if landowners can't afford to grow livestock feed like alfalfa.
"If you have to pay for the water and that water's expensive, you need to grow a crop that can cover the cost," he said. "Dairies are worth a lot of money, but on the ground level, you don't make as much growing alfalfa as you do growing pistachios."
The evapotranspiration project is one of many government and industry partnerships the ITRC takes on every year to help communities in California and around the world. The center, which was founded by Professor Charles Burt more than 30 years ago, has leveraged its expertise to support the BRAE Department's irrigation teaching program in sync with an industry in need of a new generation of professionals.
Howes says the ITRC is shifting toward more of a consultant role as private companies assist growers with ongoing evapotranspiration data reports. Still, he sees a lot of small agricultural communities with groundwater overdraft problems that may become ghost towns unable to afford to grow crops. Others with more stable water tables and robust surface water rights will endure.
While having more dependable evapotranspiration data is important, Howes says there are no easy answers for many farmers facing a dry, uncertain future.
"The amount of pain that the state, counties and individuals will feel between now and [2040] is going to be tremendous — not including how climate change will affect everything," he said.
Understanding Our Waterlinks
"What water do you come from?"
It's a question the Māori people of New Zealand ask instead of "How are you?" or "Where are you from?" when meeting someone new. Unlike those questions, which focus on the individual, the inquiry immediately grounds the conversation in one's connection to the natural environment.
Ava and Jim Werner, faculty in the Art and Design Department, learned about this custom when they stayed with the Māori as part of a creative residency program in 2015. It inspired the concept for an innovative, participatory art installation they called "Waterlinks."
"We were looking to capture community perspectives on climate change," Jim said. Creating art that encouraged participation and engaged communities made the daunting concept feel more personal and urgent, he added.
The installation was first shown in New Zealand before moving to the island of Chuuk in Micronesia; Brisbane, Australia; Cal Poly's campus art gallery; Bangor, Maine; and a Columbia University gallery in New York City.
Each iteration of the project began in a similar way: the Werners researched and documented the natural and man-made water sources in the community, then developed an immersive installation.
Jim created interactive video compilations — moving collages of people and scenery — using touchscreens and projections. Ava developed handmade hanging artworks using local imagery and histories, including mixed media postcards for viewers to take home. Whenever possible, she centered visuals and historical context involving Indigenous communities and immigrant populations.
Each installation took a different shape, adapting to bustling markets, public parks and sleek art spaces. People shared wide-ranging perspectives and anecdotes that stitched together in an expanding tapestry represented on video screens added with each stop.
Participants explored how other communities responded to the question, "What water do you come from?" and then shared their own perspective in a written or video diary. Each new response would fold into the project and add to a living narrative as the installation traveled to new environments around the world. Collectively, the stories showed that climate change was truly a global issue, and no one was immune to its effects.
In Micronesia, community members talked about the cleansing power of weather despite having just survived devastating hurricanes. At Cal Poly, Mustangs told childhood stories set against a landscape parched by extreme drought. In Brisbane, which had recently seen catastrophic flooding, one participant talked about the network of rivers that connected disparate communities. One New Yorker recalled a time decades ago when he watched the river burn due to unchecked pollution in the water.
"What was amazing about this project is how much we discovered and learned from people and how generous people were telling their stories — some of them were just so beautiful and poetic," said Ava. "[Water] is layered into every experience of our lives. There's something really beautiful about that and also something that connects us all."
One of the project's first accounts from a Māori sailor painted a stunning picture.
"She was talking about how, when you're out in the ocean at night and it's calm, the stars reflect on the water so it looks like you're floating in the universe," said Ava.
The treasure trove of heartfelt and thoughtful engagement has sustained and motivated the pair, who hope to bring their art and the climate change conversation back to New York City this summer and potentially collect some of the project's visuals and testimonials in a book.
"This piece is about you making a statement about how climate change has affected you — it really draws the question back into each individual," said Jim. "[Viewers] are not there just to look at a piece of artwork and make a judgment of it. Instead, the artwork is looking back at them, saying, 'How are things affecting you? Can you contribute to this?'
"You are now part of the piece."
Thirsty for more? Learn about an alumni startup that uses new technology to help consumers conserve water at home.