Cal Poly universities' "Road to Reclamation" float, featuring a forest floor scene with animated snails and colorful mushrooms, received the Extraordinaire Award at the 134th Rose Parade. More than 70 students, equally split from each university, worked to finish the float, aided throughout the year by hundreds of student volunteers who turned out to assist on campus float workdays. Four students also drove the float along the 5.5-mile parade route. Since the first entry in 1949, the two schools' entries have garnered 62 total awards.
Campus News
A Grape Time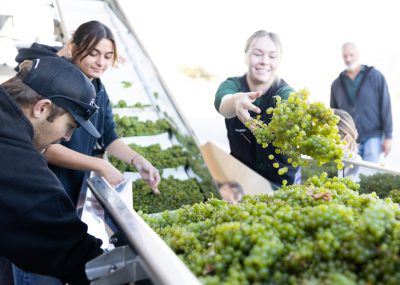 On an early September morning, trucks loaded with wine grapes harvested from Cal Poly's Trestle Vineyard arrived behind the JUSTIN and J. LOHR Center for Wine and Viticulture to signal the start of the winemaking season on campus. A group of fourth-year wine and viticulture students — the first students to work in the new center — filed out to the crush pad to load grapes into their first stop: a destemmer machine.
"We're being trained on state-of-the-art equipment, and it's setting us up to be successful in the industry," said Taylor Robertson, one of the students working on this year's Cal Poly grape harvest. This is Robertson's second harvest; she's also worked at Chamisal Vineyards. "I'm really excited to focus on the technology and chemistry aspects of the process."
The completely donor-funded center in the College of Agriculture, Food and Environmental Sciences opened to students this fall and includes a state-of-the-art, 5,000-case bonded winery, a fermentation hall, bottling room, barrel rooms and a research lab.
"It is paramount for us to give our students a real-world winemaking experience," said Jim Shumate, lecturer and winery supervisor. "Our new production and teaching winery, along with all the new equipment that was donated to the college, will give the students a head start on their winemaking careers."
On the crush pad, each student took on a different role in the process: student Toby German used a pitchfork to push the grapes out of their containers and into the destemmer machine, while Robertson, Mikaela Wessel, Olivia Capiaux and Nolan Maas evaluated grapes on the conveyor belt, picking out dried leaves and other debris.
The students worked with Shumate and associate enology Professor Federico Casassa.
"It's truly invigorating to see our students interacting with and being exposed to every facet of the winemaking process for them to see the science of the process at work," Casassa said. "It's full circle from an educational standpoint for them."
Read the full article on the Cal Poly News website.
Awards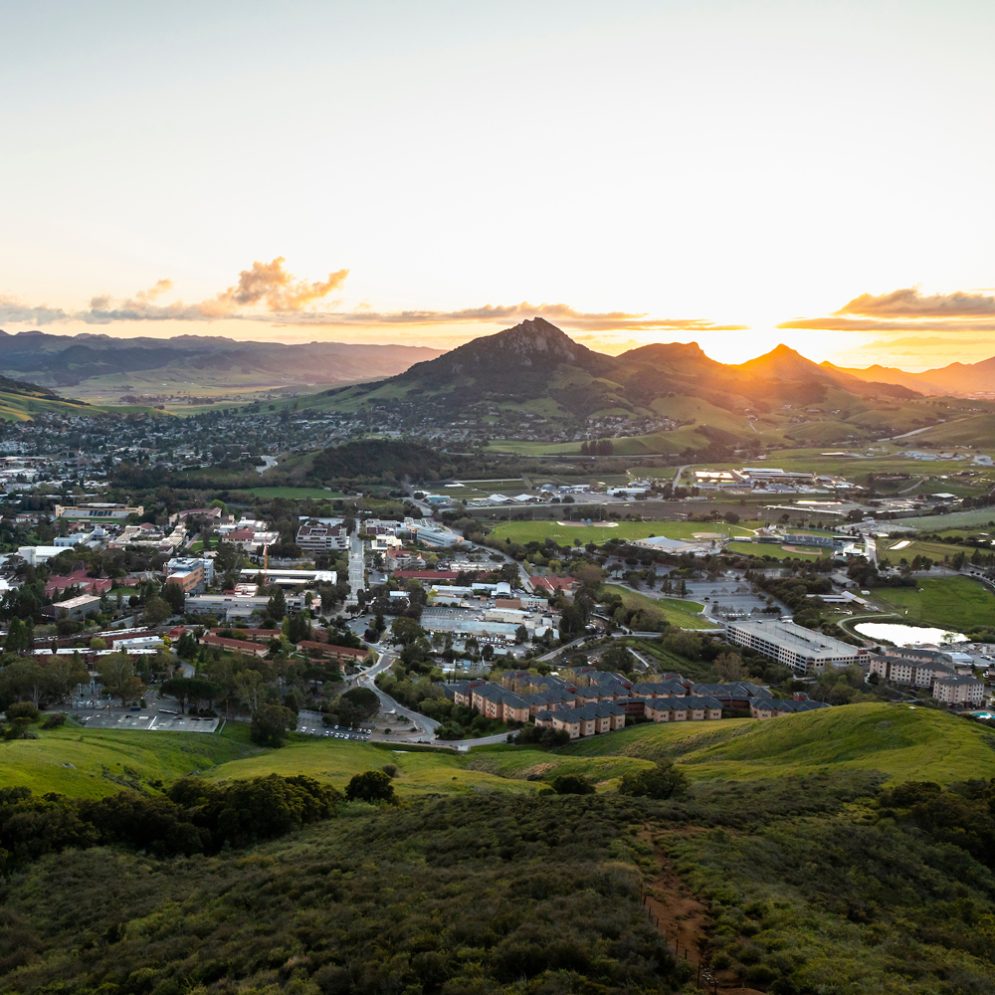 Three Decades of Best in the West
Cal Poly has been named the best public, master's-level university in the West for the 30th straight year in U.S. News & World Report's annual Best Colleges guidebook. It lists Cal Poly as No. 2 overall in the West — the same as last year — and as the region's top-ranked public master's-level university. In addition, Cal Poly was again named No. 1 in the West for Most Innovative Schools and No. 1 the West for veterans. Several College of Engineering programs were also ranked among the best in the nation for masters-level educational institutions.
Explore how Cal Poly has evolved in the years since its first Best in the West title in 1992.
Seen and Heard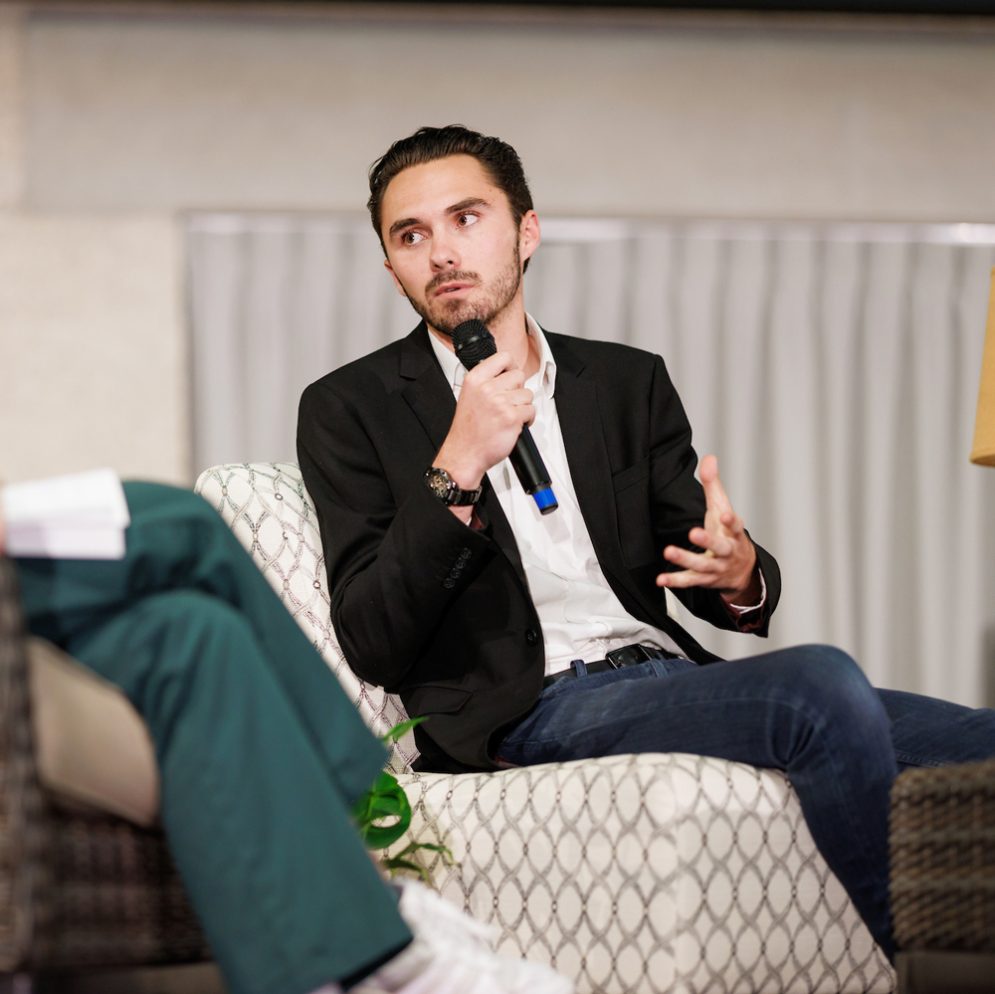 This is not about the left or the right — our enemy is gun violence … It's not a political issue, it's a moral issue.
— David Hogg, co-founder of March for Our Lives and survivor of the mass shooting at Marjory Stoneman Douglas High School in Parkland, Fla., in 2018. Hogg was the keynote speaker at Cal Poly's Student Leadership Institute, a one-day leadership conference focused on social change.
Read the full article on the Cal Poly News website.
By the Numbers
Global Perspectives

282

718

234
Q&A
Meet ASI President Gracie Babatola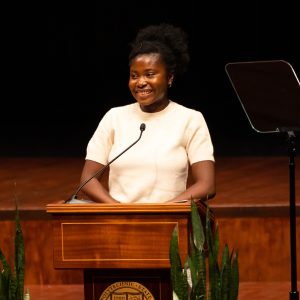 In her election campaign, political science student Gracie Babatola ran for Associated Students, Inc. (ASI) president on a platform of "rebuilding connections." As the new school year began, she spoke with Cal Poly about her goals for the coming year, and what it means to serve others.
What inspired you to run for ASI president?
I felt that there was a disconnection between students and ASI. COVID had really taken a toll in student government, but I felt that I perhaps had a fresh perspective that could be brought into student government. It really took a lot of teamwork and effort, and the way I ran my campaign is the vision I want for student government — that it takes a whole lot of people to make something happen.
Your campaign was all about rebuilding connections. What does that mean to you?
Rebuilding connections starts off with having students understand what ASI and what student government really is. I often meet students who obviously understand the general idea of student government, but they don't see the particular ways ASI has benefited them.
So it starts off with letting them know the good work that is being done by students and by professional staff, and then acknowledging where we need to do more. For example, making sure student clubs and organizations know we are a resource for them, and then saying, "Okay, what are some problems that you're noticing and how can we come together to fix this issue?"
What other specific goals do you want to accomplish as ASI president?
The majority of both incoming students and continuing students have had to endure some sort of online modality due to the pandemic. I want to help students get back to that in-person comfort level from before COVID.
I want to help students address basic needs. I think as the cost of living has gone up, we have noticed that a lot of our peers are struggling to pay for gas or to have affordable fresh produce. I'm looking for ways we can make students' lives easier. We are going to start hosting regular clothing swaps, encouraging a circular economy on campus and encouraging students to support more sustainable options when looking for clothing.
How much can student leaders like you shape the campus experience for fellow students?
In my brief time working with university administration, I've really seen how much they value student input. I don't think there's necessarily a limit. There are obviously processes and ways we go about things depending on the issue at hand. But I have found if there's an issue that is affecting students, the administration is always willing to work with student government to find a solution.
Read the full Q&A on the Cal Poly News website.
Learn by Doing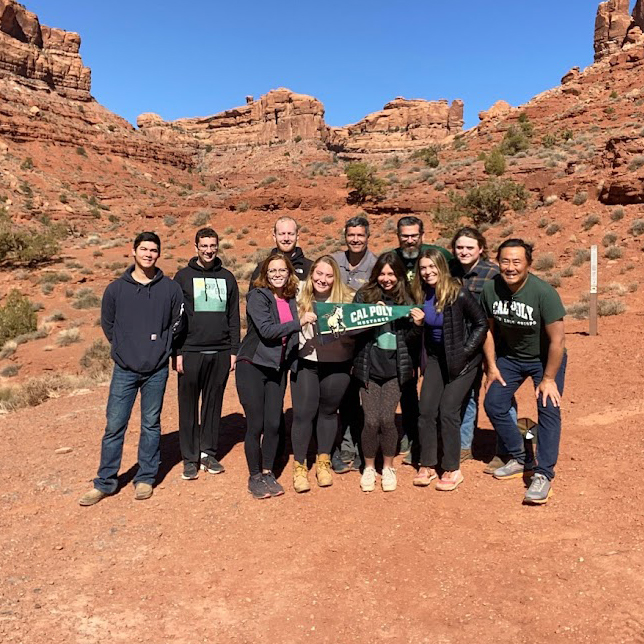 Mustangs Assist the Navajo Nation
In 2022, a group of dedicated students and faculty traveled to the Navajo Nation in northeastern Arizona for a week of collaboration with the Diné people. During that time, the 11-member team installed solar collectors to primarily power refrigeration in family homes, built culture-bridging relationships with the resilient community and gained real-world, Learn by Doing experiences. That week of work in late March was supported by months of preparation, during which the diverse group of students analyzed energy demand and designed solar-powered refrigeration.
Hear two students describe what the experience meant to them.
Seen and Heard
In the Classroom with Artists Alan Cumming and Terence Blanchard
Cal Poly Arts welcomes some of the world's best performers to the Performing Arts Center San Luis Obispo every season. Now the organization is amplifying its ongoing effort to bring some of those creative visionaries into the classroom during their visit to Cal Poly thanks to partnerships within the College of Liberal Arts.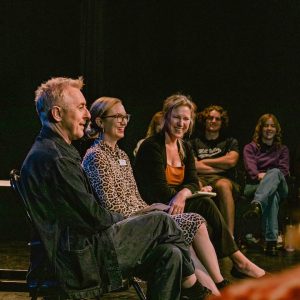 After his cabaret show in November, Tony Award-winning actor Alan Cumming joined students and community members in the course Acting and Musical Theater taught by Karin Hendricks-Bolen. The Q&A covered everything from breaking into acting, to dissecting one of Cumming's scenes in the film "Eyes Wide Shut." He also discussed how he stays creatively inspired across decades of work in film, TV, theater, and as an author.
"The vulnerability and authenticity that he shows in all of the roles that he takes on also came out in that conversation," said Cal Poly Arts Director Molly Clark, who helped moderate the session. "It was kind of a magical space. A lot of the time was open to the students who asked really interesting questions."
In January, students in the class Jazz History and Theory taught by Arthur White were treated to a discussion with Terence Blanchard, a Grammy-winning jazz musician and Academy Award-nominated composer who scored films like "BlacKkKlansman," "Da 5 Bloods," and "The Woman King." He also made history in 2021 as the first Black composer to present a work at the Metropolitan Opera with "Fire Shut Up in my Bones."
Blanchard's message to students centered on the importance of finding one's own voice.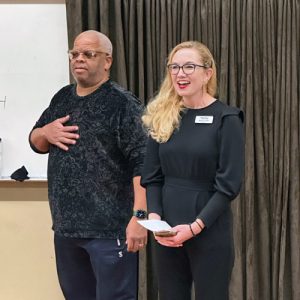 "He said that if you believe enough in what you're doing as an artist, you will always find an audience for it," said Clark. "And that's something that drove him when he was going off the beaten path — he believed so much in what he was doing, he was certain that others would as well."
Clark adds that these experiences with world-famous artists can have a lasting impact, complementing the daily and weekly guidance they receive from faculty members in their classes. Cal Poly Arts plans to bring more professional performers into the learning space throughout the season, including student workshops with touring dance companies performing at the PAC.