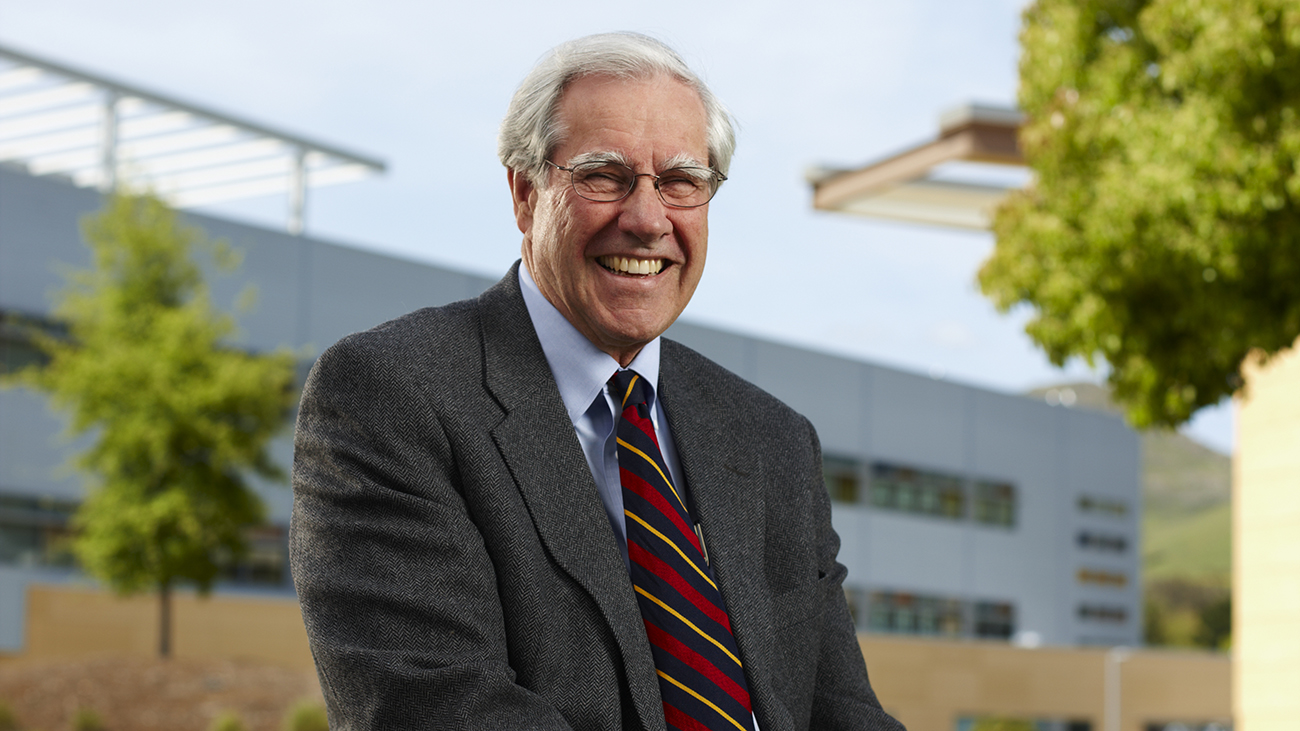 The Baker Legacy
Last fall, Cal Poly lost one of its greatest champions. Take a look back at the impact of President Emeritus Warren J. Baker.
Warren J. Baker, Cal Poly's eighth president and second-longest serving leader, died this fall at the age of 84.
Baker's leadership was instrumental in transforming Cal Poly into one of the highest-ranked public master's polytechnic institutions in the nation.
Born in Fitchburg, Massachusetts in 1938, Baker earned bachelors and master's degrees in civil engineering at the University of Notre Dame, going on to earn a doctorate at the University of New Mexico. He began teaching at the University of Detroit in 1972 and quickly rose to leadership, serving as dean of the college of engineering and vice president of academic affairs.
The California State University Board of Trustees named Baker president of Cal Poly in 1979 at the age of 40, making him the youngest university president in the history of the CSU. By the time retired 31 years later, he had left the university profoundly transformed — and better-equipped to facilitate the mission of Learn by Doing.
"It never became routine — there were always new challenges, new things to accomplish," Baker told Cal Poly Magazine as he approached his retirement in 2010. "The university has been growing, which presented exciting opportunities and created an immense appeal: The students, faculty, staff, deans and adminis­tration were all growing and learning together."
Perhaps the most visible part of Baker's legacy has been the physical reshaping of campus. Between several large projects already in the works at the time of his arrival and a transformational campus master plan that he launched in 1995, he oversaw the completion of more than 40 new or renovated major campus structures.
Many of those projects, like the Kennedy Library, the Engineering Plaza, and the Cerro Vista and Poly Canyon Village student housing complexes, have become defining landmarks of the modern campus.
Other facilities projects highlighted his talents at building connections beyond campus in support of Learn by Doing, including an ambitious stadium renovation supported by and named for then-San Diego Chargers owner and alumnus Alex Spanos; the donation of the Cal Poly Pier by Unocal; and the gift of Swanton Pacific Ranch by Orchard Supply Hardware president Al Smith.
The development of the Performing Arts Center of San Luis Obispo on the Cal Poly campus is perhaps the most shining example of Baker's eagerness to rally the community. The project was a three-way partnership between the university, the city of San Luis Obispo, and a new community arts foundation launched to support and manage the facility. President Baker's wife, Carly Fitzsimons Baker, was especially instrumental, providing vision for the building, raising funds and recruiting volunteers.
The Warren J. Baker Center for Science and Mathematics, began under his tenure and completed and dedicated shortly after his retirement, became the capstone of his decades-long effort to support the Learn by Doing mission with state-of-the-art facilities.
"Warren saw where Cal Poly was and where it could be and dedicated himself to its future," said Phil Bailey, dean emeritus of the College of Science and Mathematics, who spearheaded the Baker Center and worked closely with Baker on several other facilities projects. "We wouldn't be the university we are today without him."
"I knew we would succeed, but if you had told me that we would add close to $1 billion in facilities over three decades, I would have said, 'That's not possible,'" Baker said. "But when students, alumni, faculty and staff pull together, almost anything is possible."
Perhaps even more important, however, were his efforts to expand the university's curriculum and national profile.
"It appeared to me that Cal Poly was a university in transition – expanding on its agricultural roots to become a true polytechnic campus, and with tremendous potential and the very realistic goal of becoming a nationally recognized polytechnic institution," he said.
During his tenure, the university launched 20 new undergraduate major programs, 72 minors and 15 new graduate programs. He oversaw the establishment of 19 new centers and institutes on campus, fostering connections and cementing a reputation for thought leadership among academic peers and industries across the country.
His efforts to build Cal Poly's national profile paid off big in 1993, when U.S. News and World Report named Cal Poly the best public master's-level university in the west for the first time — a distinction the university has held for 30 consecutive years since.
Even more importantly, demand for the Learn by Doing experience grew exponentially during his time in office as Cal Poly began to earn nationwide recognition. Between the beginning and end of his presidency, applications for admission increased from fewer than 9,000 per year to approximately 31,000 in fall 2010.
"We've done well at maintaining the focus on the Learn by Doing education model and garnering the support to enhance the opportunities for our students around that philosophy," he said. "I think we're an even better institution today than we were 30 years ago, and we have stayed true to the mission established by Cal Poly's founders in 1901."
Baker's work to make Cal Poly a household name made an impact on his own national reputation as well. In 1985 President Ronald Reagan appointed Baker to the board of the National Science Foundation, where he served for more than a decade lending his expertise to the advancement of research and scientific progress nationwide.
As he prepared for retirement in 2010, Baker was asked how he hoped to be remembered at Cal Poly.
"I hope I'm remembered for doing what I could to help garner the resources and support necessary to help students and faculty achieve their aspirations," he said. "I think of the presiden­cy as more of a servant and facilitator role. It's a very simple thing we do here: We put good faculty together with good students, and good things happen. My role has been to try to support that."
It's an understated way to describe the truly transformational impact Baker had, and the foundation he built for a strong Cal Poly for generations to come.
"The Cal Poly community has lost a true champion of Learn by Doing and a leader who helped architect what our university is today — a campus in high demand among California's and the nation's best and brightest students and a producer of thousands of Day-One-ready graduates poised to address the world's most pressing problems," said Baker's successor, President Jeffrey D. Armstrong. "While we are tremendously saddened by the passing of Warren Baker, we are so grateful for the 31 years of leadership he provided to Cal Poly."