This summer, students from all over the university kept Learn by Doing alive over the vacation. We asked three students with summer learning projects to share what they did and learned over the break.
Architecture Tour of Europe
Nolan McWhorter
3rd Year Architectural Engineering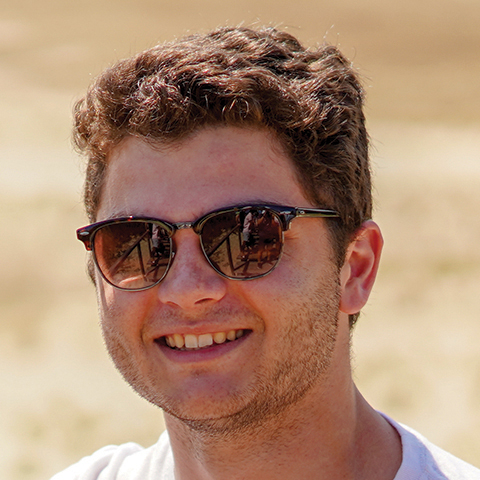 In my freshman year as an architectural engineering (ARCE) student at Cal Poly, I heard about a unique opportunity: a trip to the heart of Europe for five weeks of study alongside students at Vilnius Gediminas Technical University in Lithuania. It's one of the only study abroad programs at Cal Poly focused on a single major, and the program involves total immersion in core ARCE courses by day and an opportunity to explore some of Europe's most interesting architecture on evenings and weekends.
I did some calculations and figured out that joining this trip would actually put me ahead of schedule toward graduation. Combine that with the fact that I've never been out of the country — never even been on a plane! — and I knew I wanted to do it as soon as I had the chance
June 22 – 23 Arrival in Lithuania
After more than 14 hours of flying and 6,000 miles of traveling, I arrived in Europe for the first time in my life. For the 27 of us architectural engineers, architects and civil engineers from Cal Poly, this study abroad program was expected to have a major impact on our college experience, as well as our view of the world.
Vilnius is a beautiful, historic city. Almost every street is made of cobblestone, exuding an authentic European atmosphere everywhere we walked — and we walked a ton! You can see the influence of the Soviet Union in some of the architecture, and more powerfully, in the faces and voices of the older generations. Younger people around the city seemed to have brighter attitudes.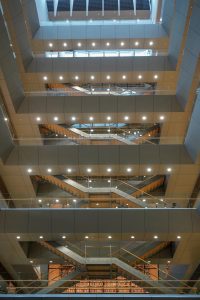 June 26 – 29 First Week of Class
By the end of the first day of classes, I could tell that the course load was going to require some effort — after all, this was an ARCE program. The Lithuanian students that I have gotten to meet so far have been very friendly, and to my surprise, there isn't much of a language barrier as they speak English quite well.
June 30 – 31 Trip to Riga
After a four-hour bus ride north, we arrived in Riga, Latvia. We spent the day splitting off into our own separate groups and touring the city. We also went to Latvia's national library, which was a very large and tall glass- dominated building with a piano at the top and a nice view of the city. It was interesting to see a slight shift in architecture between Riga and Vilnius; Riga seemed more picturesque, with slightly less of a Soviet Union influence.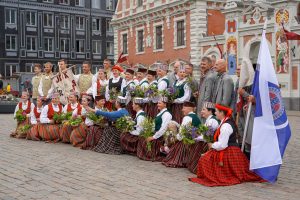 July 4 – 6 Two Days, Two Independence Celebrations
This second week staying in Lithuania was very unique: We got to celebrate both America's independence on the 4th and the 100th year anniversary of Lithuania's independence on the 6th. The whole city came together to celebrate with parades, festivals and fireworks. It was humbling to see how the people came together to celebrate. The most awe-inspiring moment was when I could hear and feel the entire effort of the crowd and choir singing their cultural songs together.
July 9 – 13 Intense Week in Class
The ARCE study abroad program is unique in that we got to take real architectural engineering classes alongside our Lithuanian counterparts, rather than just general education courses. Most of our time this week was spent on a project in our structural systems lab. Assigned into groups of three or four with Lithuanian students, we were tasked to design office buildings and do calculations on how much loading the supports would undergo, as well as well as how much loading the building would undergo laterally due to wind.
This project was very interesting, not only because it was the first time that I felt like all the work I've learned in ARCE came together, but also because I had to work around a bit of a language barrier with the Lithuanian students. The project was demanding, but also fulfilling because of the sense of accomplishment I felt going from design to structural calculations.
July 26 Finals and Ending Ceremonies
Luckily for us, we only had one true final for the classes we took in Lithuania. After it was completed, I felt a lot of weight off my shoulders, which is a typical feeling after finishing Cal Poly engineering classes. The next day, more than half of the students in our program had flown out of the country.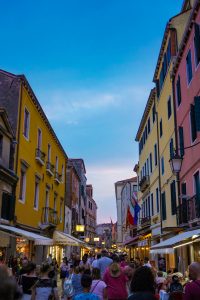 July 28 – 29 Venice
Before I got on the plane to go to Lithuania, I had planned a week- long trip to Italy with two of my close friends in ARCE. The first stop on our journey was Venice, which was as picturesque as I imagined it. There seemed to be canals on almost every alley we discovered. We also got to see some of Venice's most unique buildings, including Saint Mark's Basilica and the Doge's Palace. The extremely detailed mosaics at the basilica seemed to be a pattern seen throughout the rest of Italy's famous churches.
Aug 2 – 3 Rome
Walking through Rome, I was struck with the sense of rich history around every corner — you can be grabbing a coffee one moment and encountering a 2,000-year-old temple the next. Among all the things I saw in Rome, the Pantheon was the most amazing to me, not only because of its age, but because it looked just as unreal in person as it did in the books I read in my architecture history class.
At first reflection, it was a surprise that I never felt the least bit of culture shock. Whether struggling through difficult calculations alongside Lithuanian students, exploring downtown Vilnius, or simply ordering coffee in Rome, I began to realize that the people I met weren't so different from me after all. That's what made studying abroad feel like a classroom back home.
Tech Support to the Stars
Emily Lucas
3rd Year Computer Science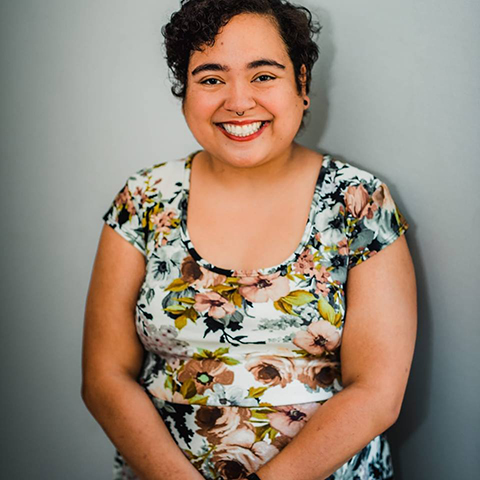 I have a terrifying and all-encompassing fear of outer space. So of course, the only reasonable thing for me to do is to spend the whole summer doing astronomy research.
As a computer science transfer student, I wouldn't normally have much interaction with the physics department. However, I am incredibly friendly and I accidentally made friends with two physics students. Both of them were doing research, and they told me to getting involved: Talk to professors and express an interest in doing research. Bam! You now know the super special hidden ways of getting into research at Cal Poly.
I started my research journey during the school year writing Python code for Dr. David Mitchell to help him find planets. I wanted to continue that during the summer, but he already had different summer commitments. I turned to Dr. Louise Edwards, who studies the composition of Bright Cluster Galaxies, and she was open to having me work with her.
To help fund my summer work, I applied for a grant from the National Science Foundation through the Louis Stokes Alliance for Minority and Underrepresented Student Participation in STEM (LSAMP).
Week 1
The first week of research was mostly spent learning how to use the technologies I was going to need for the summer. I already knew a little bit of Python, so I mostly spent my time learning technologies for storing data, calculations and plotting graphs. I also talked with my faculty mentor about expectations and got to meet my two research compatriots.
Week 2
I had to give a presentation on what I learned about the technologies we use at our research meeting. I had so much anxiety about this. I was worried I wouldn't know enough or remember enough about what I had learned to say anything meaningful.
It turned out fine. I learned that anxiety often gets in the way because I spent so much time being anxious that it ate into my time to work on the presentation itself.
Week 3
Pro tip: Flying from SLO airport to New Haven, Connecticut, takes 15 hours, three flights and two layovers. If you have to do it, bring a power brick, chargers and something to occupy your time. My group was going to Yale to attend Granville Academy, a one- week astronomy workshop where we networked with other students, saw what other researchers were doing, and learned research techniques particularly relevant to astronomy. Part of the program also focused on diversity, or lack thereof, in astronomy and physics.
I learned that people with doctorates set policy and direction in the scientific community, and that 80 percent of those people are white.
Week 4
This week I did support work for my colleagues, researching the technologies they wanted to use and then making some "How To" guides. I really enjoy being able to help facilitate my colleagues' ability to conduct their research.
Week 7
This week was a bit of tech support. My teammates were having some trouble using Anaconda3, and I was able to alleviate that with my "How to Use Conda" document. I also supported my team by writing code that would pick the best set of data for each galaxy. I then started re-factoring code written by a previous group member. Starting to re-factor mostly means reading the code and trying to figure out what it does, how it does it, and how to make it accomplish those tasks in a cleaner and better way.
Week 9
I have to give another presentation! I had the option to give a five-minute talk on what I've been doing so far. This time, I leaped at the opportunity. I called my talk "Interdisciplinary Research: What Computer Scientists Can Do for You!" I worked on that all week: I made slides, I made it funny, I practiced. The speech went over well! I ended up with offers of possible future research opportunities and interest in my "How To" documents, because so many scientists use the same technologies.
Wrapping Up
This summer was a positive experience for me. I did not end up doing any actual research of my own, but being able to support my peers was very fulfilling. I also learned a lot more about Python, which has been useful as I begin interviewing for jobs. I think that every student should try doing research, whether in their own discipline or another one. It is great experience — and of course, it looks good on a résumé.
Selling the Sex.E Show
Briana Rodebaugh
Mechanical Engineering graduate
Jacob Corsaro
Communication Studies '18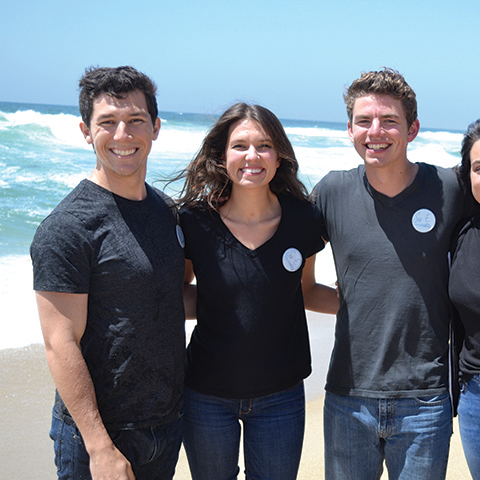 Have you ever taken sex ed or clicked through an online sexual harassment training? If so, would you say that was a fun experience for you? Sexual and gender-based violence education is vital, but traditional methods are usually not effective or memorable. The challenge is providing a solution that goes beyond checking a box for compliance.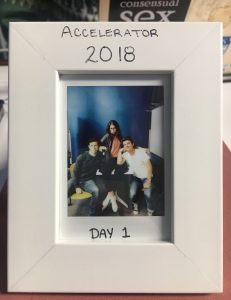 In 2015, the on-campus improv team began working with Christina Kaviani, the director of Safer, a campus resource for sexual safety and health, to create a more effective method of educating the incoming students on these topics. Voila! The Sex.E show was born! More than 15,000 Cal Poly students have seen the show so far.  Since our first show, Safer has seen an increase in students seeking information, which we believe is a good indication of student engagement and retention. We found that a comedic approach allows the audience to relax and absorb the information much more effectively.
Now we're trying to take our program to other campuses beyond Cal Poly to try to revolutionize the way students get access to this important information. This summer the two of us and our teammate/HR guy Arlo Rudy were accepted into the Accelerator program at the Center for Innovation and Entrepreneurship (CIE) — let's see if we can transform Sex.E from a one-campus resource into a legit business!
Week 1
Wrapping up week one of the Accelerator and Sex.E is hitting the ground running! The Accelerator is already providing a lot of guidance and mentorship for all things on the business side — finance, customer outreach, communication strategies, and oh so much more. We will be presenting our material to a group of universities this week.
Week 2
This week we had a great time preparing for our big presentation to a group of advocates. It was a great way to learn more about our potential customers and their needs as well as getting feedback on our current show. The next phase will be following up and scheduling time for deeper, one-on-one conversations. We've also started diving into the specifics of finances and customer development. Our mentor, entrepreneur Michele Magee, is an absolute rock star and has helped us set goals that are attainable but also push us to keep working hard.
Week 3
This week we held a round of introductory phone calls and gained some solid interest from universities; however, they want to see some of our work before we move forward. We're going to film and edit a promotional highlight reel to send out to these schools — so now we need to put on and shoot a performance!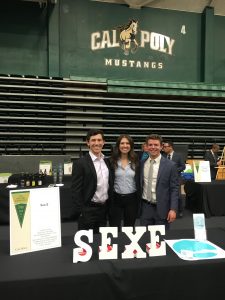 Week 6
This week we presented our elevator pitch in front of our peers, mentors and community members. It's incredibly helpful to pitch in front of people that aren't familiar with us, as our communication gaps are more clearly illuminated. Taking a step back and taking in the feedback helps us tremendously.
Week 8
With the help of our new highlight reel, we're actually booking shows now — five this past week. But much like the 21st century, we're just getting started!
Week 10
Okay, okay, so we wanted to book 10 shows before the end of the Accelerator. Turns out summer is a tough time to sell to universities and high schools — who knew? But we did hit a few other goals so far. Build out a financial model: CHECK. Draft customer contracts: CHECK. Perform a show at a university outside of Cal Poly: CHECK. Establish relationships with potential customers: CHECK.
With all the resources and mentors we've had at CIE, the next steps feel far less intimidating than they did at the beginning of the summer. Our mission is to use engaging education to prevent sexual violence, and we feel better equipped to build a company to follow that mission after going through the Accelerator.