From new donor-funded sports facilities, to conference domination in several sports, to an historic milestone, Cal Poly Athletics enjoyed a remarkable year in 2018.
Volleyball Claims Second Consecutive Big West Title
The Cal Poly volleyball team cemented its prowess in 2018 with its second consecutive Big West championship. The team finished the regular season with a 25-2 record — including 18 sweeps — and was nationally ranked as high as No. 11 in the AVCA Top 25 poll. Cal Poly's back-to-back conference titles are the first since 2006-07 and the fifth overall in program history.
During the historic season, the team posted a perfect 10-0 mark in Mott Athletics Center. Two of this year's most exciting victories were against national power UCLA in early September. The Mustangs have notched a combined 31-1 record in the Big West the last two seasons.
Mustangs nearly swept the Big West Conference post-season awards, with junior opposite hitter Torrey Van Winden named Player of the Year, freshman setter Avalon De Necochea named Co-Freshman of the Year, and Head Coach Sam Crosson named Coach of the Year. On the court, Van Winden finished the regular season with 5.07 average kills per set, second highest in school history, and a Big West-leading hitting percentage of .365.
Cal Poly was selected to compete in an NCAA regional at USC, its 16th appearance in the NCAA Tournament, where it fell to San Diego in the first round. The team expects to make another run at the conference title next year with all but two graduating seniors returning in 2019.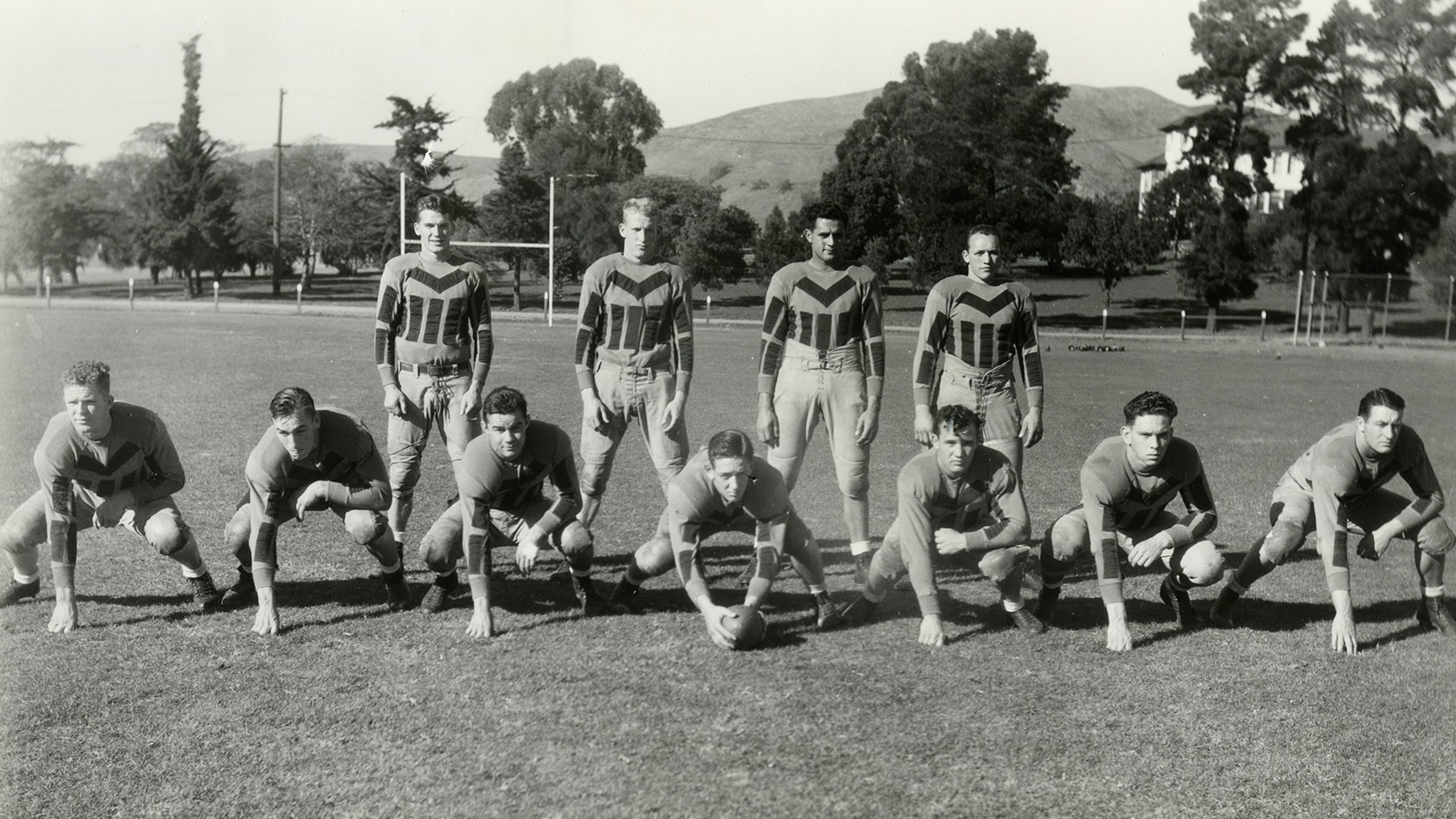 100 Seasons of Cal Poly Football
Cal Poly recently completed its 100th season of football. The program actually played its first game in 1915, but four seasons were canceled for various reasons — a flu epidemic in 1919, a polio epidemic in 1930 and World War II in 1943 and 1944.
During those 100 seasons, Cal Poly has amassed a 509-414-20 record with four appearances in the NCAA Division II playoffs and four more in the NCAA Division I Football Championship Subdivision postseason. Topping all football highlights is the national championship claimed by the 1980 squad under head coach Joe Harper.
Since its move to Division I in 1994, Cal Poly has captured four Great West Football Conference titles and one in its first year of competition in the Big Sky Conference (2012).
Watch a video series celebrating the history of Mustang Football >>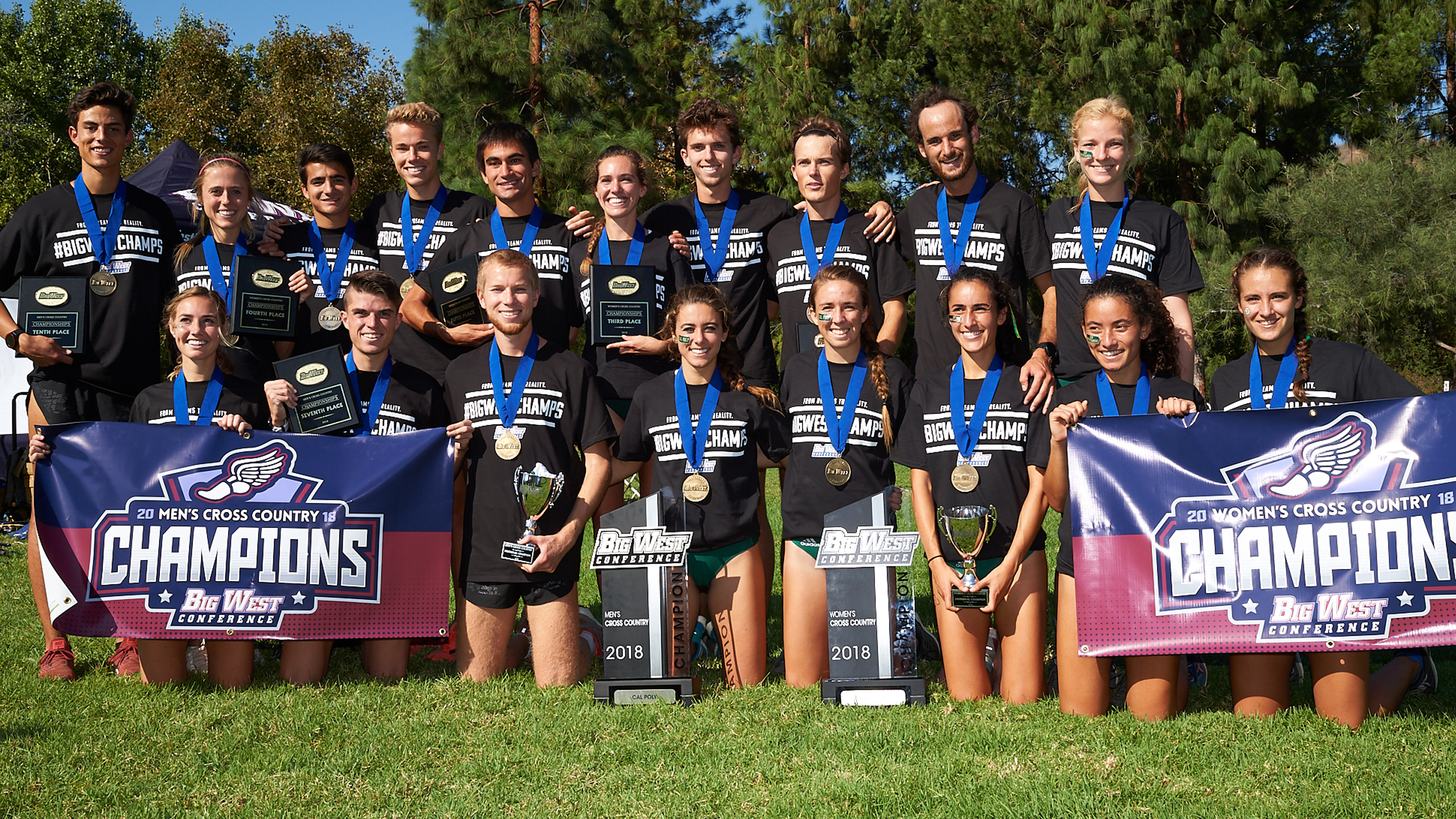 Cross Country Teams Continue Big West Domination
Cal Poly swept the Big West Cross Country Championships in October at Carbon Canyon Regional Park in Yorba Linda, Calif., as the Mustang men's squad claimed its third consecutive team trophy and the women's team recaptured the conference crown, their third in a four-year stretch.
In addition to the team trophies, Cal Poly also won both individual conference titles thanks to Jake Ritter and Miranda Daschian, both selected as Big West Cross Country Athletes of the Year. Mark Conover and Priscilla Bayley were named Big West Coaches of the Year for 2018. It's the sixth time in conference history a school has swept those four awards, with the Mustangs accounting for three of those sweeps.
This is Conover's altogether 20th Big West Coach of the Year Award, and the first for Bayley after being named Head Women's Cross Country Coach in August of 2017.
Katie Izzo came in 82nd place at the NCAA Cross Country National Championships in Madison, Wisc., and Daschian took 112th place.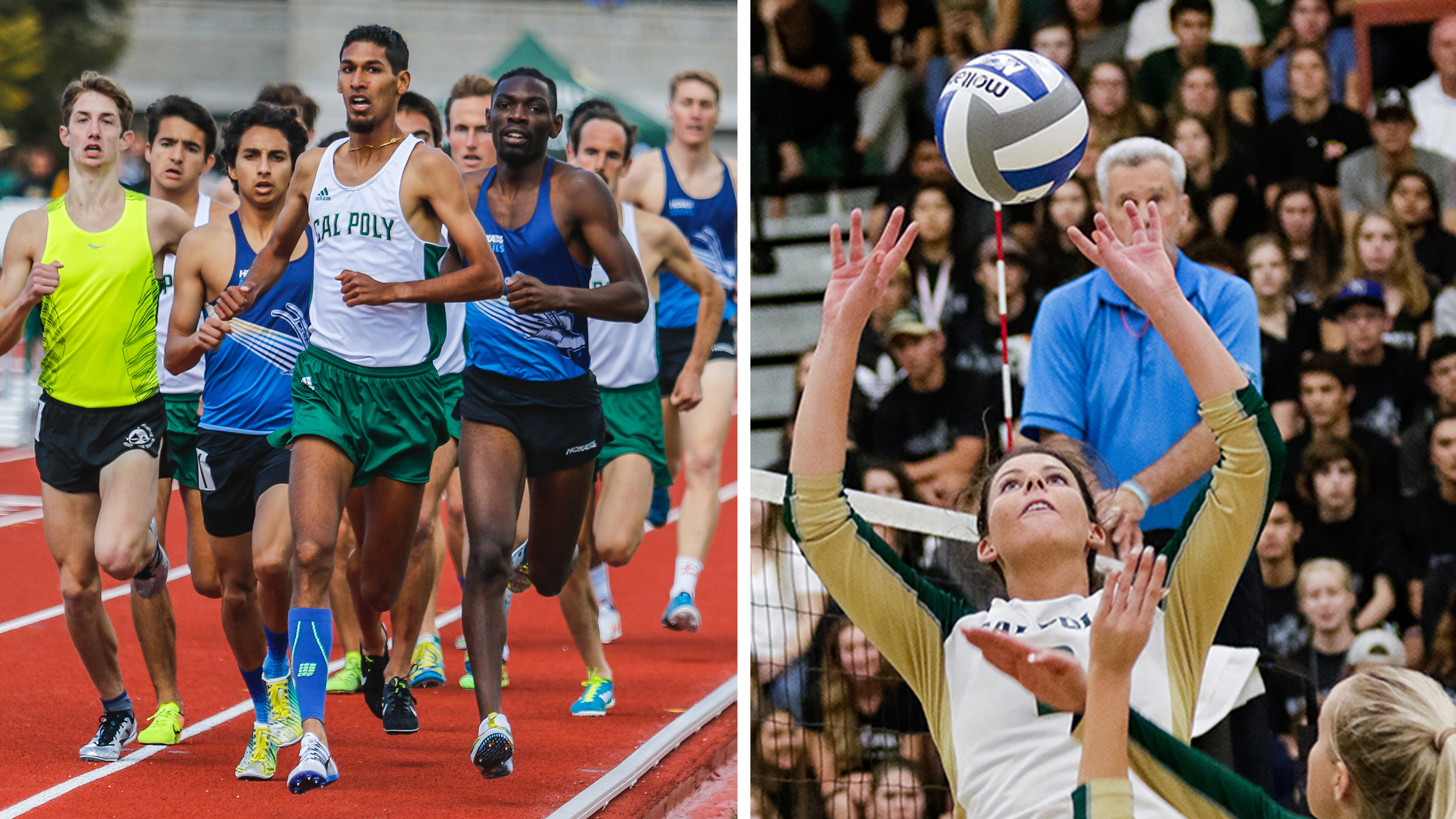 Athletes of the Year
Mustang men's cross country and track and field standout Swarnjit Boyal, who advanced to the NCAA Championships in both sports, and Taylor Nelson, a volleyball star both indoors and on the beach, were selected as Cal Poly's male and female athletes of the year for the 2017-18 academic year.
In cross country, Boyal finished second at the Big West Championships, leading Cal Poly to the conference title, and placed 10th at the NCAA West Region qualifier, earning a spot in the nationals, where the civil and environmental engineering major placed 211th. In track, Boyal became the Big West's first back-to-back champion for the 10,000 meters and also claimed the 5,000-meter title.
Nelson, also Cal Poly's Female Athlete of the Year in 2016, was named 2017 Big West Player of the Year during the indoor season as well as first-team All-Big West, AVCA Honorable Mention All-American and Pacific North AVCA All-Region First Team, leading Cal Poly to a 27-3 mark, a Big West title and a berth in the NCAA Division I regional at UCLA.
On the beach last season, Nelson was paired with Adlee Van Winden and the pair went 25-3 en route to second-team All-Big West honors.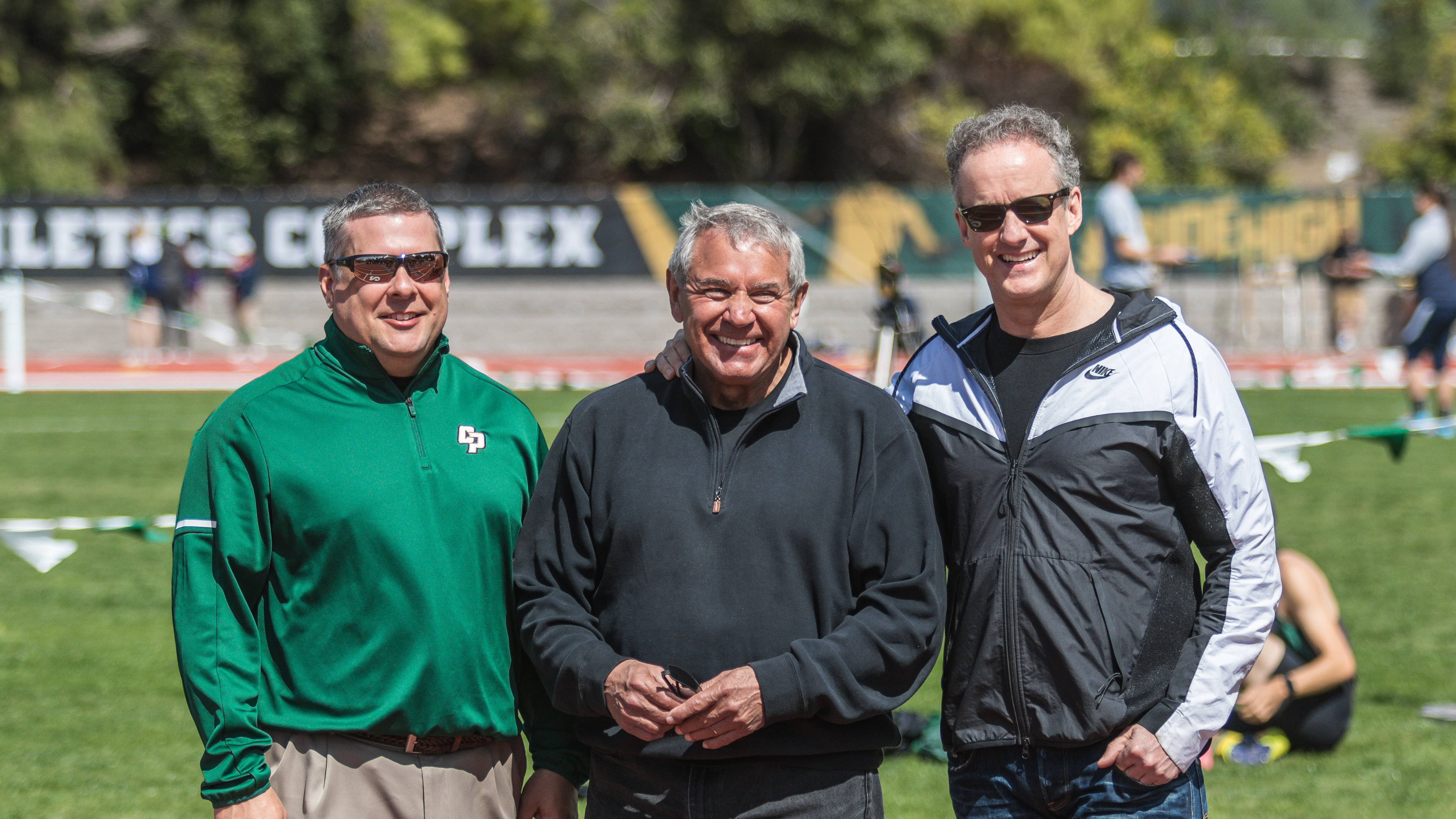 Steve Miller and John Capriotti Athletics Complex
A nine-month renovation process was completed in March and the Mustang track and field program's newly outfitted facility was dedicated during the 36th annual Cal Poly ShareSLO Invitational. The $1.6 million track and field-specific portion of the overall project was funded approximately 50 percent each by donors and a partnership of university affiliates including Cal Poly Corporation, Associated Students, Inc. and Cal Poly Housing.
The new track surface was installed by Beynon Sports while the throwing stations, long/triple jump runway, pole vault pit and high jump pit all have been relocated. The infield was leveled and expanded to accommodate a 75-yard-wide soccer practice field and features Bandera Bermuda grass, a drought-tolerant hybrid.
Steve Miller, a five-time national championship-winning Mustang track head coach, and John Capriotti, a Mustang All-American track runner in 1978, were the leading donors on the project. They both spoke to a banquet audience of more than 300 gathered inside Cal Poly's Multi Activity Center.
"The five years I spent here at Cal Poly were among the best five years of my life," Miller said at the ceremony. "What Cap and I did for Cal Poly and San Luis Obispo is really out of a feeling of love and appreciation. It was a feeling that we had a chance to give something back."
Capriotti said, "The quality of life and the culture of running that was developed under Coach Miller when I was here attending Cal Poly, I will never forget. Simply put, my decision to join Coach Miller at Cal Poly changed my life."